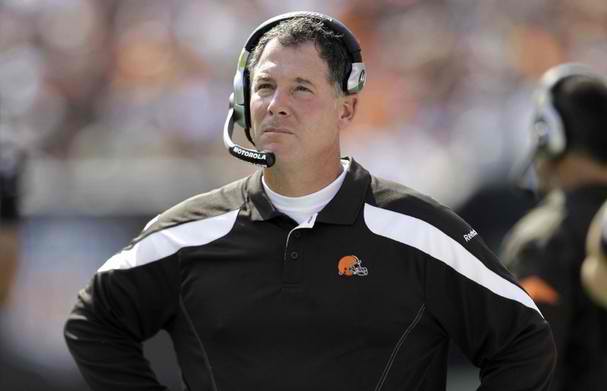 Maybe we already know everything we're ever going to know about these Cleveland Browns. Maybe we'll never know all we should. But what we do know now that Week 3 is in the books is that the Browns are one of two 0-3 teams in the league, the other is a team that literally is without a head coach.
It's a useful marker, actually. All those people complaining about head coach Pat Shurmur now know that it really isn't any worse than having no head coach. Indeed, had the Saints not blown a lead on Sunday, the Browns would actually be worse than a team without a head coach.
Now that even the most optimistic among us finally understand that the Browns aren't going to the playoffs this week, it's far easier to focus on the Things We Know, Week 3 and that starts first with Shurmur, of course.
If Shurmur has any hopes of maintaining his job once Jimmy Haslam takes over as owner, he better hope two things: that Haslam wasn't around Sunday to witness the way his new team was manhandled by the Buffalo Bills and that Haslam doesn't have access to one of the 42 different mobile apps produced by the NFL. Haslam strikes me as an iPhone guy and probably has the apps. It doesn't matter. He was in the house. In fact Haslam wasn't just in the house but in the broadcast booth with CBS in an exchange that went something like this:
Third Tier CBS Announcer: How does a guy go from being an owner of the Pittsburgh Steelers, one of the league's most successful franchises, to now owning the Cleveland Browns?
Haslam, pained grin on his face as if he were being examined rectally by Melissa McCarthy: Uh, well, we enjoyed our time with the Rooney family but we won't have any trouble turning in our black and gold for the orange and (stumbles for a moment almost imperceptibly but just enough) brown.
I don't know why Haslam didn't seem to remember, even for a moment, that the team he bought, Browns, has brown as one of its colors. I'd rather focus on the question. It was the kind of question, really, that Haslam has probably asked himself every day since overpaying for this team. How does one go from a franchise that has the ability to walk, chew gum, text and carry on a conversation all at the same time to one that has to sit down just to concentrate on how to turn that damn smart phone on in the first place.
Sunday's loss to the Bills, a team that hadn't won on the road since at least the last time the Browns won a game, wasn't Shurmur's finest moment. He's only won 4 games as a head coach so that isn't really saying much. But more fascinating was his post game obit in which he said that the team's stated goal going into the game was to get off to a fast start and to finish well. Yea, about that.
The Browns started in a 14 point hole and from there it looked like the Bills might actually score 100 points, so compliant was the Browns' defense to the every whim of the Bills offense and so eager was the Browns' offense to get off the field as quickly as possible lest they have to spend one more minute with these replacement refs.
When the Browns did claw there way back into the game, and they honestly were back in the game and hanging with a team only slightly more competitive than they, the strong finish never materialized. Indeed, quarterback Brandon Weeden threw a couple of awful interceptions that killed any final, fleeting opportunities. It was only through the good graces of Bills head coach Chan Gailey that the final score wasn't even more lopsided.
So the last thing Shurmur tells his team before it heads out of the tunnel in its own stadium and in front of its own fans is that they need to start fast and finish strong and they go out and do the exact opposite? It could be me but I'm starting to get the sense that the team has tuned him out.
It wasn't just that Shurmur's team ignored his broad themes; it was also the fact that his team looked ill prepared and I'm not talking about the fact that a rookie-laden defensive line and a back-up/too old-laden defensive secondary can't be expected to stop NFL-caliber teams. It's more the fact that this team commits idiotic penalties, which reflects on a lack of concentration, tackles poorly, which reflects on a lack of effort, and has relatively high draft picks at receiver who drop balls in their hands, which reflects on a lack of drafting acumen. There is no sense that the team could ever meet the challenge to start fast and finish strong.
Then, of course, was the odd decision by Shurmur to forego a 4th down attempt around midfield with about 6 minutes remaining in the game and his team down by 10. Shurmur thought about the decision like Mike Hargrove used to think about pinch hitters, technically. Right handed hitter, have the lefty get a bat. With Shurmur, it was pin the Bills back with a punt and then get a quick 3-and-out with plenty of time still left. A failed 4th down attempt would give the Bills the ball at midfield and almost any score at that point would put the game out of reach.
(Everything that follows assumes the technical soundness of Shurmur's decision. But let me say a few words about that. If Shurmur felt that his defense was capable of a quick 3 and out following a punt, why wouldn't it be capable of that same quick 3 and out if the 4th down attempt failed? Buffalo's approach wouldn't have changed irrespective of the field position. The Bills were interested only in keeping the clock moving, which meant keeping the ball on the ground. In other words, if the defense could hold the Bills at the 15 yard line they could hold them at the 45 in that scenario. Glad I got that off my chest.)
While Shurmur was thinking technically, he should have been thinking emotionally, like a leader who understands what's at stake, how desperate his team is for a win, and how it's easier to erase a 10 point lead with nearly 6 minutes left then it is with 3. Besides, didn't the Browns draft Trent Richardson just for these kind of moments?
As it happened, Shurmur's text book response somewhat played out like he hoped it would except Weeden ruined it with interceptions. But that's hardly the point. When Shurmur sent the punt team on the field, you literally could see whatever spirit remained in this team drain out as if their collective carotid arteries had been opened by Theodoric of York and they lost every remaining drop of blood. The team could feel the lack of confidence their coach had in them, the fans could feel the lack of confidence the coach had in them, and the inevitability of what would happen next took over. It was all just so self-fulfilling.
When the carnage that was Week 1 stopped smoldering it was clear that this franchise suffered from a lack of boldness, the failed pursuit of Robert Griffin III being a prime example. For a team that had lost 8 straight games dating back to last season and was on the cusp of number 9, it needed to do something bold at that moment. Instead it literally punted and the game was lost.
This is why Shurmur is going to have trouble retaining his job. He may have made the right technical move but football is a game of emotion often decided by waves of momentum. Shurmur had no idea that the moment was there to be seized and that's why it's no surprise that his team didn't start fast and finish strong.
Coaches in the NFL are usually hired on their technical accomplishments as coordinators. But in a way that Romeo Crennel couldn't grasp either, the job of the head coach is as much emotional guide as anything else. There are plenty of examples of teams with lesser talent have been rallied by their coach to accomplish more than they should. How is it that Jim Harbaugh, for example, can continue to coax good performances out of a mediocre talent like Alex Smith when others couldn't? Shurmur may have been dealt an unwinnable hand given the talent on this team, but he's also showing no propensity for instilling a belief into his outgunned team that against all logic and sense they can still accomplish good if not great things. At some point Shurmur's going to actually play a hand instead of folding and waiting to see if the next deal works out better.
**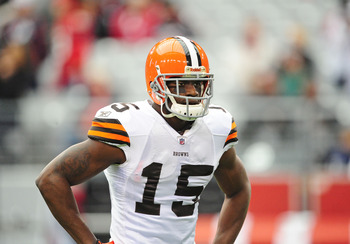 While I think Shurmur's lack of emotion and plodding approach created and environment for Sunday's loss, it was hardly the only reason. The Browns still have a significant problem at wide receiver.
Greg Little, in particular, looks like the second coming of Braylon Edwards, perhaps without the chip on his shoulder but with the same hands of stone. Little dropped at least one pass that he could have turned into a long gain, maybe two. And Little wonders why the fans objected when he drew so much attention to himself last week for catching a touchdown in a game the Browns would lose anyway? Little clearly is a product of youth sports in which every small accomplishment, like remembering to wear his cup, was celebrated with a trophy.
Little is, at best, streaky. When you think about Edwards that's the thing that comes to mind immediately as well, his streakiness. He was like Julio Franco playing shortstop. On instinct, he could make spectacular plays. With the routine, the ball would go through his legs or, in the case of Edwards, through his hands.
Edwards hasn't become a barely hanging on receiver in the league simply because of injuries. It's because his lack of discipline toward his job engendered a lack of trust by his quarterbacks. Little is only in his second season but to this point he's shaping up to be another Edwards and unless he wakes up quickly will find himself in a few years driving a Bentley at 2 a.m. drunk and sobering up to find that he had no friends to bail him out.
What is of particular concern about Little is that his route running still isn't particularly sharp and neither is his concentration, despite having a year in the league. Josh Cribbs is a terrible route runner as well (which is why you see so little of him) but he never takes a play off mentally. The route Cribbs turned into the team's longest gain of the day on Sunday wasn't a thing of beauty but he made it work.
If Little is going to be all that he imagines, not to mention all the fans imagine, he's going to have to stop his annoying habit of breaking off routes too early or too late and, as importantly, he's going to have to learn how to hold on to the damn ball. A quarterback will always try to find the guy that can catch, even if he runs lousy routes, like Cribbs. A quarterback will always ignore a guy that can't catch, even if he runs great routes, like Brian Robiskie.
Josh Gordon, a year younger but in pretty much the same position as Little, thus far looks like as much a reach in the second round as Little. Charitably, he's off to a slow start. In truth, he looks as lost as the producers of Lost during its last season. Did Gordon pay attention at all during training camp?
Then there's Mohammad Massaquoi. He's off to a much better start, somewhat justifying Mike Holmgren's gushing review of Massaquoi's preseason. But let's keep that at least at some level of context. Massaquoi is a possession receiver and not the downfield burner this team needs to take the pressure off of its running game. A team absolutely has to have a receiver like Massaquoi but if he ends up being the number one receiver in a number three receiver's body, then that means the passing game is still lagging, probably significantly. And if it lags significantly, just like it did last year, I wonder how quickly Holmgren and Heckert will conclude that the problem isn't their miscalculations at receiver but some critical skill missing from their quarterback as they angle for Matt Barkley (assuming they have positions with the team from which to angle).
**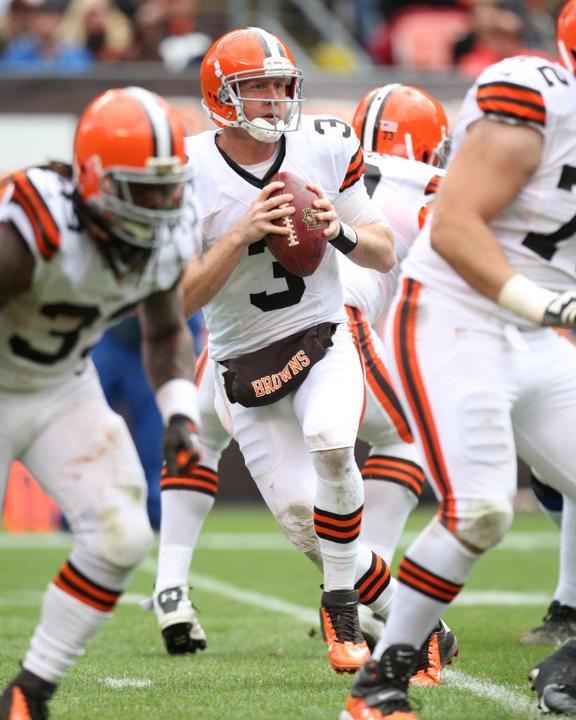 In his three weeks as the starting quarterback, Weeden has been bad, good and in between. That's not a surprise since he's a rookie. But there was a point Sunday that gave me a little more insight into why Shurmur et al. have put their faith in Weeden rather than Colt McCoy.
What Weeden does better than McCoy, consistently, is look down the field to make a play. McCoy was the master of the check down to the outlet receiver. Time and again on Sunday Weeden had a running back or other outlet receiver nearby and time and again Weeden threw downfield to someone else instead, sometimes justifiably sometimes not. You had to appreciate the intent if not the results.
Watching Weeden throw downfield has been a bit of a revelation. The Browns only scored 14 points on Sunday but they were relatively close to scoring more (which is the kind of sentence someone like Mary Kay Cabot would type in order to remain upbeat and positive). What you hope comes in time is that Weeden gets better touch on the deep balls. Weeden's self-assessment of his performance Sunday was that except for the interceptions, he had a solid day. Yea, except for the interceptions.
But I do think that Weeden is also victimized by the same things that victimized McCoy, receivers who aren't very good. Weeden came close to connecting on those deep balls and arguably some of them could have benefited from having a bit more air under them. But the Browns' receivers could help him out a little by fighting for the ball once in awhile.
The one thing you don't see any Cleveland receiver do ever is use his body to gain position and then fight for the reception in traffic. It's as if unless the ball is perfectly placed it isn't going to be caught or, in the case of Little, even if it is perfectly placed it isn't going to be caught
It's both a talent and an effort issue. General Manager Tom Heckert still puts too much faith in project receivers, like Ernie Accorsi used to put too much faith in undrafted free agent offensive linemen. Even if there is some raw talent to be cultivated the coaches on this team, starting with Shurmur, could do a better job (or even a passable job) of finding a way to reach into the psyches of these receivers to turn them into guys who would do anything to make a reception. When you watch the New England Patriots by contrast it almost doesn't matter who they have at receiver. Heck they overhaul their receiving corps every year. But there is an amazing consistency to their approach. The Patriots find the guys that want to win while Cleveland spends too much time settling for guys who just want to play, or in the case of Shurmur, who just want to coach.
**
To kind of finish where we started, a comment earlier in the week by Trent Richardson certainly takes on more resonance in retrospect. Richardson, used to winning as a collegian, told his teammates that they need to practice harder and stop accepting losing as a way of life. I suspect his teammates wrote that off as collegiate exuberance but when you saw the pathetic effort that was this team on both sides of the ball Sunday, you do wonder how hard they practice and/or whether they more or less accept losing as their current lot in life.
Sep 25, 2012 10:00 AM
Last Updated:

Sep 25, 2012