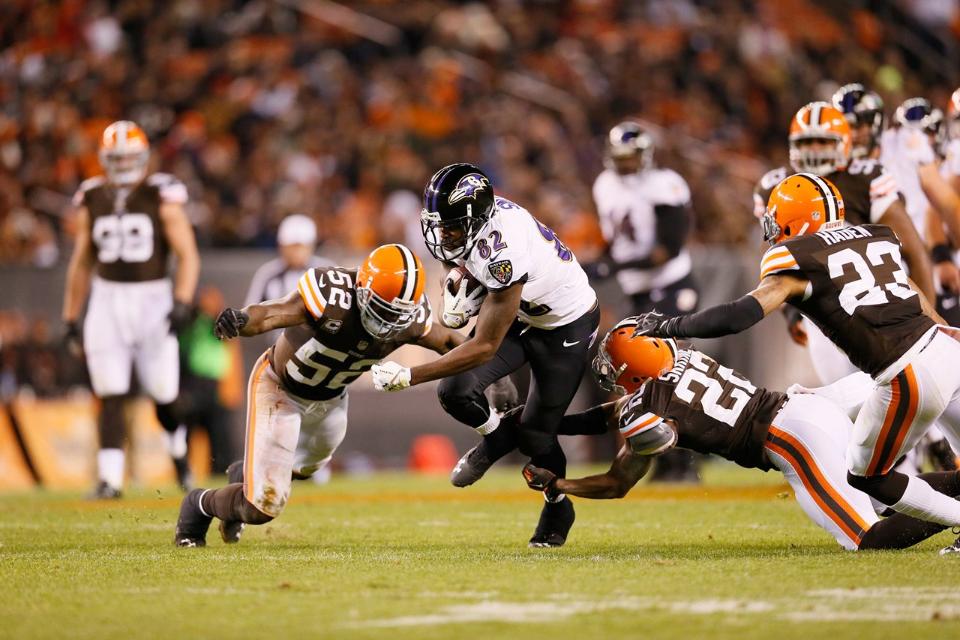 There's no way, a day after snapping one of the more embarrassing losing streaks in franchise history, to definitively say if the Cleveland Browns are a franchise on the rise. But after dominating the Baltimore Ravens on Sunday, 24-18, there's at least enough reason to believe that this might be the case.
This Browns team at this moment isn't exactly a playoff contender but neither is it the woeful doormat it's been for years. And if that's the only conclusion to draw from Sunday's victory that's still better than the conclusions Browns have been used to drawing on a typical in season Sunday evening.
Are they a team on the rise? One telltale sign is when it believes that's the case. This Browns team believed, indeed assumed, it would win Sunday and not in a wishful thinking sort of way. Some of that stemmed from the tough loss it suffered at the Ravens hands in the season' second week, a game it could have or maybe should have won. Some of that stemmed from the way the Ravens have struggled since that win, struggles that confirm that the various off season financial moves the Ravens endured, including paying quarterback Joe Flacco as if he were Tom Brady, were ill advised. And some of that stemmed from a Browns team that simply seems more energized on both sides of the ball when Brandon Weeden serves as a backup.
The offense, led by a gritty Jason Campbell, set the tone early and closed the door late. It's actually hard to remember when that was the case, particularly with a quality team. In between those bookends the defense forced the Ravens into a one dimensional offense by taking away any semblance of a running game and forcing Flacco and a modest set of receivers into roles they are ill equipped to execute even against a defensive backfield as thin as the Browns'. Flacco was pressured all day, sacked 5 times, and generally had the beleaguered look afterward that Browns fans are used to seeing on the faces of their various quarterbacks over the years. It was satisfying on many levels.
While it never completely felt like the victory was either assured or in doubt, one play that surely tipped the balance in the right direction is the very one that has so completely defined the the troubles of Campbell's backup. It was a desperate flip pass to running back Chris Ogbonnaya, the third of the season though the first from Campbell. Where Weeden looked ridiculous for trying Campbell pulled it off with aplomb and at just the right moment. Combined with the horse collar penalty then Ravens drew trying to tackle Ogbonnaya, the Browns were able to drain the clock of most of its remaining life while setting up a 22-yard Billy Cundiff field goal that forced the Ravens into needing a touchdown from 80 yards away with 14 seconds remaining. That the Ravens didn't even much try was a particularly enjoyable coda to a game in which they never led anyway.
The other play, perhaps the game's biggest, that gives reason to think this team is rising while the Ravens are falling, was the little 3-yard catch by Davone Bess on 4th and one from the Baltimore 43 yard line with 3:12 remaining, the Ravens with a full complement of times outs, and the Browns with merely a 3 point lead. Miss on that play and the Ravens are a couple of first downs away from perhaps tying the game. Campbell was pressured but bought time and eventually found a diving Bess. It was the kind of play that a possession receiver like Bess is supposed to make and the kind of play he couldn't make a week ago. It broke the hearts and minds of the Ravens defense.
Bess had two touchdown grabs in the game, one of which included an impressive 15 yard run after catch and ankle breaking fake on the Ravens' Ladarius Webb who dove to his right at the insistence of a Bess head fake and Bess took his body the other direction and into the end zone. Bess' overall play Sunday was everything it wasn't the week before.
The game served as redemption of sorts, too, for receiver Greg Little, who had one of the best statistical days of his career, 7 catches for 122 yards. But Little both gives and takes and so it was Sunday as Little cost his offense 30 yards on two stupid unsportsmanlike conduct penalties. He tossed a defender's helmet, apparently because he didn't like the extra curricular push in the pileup and taunted another within ready distance of a referee. Little has much to learn and he could do worse than befriending Bess and picking his brain.
Campbell's 3 touchdown passes against a team that has bedeviled the Browns for 5 years was a welcome surprise. It's a testament too to the interesting mix of caution and abandon that head coach Rob Chudzinski and offensive coordinator Norv Turner employ on a weekly basis. Certainly a welcome respite from the stodginess of Pat Shurmur's version of the West Coast offense. Yet the better story of Sunday's win was the play of the defense.
Barkevious Mingo has a chance to be a real rarity in Cleveland, a first round pick that pans out. His quickness is wondrous and even with just a handful of games to his professional resume teams are specifically scheming against him and with very mixed results. The presence he brings to the defensive line, along with an increasingly stout Phil Taylor, combined to make both Flacco and running back Ray Rice's Sunday miserable. Rice played like Trent Richardson but with even less burst. Had Flacco not scrambled for 25 yards while as he was trying to escape a constantly pursing defensive line the Ravens rushing total might have looked like Michigan's did against Michigan State on Saturday.
If teams weren't convinced before Sunday's game, they are now. The Browns are a difficult defense to run on and are one of but just two teams to not give up 100 yards rushing to any one opposing player. That's a worthy accomplishment 9 games into the season.
The Browns' defensive backfield, as thin as any unit in the league, had just as good a day Sunday as the defensive line. Outside of Joe Haden's fingertip interception, it wasn't a particularly loud day but that's what made it so good. There weren't any particular instances where Buster Skrine, for example, found himself with his back to the quarterback chasing a receiver. Skrine's improving, likely, but it's clearly aided by a defensive front that can pressure an opposing quarterback. But before we celebrate too much let's remember that a few more good quarterbacks await in the season's remaining 7 games before we can draw any particular conclusions about Skrine's long term prospects.
As for the Ravens, it was fun and just on Sunday to watch a team struggle on offense the way the Browns usually do, particularly since it was Baltimore's lost offense. Watching one Baltimore drive after another fail for every different reason was the real treat, certainly on par with watching the Steelers get taken to the woodshed by the Patriots on Sunday.
Flacco played Sunday like he's regressed since securing a big contract. The Browns' defense was no small part of it Sunday but so too is the lack of talent around him at the moment. Whatever Derek Anderson-like lightning in the bottle that Flacco caught in last year's playoffs has disappeared just as quickly as it did for Anderson. Maybe he finds it again but he'll need a better supporting cast for that resurrection.
Certainly the Baltimore fans must be miserable as they watch the downfall of a team that just months ago was Super Bowl champs. To that I just say, "welcome to the party. I hope you remembered to bring the cupcakes."
After 9 games, the Browns finally draw a bye week and for once it's not filled with the kind of intrigue centered around another potential regime change. Chudzinski for now looks like exactly the right hire. He's quirky without being odd. He's willing to take chances especially of the high risk variety when his team otherwise has nothing to lose. The players seem to like him but more importantly respond to him. In baseball terms, where Shurmur was Eric Wedge, Chudzinski is Terry Francona.
The latest word out of Berea is that Campbell has sore ribs after having the full weight of Haloti Ngata fall on him in a somewhat questionable fashion. Ngata is quite acquainted with less than ethical play so his relatively late pancaking of Campbell after he already was down remains questionable. But in the body of work that is Ngata's, it doesn't make the list of his top 50 offenses. Campbell will have several days to recover, which is a good thing. Because when this team has looked most on the rise is when it has had the benefit of anyone but last year's number one pick behind center.