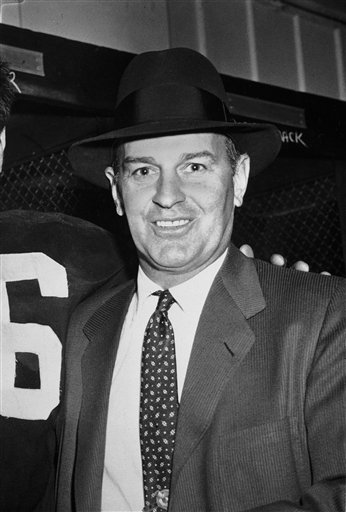 Some Browns thoughts are still rattling around my brain- because hey, it's not my fault they are done playing by January… Every. Single. Year. And to borrow the name of a semi-recent Steely Dan CD, everything must go!
All Browns fans 'know' stuff about the team. While it seems true that the fan base is dwindling due to the wanton mismanagement of the franchise, it has been common for generations that we become infused with Cleveland Browns information, almost by osmosis, throughout our lives. The brainwashing starts when we are small children. ("Look both ways when you cross the street!" "Don't talk to strangers!" "Paul Brown's T formation offense helped replace the single-wing formation in professional football!")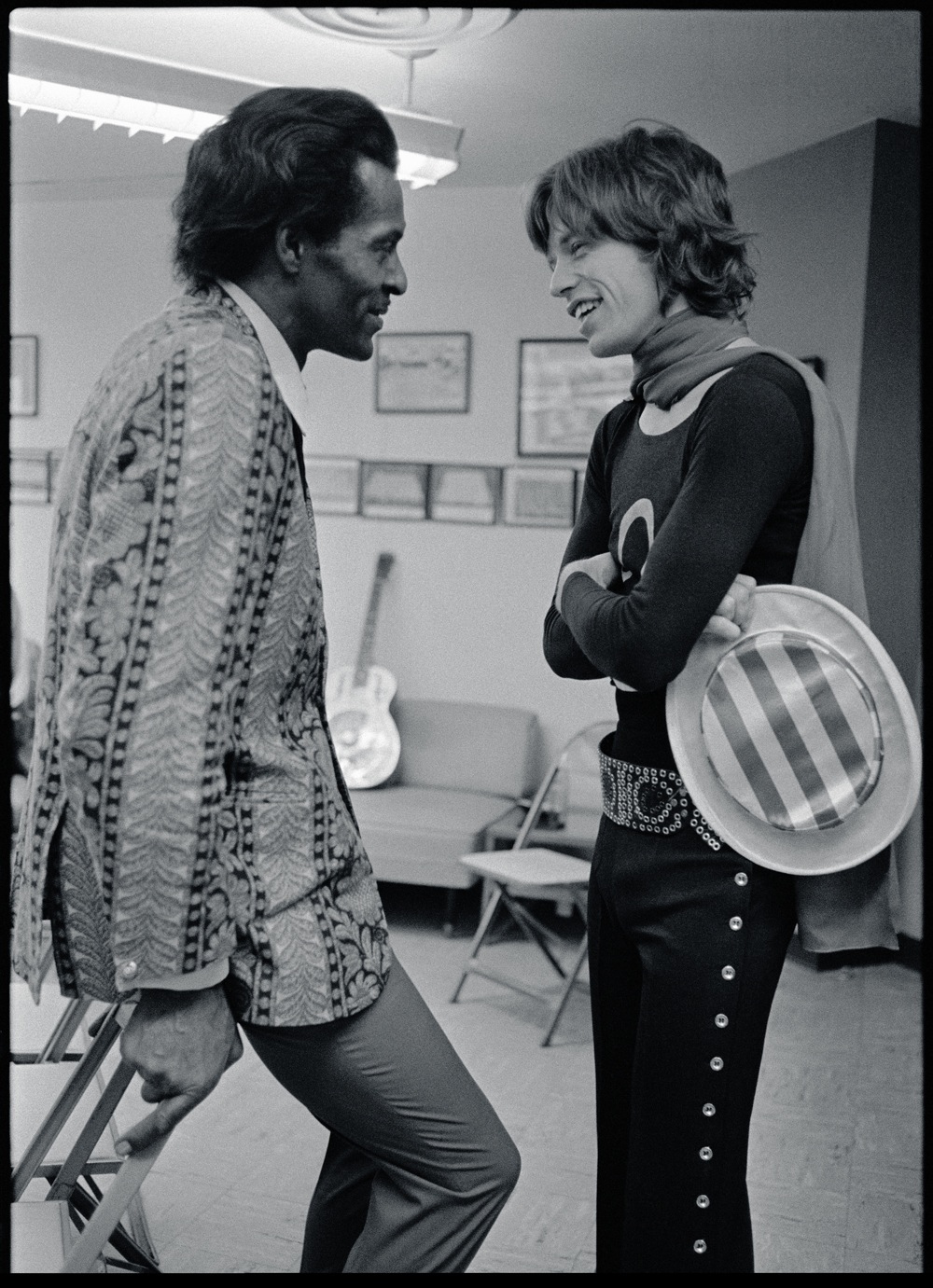 Actually, in what admittedly may be a character flaw on my part, I can get irritated when I 'know', or am certain of something, and others either don't believe it, or seem to disregard it. Here is an example: There is a classic old hit by Chuck Berry, named "Little Queenie."  Released back in the 1950s, it had a danceable beat and featured scandalous lyrics. The dozen-plus artists who have covered the song over the years include the Beatles, the Rolling Stones, Eric Clapton, The Velvet Underground, The Animals, Rod Stewart, Bruce Springsteen, Bob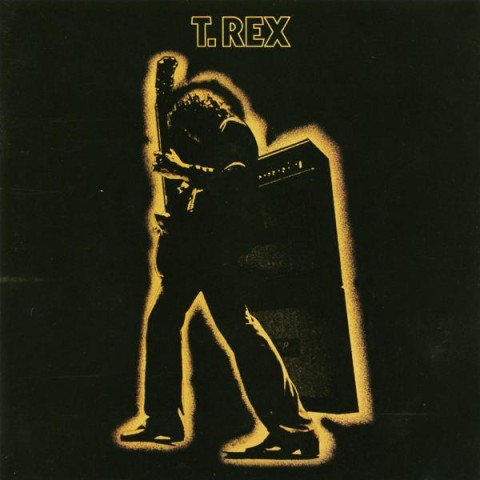 Seger, and REO Speedwagon.
Featured in the single is the repeated phrase, "Meanwhile, I was (still) thinkin'." As an homage to Berry, T Rex used the phrase during the fadeout of his hit, "Bang a Gong (Get it On)". As far as I know, the phrase has not been used on songs by other artists.
But I am certain of one other song in particular that would be a great match. Phish's "Back on the Train" (here, 'performed' by the Muppets) is a fun track on the 2000 CD, Farmhouse. While not even the best song in that collection, it does allude to a train, which always invites a fun 'train beat' (an old type of country beat).  
The singer had "had a bucket full of thoughts." As the song fades out at the end (which no doubt is where the extended jam begins when performed live), Phish needs to have someone pipe up and muse, "Meanwhile… I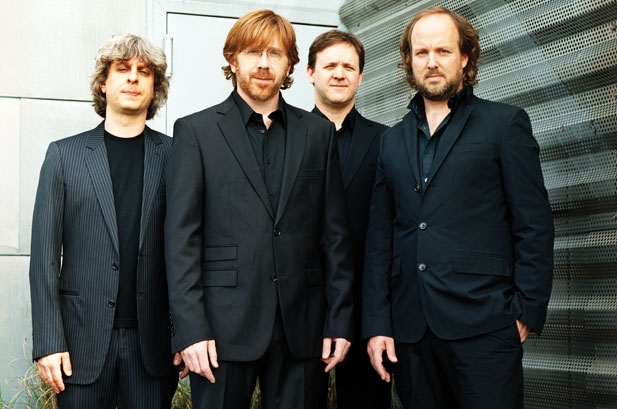 was stiiiiill thinkin'."
Maybe you are reading this with a shrug. That seems to be the prevalent reaction to my idea. Probably about a year ago, I actually tweeted the band about this. Certainly, one day, I'll get a response. I just 'know' it.
Anyway, each of us could put together a fun Browns trivia quiz, just with the stuff we 'know'. Here's one for you- this one was done with some fact-checking.
--------------------------------------------------------
1)      What might Gene Filipski be known for?
a) He was the first, and long-time, pilot for Cleveland Browns team airplane charters for away games.
b) He was spotted peering in through a fence at Paul Brown's football practices at the Great Lakes Naval Academy north of Chicago during World War II. Brown suspected him of spying, only to soon hire him to become a long-time assistant.
c) In 1956, while other teams tried to interfere with the signals sent to the radio in quarterback George Ratterman's helmet, the Giants eventually chose to simply monitor PB's calls. They ran them by Filipski, who knew the Browns' plays. The Giants, a rival of the Browns, were ready to counter anything Cleveland tried. The innovation was tabled.
d) None of the above.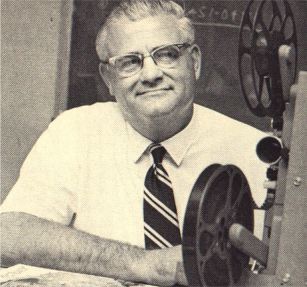 2)      Who was the original choice of owner Mickey McBride to be the first head coach of the Cleveland Browns?
a) Paul Brown, who'd won the NCAA National Championship in 1942 while coaching at The Ohio State University.
b) Frank Leahy, who'd won 5 National Championships between 1943 and 1949 while coaching Boston College, then Notre Dame.
c) Woody Hayes, who coached at Denison and Miami University before taking over the Buckeye program in 1951.
d) Bear Bryant, whose coaching career featured many stops through the 1940s (including Maryland, Kentucky, and Texas A&M) before starting his legendary career at Alabama in 1958.
3)      Who was known as "the man in the brown suit" at Browns' home games?
a) Chuck Schodowski, of Ghoulardi, then Big Chuck and Lil' John (and Hoolihan) fame. In his early days in Cleveland television, Big Chuck handled the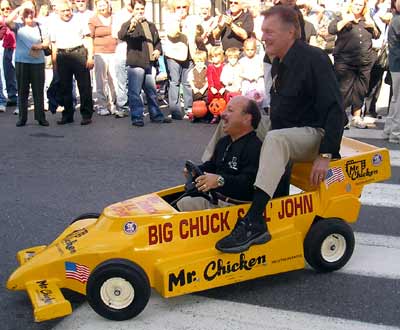 parabolic mic on the field. He always wore a brown suit during games.
b ) Abe Abraham. Abe was a mainstay at Browns games, catching field goal and extra point tries at the closed end of Cleveland Stadium. He may have been the first Browns fan to gain some notoriety, although he originally didn't court the attention.
c) Morrie Kono. According to Dan Coughlin's book "Pass the Nuts", the Browns' equipment manager for over three decades was a character. He was even a sought-after dinner speaker.
d) Leo Murphy, the longtime Browns trainer. He was also an entertaining speaker, often appearing with Kono.
4)      The Cleveland Browns' football helmet and colors were patterned after the helmet of:
a) The Clemson Tigers
b) The Bowling Green State University Falcons
c) The Syracuse Orangemen
d) The Illinois Fighting Illini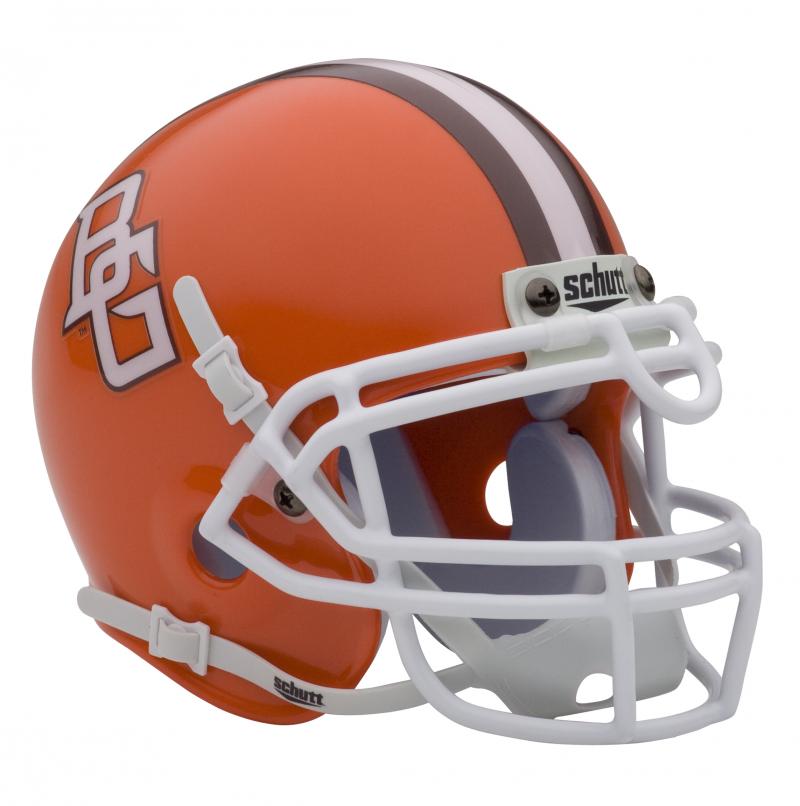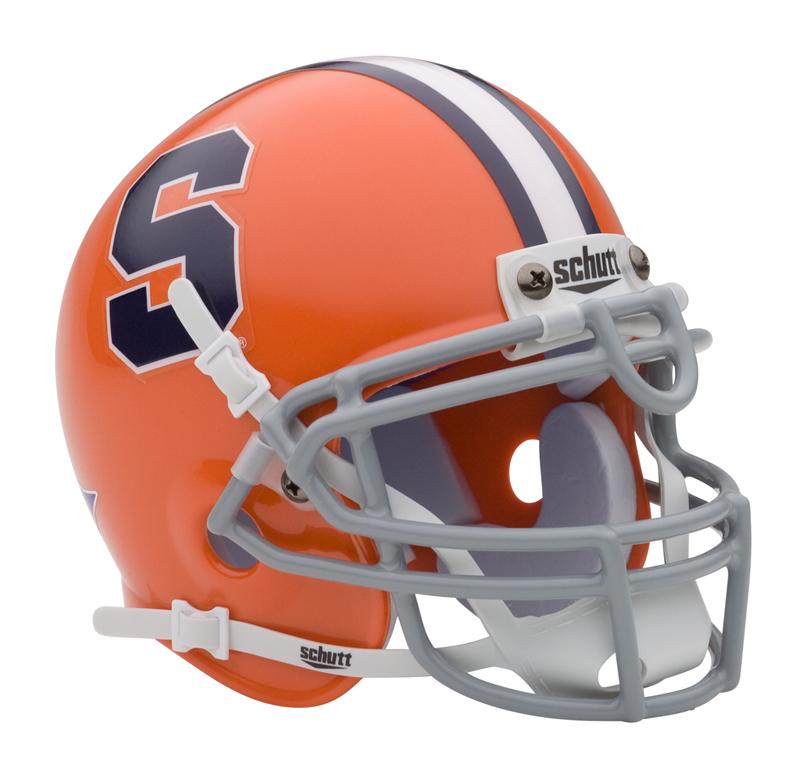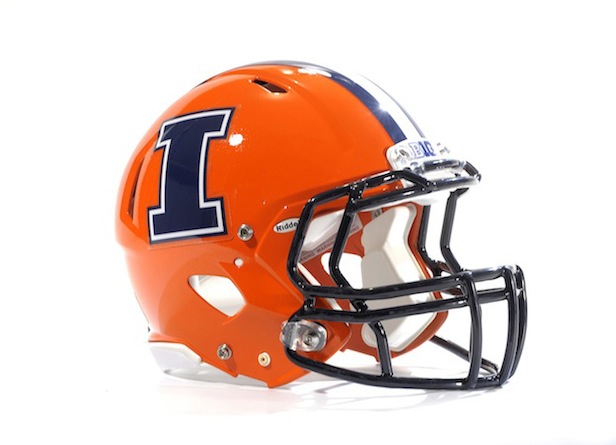 5)      When Art Modell fired head coach Paul Brown, it was under cover of:
a) A historically bad snowstorm.
b) News of war breaking out in Europe.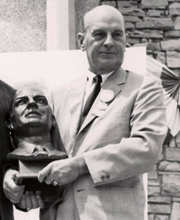 c) A Cleveland newspaper strike.
d) The assassination of a U.S. president.
6)      Once Paul Brown was fired as head coach in Cleveland, his next role in football was:
a) Personnel consultant for the Browns.
b) Consultant to NFL commissioner Pete Rozelle.
c) Head coach and general manager of the Cincinnati Bengals.
d) None of the above.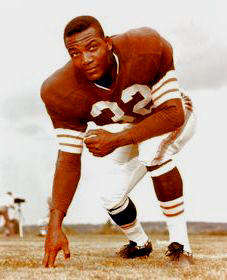 7)      How many games did fullback Jim Brown miss during his nine-year career with the Browns?
a) 0
b) 1
c) 2
d) 6
8)      What pivotal event in Browns history was Fred "Curly" Morrison a part of?
a) In 1970, he returned a kickoff for a touchdown for the hometown Browns in the first Monday Night Football game in history.
b) In 1946- one year before Jackie Robinson broke baseball's color barrier- he joined the Browns as defensive lineman Bill Willis' roommate. The two black men endured hardships as they paved the way towards racial integration in professional football.
c) He'd been a Browns running back in the 1950s. In 1961, as an ad salesman calling on the Akron rubber companies, he stopped by The Theatrical bar and grill near East 9th Street in downtown Cleveland, and caught wind that the Browns were for sale. He convinced the team to let him line up a buyer, which ended up being Arthur B. Modell.
d) He was a member of the celebrated coaching staff of Bill Belichick's 1994 Browns, along with such names as Jim Schwartz, Nick Saban, and Kirk Ferentz.
9)      Who was Bobby Garrett?
a) A star USC running back in the 1960s who joined the Browns at the end of his career.
b) A quarterback out of Princeton who bounced around between the NFL and the CFL for over a decade.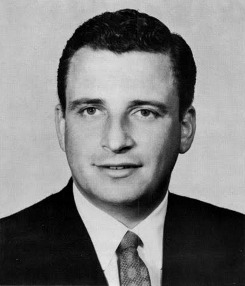 c) He is an offensive lineman whom the Browns drafted in the 7th round in 2013.
d) He was the heir apparent to the Browns' first quarterback, Hall of Famer Otto Graham.
10)     What did the "B" stand for, in Arthur B. Modell?
a) Bertman. He was part of the famous Cleveland ballpark mustard family.
b) Bertram. Interestingly, and coincidently, this is also the name of a high-end line of yachts. And curiously, an inn in Aurora, Ohio.
c) Boorish.
d) Baltimore.
---------------------------------------
Answers: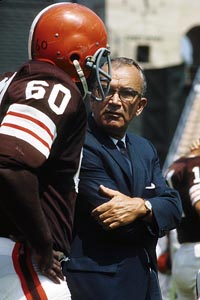 1 c. The man spotted through the fence was Blanton Collier. PB historians note that Collier was responsible for the great Browns offenses over much of Brown's tenure in Cleveland.
Filipski, a Villanova grad, was the MVP of the Senior Bowl in 1954. He was drafted by the Cleveland Browns, then cut. He played for the Giants for a couple years before playing and coaching in the Canadian Football League for several years. Filipski was the one who helped the Giants decode PB's radio calls.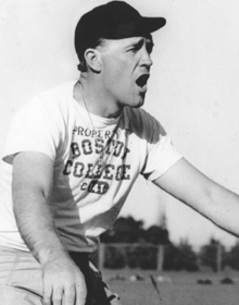 2 b. Frank Leahy. The truth was taxi-cab magnate McBride didn't really know football. His business sense led him to become the new Cleveland football team's first owner. McBride, however, knew Frank Leahy, and he knew the coach of the powerhouse Irish would be a quality hire. The university appealed to McBride, asking him to back away from Leahy. McBride had two sons who were enrolled at Notre Dame, and didn't want them to suffer any derision that would follow the pilfering of their football coach. McBride approached a sports reporter in Cleveland, asking for some names to consider. The reporter told the owner he needed to hire Paul Brown.
(The facts stated about the other coaches are true, of course.)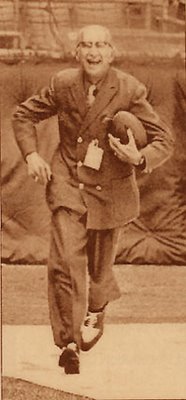 3 b. Abe Abraham. He also was a basketball coach on a few of Big Chuck's travelling charity basketball teams (they'd get a football and throw it to Abe- he'd catch it and the crowd would cheer ). Here's more info on Abe. And a little more here.  I used to have bookmarks of Browns games on YouTube video that sometimes showed Abe doing his thing after touchdowns (the links have been broken due to copyright infringement).
The comment about Big Chuck is true. He had several duties at his TV stations. But he didn't wear a brown suit.
Check out more on Kono. (enter his name in the search field at left)
4 b.  It is commonly accepted that Paul Brown borrowed the color scheme for his Cleveland team from the college that first hosted the team's training camps, Bowling Green State University. (By the way: Am I the only one? When I was a young kid, and watched college football games, I usually rooted for the helmets that looked like the Browns' helmets. There wasn't the national exposure then on nearly as many schools; watching games like the Senior Bowl and the East-West Shrine Game was typically when I noted such color schemes.)
5 c. Apparently, Modell saw wisdom in what is also an axiom of Chicago politics: "No crisis should go to waste." But more important to the Browns' owner than the turmoil of the newspaper strike, of course, was the shutdown of the information trail to Cleveland football fans (newspapers were the lifeline of information

on high-profile sports news, until Cleveland radio personality). Unfortunately for Modell, newspapers elsewhere in Ohio and around the country almost unanimously panned his move.
And anyway, in Cleveland, writer Hal Lebowitz (left) enlisted the contributions of several sportswriters and Browns players. He published a booklet that described Modell's handling of Brown, Paul Brown: The Play He Didn't Call. It is said to have been fairly objective. Notably, players were the ones who were most likely to offer indictments of the coach. 50,000 copies sold.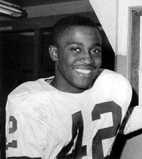 6 a. Paul Brown's break with his old team was extremely awkward and tense for many parties: the Browns' staff, newspaper reporters, and Brown himself. While he was no longer coach, he remained on contract. One crack from a reporter was that Brown made as much money playing golf as Arnold Palmer and Jack Nicklaus.
PB did do some scouting for the Browns while still under contract. He famously touted Ohio State wide receiver Paul Warfield (right), whom would be selected by the Browns in the college draft on his journey to the NFL Hall of Fame.
7 a. Jim Brown never missed a game. As a player, he seemed indestructible. He preferred to run around and past defenders, but he never, ever, hesitated when a collision was inevitable. He'd raise his forearm and deliver punishment to the defense.
He'd get kicked, gouged, and get his hands stepped on. It has been noted that he always arose slowly after being tackled. Some who were close to the team insist this was because he avoided planting his hands as he got up- to protect them.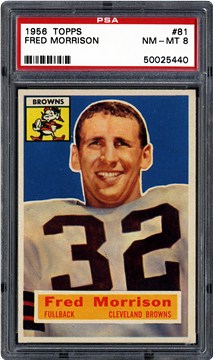 He played with a broken wrist one season, which required a cast- he wore long sleeves to hide the cast, and had the cast removed for practices so nobody would know.
8 c. Morrison was working for a television network, and had inside information that the NFL was about to sign a new TV contract. Thus, each team would be worth more. He used this info to raise the amount Art Modell eventually paid (read: borrowed).
(a.) refers to Homer Jones. (b.) was Hall of Famer Marion Motley.
9 d. There were 13 Pro Bowlers taken in the NFL draft in 1954. One Hall of Famer (WR Raymond Berry, in the 20th Round). The Browns did sign notable fullback Cookie Gilchrist, who was a Pro Bowler himself even though he went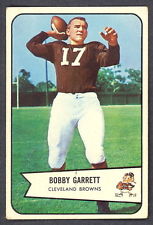 undrafted.
The Browns selected quarterback Bobby Garrett with the first overall pick. He was traded to Green Bay, then brought back three years later. He never played in a game for the Browns, with some historians blaming his stuttering problem for his lack of development.
a.) is Mike Garrett, who never played for the Browns;
b.) is Jason Garrett, the head coach of the Dallas Cowboys (and who never coached for the Browns);
c.)  is Garrett Gilkey.
10 b. Bertram. (Pfffffff, Bertman. You're right, a sacrilege to mix Modell with a Cleveland icon.)
While putting together these quiz questions, it seemed ten was a good number. I figured: we can pick up where we left off come next fall.
Meanwhile… I was stiiiill thinkin'.
***Hey, follow me on Twitter!    http://twitter.com/googleeph2   #thanks
Sources included football-reference.com; Wikipedia.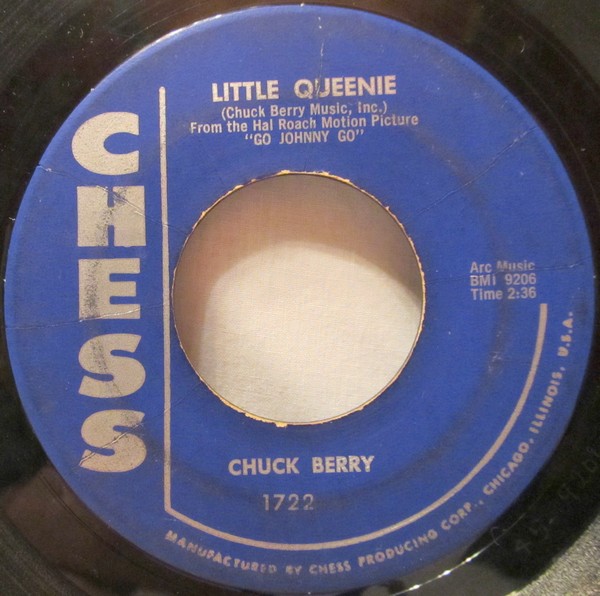 Jan 17, 2014 2:30 PM
Last Updated:

Jan 17, 2014