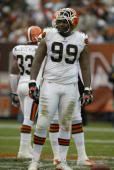 The Browns resigned defensive lineman Orpheus Roye yesterday, four days before he could have become a free agent. The Browns gave him a three-year deal, and terms of the deal were undisclosed. Few expected this to get done before free agency officially opens on Friday, and the announcement was a pleasant surprise. The Browns are still talking to tackle L.J. Shelton, also hoping to get him reupped before the end of the week.
The move, when added to the team's earlier resigning of linebacker Andra Davis, secures a couple of the spots in the Browns otherwise tenuous front seven defensively. GM Phil Savage is expected to aggressively address the front seven in free agency and the draft. Several published reports have indicated the Browns are very interested in Baltimore nose tackle Maake Kemoeatu and Carolina linebacker Will Witherspoon, and will pursue them aggressively as soon as free agency opens.
While I'll wait for the final numbers to come in to make final judgement, this is a good move for the Browns. Roye has been very good for the Browns, with little help around him. He's always around the ball, and is an ideal 3-4 defensive end. The Browns are simply too weak up front defensively to cut ties with a talented player like Roye that knows defensive coordinator Todd Grantham's system. And taking care of him and Andra before free agency opens sends a positive message from the front office to the locker room.