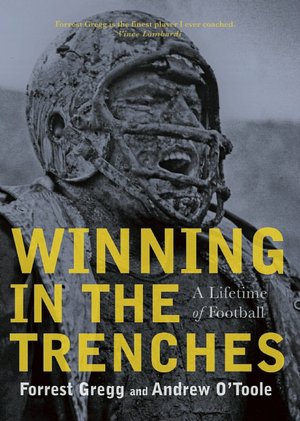 Forrest Gregg was the offensive line coach for the Cleveland Browns in 1974, and head coach from 1975 through 1977. Oh, and he also was a Hall-of Fame offensive lineman who won six championships with Green Bay and Dallas (legendary coach Vince Lombardi called him the "finest player" he ever coached). He also coached Green Bay, and led Cincinnati to the Super Bowl. He helped resurrect the Southern Methodist football program as its first head coach upon its return from the "death penalty." He also spent some time in the Canadian Football League, in a front office capacity. We recently caught up with Mr. Gregg. We were taken by what a gracious man he is.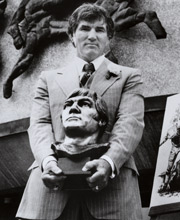 Forrest Gregg recently wrote a biography, titled "Winning in the Trenches: A Lifetime of Football" (Forrest Gregg with Andrew O'Toole, Clerisy Press).


theclevelandfan.com: So you are retired now, correct? Do you golf a lot?
Forrest Gregg: Yes, I live in Colorado Springs. I don't golf. I do a lot of trout fishing, and I like the weather here.
tcf: Do you follow the NFL these days? What were your thoughts on Packers QB Brett Favre? You retired and unretired several times, too, didn't you?
FG: Oh yes, I follow the NFL. I can identify (with Favre). When you realize you can't do things physically, then you can leave with a clear conscience.
tcf: A question about Vince Lombardi- what did he do when he became Packers' head coach in 1959 to cause them to start winning?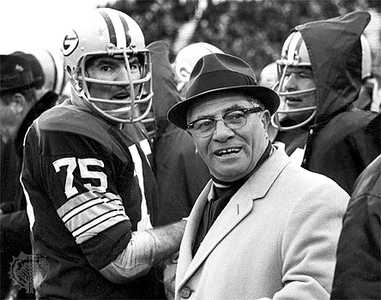 FG: From the 1958 season, Green Bay had some good talent. He made a few trades, like getting Willie Davis, and Henry Jordan from the Browns. They really helped our defense. The Packers drafted Paul Hornung in 1957, and then Max McGee came back from the service.
tcf: So was it partly the case of Lombardi being in the right place at the right time?
FG: I have heard that said a lot of times. But a lot of the same players he had were there before he was coach. He brought discipline and conditioning. I was there two years before he was coach and I wasn't in very good condition before he got there.
(note: photo of Lombardi includes Gregg)
tcf: Could he have been successful today, with players' money and attitudes?
FG: He could have been successful at any time. It is different now with the money players have. When you played for him, your attitude changed. Whether you liked it or not. With him, no one player was greater than the team. Everyone contributed. If you didn't contribute, you didn't stay. When I played, there were fewer teams, and not many other places to play. You played by the rules.
tcf: Players worked in the offseason; they needed the money.
FG: They didn't have enough money to lie around for six months. Now though, players don't even have time for an offseason job, with all the offseason training. Although it seems like they spend six months making it, and six months counting it (laughing).
Lombardi taught us a lot. He taught us how to win, and how to sustain winning. He treated us all the same. If you made a mistake- missed a meeting, breaking the rules- no matter who it was, you got fined.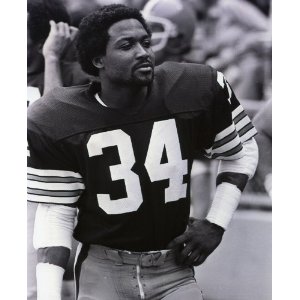 tcf: Your training camps were said to be tough. Greg Pruitt once said that he had to come to your camps in top shape, just to survive.
FG: (Laughing) Let me tell you about Greg Pruitt. I was an assistant coach in Cleveland in 1974, offensive line coach. The coaches didn't think Greg was strong enough to be a full-time running back in the NFL. All I knew was when we played him for any length of time, he was our best chance to win. When I was head coach, I made a mistake. He was also a great kick returner and punt returner. Back in Green Bay you know, we had Travis Williams, who was a great returner too. We won some games with Greg Pruitt as a returner. Well I was a little greedy. Playing him at halfback, punt returner and kick returner kind of wore him down. We had Larry Poole, who was a rookie in 1975, returning kicks and punts. But he got hurt and the whole burden fell on Greg.
I found out one sure thing. Greg Pruitt was tough enough to carry the load as a starter. When I started as head coach, I took him out at the goal line. I thought he might not be strong enough. After a while, I figured he got us down there, he should stay in. Greg did not let me down.
I think Greg Pruitt belongs in the Hall of Fame.
tcf: Wow...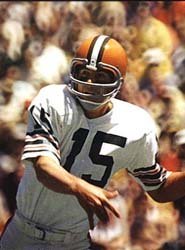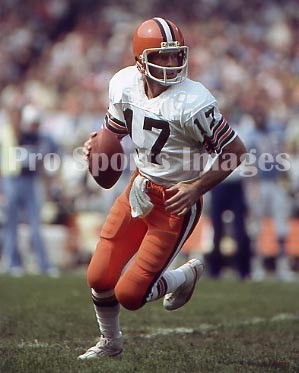 You had a pretty good season coaching the Browns in 1976. You were AFC Coach of the Year. It seemed like you were in Mike Phipps' corner that year, and he started off with a good game but got hurt.
FG: In 1976, Mike Phipps was the starter. Brian Sipe was the second quarterback, and we had Will Cureton. Phipps started the season against the Jets, had a good game. Late in the game, he came out of the pocket, and needed a few extra yards and fought for a first down. He was injured, and couldn't play. Sipe then started. Mike stayed out several weeks, and got well and was ready to play. I wrestled with the idea of putting him back in or leaving Sipe in- he was developing as a quarterback. In the game at Houston, I decided to give Mike the starting job back. He earned it. But Mike was rusty. He just wasn't as sharp as before. We weren't doing much offensively- I put Sipe in to see if we could win the football game. He did well, and we did win.
During the offseason, Art hired Peter Hadhazy (as general manager). Peter came to me one day during the offseason and told me we are trading Mike Phipps. Now, I had an agreement with Art Modell that I had the last word on players we kept and let go. Peter said Art had promised Phipps that if Sipe was starter, he would trade Phipps. I said we have two good quarterbacks- what if Sipe gets hurt? But it was a done deal already. Art traded Phipps to the Chicago Bears. Brian Sipe did get hurt, vs. Pittsburgh.
(note- interesting that the coach sometimes refers to Mike Phipps as 'Mike', while Brian Sipe is simply 'Sipe'...)
tcf: What else can you say about the politics of the Browns?
FG: Well, I don't have any animosity toward anyone in the NFL- who were there then or who are there now. There are things that happen that are out of your control. You have two choices- you can stay or you can go.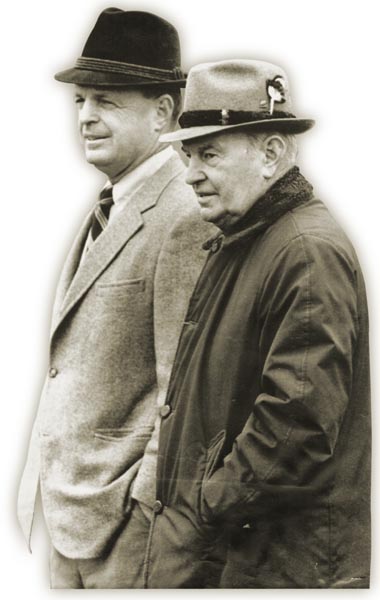 tcf: What are your thoughts on Paul Brown (from your time in Cincinnati)?
FG: I played with guys who'd played for him. That gave me an idea of what he was like. A great football coach, a lot of success. If I had to nail one thing down, from being a coach for him? ...I'd say two things. His great asset was organization. And two, his ability to see the potential of a football player. He had a great knack of picking out athletes.
I think you either liked Paul Brown or you didn't. There was no in-between. If you were a player, you maybe didn't like him. He wasn't there to win friends and influence people. He was there to win football games.
tcf: What advice can you give my Browns?
FG: It's hard always starting over. You're better off with consistency in coaching. I still have a lot of fond memories of Cleveland. My kids grew up there.
tcf: Is there anything else you'd like to tell Cleveland Browns fans?
FG: Let me tell you this about Cleveland: Cleveland Browns fans over there are not fair-weather friends. I can vouch for them. They came, they cheered for us, they were patient... They could see things were turning for the better.
Some people think fan support is overrated. I don't.
tcf: Last question: Which is the better football city- Cleveland or Cincinnati?
FG: (Laughing) I won't touch that one with a ten-foot pole.
Thank you for reading.
Below: Browns coach Forrest Gregg has a word with an official.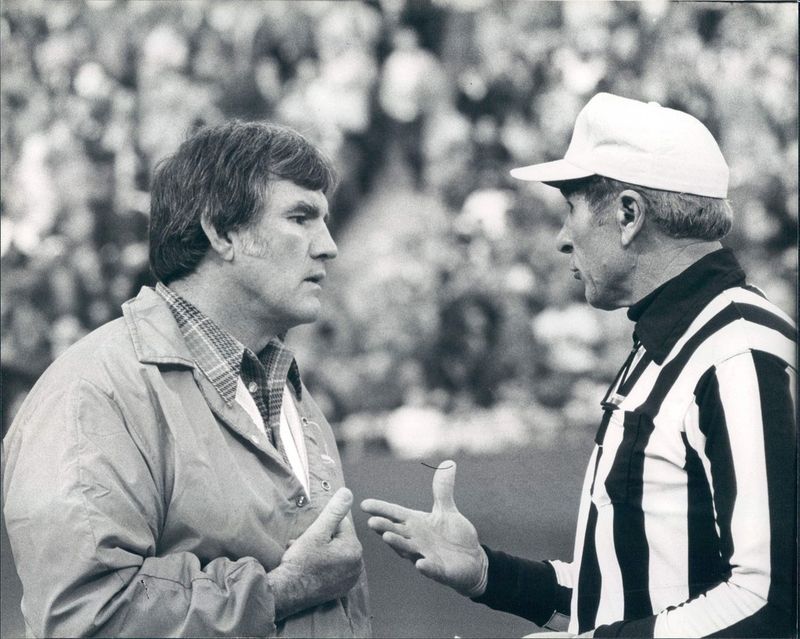 Dec 20, 2011 7:15 PM
Last Updated:

Dec 22, 2011