It's time to stop judging this team by such conventional standards as wins or losses. Progress is their watchword. But no progress was made this week as the Browns suffered their third straight blow-out loss, this time at the hands of the Baltimore Ravens, 34-3. As if that wasn't enough, Eric Mangini decided to muddle the quarterback situation even more by throwing Derek Anderson to the wolves to start the third quarter. It didn't help. Anderson threw three interceptions while leading the Browns to a meaningless field goal. Gary talks about it in his latest.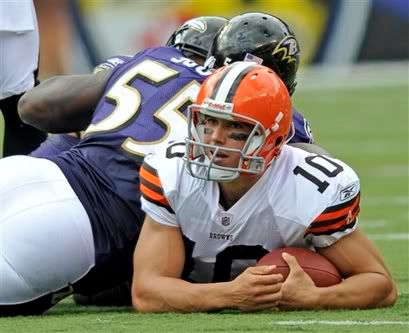 It's time to stop judging the Cleveland Browns by such conventional standards as wins or losses.
The watchword for these Browns is simply "progress" as in was there any noticeable progress from the previous week's disaster? Adjusting expectations according, the Browns were more Denver bad than Minnesota bad as they were blasted by the Ravens, 34-3.
Like a bad movie being played on a continuous loop, head coach Eric Mangini decided to revisit the relative salad days of preseason by reintroducing a quarterback controversy for the coming week. Here's what we know. The limits of Mangini's patience is 10 quarters. That's how long he gave his preseason quarterback derby winner Brady Quinn before pulling the plug by inserting Derek Anderson in the game to start the second half. It didn't pay immediate dividends. In fact it didn't pay any dividends, unless you consider that it made a dark and dank situation even more muddled. Anderson moved the team once but threw 3 interceptions in his limited time. You figure out what that means, I've lost the will.
If there's a controversy next week regarding the quarterback slot, it will probably be over who has to start. Being forced to start at quarterback for this team, a team without a running or receiving game, is like being forced to clean the bathroom with a toothbrush after a frat party.
While 3 interceptions in such a short period of time are impressive by even Cleveland standards, Anderson had a few nice moments. Playing in garbage time that seems to be arriving earlier each week, Anderson at least put his team in relative to position to score by driving them down to the Ravens 8-yard line on his second drive.
The drive featured a number of "good Anderson" plays where he avoids the rush and throws down the field followed by a number of "bad Anderson" plays where he inexplicably trips over his feet and misses a mid-range pass. Still, for a moment it was good enough to give fans hope that someday soon a real touchdown might be scored.
Just not on this day. Down 27-0 and apparently deciding that in some sense progress is measured in points, Mangini eschewed 4th and goal from the 12 (yea, they were 1st and goal from the 8) and instead sent out newly-signed kicker Billy Cundiff for a 30-yard field goal. How very Romeo Crennel of Mangini.
As for the rest of the game, at least it fell apart early, dispelling any notion at the outset that it might be competitive and giving fans enough time to get some chores completed.
Taking the opening kick off and moving the ball for a brief moment on their first series, it blew up 5 plays into it when quarterback Brady Quinn was intercepted by cornerback Dominique Foxworth at the Baltimore 37-yard line. Foxworth then lateraled to Ray Lewis who got the ball to the Cleveland 31 yard line. From there, after a perfunctory toying with the Browns' defense on 4th down, Willis McGahee essentially walked into the end zone so unmolested that he could have Twittered his status on the way and just like that the Ravens had a 7-0 lead.
Meanwhile, back on the Ravens side of the ball, offensive coordinator Cam Cameron used the team's second drive to demonstrate not just to the Browns but to the rest of the league that this is a team in full.
Like Artie Lange at a Vegas buffet line, the Ravens marched through the Browns with ease for the drive's first 77 yards but a timely sack of quarterback Joe Flacco forced the Ravens to settle for a 37-yard field goal by Steven Hauschka. The drive was greatly aided by the Browns' defense's inability to put pressure on Flacco for most of it and a late hit penalty that will have Mangini poking out his eyeballs when he looks at it on film Monday, but those are just details. The Ravens made it look effortless. The Browns, on the other hand, looked to be using less effort.
Here's a question to ponder so early in the week: on the Browns' next drive, Jerome Harrison had the team's longest run of the season, 17 yards. On first down Quinn quick snapped a quarterback sneak. The question is why? Did he think that Harrison was a yard short of the first down on his run? Was he trying to catch the Ravens napping? Was Maurice Carthon subbing for Brian Daboll as offensive coordinator? The answer isn't all that important except that it is. It was a wasted play against that feasts on wasted plays. Two plays later, the Browns were punting.
But this being about progress and not results, the Harrison run did change field position. Dave Zastudil's punt was downed at the Baltimore 9-yard line. An illegal block penalty put it at the Baltimore 3-yard line. This is the spot in which it would be nice to write that the Browns defense, emboldened by having the Ravens buried deep, tightened and held, forcing the Ravens to punt from their own end zone and giving Cleveland the ball at the Baltimore 45-yard line.
Actually, it was nice to write that, though it would have been nicer if it were true. Instead the Ravens put together another long drive, 92-yards to be exact, before being stopped at the Cleveland 5-yard line. Hauschka hit the 33-yard field goal (which would have been a 23-yarder but for a holding penalty on his first kick) and pushed the score to an even more insurmountable 13-0.
Again, though, this is about progress and from a progress standpoint the Browns defense may have given up two incredibly long drives, 77 yards and 92 yards, back-to-back, but at least they didn't let the Ravens in the end zone. Kudos, I guess, to Rob Ryan.
Where, then, to fit in the Ravens next touchdown, the one that helped make it 20-0 at half? The answer, of course, is somewhere between the 77-yarder and 95-yarder. This one was precisely 80 yards. For those bothering to do the math, that's 4 drives in the first half covering a total of 271 yards. For perspective, that's more yardage than the Browns had in either of the first two games.
The Browns, as usual, didn't find the end zone in the first half. They didn't even come close. Not a whiff. But since this is about progress, call it a draw. They haven't scored a touchdown in the first half of either of their first two games, either.
It's probably best not to get into too much detail about what took place in the second half. The overarching story was Mangini pulling the plug on Quinn and Anderson doing his best to punch his own ticket elsewhere. For the rest of it, let's just put a positive spin on it and acknowledge that not as much progress was made as Mangini had hoped. Here were the highlights:
Opening kickoff, Browns were offside.

Mangini, I think, swallowed his tongue.
Browns defense holds Ravens, forcing their first punt at 12:47 of the third quarter, thus marking this the first halftime adjustment that's worked for the Browns this season.
When Anderson entered the game it wasn't a surprise. I remember thinking at the moment Quinn threw the interception on the Browns' first drive that his days as the starting quarterback were dwindling quickly.

Apparently Mangini had the same thought at the same time.

Scary, huh?
Anderson shows exactly what a backup can do when given the same empty toolbox as the starter.

He, too, throws an interception on his first drive, thus keeping it at "1"

the number of halftime adjustments this season that have been effective.
McGahee goes where Adrian Peterson and Correll Buckhalter have gone before.

He rumbles 34 yards down to the Cleveland 19-yard line, treating Brandon McDonald as if he were his little brother by pushing him out of the way twice.
Ray Rice completes what McGahee started by running the final 9 yards, giving the Ravens a 27-0 lead. In England, it's 6 hours later and owner Randy Lerner is just sitting down for dinner.

Good show, mate.
As Anderson began his second drive, the media drones from Sector 2 readied the next wave of quarterback questions for Mangini while the Ravens defense contemplated whether or not to stay interested enough to try and pitch a shut out.

Ah, the game within the game.

The Browns win this little battle when they foil the shut out with the Cundiff field goal.

For apparently no reason, Shaun Rogers throws Ravens guard Ben Grubbs to the ground and gets an unsportsmanlike conduct penalty.

Oddly, this seemed to rattle the Ravens enough that McGahee fumbles on the next play, deep in Browns' territory, and the Browns recover.

The Ravens didn't stay rattled for long as the Browns were forced to punt a few plays later.
In what may be one of his final drives as a Cleveland Brown, Anderson throws long and downfield in the direction of Edwards.

Dawann Landry, wearing Ravens purple, sees it land in his gut for the interception.
With a 27-3 lead, Ravens head coach John Harbaugh gets word from the press box that tiebreaker points might be needed.

Flacco throws long to Derrick Mason, who makes a great catch and move on an outclassed McDonald and turns it into a 34-3 game.

McDonald must be worried that he is soon to receive the Martin Rucker treatment.

It's barely 3:30 p.m. EDT, there's still over 7 minutes remaining and yet it seems like the game already has lasted 4 hours.
Anderson throws his third interception and somewhere on the Browns' bench Quinn is probably muttering under his breath, "told ya."
Troy Smith enters the game and for two series the Browns hold.

Smith deserved better.
Sorting through the wreckage, the final stats tell the story in one sense but not in another. The Ravens had 479 yards in offense, the Browns 186. Flacco was 25-35 for 342 yards, Quinn and Anderson were a combined 17-27 for 115 yards. Baltimore had 142 yards on the ground and the Browns had exactly half of that. It would be hard to find a game more lopsided out of the Texas-UTEP game.
As bad as things were last season, the sting of this season is far worse actually. Promised a new direction and a new attitude, most fans didn't even begin to contemplate that that meant backwards and worse. There is no spark or passion on this team as it takes its cue from the emotionally inept Mangini. The players know that theirs is a boat that is drifting listlessly and that Mangini is responsible for the lack of rudder. He put the team in this position offensively by not committing to one quarterback early in preseason and he took an ax to whatever continuity was being built (admittedly not much) by throwing Anderson in when things got tough.
If the Browns really want to fix this mess then they have to set a course and learn to live with it, for all the ups and down that may come. Instead they change direction on a whim and with their third straight blowout loss, find themselves once again going in circles. Apropos to nothing, the New York Jets are 3-0.