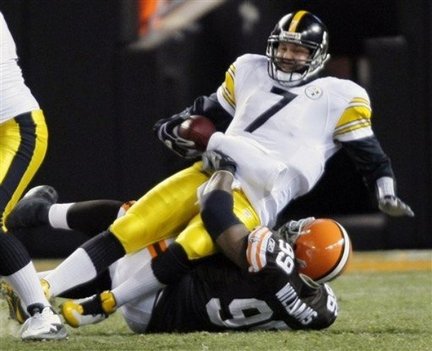 His most recent walk on the wild side in the rear view mirror, Pittsburgh Steelers quarterback Ben Roethlisberger finds himself at a career crossroad. Meanwhile, most everyone else asks: When did the Steelers become the Cincinnati Bengals? Along about the time they wrung their hands mightily but still held their nose as team ownership and management decided, despite it all, to keep Roethlisberger in the black and gold for another season.
When last I visited this topic, I predicted that the Rooneys wouldn't throw Roethlisberger overboard. In truth, it was a lay up as far as predictions go. In allowing Roethlisberger to remain employed with the Steelers, the Rooneys were just practicing the same kind of convenient rationalization that has permeated the Bengals thinking for years.
When the Bengals re-signed Chris Henry at the beginning of the 2008 season, they did so knowing that this was the same person that had been kicked off his college team and had been arrested on 5 different occasions while with the Bengals. But the Bengals were desperate for receivers and thus justified the signing by saying that they were now convinced that the player was serious about turning things around.
That didn't work out too well for Henry or the Bengals. Last season, while away from the team because of a broken arm, Henry got into the ubiquitous domestic dispute with his fiancée. She tried to drive away from the dispute in a pick-up truck. Henry jumped in the back, fell out and died, a tragic end that seemed rather inevitable.
Roethlisberger hasn't faced the same kind of criminal past as someone like Henry, but his past is pockmarked well enough. Roethlisberger may not be headed for the same kind of ending as Henry, but anyone that doesn't think Roethlisberger is headed for even more trouble nonetheless is just conveniently turning a blind eye.
The Rooneys decided that Santonio Holmes, with his marijuana use and general bad attitude, was no longer worth the trouble and shipped his reckless soul off to the New York Jets for little more than a case of Advil. He's now someone else's problem. But then again the Steelers have other receivers on the roster. What they don't really have is another quarterback.
That's why the Rooneys are making excuses and minimizing the damage Roethlisberger is doing not just to himself but to their reputations as well. To hear them tell it, Roethlisberger is now on some sort of short leash with the only thing standing between him and a starting job with the Oakland Raiders is another episode of public drunkenness.
In normal times, the over and under on that is 30 days. But with all the paid lackeys on both the Pittsburgh and Roethlisberger payrolls, I imagine that they can keep him under wraps for longer than that. Forever is another question altogether.
It may be prime time in the NBA playoffs and the baseball season getting into full swing, but Sports Illustrated devoted their most recent cover to Roethlisberger, showing him on the sidelines as the unshaven mess he is on game days. It was a perfect metaphor for the unshaven mess he's been on every other day as well.
The story they tell of Roethlisberger is something much more than a cautionary tale about how star athletes abuse the privileges thrust upon them for no reason other than their ability to bring smiles to the faces of grown men and women who gladly plunk down too much of the family budget to watch them play. It's a lesson about how duplicitous those who should know better can be when it's their wallet at stake.
The SI story about Roethlisberger is disturbing on any number of levels. The upshot though is that Roethlisberger has lost the ability to distinguish between real life and football life. He has essentially morphed into his stage persona of Big Ben in his private life and in the process has become a loutish, brutish doofus who seems to enjoy standingthisclose to the line between right or wrong or, perhaps, freedom and jail.
Teammates, some at least, will now at least whisper about Roethlisberger's lack of focus and preparation. Others probably just shake their heads while Roethlisberger has surrounded himself with hired friends like the moonlighting cops swept up in the vortex as if Roethlisberger was Elvis and they were his Memphis Mafia.
What we do know is that like Elvis, no one dares tell Roethlisberger when he may be getting a little out of hand for fear of being kicked off the gravy train. Think about it. You're a police officer in tiny Milledgeville, Georgia or Coraopolis, Pennsylvania or even a Pennsylvania State Trooper. You get to moonlight as a bodyguard for a stupidly rich NFL quarterback who likes to party and bask in the reflected glory. Can there be a better gig?
Actually, yes, but if these three had a discerning bone in their bodies they could see that. Instead they end up having the judgment of 13 year olds trying to steal cigarettes from the corner store. And to think that their day jobs are to protect the public from just this kind of conduct.
Facing a couple of lawsuits in Lake Tahoe, Nevada, one of which alleges he sexually assaulted a hotel worker, hasn't seemed to made much of an impact on Roethlisberger. Neither did the motorcycle accident that almost took his life. He's still reckless with women and with riding. Roethlisberger sees himself as bulletproof in every aspect of his life, so long as he completes the passes that lead his team to victory.
If you want to play pop psychologist, it would be easy to conclude that it's all just one giant cry for help, that Roethlisberger has some deep-seated feelings of worthlessness that he temporarily salves by becoming the center of the universe. It's more than that.
If he were a movie character, you could easily see him being played by Will Ferrell. The problem is that as inventive as Ferrell can be, I doubt he ever imagined playing a character this much over-the-top. Roethlisberger isn't Frank the Tank. He's Frank the Twenty-Ton Get the F--- Out of My Way or I'll Vomit in Your Car and Molest Your Sister Tank.
According to the SI story, Roethlisberger's reputation around Pittsburgh is starting to take a significant hit. It's not a surprise. As much as we in Cleveland like to look down on our counterparts in Pittsburgh, they've always been like twin sons of different mothers to us. Their values tend to run similar as ours and despite all that Roethlisberger has accomplished for the Steelers, fans there are pretty much sick of his antics and would hardly have wept if the Rooneys had sent Roethlisberger packing. I'd like to think if the situation were reversed, Cleveland fans would be reacting similarly.
I also know that all it will take for Roethlisberger to reclaim his reputation in Pittsburgh will be to keep his nose clean, get the 6-game suspension reduced to 4, and then come in and win some games. It's just the way those things work. It would work that way in Cleveland, too. Look how long Indians fans looked the other way with Albert Belle.
SI called Roethlisberger's recent apologies tepid. I'd say they were perfunctory but why quibble? As Henry and a boatload of others like him have taught us, it's not the words anyway but the actions. Towing the line for those not prone to it is more difficult than playing the game they love. That's why the odds don't favor Roethlisberger's longevity in Pittsburgh or the league, for that matter. He may prove to be the exception, but it isn't likely and just like the rest of them he'll have only himself to blame when he eventually finds himself out of the league and just another fat, drunk, stupid and broke anybody who actually used to be somebody.
May 11, 2010 9:00 AM
Last Updated:

May 11, 2010