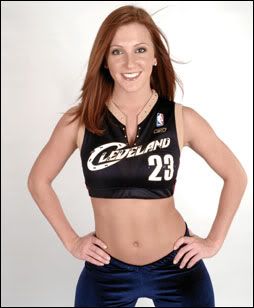 PREVIOUS INSTALLMENTS

Cavs Girl Of The Week - Brianne
We started this Monday feature back in late February, and saying that the response has been positive would be a vast understatement. Shocking, I know. About 95% of my readers are males between the ages of 25-54. The reaction has been about as surprising as a dog used to Kibbles & Bits enjoying a nice juicy medium rare steak.
After Cavs season ends, I may stay with this weekly feature in some form ... maybe moving to actresses next. As always, your feedback is ENCOURAGED.
And the bio question answers just get better and better each week. Especially the question "Which two items would you bring to a deserted island with you?" I never thought we could top Laura's "A cell phone and a puppy."
Well, we have.
When asked what TWO things Amanda would bring to a deserted island, she replied : "Water, food, and my best friend."

I swear to god! Check the link yourself!
Click here for Amanda's home page on the Cavs official site
Birthday: March 12

Years on the Team: 3

Hometown: Cleveland

Hobbies: Shopping, working out, sewing, going on walks, and enjoying beautiful weather!

Other Occupation: Seamstress and a hostess at a high-end restaurant

Favorite Movie: Dirty Dancing

Favorite Actor/Actress: Johnny Depp

Favorite Car: BMW m3

Favorite TV Show: Desperate Housewives

Favorite Type of Music: Top-40 and Hip Hop

Favorite Food: Peanut Butter!

Favorite Book: Charlotte's Web

Favorite CD: Jewel's 'Spirit'

Pets: A dog named Dakotan and a bunny named Turbo

Two Things You Would Bring to a Deserted Island: Water, food, and my best friend

If You Could Have Dinner With Anyone in the World, Who Would it Be and Why: My grandmother. She is the most amazing woman. She's loving, beautiful, and extremely generous. She has taught me how to be a better person.

Favorite Place to Visit/Travel: Atlantis in the Bahamas

What is the Most Attractive Quality You Find in Someone: True kindness and honesty

What Do You Do to Relax: Watch movies and talk to my mom

Favorite Moment as a Cavalier Girl: In the 2003-04 season when we danced with Wade Robson

What Are You Most Excited About for the Upcoming 05-06 Season: Peforming again for the Cleveland fans!