A little bit of a changeup to Minor Happenings this week. The weekly report will be broken up into three installments this week, with the Director's Cut from Farm Director Ross Atkins posting today on its own, and then on Friday the Player of the Week will be featured along with several other prospects Tony talked to over the past two weeks. Ant then on Saturday the news and developments in the system will be recapped. Tony had the chance to sit down and have an extended conversation with Atkins, and he recaps it all here for us. Great stuff from Atkins.
A little bit of a different approach to Minor Happenings this week. With my recent pitstops in Mahoning Valley, Lake County and Akron, along with getting a chance to have an extended conversation with Indians Farm Director Ross Atkins, Minor Happenings will be split into three parts this week.

Today in part one, I do an extended "Director's Cuts" which recaps all the comments from a chat I had with Indians Farm Director Ross Atkins this past week. There was so much information shared, I decided to separate it from the rest of the usual Minor Happenings news and notes.

Tomorrow (Friday) in part two, I'll talk about TheClevelandFan.com Player of the Week, who just happens to be a player I had a chance to sit down and talk to as well. I'll provide a deeper look into that player, as well as also provide a couple quick writeups on some other players I talked to during my visit to some of the Indians affiliates. Players such as first baseman Michael Aubrey, outfielder Brian Barton, and shortstop Mark Thompson.

And in part three on Saturday, I will provide the rest of the regular Minor Happenings content and recap all the news and notes as usual in a more condensed report since the Player of the Week and Director's Cut features will have already been discussed in separate articles.

Also, just a reminder, there will be no Minor Happenings next week. I'm off to Florida, and will be vacationing down there as well as taking in the Indians rookie-league team the Gulf Coast League (GCL) Indians the next two weekends. Minor Happenings will return on Thursday August 2nd, and I'll also have a writeup on the GCL club including video and pictures of some of the players sometime before or after that as well.

During my absence next week, my hope is to have a few feature articles to post on some other players I talked to like catcher Matt McBride, right-handed pitcher Mike Eisenberg, third baseman Beau Mills and outfielder Nick Weglarz.

With all that out of the way, onto my discussion with Ross Atkins.

Director's Cuts

At the Lake County Captains game last Friday, I had the chance to sit down during the game and talk to Indians Farm Director Ross Atkins at great length about a great number of players up and down the Indians farm system. Here is a recap of what he had to say about them:

On how things are going his first year as the Farm Director: "Good. I am certainly benefiting from Mark Shapiro and John Farrell (former Farm Director) and how they put into place a strong program and staff. Having been a part of the organization since 1995 it makes for a relatively smooth transition into the job. Shapiro is basically 15 yards away every day which makes it nice."

On Jensen Lewis (RHP - Cleveland): "He has good deception with his delivery. He is aggressive with his fastball and can elevate it. His changeup is above average and is an out pitch to righties and lefties. He also has just developed a little

cut slider that he can throw with two strikes and in on a lefty to get a groundball, and it is really is two different pitches depending on if he is facing a lefty or righty. He is the hottest pitcher in the system the last 45 days besides maybe Aaron Laffey. When a guy is that hot and on his way up there is not a whole lot player development can say that he needs to do to be finished off except go to the major leagues. He has recently converted from the starting rotation into a bullpen situation, and he has handled that transition very well. He is striking guys out, walked very few hitters and not gotten hit very much. His fastball velocity has played up and he is up to 94 MPH, but pitches more at 91-92. He will help in the (Cleveland) bullpen, and could be a late inning relief option down the road. He is one of the most disciplined players we have, and highly intelligent. He has really made the most of his development opportunities, and everything he has been asked to do he has answered the call."

On Trevor Crowe (OF - Akron): "This has been obviously an interesting year to say the least for Trevor. He is a player who has had success his entire life, and success in professional baseball as well as a very productive major league spring
training as well. He came down to the minor league level and the ball was not bouncing his way. So guys who do have struggles they are able to come out of at the minor league level certainly benefit from it, along the same lines of an injury. You start to realize and understand the importance of a routine, the importance of the mental side of the game and actually applying yourself in that area and doing what it takes to be consistent. That is what a professional is. Natural ability only gets you so far, and it is what happens between the ears that is what takes you to the next level. And he is learning that right now, and it is amazing what he has done the last month. Not only his batting average increasing, but what he has done the whole game in regard to base-running and defensively that has not taken a step back. With a guy who has had that type of performance and that type of attention in his career, and all of a sudden that attention is negative, we are very pleased with how he has handled that so far."

On Wes Hodges (3B - Kinston): "This is his first year in professional baseball. Has an unbelievable ability to make adjustments. The way he adapted to the game and the Carolina League has been nice to see. The Carolina League is a
tough place to be introduced to professional baseball because you play the same teams over and over. There are only eight teams in the league, and you play the ones closest to you over and over. So once they get to know you, you better have the ability to adjust. And he has obviously shown that ability. He is hitting over .300, and actually over the last month he has not been performing as well. So, I think he is going to make some adjustments now and get heated up again. We see him as an everyday third baseman with the chance to have some power. We are in no rush (to promote him). He is off to a great start at a high level, and we are very excited about Wes. He is one of the most intelligent baseball players in the system, and a true student of the game." Ross also mentioned he will most likely remain in Kinston the rest of the year as he still has things to work on.

On Jeremy Sowers (LHP - Buffalo): "He is doing better. This has been one of the toughest two to three months of his
life. He has handled it extremely well, and he is doing the things he has been asked to do to get over the hump. The plan mostly has been developing a consistent routine between pitches and a consistent routine between starts. It always had been a strength of his, but he has to take it to another level now to help get his confidence back. Not that he is lacking self-esteem, just getting confidence in his fastball which is obviously going to fall off a bit when your performance falls off. It is a matter of stringing together three to four good starts in Buffalo and he will be right back on track. It is why those who do it over and over again get so much money. The value of the guys who have the ability to repeat that over and over, year after year have incredible value to an organization. And Jeremy will be one of those guys down the road."

On Aaron Laffey (LHP - Buffalo): "One of the keys is he has been in the system for four years and has almost 600 innings
in the minor leagues, and it is starting to all come together. Also, his innate confidence is ridiculous. His backdoor breaking ball is about as good as they get, and he didn't have that a year ago. That is something that has gotten him over the hump and into Triple-A and performing at that level. It is really an un-hittable pitch. It is a matter of whether he is going to get the call with it, and if so there is nothing you are going to do with it. If he is commanding it, it is big enough that it starts out of the zone and lands just in there."

On Kelvin Diaz (3B - DSL): "In regard as to why Diaz is still in the Dominican Summer League, Ross responded: "Visa problems still. That's it. It really is pretty simple. In the Dominican Republic you are born in your home and it is not documented when you are born (with the government). Then all of a sudden you become a baseball player, so you take your documentation you have in to get a Visa. That's where it is. We have been dealing with this for two years, and if he were here he would probably be in Kinston right now. It is basically an issue with the government."

On Beau Mills (3B - Lake County) staying at third base: The plan originally was to move him over to first base right away, but they have decided to leave him at third base for now. "He has the agility and athleticism to play the position, although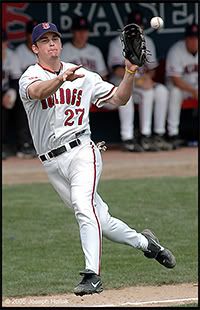 he has an arm injury he suffered over three years ago that he feels he has not recovered from. We have a lot of confidence in our medical staff, and the shoulder program we have here in strengthening the shoulder. We want to give that a whirl before we eliminate that position, and we have a lot of confidence he can do it."

On Beau Mills settling in: "His feet are wet. He is hitting the ball hard hitting line drives, and he really is a lot more comfortable than a month ago when he first started in Mahoning Valley. The intensity and effort level is a little lower, which is a good thing in that he is not trying to do too much. His intensity and the way he has transitioned into the game and getting along with guys who may have three years of professional baseball under their belts and the way he is interacting with the staff is really remarkable. It is easy to see his father has been a huge influence on his life."

On Nick Weglarz (OF - Lake County): "He might be one of the most encouraging stories of the year. To be 19 and have that on-base ability and an OPS over .800. He seems to understand the value of on-base percentage. He is very selective. Guys that are patient and learn to do that at an early age are unusual. Offensively, he is as encouraging as any of our young players in the system. Defensively he has some work to do."

On Joe Inglett (IF - Buffalo): "The biggest thing for Inglett this year is he missed spring training. He didn't get that kick-start that is beneficial to his game to get off to a good start and have your legs under you. His spring training occurred a month and a half later than everyone else, and over the last month he has performed very well. He has been playing in left field and at second base, and could be an integral piece to the team (Indians) down the stretch."

On Justin Hoyman (RHP- Extended Spring Training): "He is in extended spring and his shoulder is just not recovering. His arm speed has not come back."

On the Futures Game: "Great exposure for the players, and a great development opportunity for the players to be in that type of showcase environment. It was also nice to have players on both side of the diamond as well."

On the young pitchers at Lake County: "It really has been fun to watch (the players grow). Most of the guys are 19-20 years old, and they got off to a slow start here. A lot of people had some doubt and concern that we put them in roles over their heads. Now we are seeing some of the raw talent come to fruition and show up."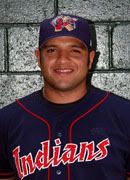 On finishing guys off: "The hardest thing to assess (with players) is the mental part, especially a guy who has never had failure and how they deal with that. Even at the lower minor league levels you really don't know until a guy gets to the point where he starts to hit his head against the ceiling and how he deals with that frustration. This is where the "finishing them off" comes from. You are finishing them off as men, as professionals, and as professional baseball competitors. The finishing off is definitely between the ears."

On Max Ramirez (C - Kinston): Atkins made quick mention that Kinston catcher Max Ramirez will likely finish the year in Kinston. He still has things to work on from a catching standpoint, and there is no rush to move him up.