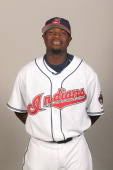 With one hour remaining on the deadline to deal him, the Indians traded Brandon Phillips to the Reds yesterday afternoon for a player to be named later or cash.
Had the Indians not traded Phillips by yesterday's 2 PM deadline, they would have been forced to place him on outright waivers, where he would have been claimed immediately, with no compensation coming back to the team. Phillips will join the Reds big league roster for their game today versus the Pirates.
The Indians will receive their choice of cash, or a minor league player from the Reds, and they have until June 15th to decide. The amount of money has already been determined, and the player would likely amount to a low level minor leaguer with high upside, similar to what the Indians got from the A's when they dealt them former porn star Kaz Tadano.
The trade of Phillips officially closes the book on a disappointing three years in Cleveland for him. He came over in 2002 as the centerpiece of the trade that sent Bartolo Colon to Montreal, yet failed to flourish while the other players that came over with him (Sizemore and Lee) did. Phillips is major league ready defensively, but his long swing, lack of base-stealing speed, and cocky attitude sealed his fate here in Cleveland.
This is one of those decisions that has the potential to come back and bite the Indians in the ass, as Phillips is still a very talented kid. The Indians opted to keep Ramon Vasquez over Phillips as the teams utility infielder.