As the Cleveland Indians continue their initial tour of the American League like a piece of wood adrift in Lake Erie, manager Eric Wedge claims he's starting to see a gleam. Ok, he didn't quite invoke the spirit of Marty Schottenheimer, but he is in his full Pollyanna mode when he recently said, essentially, that but for the games his team lost, they were really close to winning. Gary believes the problems run much deeper, and talks about it in his latest column.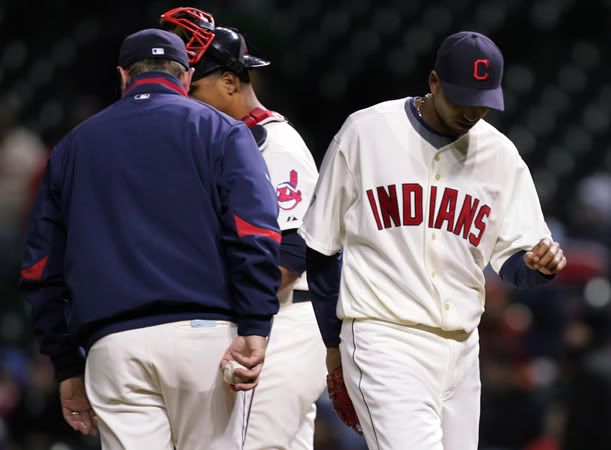 As the Cleveland Indians continue their initial tour of the American League like a piece of wood adrift in Lake Erie, manager Eric Wedge claims he's starting to see a gleam.
Ok, he didn't quite invoke the spirit of Marty Schottenheimer, but he is in his full Pollyanna mode when he recently said, essentially, that but for the games his team lost, they were really close to winning.
Maybe it's just a matter of perspective. The Indians' 9-7 victory against Toronto on Tuesday was notable not for the rare win but for laying out publicly why Wedge, ever the optimist, is going to be challenged the rest of the way as he searches for the bright spots that others can't see.
Optimistically, Tuesday's game demonstrated that the Indians can be a good team, or at least a team that can be good occasionally. But like that car in the neighbor's garage that is perpetually being worked on, to this point it runs only long enough to be shown off around the neighborhood. It clearly isn't highway-ready, at least without some additional tuning.
Realistically, Tuesday's game demonstrated that this team needs more than a new clutch plate and a new set of shocks. It is a team not just lacking leaders but an identity. If it's true, and it is, that a team takes on the personality of its manager, then that adequately explains its rather bland approach to the game. Playing at times just well enough to not embarrass, the team seems too bogged down with underachievers seemingly going through the motions, which is as apt a description as exits for its poster child, shortstop Jhonny Peralta. When you couple this with the occasional managerial blunders you get a team playing as if they're stuck in the mud somewhere in the swamps of Jersey.
The usual disclaimers aside about this being a long season and all, the most telling thing about this team is the fact that it's longest win streak thus far is 2-games.
Giving due respect for the game's difficulty, undoubtedly no player can avoid the low tides in a season. There will be times when a hitter will be lost at the plate and others when the ball looks as big as a beach ball. Pitchers go through similar rhythms. One day every pitch is at a batter's knees and painting the inside corner. The next, every curve hangs there as if suspended by a string just waiting to be hit 500 feet, usually with two runners on. Sometimes there are group slumps and sometimes every batter turns into Manny Ramierez.
In that sense, placing emphasis on any game probably is a bit unfair. Still, there are always a few games each year that serve as a microcosm and Tuesday's game was this season's first. The win notwithstanding, it will be seen as a far bigger success if it convinces general manager Mark Shapiro that there are fundamental ingredients missing from this team.
In no particular order, the Indians spent most of the game being fooled by Brian Tallet, a former top prospect with the Indians whose career has mostly been sidetracked by injuries. He now pitches long relief and even then he hasn't been all that effective. Yet there he was, pressed into a start, mystifying Cleveland hitters as if they were facing Syd Finch for the first time.
If you weren't watching the game and just saw the box score, it may have looked like Tallet was throwing a decent game. If you watched, you had no such allusions. Somewhere around the 5th or 6th inning, when Tallet was still flirting with a no hitter, announcer Rick Manning was spot on when he said that Justin Verlander may have had no-hit stuff on Sunday against the Indians, but Tallet certainly did not. Tallet was walking batters and hit another. He wasn't dominating hitters and his control was just average. All he really was doing was putting hittable pitches past a team that did everything but yawn as they approached home plate like so many others already this season.
Until Tallet tired in the 7th inning, you would have trouble finding a team less connected to that game than the guys wearing Cleveland jerseys. Even Grady Sizemore, the one player who almost always seems to be playing full out, looked like he wanted to be anywhere other than at the Rogers Centre in Toronto.
Meanwhile, Indians pitcher Fausto Carmona was doing his part, just barely, to keep his team in the game. He was pitching well early but demonstrated again late that he has difficulty pitching with the lead. More broadly, while the Carmona of this season is an improvement over last season, he hardly looks like the pitcher of two seasons ago. At the moment, he seems so mechanical in his approach that you can almost see the thought balloons above his head before he pitches. "Keep ball down and away." "Get ahead of hitter." "Don't make another mistake." Either pitching coach Carl Willis has Carmona's head filled with too much information or Carmona is having trouble adjusting to a league that has adjusted to him. Whatever it is, Carmona hardly looks fluid or natural. It's why he hasn't been effective.
But despite these two circumstances, the real markers for this game and this team were the two signature moments of the game: Peralta's at bat in the 7th inning and 9th inning at bat by the Blue Jays' Jose Bautista.
Peralta, hitting barely above .200 before the game, was called out on strikes to lead off the 7th inning, sinking his average even lower. He ended the evening 0-5. What was most notable though was his complete indifference at the plate, as if making an effort wasn't in his job description. When Tallet's final pitch to Peralta in the 7th hit the inside of the plate, Peralta looked bored by the whole thing. He gave a perfunctory glance back to the home plate umpire as if to say "is it time for Wapner?" Clearly he was in no position or mood to argue. It's a moment that deserved to get him benched for a week. Instead Wedge trotted him right back out there secure in the belief that doing the same thing in the same way eventually would lead to a different result.
If Peralta really is trying, despite all evidence to the contrary, then what he needs more than anything else is a body language coach. Right now he's telling everyone watching that he'd rather be in the clubhouse playing ping-pong. Move Asdrubal Cabrera to short for a few weeks, put Josh Barfield at second and let Peralta spend some time on the bench next to Jamey Carroll learning what it means to feel lucky you're in the major leagues.
The second signature moment came with two and two out in the bottom of the 9th and the Indians with what turned out to be a precarious 6-4 lead. Reliever Kerry Wood was on the mound and actually had Bautista at 0-2. But Bautista got the count back to 2-2 and then deposited the ball in front of Barfield who, in the ninth inning of a game, had been put into left field by Wedge. Did I mention that it was Barfield's first time ever playing the outfield? Did I have to?
In that moment, all that has gone wrong for the Indians this season did go wrong. You can fault Barfield for not catching the ball or fault the guy who put him in a position to fail in the first place. Through a series of questionable strategic calls Wedge overworked the roster in that way he usually does. While a case could be made for each move he made, that's inherently the problem. After seven years, fans are still left to make sense of the individual moves being made while the overall effect ends up being the same.
First, Wedge decided that putting Matt LaPorta in a position to fail in the 9th inning of a game so early in his major league career was too much to handle. Maybe that's right, but on the other hand, if that's really the case then LaPorta needs to be sent back to Columbus. True, LaPorta has only one hit since he was called up, thereby justifying to some extent Wedge's concern, but it just happened to be a 2-run homer earlier in the game. Moreover, it's not as if he looks overmatched at the plate, or, more accurately, any more over matched than anyone else on the roster.
What made the decision to pinch hit Dellucci for LaPorta in that circumstance is that it carried an implied second move. Once Dellucci got on base, Wedge almost had to pinch run for him, given Dellucci's recovery from a calf injury. That's how Barfield ended up playing the outfield for the first time in his career.
As it happened, Barfield ended up helping the team mount another comeback in a game that featured plenty. That comeback fortunately culminated with the 3-run 12th inning and, ultimately, the victory. But the victory is almost beside the point. It wasn't a gritty victory gutted out. It was a stroke of luck and an escape. Over time, it's a formula that will result in far more defeats than victories.
The sad truth of the moment is that a team that went into the season with such high hopes looks as if it's playing out the string and it's not even Memorial Day. Substitute the words "first day of fall" for "Memorial Day" in the previous sentence and it also describes the Browns of last season. In other words, the Indians season is giving beleaguered Browns fans a real sense of déjà vu.
If Shapiro thinks that there's enough talent on this team to really compete, then the finger of blame is rightly pointed at the manager for not wringing the talent out of the roster he was given. If Wedge thinks that the talent isn't as good as advertised, then the finger of blame is rightly pointed at the general manager for again misreading the players he acquired. But as those two go about trying to figure out which way is which, the fans already know that both things are true. This team needs players who can actually achieve at their potential and a manager who can make that happen.