There are two pretty good markers for when a head coach or a manager is on his way out. The first is when either the owner or the general manager gives you a vote of confidence. When one says it, it's bad enough. When both do, it's the kiss of death. Might as well say your goodbyes now. The other marker, of course, is when your players start defending you in public. Which happened this weekend to Indians manager Eric Wedge. Gary Benz talks about it in his latest article for us.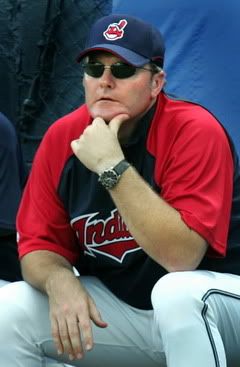 There are two pretty good markers for when a head coach or a manager is on his way out.
The first is when either the owner or the general manager gives you a vote of confidence.
When one says it, it's bad enough. When both do, it's the kiss of death.
Might as well say your goodbyes now. Like Big Pussy in the Sopranos you're heading out on a boat ride and you won't be returning.
The other marker, of course, is when your players start defending you in public. The minute you read "it's not "[fill in the blank]'s" fault, the locker room has been lost. The players know their coach is teetering and ultimately this becomes the final push to convince a reluctant owner or general manager before going in the proverbial other direction.
To this point, Cleveland Indians manager Eric Wedge has received the silent treatment, at least publicly, from both the Dolans and general manager Mark Shapiro. Better than a vote of confidence, I suppose. But as the inevitable thoughts are running through their collective minds about what to do with the manager of the worst team in baseball, they couldn't have liked hearing both Victor Martinez and Mark DeRosa publicly pretending to pull Wedge off the hook from which his livelihood now hangs.
Martinez couldn't have been more direct, DeRosa a little less so. But in each case the message was clear, they know their manager is in trouble. If they expected it to make a difference, then they weren't watching the Browns last season. Each time the self-proclaimed leaders on that team came to the emotional rescue of Romeo Crennel they then went out and just played worse. Look for the Indians' losing streak to continue.
Martinez says that the problem is a lack of fire and desire. That certainly explains the sleepwalking performance of perennial sleepwalkers like Jhonny Peralta. But does a lack of fire really explain why Ben Francisco can't hit a cutoff man or why Grady Sizemore now channels Gorman Thomas? Or is there something more fundamental going on?
Managers and head coaches at the professional level like to say that the players should be self-motivated. They know what's at stake and if they need a fire and brimstone talk to get them sufficiently primed to play their best then they probably don't deserve to be playing in the major leagues in the first place. There is some logic to that, particularly in baseball. The long season contains so many peaks and valleys that the race often is won by those who remain even keel. It's been Wedge's approach since he began his managerial career.
And while I'm not suggesting that Wedge turn into something he's not in order to publicly show the fans that he does have a pulse, I am suggesting that with this group of players the even keel approach seems to be having the exact opposite impact of its intended effect.
Martinez is right. The players seem almost completely unmotivated by the events of the day. It's not quite mid-May and they have all the look and swagger of a team that's 30 games out and it's September 23rd Here are two quick examples.
Friday night, Cliff Lee was once again pitching well but facing the Indians' latest nemesis, Justin Verlander. It was the bottom of the eighth inning, two outs and Curtis Granderson was on third. Lee looked to have wriggled out of a mini-jam by inducing Clete Thomas into a routine but somewhat slow rolling ground ball to second. Luis Valbuena, playing second while Asdrubal Cabrera was at short (Peralta had been benched about 10 games too late), couldn't turn that routine play into an out and the run from third score. The official scorer gave Thomas a hit. It was an error.
When Lee went into the dugout, he was hot, as he should have been. But Lee didn't confront Valbuena, a recent callup, and neither did Wedge. In fact, moments later that play that cost the team the game was pretty much forgotten and Lee was actually smiling as he leaned over the rail watching his teammates fail to execute for about the 36th straight inning.
What should have been said at that moment was that a team playing good, fundamental baseball makes that play every time. Maybe it was so obvious that it didn't need to be said. They should have said it anyway. Like a puppy that just wet the carpet, the correction needs to be made at as close to the moment as possible for maximum impact. Instead the opportunity to teach a lesson was lost.
The second came in the second inning of Sunday's game. There was one out, one run in and the bases loaded. Adam Everett hit a routine sacrifice fly to Francisco in left. Francisco then uncorked a throw that apparently was supposed to be to home plate. Francisco had no chance of getting Magglio Ordonez at the plate. But that didn't stop Francisco from making the throw anyway.
Of course the throw took catcher Kelly Shoppach up the first base line and allowed both Brandon Inge and Gerald Laird to each move up a base though they were content to remain at second and first, respectively, but for Francisco's throw. Granderson got the inevitable single and suddenly a two run inning was now a four run inning and the game was effectively over. Happy Mother's Day. Come back soon. Hope you liked the pink bats.
A play like Francisco's doesn't happen in a vacuum. It is the culmination of a lot of smaller mistakes that continue to happen and go uncorrected. If, for example, Valbuena had been appropriately taken to task for his mental mistake on Friday night, might there not be a chance that Francisco is on a higher alert on Sunday? Nothing's related but everything is.
Martinez and DeRosa can rightly claim that it's not Wedge making, or actually not making, the plays in the field. Nor is Wedge swinging the bat. But the flaw in that thinking always has been that it suggests that the coaching staff is essentially irrelevant to the process. That just isn't the truth.
The lack of talent on the Browns aside, one of the biggest issues with them under Crennel was a lack of preparation. Crennel looked almost as clueless on the sidelines to what was going on as the players did between them. It was a culmination of all that had taken place, or actually had not taken place, during the week. Fundamentals weren't getting emphasized. Players who didn't deserve it were given too much rope. Crennel paid the price because he should have. The team's lackluster play was a reflection of the lackluster coaching.
The same thing is revealing itself to be the case with these Indians. Wedge is almost too respectful to the daily struggles that every player has and seems reticent to make much of an issue about them. But at what point is Wedge going to wake up to the fact that Grady Sizemore, for example, has regressed tremendously at the plate? When is Wedge going to wake up to the fact that Peralta has no passion for the sport or that day in and day out his team is often losing for the most basic of reasons?
What fans are being forced to endure from this team is the culmination of a million negligent acts by this coaching staff over the years. It wasn't any one thing that Wedge or Derek Shelton or Carl Willis did recently that put this team in its current position. It was all the little things they did or fail to do for the last several years. The de-emphasis on the fundamentals. The lack of accountability. In other words, Wedge and his staff haven't bothered to balance their checkbook for years and now they find the checks they're currently writing being returned for insufficient funds.
The casual indifference Indians players have toward their jobs is flying under the radar screens of the average fans because they're distracted with the run by the Cavaliers. But that will end within the next month and pretty soon Shapiro and the Dolans will have to face the same sort of fan reaction that Randy Lerner was facing with the Browns.
It may be too early to completely write off this Indians season, but that's only if you assume something dramatic will happen to turn this thing on the dime it needs to turn on. Under the current thinking of this organization, it's just a matter of working harder, as if the middle of the season is the time for that revelation.
The Martinez and DeRosa votes of confidence were just the first step. Shapiro will stand up next. I have the feeling that he was watching the aftermath of the last Browns seasons and knows the inevitable outcome of his own dawdling if it goes on too long. It may be something Shapiro doesn't really want to face, but given the alternatives in this economy a new voice in the dugout and a new direction starts to look pretty promising.