Off day Monday. And Mark Shapiro and other high ranking members of the Tribe brass have been in Columbus the last several days watching the Clippers. Add that to the fact the team is struggling, and a total state of apathy has set in with the fan base, watching guys like Tomo Ohka and Ben Francisco every night ... and Tony says that we could FINALLY see some roster moves tonight or tomorrow with the Tribe. Tony give us his speculation in his latest piece for us.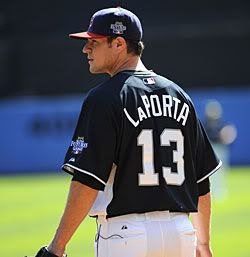 This is mere speculation here on my part, but with an off day on Monday we could (finally) see some changes with the Indians major league roster.

Going off what a high ranking official in the Indians organization told me two weeks ago where there would be some roster changes after the break, this would be a good time for those changes. To go a step further, I don't think it is just a coincidence that GM Mark Shapiro has been in Columbus the last three days and is supposedly coming back to or already is back in Cleveland today. There is a good chance that before today's game the front office will have already met and talked privately and made some decisions and will announce them after the game or sometime Monday morning/afternoon.

So what roster changes?

The moves likely will all involve positions players with Andy Marte (3B), Jordan Brown (OF/1B), Matt LaPorta (OF/1B), Josh Barfield (INF/OF), and Trevor Crowe (OF) all in the mix. LaPorta has long been expected to be promoted, so once a decision is made to make a few moves his name should certainly be among the callups. Also, Marte is getting strong support publicly in the past week from Indians manager Eric Wedge and several people in the front office, so it looks like he would be another one called up if a move is made. Unfortunately, this leaves Brown left out on the cold (again), though I think he could be moved up soon if they pull the plug by trading one or both of Ryan Garko or Kelly Shoppach.

There does not appear to be any pitching moves on the horizon unless Carl Pavano is dealt in the next week. Jeremy Sowers is lined up to make Tomo Ohka's next start if they want to do that. Fausto Carmona looks like he will get at least one more start in Columbus this Tuesday. Also, sorry Hector Rondon fans, but he is not coming to Cleveland (yet). It still looks like his ETA is going to be as a September callup or maybe a late August callup at the earliest.

Nutshell: I will be optimistic and say they callup LaPorta and Marte sometime later today or tomorrow so they are with the team as they travel to Toronto. Maybe I am reading into things too much, but in a season that has been flushed down the toilet and a team that the fanbase is becoming so largely apathetic in watching and following, getting some of these guys up to Cleveland may help create some interest in an otherwise dismal season.
Here's how I see the moves going down (whenever it happens, as I agree it makes no sense why they are dragging their feet):
First moves: LaPorta in, one of the 13 relievers out (take your pick among Gosling, Veras, etc), and Francisco to a 4th outfielder role. Also, Marte in, Chris Gimenez to Columbus.
Second move at a later (soon) date: Pavano traded, Carmona in.
Also, somewhere inbetween all that or shortly after, Sowers in and Ohka out.
That's it, that's all I really expect until rosters expand on Sept 1st, or whenever Jake Westbrook gets cleared to pitch in Cleveland.
Now, of course, if they end up trading Ryan Garko or Kelly Shoppach, or even Victor Martinez, then guys like Jordan Brown and Wyatt Toregas immediately jump into the discussion and could get big league time now. Also, if they trade Jamey Carroll, then Josh Barfield will be brought up. But until any of that happens, I only expect the moves listed above.