I get why you've hesitated. I really do. But you've run out of excuses.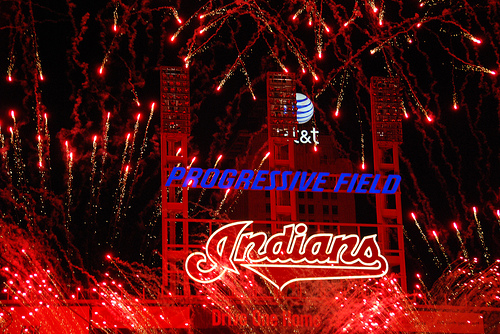 The train is leaving the station. If you don't climb on board now, you're going to regret it for the rest of the summer. Maybe a lot longer than that.
The 2011 Indians may not be a title contender. At the end of the day, they may not even win the division. But right now, they are the best story going in baseball and are doing everything in their power to make Cleveland fall in love with them.
Yet so far this season you'd find more people in the Home Depot garden department than you would at Progressive Field.
Yes, it's been cold and rainy. Yes, the Indians have a history of teasing us and letting us down (or more frequently, just letting us down). And yes, Subway's $5 footlong menu is the only long-term good thing that's happened to Cleveland sports fans in a long time.
But it's time to quit kidding ourselves. This team has earned our attention, if not our devotion.
Right now they're averaging only 14,276 fans per home game - worst in the American League. More to the point, for each home game, an average of 29,165 seats at Progressive Field are sitting as empty as LeBron James' soul.
Enough is enough. In case you're still on the fence, here's a list of reasons - one for each of those empty seats at Progressive Field - why they should be filled.
1. Those kick-ass "What If?" commercials that are like having Godfather 1 & 2 boiled down into 30 seconds.
2. The way everybody chants "Choooooo" in unison whenever Shin-Soo Choo comes to bat.
3. You'll avoid seeing that motorcycle safety commercial that runs endlessly on SportsTime Ohio where the dude in the car forgets to look both ways and gets blasted by a motorcycle going mach-3 through a suburban neighborhood. (I, for one, would rather be hit by that motorcyclist than have to watch that commercial again.)
4. It will prevent you from watching LeBron's inevitable march toward the championship that has been set up for him to win next month.
5. John Adams.
6. You can get a seat in the bleachers for the price of a Chipotle burrito.
7. Mad Men doesn't come back until January.
8. I heard Peyton Hillis will be there.
9-3,515. One reason for each day since the Indians' last sweep of the Red Sox (3,507) – a string that ended in April.
3,516. Shin-Soo Choo's hair.
3,517. This picture: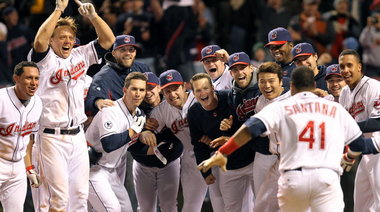 3,518-3,522. One reason for each of the five series sweeps the Indians have collected this year.
3,523-3,525. One reason for each of the three times the Indians have defeated Eric Wedge this season.
3,526. The Hot Dog Race – specifically, the suspense over which intern will get clobbered by Slider on the final turn.
3,527. Drew Carey wants you to.
3,528. The fact that the Tribe became the first professional sports team since the Oorang Indians to actually lower their ticket prices.
3,529. The Super Mario Brothers-coin sound effect they play over the public address system every time an Indians' player touches home plate.
3,530. Flo from the Progressive commercials is starting to look hot to you.
3,531. George Steinbrenner is dead.
3,532. Stadium mustard. On a hot dog or straight from the tap.
3,533. The Lingerie Football League isn't here yet.
3,534. Len Barker might pitch another perfect game.
3,535. Nobody there will talk about the Royal Wedding.
3,536. Chris Perez.
3,537. Chris Perez's mullet.
3,538. Chris Perez's Twitter account.
3,539. The return of the block C logo.
3,540. They might wear the red caps OR
They might not wear the red caps.
3,541. The creamy alternate home uniforms.
3,542. Justin Masterson has five wins while Victor Martinez has two home runs for the Tigers.
3,543. Justin Masterson has as many wins as C.C. Sabathia and Cliff Lee combined.
3,544. Carlos Santana has 18 RBI while Casey Blake has 17 hits for the Dodgers.
3,545. Chris Perez has 10 saves while Mark DeRosa has six hits for the Giants.
3,546. Cute chicks who like baseball.
3,547. Cute chicks who like baseball and wear tank tops on sunny afternoons.
3,548. Grady Sizemore's bionic knee.
3,549. Supermanahan.
3,550. O-Cab.
3,551. A-Cab.
3,552. You may get to see Shelley Duncan attempt to slide.
3,553. Kids can run around the bases after Sunday games (though even if you don't have a kid, they'll let you do it if you act weird enough).
3,554. Matt LaPorta's learning process is starting to not look like a massive disappointment.
3,555. Remembering that we also got Michael Brantley in the C.C. Sabathia trade.
3,556-3,573. One reason for each of the Tribe's record 18 victories in the month of April.
3,574-3,839. One reason for each of Bob Feller's 266 career victories
3,840. The Bob Feller statue is a little more meaningful now.
3,841. The Columbus Clippers are the best minor-league team in baseball.
3,842-12,384. One reason for each of the 8,543 home games the Indians have played in their history, the majority of which you haven't been there for.
12,385. Look! A professional sports league that's not embroiled in a labor dispute!
12,386. Bobbleheads.
12,387. The smell.
12,388. The breeze off Lake Erie.
12,389. The midges.
12,390. Maybe we'll cripple a bird again with a game-winning hit.
12,391-19,146. One reason for each day since the last time the Indians had less than 10,000 in attendance for a home game (6,756) - a 19-year stretch that ended on April 2.
19,147. Dropping peanut shells on the ground and not getting yelled at.
19,148. Dollar Dog Night.
19,149. Steve Carell has left The Office.
19,150. The radio broadcast of the game playing in the bathrooms.
19,151. The bathrooms.
19,152. The new gray "Cleveland" road jerseys (which they'll never wear at home, but still).
19,153-27,878. One reason for each of the 8,726 fans who comprised the smallest crowd in Jacobs/Progressive Field history on April 3. Each one of those people got to see Carlos Santana's diving catch of a bunt that started the triple play that turned the season around.
27,879. Cute-as-a-button roaming STO reporter Katie Witham might interview you.
27,880. If the moron who wore a LeBron Miami jersey to an Indians game last year shows up again, you can throw him off the Home Run Porch.
27,881. All the cool kids are doing it.
27,882-27,889. One reason for each of the Indians' eight victories in their final at-bat.
27,890-27,903. One reason for each of the Indians' 14 consecutive home victories.
27,904. Asdrubal Cabrera's awesomesauce suicide squeeze to beat the Red Sox.
27,905. On the day Alex White was born, Bernie Kosar appeared on the cover of Sports Illustrated.
27,906-28,309. One reason for each of the 404 seats available in the Budweiser Party Deck.
28,310. Two years ago, Rafael Perez's ERA was 7.31. Now it's under 1.00.
28,311. Two years ago, Fausto Carmona's ERA was 6.32. Now it's under 4.00.
28,312. The Tribe has guys in the bullpen named Vinny Pestano and Justin Germano. And another guy named Joe Smith.
28,313. Fireworks.
28,314. Fireworks set to cartoon theme music.
28,315-29,160. One reason for each of the 846 times the Indians have beaten the Yankees.
29,161. There's no chance of a flash mob breaking out.
29,162. The cool high-five shoulder-slap thing the players do after every win.
29,163. The Progressive Insurance cars sitting in right-center field and in foul territory along the third-base line for no apparent reason other than to slowly turn in circles when the Indians win.
29,164. The Central Division standings.
29,165. You know you really want to.
I can't believe you're still here. Tickets are on sale now.
Seriously.
Go.
May 11, 2011 10:00 AM
Last Updated:

May 11, 2011