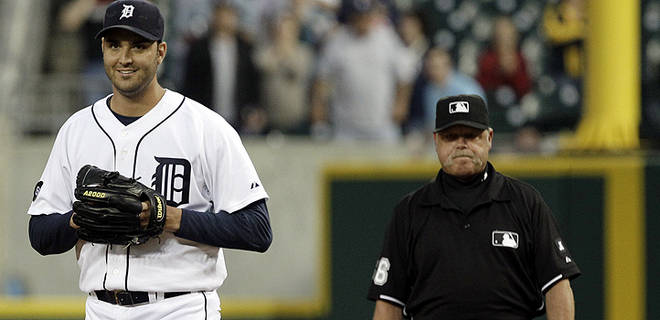 Armando Galarraga was denied perfection Wednesday evening and in the process may have helped to save baseball. Or not.

When Galarraga of the Detroit Tigers entered the ninth inning Wednesday night against the Indians, a perfect game was just three outs away. Moments later it was two and then one. But somewhere along the path he took from the pitchers mound to cover first base on a grounder hit by Jason Donald to the gap between first and second base, Galarraga lost his chance of history due to one of the great choke jobs in baseball history.
When umpire Jim Joyce signaled safe on a bang-bang play at first it was the embodiment of both the beauty and consternation of sports and their frustrating lack of precision. Pick up a copy of the baseball rule book and you'll have trouble finding a page where the phrase "in the judgment of the umpire" isn't used. That's the bargain anyone who's ever played the game signed on for.
It was the ill-considered judgment of Joyce that came at the precise flashpoint where speed, nerves and history coalesced at the most critical moment that cost Galarraga his place in history. And yet, the alternative for Joyce or any of his fellow umps that night wasn't much better. Had Donald, for example, actually beaten the throw only to have been called out in order to preserve a perfect game, Galarraga's achievement would have always been tarnished.
In other words, Joyce found himself at the wrong place at the wrong time with only one exit route: get the call right. Whatever instinct made Joyce think Donald was safe when he was clearly out will now haunt him for the rest of his career every bit as much as Galarraga's probably only real shot at perfection will haunt him.
Now, of course, will come the usual scream and cries for instant replay. And perhaps if major league baseball were run by almost anyone other than Bud Selig, I'd say that Joyce's handiwork might actually be the springboard for baseball fully embracing technology.
But this is Selig we're talking about and thus the chance of him doing anything more than dithering until the latest ground swell dies out is nearly non-existent. Sure, he's talking about considering expanding instant replay. But Bud thinks a lot. That's never been his problem. Action, on the other hand, is as foreign to him as good taste is to Lady Gaga.
To Joyce's credit he quickly acknowledged his colossal mistake and apologized to Galarraga. The question though is why does this type of scene have to play out at all? Why can't baseball be proactive and find a way to make technology work for them instead of treating it as if it's just another passing fad?
Some of that is wrapped up in the traditions of the sport. Baseball purists, which represents far less of the sport's fans than they would ever admit, tend to think of baseball as it was played by Babe Ruth in the 1920s. Any change from that construct induces panic. They still get hives knowing that uniforms are no longer made out of 100% wool. To them the designated hitter is still an abomination on the game.
The rest of baseball fans, however, mostly don't give a crap either way. If pushed they'd probably venture an opinion but if better technology were thrust upon them they'd accept and move on to more pressing needs, like cutting the grass before it rains again.
It usually takes the considered judgment of decision makers to act on a glaring problem illuminated by the ill-considered judgment of another. If baseball can find a positive path forward out of this mess it will be of little solace to either Joyce or Galarraga but it will be of great solace to the sport itself.
**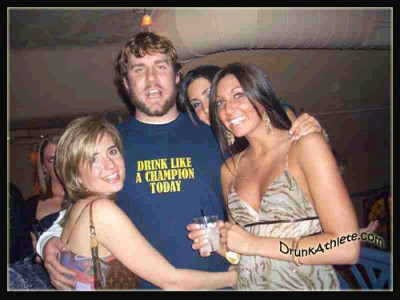 Speaking of judgment, it looks like Ben Roethlisberger is taking a deep dive of his own into the incredibly poor and reckless conduct he's engaged in over the last few years.
Attending the Steelers' "voluntary" off-season training activities, Roethlisberger finally took a few questions from reporters. While the questions to that point were softballs, the Steelers' public relations rep cut off any further questions, probably for fear that Roethlisberger would be asked directly about the night the lights went out for him in Georgia.
Roethlisberger mostly said the right things about evaluating his own life, taking stock of his abject stupidity and making some positive changes. He also bracketed it in the context of the hard line laid down on him by NFL commissioner Roger Goodell.
It would have been nice if Roethlisberger had made a more direct reference to the fact that he's essentially a twice-accused sex offender or to the fact that most of his problems seem to stem from an inability to hold his liquor. Had that occurred Roethlisberger might have given the fans of the Steelers some comfort that he has a good grasp on his growing list of personal flaws. Instead, by bracketing everything in the context of doing what it takes to reduce a 6-game suspension to 4, Roethlisberger came across mostly like a guy pleading his case to a parole board and was just as convincing.
Whether he wants to admit it or not, Roethlisberger is at a professional and personal crossroads. To this point his professional accomplishments have been sufficient for his employers to overlook the embarrassments he's created for them off the field. But that isn't always going to be the case.
Owners of professional sports teams have a large capacity for forgiveness when the player in question is still likely to enhance their bottom line. That capacity gets depleted quickly, however, when that equation changes. And for Roethlisberger, just like every other person who's ever played professionally, that equation will change. It's just a matter of when.
In the meantime he can continue to delude himself into thinking that mouthing a few trite words about change actually constitutes change or he can go about doing the hard work of changing. But if past be prologue, and it certainly is with professional athletes, then it's going to take more than a few drunken nights before Roethlisberger faces reality.
**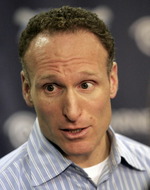 It was fun to read Paul Hoynes' "Indians Insider" on Thursday in the Plain Dealer in which he discussed with Indians general manager Mark Shapiro the team's horrid start to the season, assuming you're in the camp where 50+ games constitutes merely a start.
Shapiro indicated that this isn't what he envisioned certainly but that the season's natural cycle hasn't yet dictated that he sell off what's left of this disastrous roster.
Admitting anything differently, of course, would have been tantamount to Shapiro admitting, shall we say, certain lapses of judgment when it came to putting together Indians v.2010.
Assuming that Shapiro is going to continue to be patient with the plethora of "prospects" currently on the roster, the only currency he really has left anyway are players like Jhonny Peralta, Austin Kearns, Mark Gudzielanek, Russell Branyan, Mike Redmond, Jamey Wright, Jake Westbrook and Kerry Wood, so it's not as if he has much choice but to stay this miserable course. If this were fantasy baseball you couldn't find a trading partner for any of these players, except perhaps Wood and Westbrook and even then the yield would be some other team's rough equivalent. Why would it be any different in real baseball?
What this really demonstrates is that 2010 is already a lost season and not one of growth. Short of simply cutting some of those players in order to make a little more room on the roster for some minor leaguers, what you see now is what you'll see for the rest of the season and nothing like what you'll see next season. That may be change but that isn't necessarily progress.
Meanwhile, if Shapiro thinks the attendance is languishing now, and it is, just wait. No amount of goofy promotions are going to distract the fans from exercising their considered judgment to not throw any more good money after bad. And until something dramatic changes in the organization, that isn't going to change. Just ask the Cleveland Browns.
**
Given the inglorious end to the Cavaliers' season and the inglorious existence of the Indians, today's question to ponder is whether six months ago you actually thought you'd be looking forward to the upcoming Browns season?
Jun 04, 2010 12:00 AM
Last Updated:

Jun 04, 2010