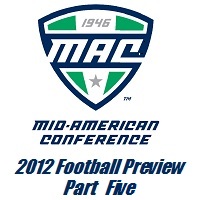 Welcome to the fifth and final installment of the 2012 MAC Football Preview. We finish up with, and go in-depth on, the University of Akron Zips and the Kent State Golden Flashes, the two "local" rivals in the MAC.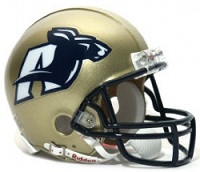 The University of Akron started out as Buchtel College, a liberal arts school in 1867 by the Universalist Church. The football program kicked off in 1891 with a road game against Western Reserve University. Western Reserve was located in Hudson, Ohio at the time. Buchtel won that day 22-6. They later lost to Kenyon, Case (the other half of the merged Case Western Reserve), and Ohio State. They also played the Hirams and Denisons and Woosters and Oberlins for many years. During those early days the squad was coached by none other than John W. Heisman, who compiled a 6-2 record in his two years here.
The college shed its religious ties and expanded to become the Municipal University of Akron. Enrollment has grown to 30,000 and the athletic programs have grown to NCAA Division I status (Division I-A or FBS in football). The "original" Buchtel College of Arts and Sciences still exists as one of 14 colleges within the university.
The Zips grew into NCAA Division 2 in 1974. In 1976 the Zips made the NCAA playoffs, winning the Knute Rockne Bowl before losing to Montana State 24-13 in the Pioneer Bowl (National Championship Game). The university was promoted to Division I in 1980, playing in the Ohio Valley Conference. The footballers made the I-AA playoffs in 1985, losing to Rhode Island in the first round. The next step was Division I-A football, in 1997, which is considered the beginning of the "modern era" of Zips football. They joined the MAC in 1992. In their third year they posted their first winning record in I-A, their first of seven winning seasons. The highlight year was 2005, when they won the MAC East and upset Northern Illinois 31-30 in the MAC Championship Game on a last-minute comeback. The style of play would astound Air Coryell and their last minute comebacks would impress Coach Sam. They lost to Memphis in the Motor City Bowl 38-31, again via a failed last-second comeback. To say the years since have been unkind is an understatement. Over the last 10 years, the Zips are 43-77.
Enter BowdenBall this year, with Terry Bowden (47-17-1) taking the reins of the program. He will be the first to tell you he has his work cut out for him to rebuild the program, "We don't have 65 people who fit into our future, I believe". His team looks to be much improved over previous season's fundamentally, although overall improvement will have to wait, the post-season coaching change all but cost them a year of recruiting. The result, Akron is the only non-military program in the FCS to not have at least one recruit considered a "highly touted athlete". He has scored several transfers since taking over the team, including defensive end Albert Presley. Albert is a JUCO transfer and can play this year. He made an immediate impact in the Spring Game, showing speed and good inside moves.
As he always has, Terry serves as his own offensive coordinator. Gone is the Pro-style offense, in its place is his spread no-huddle offense. Running the offense is Stephen A. Austin transfer Dalton Williams. Dalton beat out incumbent starter Clayton Moore, who has left the team. The senior played the same offense previously, and was a Bowden recruit even before Terry Bowden took the Akron job. Redshirt freshman Kyle Pohl is the backup QB. At running back, sophomore Jawon Chisolm returns after starting 10 games last year, running for almost 1000 yards and averaging 4.4 per. Senior Quinton Hines is the backup.
At Wideout, last year's leading receiver junior Keith Sconiers takes one spot. Keith caught 47 passes for 639 yards and 5 touchdowns. Senior Marquelo Suel is another returning starter, catching 34 passes for 417 yards and 4 touchdowns. Converted sophomore free safety LT Smith looks to be the third starter. Freshman Tyrell Goodman, Soph Tyler Williams, and junior Dee Freison add depth.
One of the reasons for switching to the spread is the lack of experience and depth up front. The shotgun will give Williams more time and freedom. Up front only converted center left tackle Adam Bice is a returning starter. The senior moves over from the center position. Beside him is senior Mitch Straight Sophomore Travis Switzer takes over at center, after starting at both guard positions last year. Redshirt freshman Dylan Brumbaugh holds down the left guard slot. Dylan is expected to be a team leader by the staff. And at left tackle junior Jarrod Pughsley starts.
The defensive line is also small by D1 standards, senior John Griggs returns as starter. At defensive tackle converted DE Nico Caponi (junior) is the other returning starter. Starting at nose tackle is freshman Cody Grice, and freshman Albert Pressley holds down the other end. The defense lost its best player and leader when LB Brian Wagner transferred and ultimately quit football. Trying to replace Wagner at Mike LB will be senior Mike Magnum. Sam LB is held down by returning starter senior Justin March, Mike LB, and Will LB is played by senior Troy Gilmer. The secondary includes senior corners Avis Commack and Micklos Blake. Senior Josh Richmond starts at strong safety, while junior Anthony Holmes is the starting free safety.
I'm convinced the Zips were not as bad as their 1-11 record shows, and a major part of their rebuilding was replacing head coach Rob Ianello. The team appears more upbeat, more fundamentally sound this season. They face a tough schedule, starting with 25th ranked Central Florida, Miami, Bowling Green, and Northern Illinois at home. On the road they face highly ranked Tennessee, along with MAC powers Central Michigan and Ohio. In other words, don't look for another 11-0 debut for Bowden like he pulled off in Auburn. Still, they face FCS team Morgan State and former FCS team UMass at home, which should insure they climb out of the MAC basement for the first time in three years. Sixth place.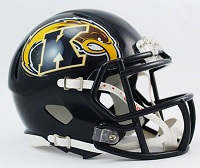 Last but not least, is the Kent State Golden Flashes. Kent State was founded in 1910 as the Ohio State Normal College at Kent, an institution for training school teachers. Its sister school was Bowling Green Normal School. Kent State has grown to major university status, with over 42,000 students. The Silver Foxes started play in 1920, playing Ashland College in their first contest. The late start probably led to their not scoring in their first 13 games, and not winning on the field until November, 1925. Their first winning season was in 1928. They joined the MAC in 1951. In 1954 they went 8-2 and played in their first postseason game, the Refrigerator Bowl, losing to Delaware 19-7. In 1972 they went 6-5-1 (4-1) and won the MAC title, losing the Tangerine Bowl to Tampa 21-18. In more recent history, the Flashes are 42-76 over the last ten years, and their last winning record was in 2001.
Head coach Darrell Hazel is in his second year with the Flashes. Senior quarterback Spencer Keith returns after completing 166 passes throwing for 2147 yards, 11 touchdowns and 8 interceptions. He completed just over 50% of his passes. He faces competition from JUCO transfer David Fisher, an athletic but shorter thrower. Both will see time behind center. Sophomore Traylon Durham returns at running back after rushing for 630 yards and 4 touchdowns (3.4 average). Junior Dri Archer returns after missing last year on an academic suspended. Returning wideouts include senior Matthew Hurdle (20 catches for 251 yards and 1 TD), and senior Tyshon Goode (24 catches for 316 yards and 2 TD). The odds-on favorite for the third Wideout is senior Eric Adeyemi, a transfer from Kentucky who had (18 catches for 149 yards). The line returns five starters, including TE Tim Ejavec, LT Brian Winters, LG Josh Kline, RG Tyler Arend, and RT Kent Cleveland. First year starter junior Phil Huff takes over the center spot.
Over the last three years, the Kent defense has been one of the best units in the MAC. It should remain so, with eight starters returning. Up front, junior Mack Fowler joins returning starters junior Roosevelt Nix at DT, senior Dana Brown at NT, and senior Jake Dooley at the other DE. Senior linebackers Luke Batton and CJ Malauulu join first year starter sophomore Andre Parker. The secondary includes senior corners Norman Wolfe and Sidney Saulter, returning starters Luke Wollet at strong safety, and Calvin Tiggle at free safety.
The Flashes ended the 2011 season with a 4-1 run, and remain one of the best defensive teams in the MAC. They also still have one of the worst offenses. The schedule is tough, especially the second half, as they face the top teams in the East and in the West. If they can gain yardage, they should break through with a winning season. That's a huge IF though, and Bowling Green has a lot going for it this year. Kent finishes fourth.
Let's wrap it up. The top teams will again be Ohio and Western Michigan. This year the Bobcats finish the deal and win the MAC Championship Game. That puts them in the GoDaddy.com Bowl and Western Michigan in the Little Caesar's Bowl. Toledo goes bowling this year, with an invite to the Drove Humanitarian Bowl.
Predicted order of finish:
EAST DIVISION
Ohio
Miami
Bowling Green
Kent State
Buffalo
Akron
UMass
WEST DIVISION
Western Michigan
Toledo
Northern Illinois
Eastern Michigan
Ball State
Central Michigan
Mark it down!!!
Sep 02, 2012 1:55 PM
Last Updated:

Sep 03, 2012