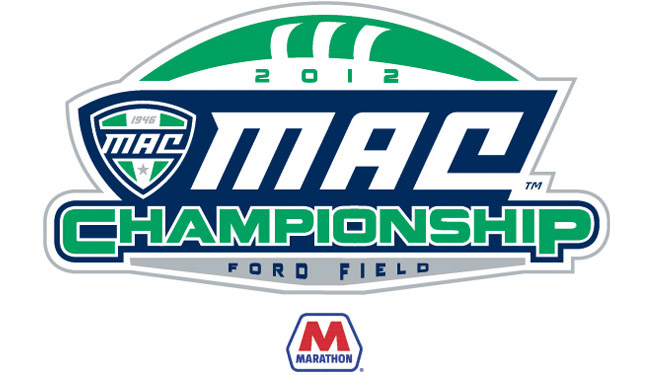 Thursday night the 17th ranked Kent State Golden Flashes play the 21st ranked Northern Illinois Huskies for the 2012 MAC Championship. And the winner could find themselves in the Orange Bowl.
The surprise team of college football this year, the Kent State Golden Flashes travel to Detroit to represent the East Division in the MAC Championship game. Had coach Darrell Hazell has turned around a moribund program into a nationally ranked power that Flashed through the East Division this year en route to a perfect 8-0 conference record, and their first ever national ranking. Kent is riding a ten game winning streak into the Motor City. This is a team that has not seen a bowl game since George McGovern ran for President.
On offense they rid the coat tails of Dri Archer, who leads the country in yards-per-carry with 9.7. He has 1337 yards overland this season, and 14 touchdowns. He's also the team's leading receiver with 458 yards (15.3 per) and four touchdowns. He is joined in the backfield tandem by Traiyon Durham, who amassed 1176 yards rushing for a 5.0 average and 14 of his own touchdowns. Their passing game doesn't scare anybody, QB Spencer Keith putting up 1674 yards and 11 TD's through the air.
The Golden Flashes defense gets it done by forcing turnovers. They rank second in passes intercepted (22) and second in turnover margin with +20. And they average 23.5 points against per game. Luke Wollet leads the team with interceptions, Mark Fackler is second with 3. How important is generating turnovers to the Flashes success? Their one loss was to Kentucky, they generated no turnovers and lost 47-14.The Wildcats went on to a 2-10 record.
Northern Illinois won their fourth consecutive West Division title, and won last year's MAC Championship game. They have won 15 straight MAC games and maintain an 11 game winning streak. Their one loss was in week one against Iowa, 18-17.
The Huskies have an even stronger rushing game than Kent, averaging 245 yards per game. Quarterback Jordan Lynch (a darkhorse for the Heisman Trophy) was fourth in the NCAA with 1611 yards and 11th with 16 TD's. His running mate Leighton Settle averaged 4.5 yards per carry and 5 TD's. How would you like to be that guy? Their power running game was on display last week when cold windy conditions made passing difficult. This will be a key against Kent's turnover machine. Lynch can also pass, leading the MAC in QB rating and putting up 2750 yards and 23 touchdowns through the air. Martel Moore had over 1000 yards receiving and 11 TD's. Jordan has thrown only four interceptions all year.
The Huskie defense doesn't make the big plays like the Flashes, and doesn't have to, giving up a paltry 17.5 points per game. They held five teams to a touchdown or less.
NIU is a 7-8 point favorite in the spread, opening at 6.5. They put up better numbers, but you can never discount a team that gets the Big Play on either side of the ball, day in and day out.
I'll still take the dual threat of NIU's ground game and aerial attack against the Kent Defense, and their hard hitting D against Kent's running game.
The Huskies get their third MAC Championship. And I'll call it, the win moves them up to 15th in the rankings and they go bowling in Miami New Year's Day.
Nov 29, 2012 1:00 PM
Last Updated:

Dec 01, 2012