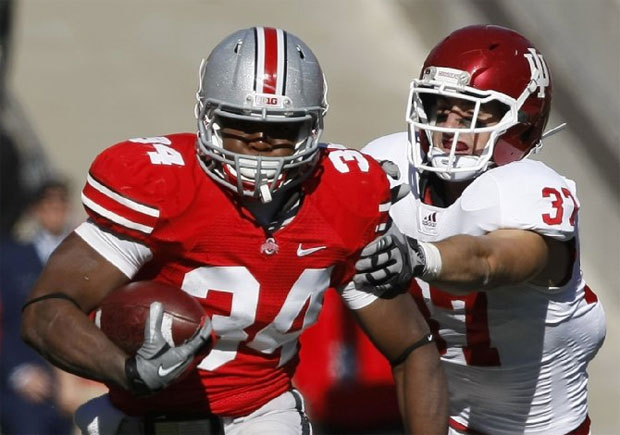 - Saturday, October 13, 2012

- Memorial Stadium - Bloomington, IN

- Ohio State at Indiana

- 8:00 p.m. (ET)

- TV: Big Ten Network -


The Buckeyes hit the road for their second straight primetime game, taking on the Indiana Hoosiers in Bloomington Saturday night. 8th-ranked Ohio State puts its perfect 6-0 record on the line against Kevin Wilson's improving Hoosier squad in what could turn out to be another high-scoring contest.

Urban Meyer will no doubt be guarding against overconfidence by his Buckeyes, following wins over Michigan State and Nebraska, two of the Big Ten heavyweights (if such a thing exists this year). Indiana has been the conference punching bag for years, but the Hoosiers put a scare into those same Spartans last week, using an efficient offensive attack to stake them to an early 17-0 lead, before fading in the second half and falling to 2-3, and 0-2 in league play.

The two victories for Indiana has already doubled their win total for 2011, Wilson's first season in Bloomington. The 1-11 mark was disappointing to Hoosier fans anxious for a faster start to Wilson's turnaround project, but the offensive-minded head coach has kept his team in every game this year, and seems to have things headed in the right direction. Wilson is 3-14 in a season and a half, and 0-10 in Big Ten play.
This will be the 86th meeting of the two programs, with OSU dominating the series 68-12-5, winning the last 17 in a row. Indiana last beat Ohio State in 1988, although the two teams tied 27-27 in 1990 in Bloomington.

The Buckeyes are one of just four 6-0 teams in the nation, joining Ohio University, Oregon and South Carolina with a half dozen wins. Twelve more teams have perfect marks, ten of them at 5-0 and two at 4-0.  It is the fifth time in his 11 seasons as a head coach that Urban Meyer has started a season 6-0.


State of the Bucks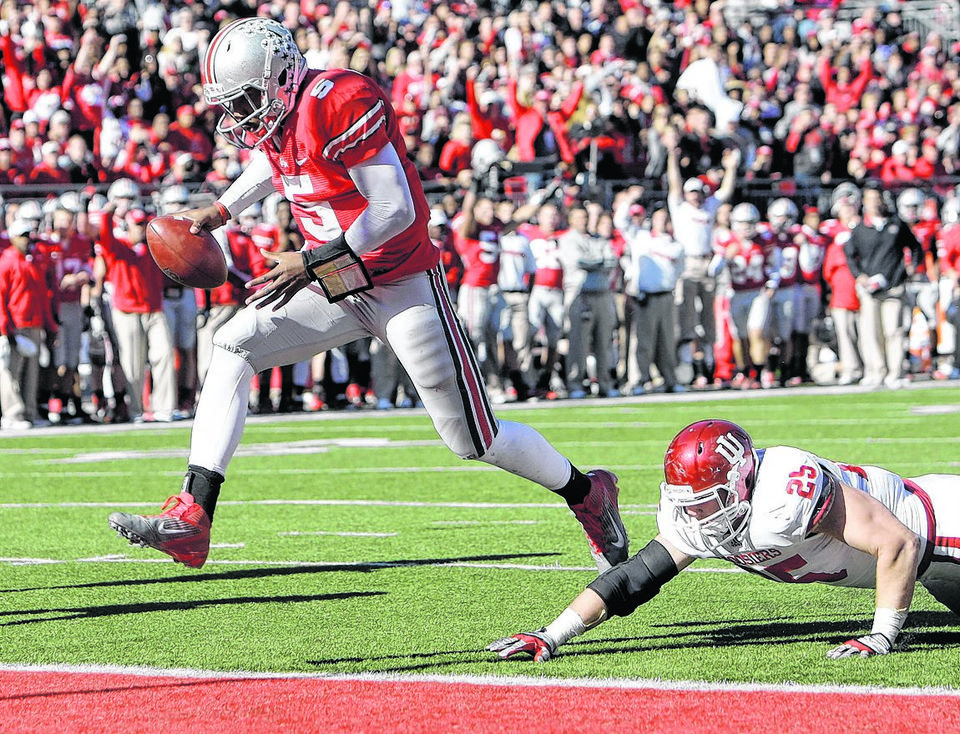 On the injury front there is good news and bad for the Buckeyes. Starting safety C.J. Barnett is expected to play, according to Meyer, after missing three games with an ankle injury. Orhian Johnson, who played in Barnett's spot, will probably move back to the Star role in the OSU nickel package.

Michael Bennett played his first game of the season against Nebraska without incident, and will be ready to go again. John Simon is slowly coming back from shoulder and groin injuries, and he was healthy enough against Nebraska (5 TFL, 2 sacks, forced fumble) to be named the week's winner of the national Chuck Bednarik Award. Simon says he feels even better this week, so look out Hoosiers.

The bad news coming out of the Nebraska game was Etienne Sabino's broken leg bone, which will cost the starting linebacker about four weeks, if all goes well. Freshman Josh Perry will be the starter at the strongside linebacker spot when the Buckeyes are in their base defense, which may not be much, given the Hoosiers' spread attack. In the nickel, Storm Klein and Ryan Shazier will be the two linebackers on the field, with Johnson replacing Perry as the hybrid Star safety.

Other tidbits from Meyer's media appearances this week:  The coach would like to get backup quarterback Kenny Guiton into the game in the first half to get him some game reps. He is very pleased with nose tackle Garrett Goebel, calling him "an unsung hero" on the OSU defense all season long. Meyer has been very pleased and surprised by how quickly his offensive line has come into its own, although he continues to lament his lack of depth in that unit.

Also on the subject of depth, Meyer also remarked on the bad luck the program has had with the linebacking corps, noting the unusual number of scholarship linebackers that have left the program for one reason or another in the last couple seasons, leaving him with just two of the last ten backers recruited (counting this year's freshmen) that he feels comfortable putting on the field right now.

Among those departing were Jordan Whiting, Dorian Bell, John McVey and Jonathan Newsome, and a couple others, Ejuan Price and Jamel Turner, were LB commitments who never made it to campus. Sophomores Conner Crowell and Curtis Grant have proven not ready to contribute much yet, all of which makes the loss of Sabino that much more of a kick in the teeth.


A Word About Braxton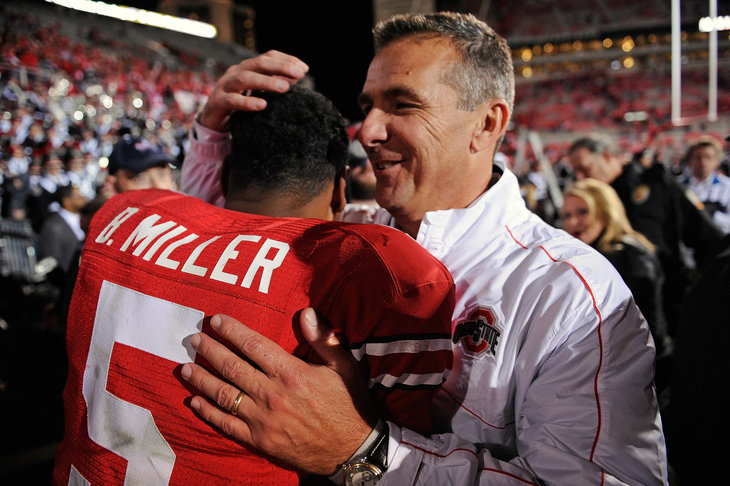 Terrelle Pryor was the best rusher at quarterback for OSU that most of us had seen since since the 70's when Cornelius Greene and Art Schlichter were under center in Columbus. Pryor started for all but three games of his three seasons at Ohio State and holds the school record for career rushing yards by a QB with 2,164. But not for long.

It was apparent very early that Braxton Miller had more quickness, elusiveness and acceleration than Pryor ever dreamed of having. He is just a much more gifted runner than was Pryor, whose best move was a straight-arm, before heading for the sideline. Miller has been providing jaw-dropping running plays regularly for a season and a half now, and if you'll recall, he didn't become the starter until the Joe Bauserman experiment crashed and burned after three games of 2011. And Miller is already drawing a bead on the career rushing marks for Ohio State quarterbacks.

After breaking his own single-game mark for rushing yards by an OSU QB with 186 against Nebraska last week, Miller has 1,478 career yards rushing, and will break Pryor's record while still a sophomore if he can average 115 yards the rest of the season. Through six games, Miller is averaging 127.2 yards per game, and 303.8 yards of total offense. He has already tied Pryor's school record of seven games with 100-yards or more rushing.

You're not alone if you're thinking, "Man, just wait till this kid gets comfortable with Urban Meyer's entire offense"  The young man is just a treat to watch every Saturday, and he appears to be developing a special bond with his head coach as the season progresses. Stay healthy, kid.


Indiana - Key Personnel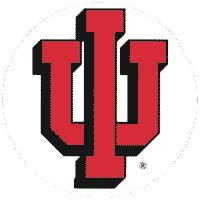 Kevin Wilson cut his teeth with the spread offense at Northwestern and later at Oklahoma, and he has the Hoosiers running a one-back offense the majority of the time, with three receivers and a tight end. It might surprise some people to see Indiana atop the Big Ten in passing yards, averaging 305.2 yards per game, but there they are.

They have scored at least 24 points in every game this year, and are right behind Nebraska in total offense in the conference rankings at 471.8 yards per game. And this is a team that lost its starting quarterback Tre Roberson to a serious injury in their second game, and has been without him since.

Wilson has used both Cameron Coffman and Nate Sudfeld at QB, and both have acquitted themselves fairly well so far. Coffman is a JC transfer student who has been the primary starter for the Hoosiers, completing 67.2% of his throws for 801 yards and six TD's, with just one interception. Sudfeld is a big (6' 5", 220) freshman from California, who has gone 25 for 40, for 357 yards and 3 TD's while alternating with Coffman.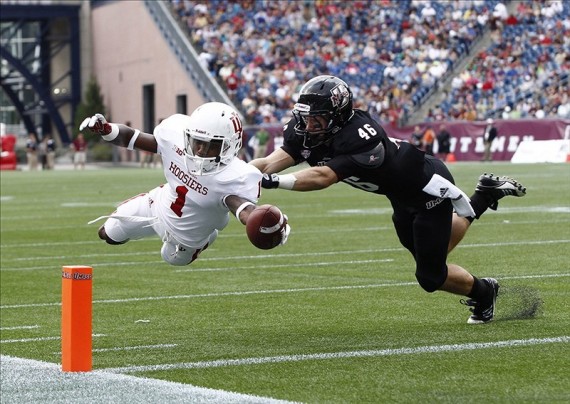 The Hoosiers have some depth at receiver, with junior Kofi Hughes (16 rec, 248 yds, 2 TD) and sophomore Cody Latimer (20 rec, 363 yds, 2 TD) providing big rangy targets for Hoosier QB's. Sophomore Shane Wynn (pictured), a Cleveland Glenville product, has been the most productive receiver thus far though, with 26 catches for 213 yards and four TD's, 12 of those catches coming last week against MSU. Wynn is smallish at 5' 7", 157 lbs, but he is lightning fast, and doubles as a dangerous kick return man.  

Stephen Houston (6'0", 220) is a power running back in the one-back set, and he has 277 yards and four touchdowns so far in 2012. He'll alternate with D'Angelo Roberts (177 yds, 1 TD) in the backfield for Indiana.

On defense, the Hoosiers are on the other end of the conference rankings, 11th in scoring defense (27.8 ppg), and dead last (12th) in total defense, giving up 441 yards per game. In their three losses (Ball St., MSU, NW) they have surrendered 39 points per game, and they have been a sieve against the run all season, allowing 194.8 yards per game on the ground, again last in the Big Ten.

The Hoosiers are experienced in the middle of the defensive line, with senior Adam Replogle and junior Larry Black Jr. at the tackle positions. Replogle leads the team in tackles so far in 2012. Wilson has much less experience at linebacker and in the secondary, however. He's using JUCO transfers David Cooper and Jacarri Alexander at linebacker, and first year starters at both cornerback spots. Safety Mark Murphy from Akron is back with a year of experience as a starter.

---

Idle Speculation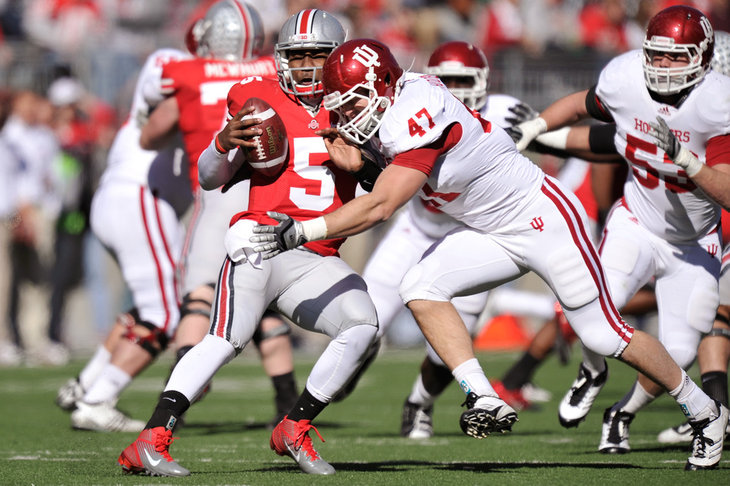 Urban Meyer has said that he is still not satisfied with the team's passing attack, and games like this might provide an opportunity to work on some things in that area. But the temptation might be to follow the old adage that "if it ain't broke, don't fix it", and simply run the ball against a team that has had a great deal of trouble stopping the running game.

OSU did not attempt a pass in the last quarter of the Nebraska game, and still put together a couple of long drives and scored two 4th quarter touchdowns on the ground. A steady diet of Carlos Hyde, Rod Smith and Brionte Dunn toting the football might be used to save wear and tear on Braxton Miller's body, if that luxury is possible.

All that is required to inject a note of caution for this game is to recall last year's Indiana game, which was tied 20-20 until the last few seconds of the 3rd quarter of a game eventually won by OSU in Columbus, 34-20. The other cautionary tale of course is last week's fast start in Bloomington against the Spartans, which saw the Hoosiers' offense put up as many points in the first quarter as the Buckeyes scored on Michigan State in the entire game two weeks ago.

The other factor to keep in mind is the mental state of the Hoosiers, who have seen improvement, but have yet to get over the hump and see that improvement push them into the win column in Big Ten play. This is a nationally televised home game for them, and if the Buckeyes don't see the great big bullseye on their backs this week, they could wind up in another squeaker of a game against a supposedly outclassed opponent. A special teams score on a kick return by Wynn or Tevin Coleman could provide enough of a spark to keep this one interesting well into the second half.

No one has gone broke this season betting on Ohio State opponents to cover, and I suspect that may happen Saturday night in Bloomington. The line is 17.5 as of this writing, so I'm going to predict a score much like last year's game....make it 38-23 Buckeyes. (I had been doing fairly well in my predictions this season until last week's 27-24 OSU win call was blown out...before halftime.)

---

OSU Athletics Communications - Game Notes (pdf)

Ohio State Roster

Indiana Roster

---

Other Linkworthy Stuff:

Dispatch - GameDay+
BuckeyeSports.com Preview - Jeff Svoboda

Steve Helwagen's Game Notes

---

on Twitter at @dwismar

Dan's OSU Links and Resources

--







Oct 12, 2012 11:26 AM
Last Updated:

Oct 12, 2012