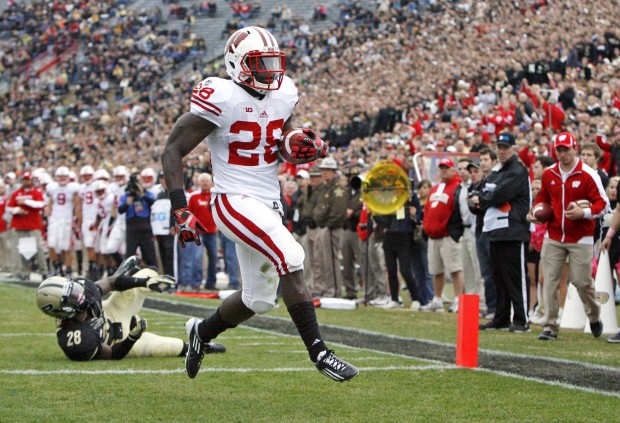 The initial BCS rankings of the 2012 season were released this week, and there is not a Big Ten team to be found in the Top 25. Ohio State, ranked No. 7 in the AP poll, is not eligible to be considered, as Recap readers are well aware, but the absence of a single Big Ten team is a first in the BCS era. Clearly the Big Ten's seven year streak of placing a team in one of the BCS bowl games is in serious jeopardy.

Penn State is ineligible for the BCS as well, but if 4-2 Michigan (AP No. 23) wasn't considered Top 25 material, then the 4-2 Nittany Lions, with their signature win over Northwestern, probably wouldn't be included even if they weren't under NCAA sanction. The Wolverines look like the most balanced team in the league at the moment, especially when you consider the Buckeyes' recent defensive woes.

After three weeks of conference play, four Big Ten teams remain unbeaten in league action. OSU Is 3-0, while Iowa, Penn State and Michigan are 2-0. Still looking for their first Big Ten victory are Indiana, Purdue, Illinois and Minnesota. To the weekend's games...
---

Iowa 19 - MIchigan State 16 2OT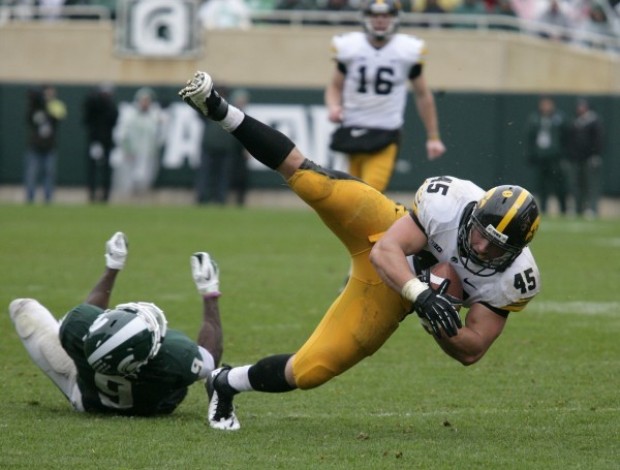 Home field advantage ain't what it used to be...in East Lansing at least. The Spartans lost on their home field for the third time this season as the Iowa Hawkeyes tied this one up with a late touchdown in regulation, and then pulled off the upset in the second extra session. Mark Weisman, the Hawkeyes' unlikely rushing hero of 2012, rushed for 116 yards, including two crucial runs in Iowa's game-tying drive in the 4th quarter. The teams traded field goals in the first overtime, but after Iowa (4-2, 2-0) went up by three in the second OT, an Andrew Maxwell pass was tipped and intercepted by Iowa's Greg Castillo to give the Hawkeyes the win. Le'Veon Bell rushed for 140 yards for Michigan State (4-3, 1-2), but the Spartans will be playing for their 2012 Big Ten season this weekend at the Big House. Maybe they'll be glad to be on the road. Box Score and Stats



Northwestern 21 - Minnesota 13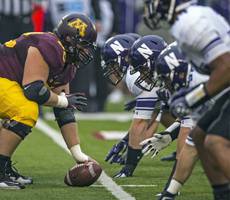 Wildcats running back Venric Mark scored a touchdown on the game's first offensive play after the Gophers fumbled the kickoff, and before he was finished Mark had 182 yards and two TD's to lead Northwestern to victory, and to bowl eligibility at 6-1, and 2-1 in conference play. Pat Fitzgerald's 'Cats played it conservatively, running Mark 20 times and quarterback Kain Coulter 10 more. Coulter completed all ten of his pass attempts for a modest 63 yards, and the Wildcats managed to win despite getting only 13 first downs, committing 11 penalties and going 1 of 9 on 3rd down conversion attempts. For Minnesota (4-2, 0-2) Marqueis Gray returned at quarterback after missing two games with an ankle sprain, and rushed for 86 yards and a TD, but was re-injured in the 3rd quarter. The Wildcats foiled a potential game-tying touchdown late in the game when the Gophers turned the ball over on downs at the Northwestern 6-yard line. Box Score and Stats


Wisconsin 38 - Purdue 14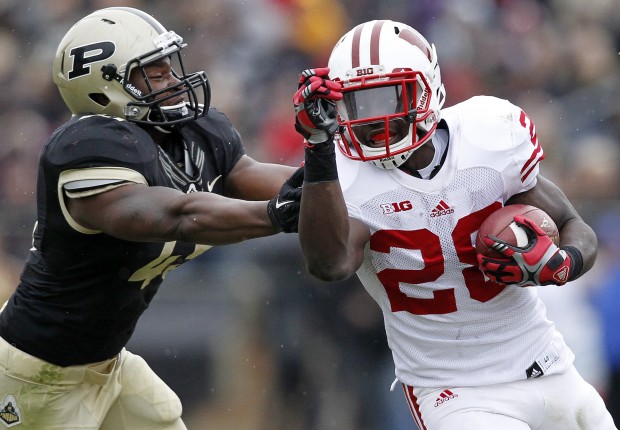 Montee Ball was the big story in West Lafayette Saturday, as the Badgers' star tailback rushed for 247 yards, and broke the Big Ten record for career touchdowns, finding the end zone three times to push his total to 72. Wisconsin (5-2, 2-1) rushed for an eye-popping 467 yards on their way to 645 yards of offense, as James White chipped in with 132 rushing yards of his own. Purdue (3-3, 0-2) began the season with high hopes of contention in the depleted Leaders Division, but they have now suffered two consecutive humbling defeats to Michigan and Wisconsin, and they visit the Horseshoe this Saturday to face Ohio State. The Boilermakers scored first, but the Badgers would put up five touchdowns and a field goal before Purdue could tally again. Akeem Hunt ran 81 yards for a 4th quarter TD for Purdue, but their defense had no answers for Wisconsin, and none of the three Boilermaker quarterbacks was able to get anything consistent going on offense. Box Score and Stats



Michigan 45 - Illinois 0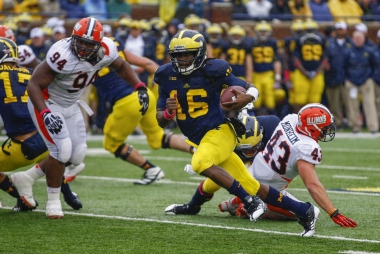 Two early losses to the teams now ranked No. 1 and No. 5 in the country had the experts writing off the Wolverines, and dismissing Denard Robinson as a Heisman Trophy candidate, but Michigan (4-2, 2-0) has re-established itself as the favorite (no offense, Northwestern) in the Legends Division of the Big Ten with strong performances each of the last two weeks. Against hapless Illinois (2-5, 0-2) Robinson had another sterling performance, rushing for 128 yards and two touchdowns, and throwing for 159 yards with two more scores. But Michigan's defense has been the story in recent weeks, and Saturday they held Illinois to 134 total yards, and a microscopic 13 yards in the second half. Illini quarterback Nathan Scheelhaase suffered a concussion and had to be replaced by backup Reilly O'Toole, but Illinois lacks playmakers on offense and would be struggling with Jeff George under center. Box Score and Stats



Ohio State 52 - Indiana 49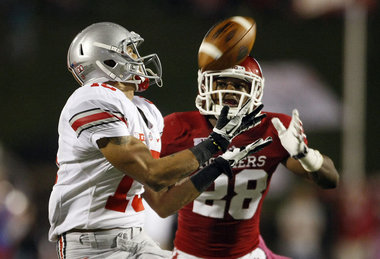 That gust of wind you felt coming out of the southwest Saturday night was Buckeye Nation collectively exhaling after the unbeaten Buckeyes dodged a major upset at the hands of the Indiana Hoosiers. Ohio State (7-0, 3-0) fell behind 14-10 after getting a Ben Buchanan punt blocked in the 2nd quarter. They rebounded to take a 24-14 lead at the half, and extended the margin to an apparently safe 18 points at 52-34 with 6:47 to play, but the Hoosiers (2-5, 0-3) kept on coming , as they had all evening, and turned it into a nail-biter with two quick touchdowns in the final two minutes. It took a very good play in the open field by receiver Corey Brown to bring in a bouncing onside kick to secure the win in the final minute. Braxton Miller threw two TD passes to Devin Smith and rushed for a third while picking up 149 yards on the ground on 23 carries. Carlos Hyde had his second straight 100-yard game, with 156 yards and two TD's, one rushing and another on the receiving end of a shovel pass from backup QB Kenny Guiton. TCF game story here. Box Score and Stats

---

Penn State and Nebraska were idle.

---

Big Ten Statistics

Big Ten Standings - Results

---

This Week's Games - (all Saturday 10/20)

Purdue (3-3, 0-2) at Ohio State (7-0, 3-0) - Noon ET - TV: ABC/ESPN2

Minnesota (4-2, 0-2) at Wisconsin (5-2, 2-1) - Noon ET - TV: ESPNU

Nebraska (4-2, 1-1) at Northwestern (6-1, 2-1) - 3:30 PM ET - TV: ESPN2 / ABC Regional

Michigan State (4-3, 1-2) at Michigan (4-2, 2-0) - 3:30 PM ET - TV: Big Ten Network

Indiana (2-4, 0-3) at Navy (3-3) - 3:30 PM ET - TV: CBS Sports Network

Penn State (4-2, 2-0) at Iowa (4-2, 2-0) - 8:00 PM ET - TV: Big Ten Network

(Illinois is idle)

---

Big Ten Player of the Week
(These are my picks, not the official conference selections)

Sometimes the POW is also sort of a Lifetime Achievement Award, and such is the case this week with Montee Ball. Braxton and Denard had their usual ridiculous showings, but Ball set an all-time B1G record, so he's the consensus guy this week.

Montee Ball - RB - Wisconsin - 247 rushing yards, 3 TD

---

Honorable Mention

Venric Mark - RB - Northwestern - 182 yds rushing , 2 TD
Denard Robinson - QB - Michigan - 128 yds rushing, 2 TD, 159 yds passing, 2 TD
Braxton Miller - QB - Ohio State - 149 yds rushing, 1 TD; 211 yds passing, 2 TD
Mark Weisman - RB - Iowa - 116 yds rushing , TD

---

Big Ten Play of the Week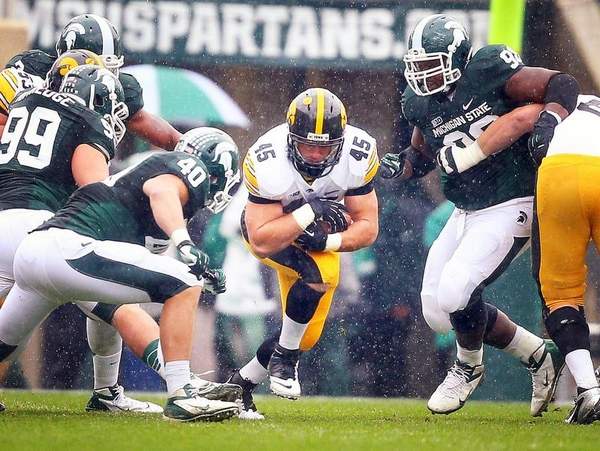 Coming in second this week was Devin Smith's second TD of the game against Indiana, on which he broke several tackles on the way to a 46-yard score...

But nobody had a more clutch performance last weekend than Iowa running back Mark Weisman. The former walk-on fullback has been the surprise of the year for Iowa, delivering time after time for a team desperate for help at the position. Two plays get Weisman this week's Play of the Week...both in the final minute of play, with Iowa down a touchdown to Michigan State. First, Weisman breaks a couple of tackles and breaks into the clear for a 37-yard run from the MSU 45 down to the 8-yard line. Then on 3rd and goal from the 5-yard line, (with great O-Line blocking) he takes it in for the tying score. Iowa goes on to win in two overtimes. You can see the plays here, starting at the 1:40 mark.

---

on Twitter at @dwismar

Dan's OSU Links and Resources

---


Oct 16, 2012 6:00 PM
Last Updated:

Oct 16, 2012