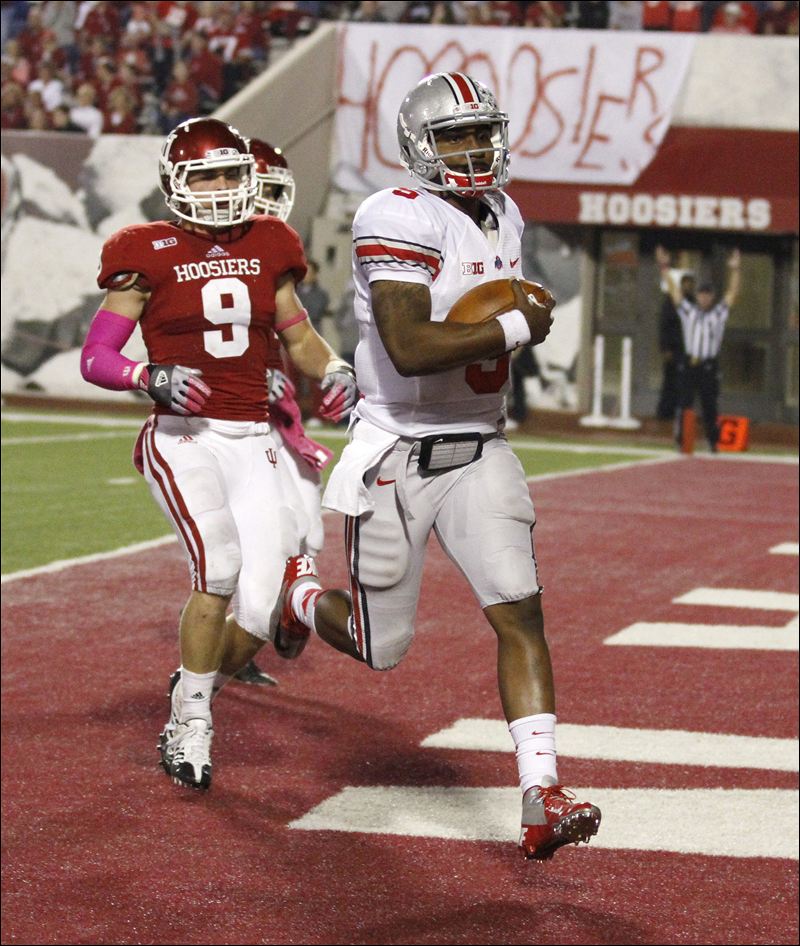 As if in honor of the start of college basketball practice, Ohio State and Indiana put up a hoops-type score Saturday night at Memorial Stadium in Bloomington. Moving up and down the field almost at will, the teams combined for 101 points and 1,059 yards of total offense. The Buckeyes, buoyed by another superlative effort from Braxton Miller, eventually prevailed 52-49. My DVR ran out of time before the end of the game, so I can't be sure if the Hoosiers lost because they simply ran out of time or because Steve Alford missed a three-pointer at the buzzer.
In spite of the fireworks- or because of them- it was a frustrating victory for the Buckeyes. Although they were on the verge of putting Indiana away for good several times they couldn't shake the persistent Hoosiers. A combination of red-zone mistakes, penalties and ragged defense allowed perhaps the Big Ten's worst team to hang around and come perilously close to stealing the game in the final two minutes, when an 18-point Ohio State lead shriveled to a too-close-for-comfort three points.
Certainly there are fixable issues with this Buckeye team. But after seven games- all wins, at least- some of the problems are features, not bugs. The defensive issues- lack of depth, poor tackling and a substandard linebacker corps- are here to stay. The only question at this point is whether the brilliance of Braxton and the power of the offense will continue to trump the defensive weaknesses- or whether those weaknesses will come back to bite the Buckeyes on the scoreboard sometime in the final five weeks. Stay tuned.
All Too Easy: Ohio State came into the game as a 17-point favorite and at first the Buckeyes looked as if they would cover that spread with ease. While Indiana's offense struggled with dropped passes and punted on its first two possessions, the Buckeyes quickly jumped out to a 10-0 lead. Philly Brown finished off Ohio State's 75-yard opening drive with a 12-yard run off an option pitch and Drew Basil booted only his third field goal of the season two series later to make it a ten-point game. With three minutes still to play in the first period, it appeared Ohio State had clear sailing to its 18th consecutive victory over the bumbling Hoosiers.
Things Fall Apart: That's when things began to go sideways for the Buckeyes. After Basil's field goal made it 10-0, Indiana's hurry-up offense began to move the ball almost at will. A 59-yard scoring burst by Stephen Houston made it 10-7 with two minutes left in the first. After Ohio State went three-and-out, a missed blocking assignment allowed Isaiah Roundtree to come through clean and stuff Ben Buchanan's punt attempt at the Buckeye 16-yard line. Three plays later Houston barreled through for his second touchdown and the Hoosiers suddenly led, 14-10, at the outset of the second quarter.
Ohio State's misadventures were just beginning. The Buckeyes moved crisply down to the Indiana 18 after Houston's second score. But after the officials waved off a defensive pass interference penalty in the end zone, Basil hooked a 35-yard chip-shot wide left. On Ohio State's next possession Miller underthrew a wide-open Philly Brown on a third-down play to force a punt.
At this point, against a defense that ranked last or near-last in the Big Ten in every major statistical category, Ohio State had gone three straight possessions without a score. The Hoosiers were containing Braxton Miller on the ground, while the Buckeye passing game was plagued by drops and poor throws. It would take a big play by the special teams to get Ohio State's engines running smoothly again.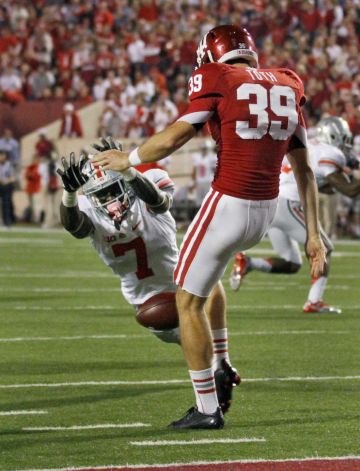 Block Party: After the defense forced Indiana into a three-and-out midway through the second quarter, Urban Meyer's special teams came up with the latest of a season-long spate of critical plays to switch momentum back to the Buckeyes. With 6:56 left in the half Travis Howard roared around the edge and blocked Erich Toth's punt, Ohio State's fourth such block of the season. Howard's fellow cornerback Bradley Roby fell on the loose ball in the end zone to put the Buckeyes back in front, 17-14. It was the third touchdown of the season for Roby and the second off a blocked punt.
When, moments after the blocked-punt score, Miller hit Devin Smith with a 60-yard touchdown strike- a near-carbon copy of their game-winning hookup against Michigan State- the Buckeye lead was 24-14 at halftime. After the second-quarter scare it seemed that Ohio State fans could breathe easy again. But this game was a long way from being over.
Braxton Breaks Loose: For the most part, Indiana's defense did a surprisingly good job of containing Braxton Miller in the first half. The Hoosiers enlisted all in the Stop Braxton movement, swarming the speedy sophomore and sealing off his cutback lanes. But all it takes is one opening for Braxton to break loose, and on Ohio State's first play of the second half he found it. Keeping on the read-option, Miller got a block from Jeff Heuerman, cut up the middle, split two Hoosier defenders and was gone for a 67-yard touchdown. That made it 31-17 Ohio State, and when the Buckeyes drove to a first-and-goal at the Indiana three on their next possession, it seemed once again that one more hard punch would send the plucky Hoosiers to the canvas.
They Wouldn't Go Away: Instead, on second-and-goal from the four, a rushed Miller forced a pass to Philly Brown and was intercepted in the end zone by safety Greg Heban. Three plays later Cameron Coffman found Shane Wynn over the middle and the fleet Glenville product sliced through the Buckeye defense for a 76-yard touchdown. The quick, long strike- a play that has been available to opponents all season- enforced a trend that would last the rest of the night. Every time it appeared that Ohio State was about to put it away, Indiana would come up with a play to keep its long-shot hopes alive.
The Trend Plays Out: Here it is in its maddening entirety:
- After Carlos Hyde made it 38-24 with a juking 14-yard burst off a shovel pass from Kenny Guiton (Miller briefly left the game after being hit out of bounds on that drive) Tevin Coleman returned the ensuing kickoff all the way to the Buckeye 40. The runback set up a field goal that made it 38-27 with 3:54 to go in the third.
- Hyde's second touchdown, on the second play of the fourth period, followed his own tackle-breaking jaunt to the Indiana one and made it 45-27. Indiana responded with a 12-play, 76-yard drive that ended on D'Angelo Roberts's one-yard scoring plunge and it was 45-34 with more than ten minutes still remaining.
- One next series Miller hit Devin Smith over the middle and the all-or-nothing receiver stopped, turned the other way and outran the Hoosiers to the end zone for a 46-yard touchdown and a 52-34 lead. With less than half of the fourth quarter remaining, that would do it, right? Wrong.
Wild Finish: Even in a situation that looked hopeless, Indiana kept fighting- and Ohio State kept giving up yards in bunches. Taking possession with 3:58 left, the Hoosiers moved 74 yards to a touchdown, backup quarterback Nate Sudfeld hitting Duwyce Wilson for the score. A Hoosier then saved the onside kick from going out of bounds and Indiana recovered with 1:40 left. Five plays later Stephen Houston scored his third touchdown on a 25-yard pass play. After a successful two-point conversion it was 52-49 with 1:05 left. Finally, after Philly Brown made a clutch recovery of a second onside kick, it was time to exhale.
Silver Bullets are Duds: I've been watching Ohio State football for more than a quarter-century, and this may be the worst defense I've seen from the Buckeyes in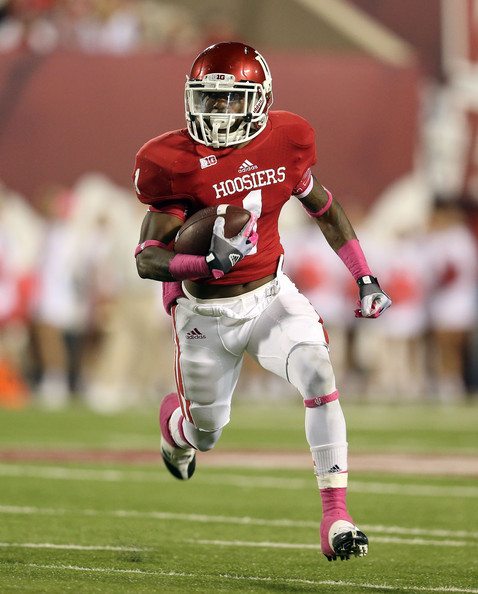 that span. The unit is vulnerable to big plays, the tackling is suspect at best, the depth is shaky and the linebacker corps- traditionally a source of strength in the program- is a complete mess. Things are so desperate that fullback Zach Boren was pressed into service Saturday as an extra 'backer (he led the team in tackles, which is either great for Boren or terrible for the rest of the defense.)
The numbers tell the grim tale. Indiana compiled 481 total yards- 352 through the air- committed zero turnovers and scored on plays of 59 and 76 yards. In the second half alone the Hoosiers scored 35 points and racked up 377 total yards. In addition to shredding the Buckeyes through the air, Indiana also averaged 5.4 yards per carry on the ground. Only a rash of dropped passes kept those numbers from going even higher.
So what to do? I'm not sure there's anything that can be done. A coaching change won't happen at this point in the season. Getting Etienne Sabino back will help, but that won't happen for another three weeks or so. Certainly the generosity the Buckeye defense has shown the last two weeks can be curtailed to a certain extent, but we might as well face up to the notion that the Silver Bullets as we knew them are simply blanks, at least for this season.
Offensive Juggernaut: Then again, if there's ever a year for Ohio State to have a lousy defense it's this one. The Buckeyes were again all but unstoppable, particularly on the ground. The total-yardage tally for the night was a whopping 578, with 352 of that coming via land. Were it not for the missed field goal, the end-zone interception and two dropped touchdowns by Devin Smith the offense's 45 points scored would have been higher.
Braxton's Line: 13-of-24 for 211 yards, two touchdowns and an interception; 23 carries for 149 yards and a touchdown. He also made a critical recovery of Rod Smith's fumble late in the third period on a drive that eventually ended in a Buckeye touchdown. Miller's passing numbers would have been more impressive had it not been for the two drops by Devin Smith. Speaking of whom…
All or Nothing: Devin Smith's night consisted of two actions. He caught touchdown passes, and he dropped them. Both of his receptions went for long scores totaling 106 yards. He also dropped two passes that would have been touchdowns of 45 and 43 yards. Both balls were perfectly thrown- and both went right through Smith's hands.
A Right Good Hyde-ing: With injuries sidelining Jordan Hall, lead tailback responsibilities have devolved to Carlos Hyde- and the 232-pound junior has been up to the challenge. Hyde had another big night on Saturday, rambling for 156 yards on 22 carries with a touchdown and adding 27 yards on two receptions with another score. In the last two games Hyde has rambled for 296 rushing yards and scored six touchdowns.
Around the Nation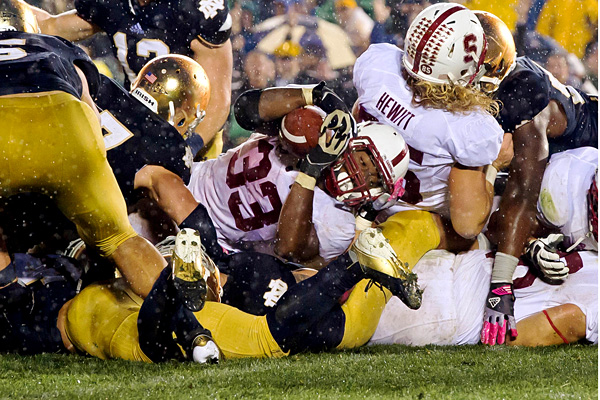 Game of the Week- Notre Dame/Stanford: Defense may be an issue in Columbus, but it certainly isn't in South Bend. The Irish moved to 6-0 with a rain-drenched 20-13 overtime victory over Stanford- a victory that was sealed by yet another brilliant performance by the Notre Dame defense. The Irish held the Cardinal to 272 total yards, limited Stepfan Taylor to 3.6 yards per carry and got back-to-back stops inside the one to preserve the win in overtime. (They may have gotten a stop on Stanford's fourth-down play, that is; Taylor looked as if he'd gotten in on the second effort.)
That defense will have to stay brilliant, because Notre Dame's offense can be counted on only to operate in fits and starts. Neither Everett Golson nor Tommy Rees has stepped up to claim true leadership at the quarterback position, and the result is an offense that has scored 20 points or fewer in four of six games.
The sputtering offense shouldn't be a fatal liability for most of the remaining schedule. The Irish will be heavily favored against BYU, Pittsburgh, Boston College and Wake Forest. But the other two games are bears- at Oklahoma in two weeks and at USC in the finale. Notre Dame, like Nebraska a few years ago, possesses a BCS title-worthy defense. But it's going to be tough for the Irish to overcome that Sun Bowl offense of theirs.
Real Wild Ones: Bloomington, Indiana was not the only high-scoring scene in college football last weekend. Two other games saw a combined point total of 99 points or more. Toledo defeated Eastern Michigan in a 52-47 shootout with the Rockets and Artists Formerly Known as the Hurons scoring eight third-quarter touchdowns, all on plays of 41 yards or more. The biggest bomb-bursts came from Reston, Louisiana, where Texas A&M outlasted freshly-ranked Louisiana Tech, 59-57. With Johnny Manziel putting up 576 total yards the Aggies led by scores of 27-0, 39-13 and 46-23 late in the third period. The Bulldogs exploded late, scoring 34 points in the last eighteen minutes and had an opportunity to tie the score, only to fail on a two-point try with 38 seconds left.
Wither, Geno? Geno Smith's once-faultless Heisman resume is now markedwith a very bad reference- West Virginia's shattering 49-14 loss at Texas Tech on Saturday. Much of the blame for the disaster will fall on the shoulders of the 117th-ranked Mountaineer defense, which hasn't stopped anyone all year and got torched again in Lubbock; but Smith didn't exactly light it up in his own right, averaging a meager five yards per attempt and failing to keep his team in the game early as the Red Raiders rolled up a 35-7 halftime lead.
This wouldn't be the first time a Heisman winner wound up on the wrong end of a lopsided score; Robert Griffin's Baylor team lost by 35 at Oklahoma State just last season, in fact. But this is different. Regardless of their weaknesses, the Mountaineers were a top-five team and a legitimate BCS hopeful going into Saturday's game. There were expectations on them that weren't on Baylor, a longtime have-not.
It isn't as if Smith's candidacy is on life support. He still leads the nation in passer rating and touchdown passes and is second in passing yardage, he still has zero interceptions and he still has West Virginia very much in contention for the Big 12 title. But when the balloting comes up, the Texas Tech game absolutely should be a factor. Heisman hopefuls on teams with big-power aspirations shouldn't lose games the way Smith and the Mountaineers lost in Lubbock.
Dri Archer for… Heisman? With Smith's coronation at least temporarily postponed, there's a vacuum in the Heisman Trophy pecking order. Braxton Miller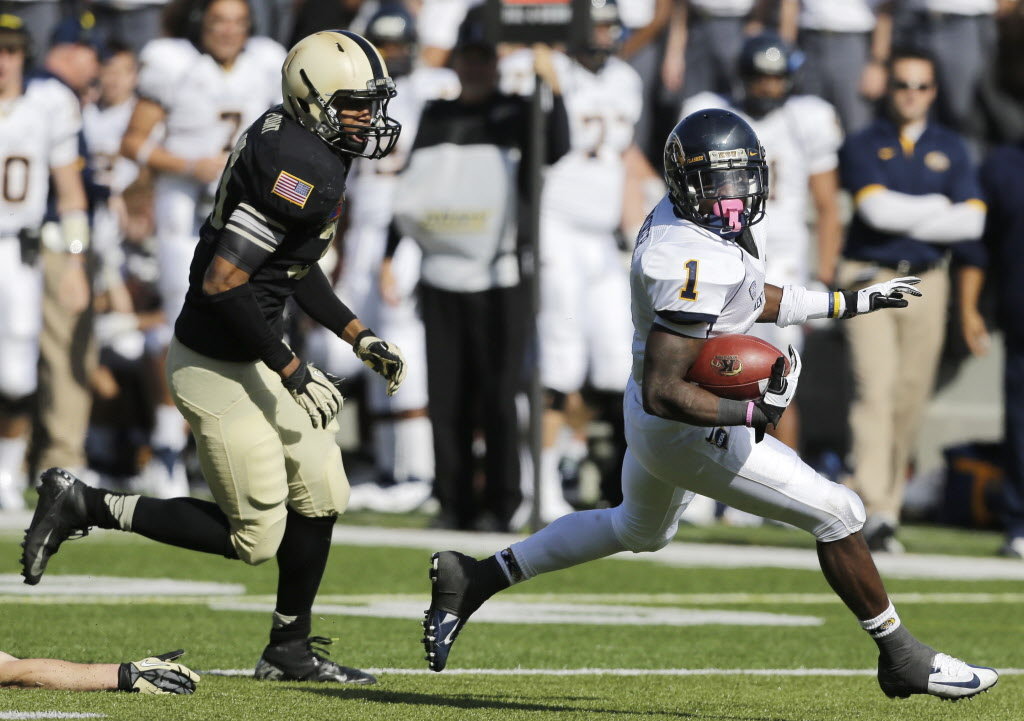 obviously has his promoters as does Notre Dame's defensive and inspirational leader Manti Te'o and Collin Klein, the Kansas State wrecking ball. Texas A&M's dual-threat Johnny Manziel is getting some love too. But this is a year without a wealth of worthy candidates.
Kent State's Dri Archer won't be sitting among the top five in Manhattan on December 8th when the Trophy is awarded. Only two MAC players (Randy Moss in 1997 and Chad Pennington in '99) have finished in the top five of the Heisman balloting. But there is no question that the 5'8" speedster from Florida's Gulf Coast is one of the best players in college football at the midway point. Archer is first in the nation in all-purpose yardage, first in kick-return average and kick-return touchdowns, second in yards-per-carry and fifth in points scored per game.
He isn't doing all this work in service of a lost cause, either. Kent State is off to a 5-1 start, its best since 1973 (when the Flashes had Jack Lambert, Gerald Tinker, Cedric Brown, Larry Poole and Larry Faulk/Abdul Salaam and finished 9-2.) Every one of Kent's victories has featured game-changing big plays from Dri Archer:
- In the opener against Towson Archer blew the game open in the second quarter with a 98-yard kick-return touchdown.
- In the MAC opener against Buffalo he opened the scoring with an 11-yard run and finished with a game-high 127 rushing yards at 9.1 a pop.
- In the thrilling win over Ball State he scored three touchdowns, including his second kick-return score of the season.
- Against Eastern Michigan he returned the second-half kickoff for a touchdown to break the game open.
- Against Army he threw a touchdown pass to open the scoring and put away the persistent Cadets with an 87-yard touchdown run late in the fourth period.
When you combine his spectacular playmaking with his vital role in what could be a landmark season for one of the nation's most historically downtrodden programs, it's obvious that Dri Archer is one of the most outstanding players in all of college football- even if he sits at home on December 8th.
Winners of the Week
LSU: After the loss to Florida the Tigers needed a win over third-ranked South Carolina to keep their SEC West hopes alive. They got it, grinding down the Gamecocks 23-21 behind a revitalized offense that banged out 406 total yards and a defense that limited South Carolina to 211 yards and 3-of-13 on third downs. Coming up for Leslie the Hat's team: a tough road trip to Texas A&M and then the showdown with Alabama on November 3rd.
Kansas State: The Wildcats moved to 6-0 with a tough 27-21 victory over a good Iowa State team in Ames. Collin Klein was, as usual, the main man in victory with 292 combined yards passing and running and three rushing touchdowns. The win sets up an intriguing showdown in Morgantown this Saturday between K-State and West Virginia- the first meeting between the schools since 1931.
Mississippi State: Somewhat quietly the Bulldogs are off to a 6-0 start- their best since 1999- after defeating Tennessee on Saturday. They're also 3-0 in SEC play and tied for first in the West with Alabama. But after what should be a routine game against Middle Tennessee State this weekend the slate turns mean, with consecutive games at Alabama, at home against Texas A&M and at LSU.
Tulsa: The Golden Hurricane have won six straight since an opening-day loss at Iowa State and are already 4-0 in Conference USA play after routing UTEP 33-11 last Thursday night. Normally one of the most pass-happy teams in the nation, Tulsa has generated most of its offensive power with a rushing attack that ranks tenth nationally.
Tulane: A horrific half-season for the Green Wave- five losses by an average score of 42-9 plus the fractured spine suffered by Devon Walker- ended on a high note Saturday with a 27-26 upset of SMU. After blowing a 20-9 fourth-quarter lead and falling behind 26-20, Tulane fought back to win on Ryan Griffin's touchdown pass to Robert Kelley with 35 seconds to play.
Losers of the Week
Texas: Saturday's Red River Shootout was the acid test for the Longhorns- and they failed abjectly. Gashing the weak Texas defense for 677 total yards and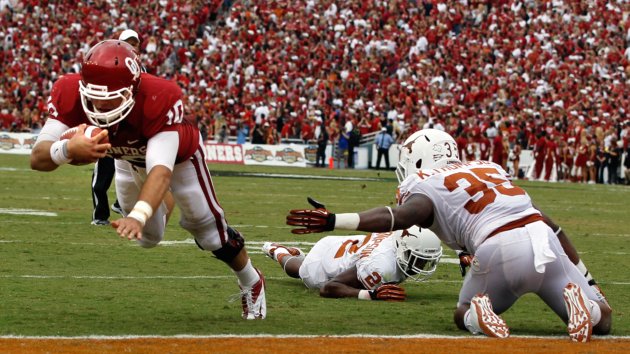 converting 11-of-18 on third downs, Oklahoma rolled up a 63-21 rout, its third consecutive win in the venerable series. The loss brings Texas to a bland 17-14 since the beginning of the 2010 season, a decline in fortunes that shows no signs in abating.
Auburn: The free-fall continued for the Tigers in Oxford, where they were blown out 41-20 by a mediocre Ole Miss team. The Rebels blew it open late with 17 fourth-quarter points as they handed Auburn its worst loss in the series since 1951. Among the myriad of problems facing Gene Chizik's team is an offense that ranks 120th overall, 96th in rushing, 115th in passing and 117th in scoring.
Washington State: Last week Mike Leach said some of his seniors had an "empty-corpse quality" to them. The Cougars then went out and stumbled zombie-like to a 31-17 home loss to California on Saturday, their fourth consecutive defeat.
Purdue: Once a dark-horse contender for the Big Ten Leaders title, the Boilermakers are reeling after opening the conference schedule with back-to-back home losses by a combined score of 82-27. In those losses to Michigan and Wisconsin the Purdue run defense yielded 235 yards to Denard Robinson and 247 to Montee Ball.
San Jose State: Playing at home and with a chance to make an early statement in the WAC race, the Spartans were dismantled by Utah State, 49-27. The Aggies ambushed their hosts with four unanswered touchdowns in a twelve-minute span to take a 28-3 second-quarter lead and were never serious threatened afterward in snapping San Jose's four-game winning streak.
Next: High noon on Saturday when the Buckeyes host reeling Purdue. Now 3-3 after a 3-1 start, the Boilermakers are an even 100th in the nation in rushing defense; Ohio State is 8th in the nation in total offense.
Oct 17, 2012 6:00 AM
Last Updated:

Oct 23, 2012