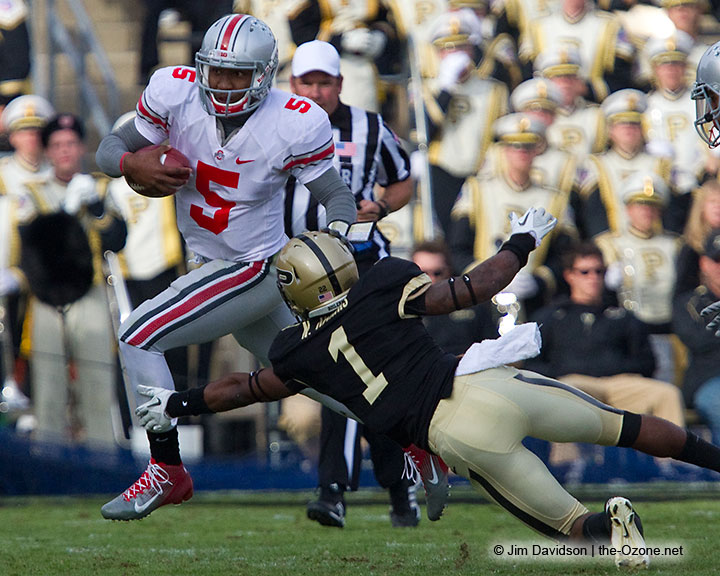 - Saturday, October 20, 2012

- Ohio Stadium - Columbus, OH

- Purdue at Ohio State

- 12:00 PM ET

- TV: ABC / ESPN2 -


Unbeaten Ohio State returns home Saturday for a noon date with the Purdue Boilermakers at the Horseshoe. The 7th-ranked Buckeyes will be trying to make it eight in a row under first-year head coach Urban Meyer, in the second of five straight games against Leaders Division opponents. OSU is 3-0 in Big Ten play, and leads the division race, the only title they are eligible to win in 2012.

Purdue (3-3, 0-2) comes in on the heels of consecutive humbling defeats at the hands of Michigan and Wisconsin, needing an upset win to salvage any hope of overtaking the Badgers and winning the Leaders' spot in the Big Ten title game. Danny Hope's Boilermakers own victories over Ohio State in two of the last three meetings, but both of those wins were in West Lafayette. They have knocked off the Buckeyes in Columbus just twice in the last 60 years, the last time coming in 1988.
This is the 55th meeting of the two schools, with the Buckeyes leading the series 38-14-2 overall, and 26-5-2 in Columbus. Last year OSU never led in West Lafayette, although they tied the game in the final minute on a 4th down TD pass from Braxton Miller to Jordan Hall. But Drew Basil's potential game-winning extra point was blocked, and the Boilermakers prevailed in overtime 26-23.


State of the Bucks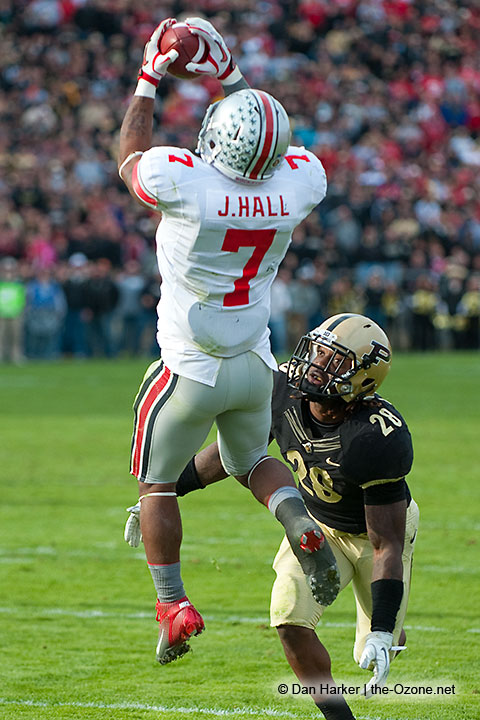 If it's possible for a team that is undefeated and coming off of a 52-point performance to be embarrassed after a victory, that would seem to describe the Buckeyes this week. Had last week's Indiana game ended at 52-34, as the scoreboard read with less than two minutes to play, maybe Urban Meyer wouldn't have walked into the defensive meetings this week and announced his intention to get more involved and demand more accountability from players and coaches on that side of the ball.

But the Hoosiers added two late touchdowns against a porous OSU defense, and turned what might have been a comfortable Buckeye win into a 52-49 squeaker. That showing came one week after the Bucks allowed 38 points at home against Nebraska, all of which led to Meyer's increased focus on the effort and technique of his defenders this week. I'm guessing that may be reflected in a noticeable step up in defensive intensity against Purdue.

Getting end Nathan Williams back on the field after he missed the IU game with a concussion should help with that, as should one game of experience at linebacker for Zach Boren, the Buckeyes probable starter in the middle. The senior captain and four year starter at fullback was pressed into service on defense the week before the Indiana game, when Meyer had five linebackers sitting out practice with injuries, and Boren responded against the Hoosiers with a team-high eight stops and a much-needed dose of senior leadership.

Josh Perry will get the start again at the strongside linebacker spot in place of the injured Etienne Sabino, and with Sabino as the only starter currently among the walking wounded, the Buckeyes are about as healthy overall as they have been all season.

Ohio State will no doubt attack on the ground with their one-two combination of Braxton Miller and Carlos Hyde, the pair that has rushed for over 300 yards in consecutive games. The Purdue defense would appear to be ill-suited to slow down the OSU onslaught, having surrendered a whopping 771 yards on the ground in their last two games. Jordan Hall (knee) will not be ready to return to the lineup just yet, so we'll probably see Rod Smith spelling Hyde. I'm sure Smith will be back returning kickoffs after handling that job against the Hoosiers as well as any Buckeye has all season.


Purdue - Key Personnel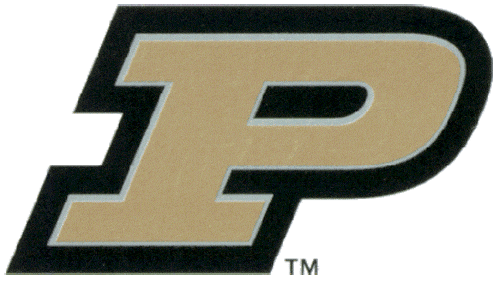 You could see as many as three different quarterbacks taking snaps for the Boilermakers this week, with senior Caleb TerBush the likely starter. TerBush is completing passes at a 61.2% clip, with 721 yards, 8 touchdowns and 6 interceptions on the season. He has alternated with Robert Marve (67.1%, 500 yards, 4 TD, 2 INT), and junior Rob Henry, who is brought in on occasion to give the offense more of a run threat at the QB position.

Purdue ranks 7th in the Big Ten in rushing (165.0 ypg), but nearly 40% of their total yardage on the ground came in one game against Eastern Michigan. They finally got Ralph Bolden (knee surgeries) back on the field last week, and he could help out a rushing attack that has struggled lately with backs Akeem Hunt (257 yds, 2 TD) and Akeem Shavers (324 yds, 3 TD).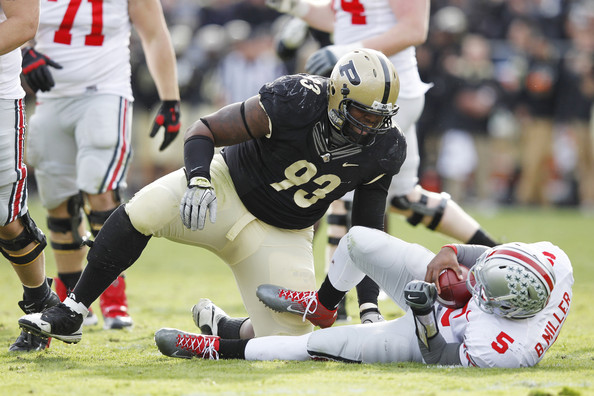 The Boilermakers will be running their normal spread offense, featuring a lot of bubble screens and other short routes designed to get their receivers O.J. Ross (38 rec, 299, 1 TD) and Antavian Edison (31 rec, 371, 5 TD) the ball in space. It hardly needs to be mentioned that this type of offense has been giving the Ohio State defense fits for the last two seasons, but Purdue has been less than explosive running it for the last few weeks, especially against the likes of Michigan and Wisconsin the last two games.

On defense, the Boilermakers feature two players that made everyone's preseason All-Big Ten teams in defensive tackle Kawaan Short and cornerback Ricardo Allen. Like the Buckeyes, Purdue defenders have been embarrassed by their showing the last two games, and hope to turn things around and play better this Saturday. But Short (pictured) has not been able to effectively stem the tide against opposing rushers, as noted earlier. He's got 9 TFL and four sacks so far in 2012, but he clearly needs more help.

Linebacker Will Lucas is the team's leading tackler, and Allen is joined in the defensive secondary by safety Landon Feitcher and corner Josh Johnson to form a pretty solid unit. Punter Cory Webster, who has had three punts blocked already this year, can't be relishing facing Meyer's "Freak Show" special teams unit, which has two blocks for TD's in the last two games.

---

Idle Speculation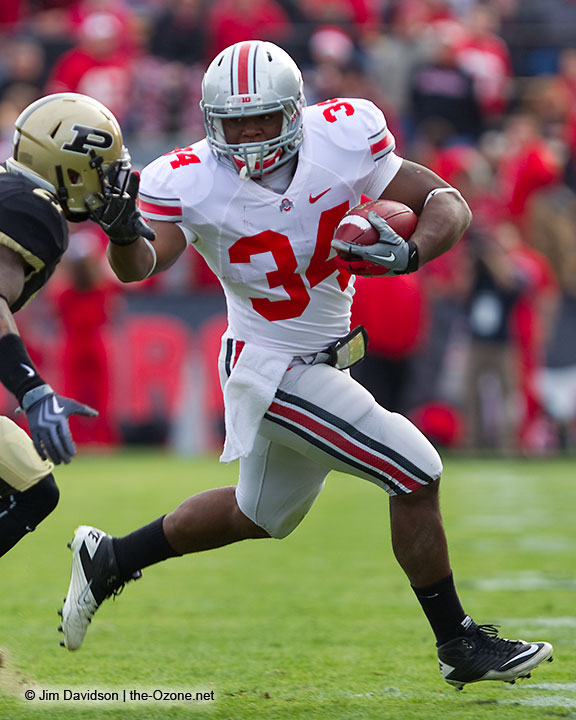 Purdue has looked more like the Boilermakers we know and love than the team that had high hopes for contention in a weakened Leaders Division when the season began. It's true they have often stepped up their game against OSU, and they must be stinging from their dismal performances of the last two weeks. But playing an unbeaten and somewhat ticked off Ohio State team in Columbus doesn't seem like the recipe for a turnaround. The last time they showed up in Ohio (2010) the year after beating the Bucks in West Lafayette, Ohio State put a 49-0 whipping on them.

Meyer has called the number of big plays surrendered by his defense this year "ridiculous", and OSU fans are hoping his message to his defense got through to them. For a decade and a half, Jim Heacock's OSU defenses beat spread teams by playing a zone pass defense behind a strong pass rush to deny opponents any big plays, and coming up to put hard licks on receivers after they caught the short routes.

Over the course of four quarters, most receiver units got the message, and we'd see drops and fumbles and "gator arms" from them later in the game. The OSU defense beat them up and made them not want to catch the ball anymore. A return to something resembling that style of defense would be a welcome sight right about now.

It will be interesting to see how the Luke Fickell-Everett Withers defense of 2012 tries to adjust to the success spread teams have had against them. There's only so much they can do in the absence of the kind of linebacking talent that OSU teams featured over much of the last couple of decades, but if nothing else, we should see a group motivated to impress their coaches and avoid long lapses in concentration and discipline.

The next two games against decidedly weaker teams in Purdue and Illinois represent this OSU team's opportunity to fix whatever ails them on the defensive side of the ball. November looms with games against three much better teams in Penn State, Wisconsin and Michigan, the first two of which are on the road.

Braxton Miller and the offense, on the other hand, are progressing according to plan. For the first time in 16 years, the Buckeyes have put up 50 points in back-to-back games, to effectively cover up the issues on defense, and to a lesser degree, on special teams. I really do not see them hitting that kind of offensive production this week, though, despite how weak the Purdue defense has looked recently.

I'll take the Bucks to cover the 19.5 point spread on the strength of a newly-motivated defense getting after the quarterback a little better and hitting everybody a little harder....and the ongoing highlight reel that is Braxton Miller. I'll call it OSU 38 - Purdue 17

---


OSU Athletics Communications - Game Notes (pdf)

Ohio State Roster

Purdue Roster

---

on Twitter at @dwismar

Dan's OSU Links and Resources

---

(photo credits - Jim Davidson and Dan Harker - The-Ozone.net)





Oct 19, 2012 9:09 AM
Last Updated:

Oct 20, 2012