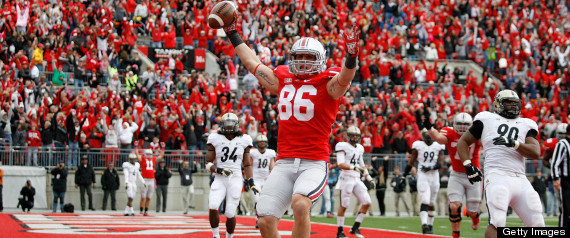 Ohio State lost a lot of battles on Saturday afternoon, lost Braxton Miller- but won the war with a 29-22 overtime victory over Purdue that is potentially one the ages, depending on how this wonderfully strange season turns out.
How the Buckeyes won remains almost inexplicable. For more than 59 minutes they seemed destined to lose. Purdue did almost everything right. They scored on offense, defense and special teams, forced four Ohio State turnovers and did the one thing almost guaranteed to deliver their first win in Columbus since 1988- they knocked out Braxton Miller, kayoing the Buckeyes' main man with (literally) a hospital shot.
Yet somehow the Buckeyes came back. Down 22-14 with less than a minute to drive 61 yards and no timeouts with which to do it, Kenny Guiton turned in a relief performance that would have made Don Strock proud. When the last clutch play had been made the Buckeyes were winners- and an oh-so imperfectly perfect 8-0.
Opening Roundhouse: Purdue came into the afternoon losers of back-to-back games by a combined score of 82-27. But it only took one play for the stumbling Boilers to show the Buckeyes and the 105,000-strong at the Shoe that they were going to be there all day. On the first play from scrimmage, Caleb Terbush isolated running back Akeem Shavers on Storm Klein, with absolutely no help over the top. 83 yards later Purdue had a 6-0 lead. The extra-point attempt was blocked, a play that would loom large down the stretch.
They Had All the Answers: Having seized early momentum, Purdue kept it by answering immediately every time the Buckeyes threatened to assert themselves. The first instance came with 5:17 left in the first quarter. After Braxton Miller's eight-yard touchdown run gave Ohio State a 7-6 lead, Akeem Hunt took the ensuing kickoff in his end zone and zipped one hundred yards down the right sideline for the score that put the Boilermakers right back in command.
The second came midway through the third period after Ohio State had re-taken a 14-13 lead on Carlos Hyde's two-yard smash. Taking over at their 18, the Boilermakers went right downfield on a series of quick wide-receiver screens that the Buckeyes seemed powerless to stop. With 3:49 left in the third, Gary Bush hauled in one of those quick screens, got a block and popped free for a 31-yard touchdown and a 20-14 Purdue lead.
With the Boilermakers answering right back after each Ohio State score, the Buckeyes held the lead for a total of 4:04 during regulation. For virtually all of the remaining 56 minutes they were looking up at Purdue on the scoreboard.
An Unexpected Failure: Purdue came into the game with the 100th-ranked rushing defense; Ohio State came in with the 8th-ranked rushing offense. Michigan and Wisconsin had hung a combined 771 rushing yards on the Boilermakers the previous two weeks and it certainly seemed as if the rampaging Buckeye ground attack would serve them the same way on Saturday.
But Saturday's game was full of surprises, and perhaps the biggest was Purdue's ability to consistently shut down Ohio State's ground game. With the defensive line whipping the Buckeyes up front and the back seven flowing to the ball, the much-maligned Boilermaker defense held the Buckeyes to 152 rushing yards, a far cry from the 361 they had averaged against Nebraska and Indiana.
The inability to establish the ground game put Ohio State behind the chains all day. Seemingly every drive featured a 2nd-and-9 or 2nd-and-10 situation. The down-and-distance problems forced the Buckeyes to the air with unseemly frequency- they threw 32 times, nearly as often as they ran (36.) Unfortunately, Braxton Miller was not having one of his better days in any department, including the forward pass.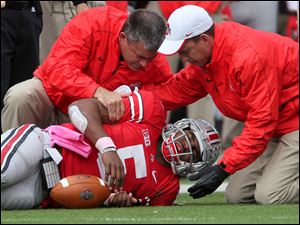 Braxton's Blight: Not much went right for Braxton Miller on Saturday. He was spotty throwing the ball, completing 9-of-20 for 113 yards and an interception. He was worse running it, with his first eleven carries producing ten yards and two lost fumbles (the first of which, admittedly, was blatantly stolen while he was on the ground.) Although he had opportunities downfield- particularly to Devin Smith, who was single-covered all day- Miller usually couldn't take advantage of them. And when he finally got some daylight on the ground late in the third quarter, the result was disastrous.
Hospital Shot: Late in the third quarter, with Ohio State trailing 20-14, Miller finally broke into the second level and got some big yards with his legs. At the end of the 37-yard run Miller was finally collared by cornerback Josh Johnson, who grabbed the Buckeye quarterback and threw him hard to the turf, directly onto his left shoulder. Dazed and doubled over, Miller was carried off the field, into the locker room and then into a waiting ambulance which whisked him off to the Wexner Medical Center on campus.
Based on the play and on the way Miller exited, the amateur prognosis ranged from severe concussion to broken collarbone. Yet apparently he's all right; he's been cleared to play on Saturday. He obviously wouldn't be back on this day, however, and that spelled major trouble for a team that was fighting for its life as the fourth quarter began.
Safety Squeeze: Trailing and needing to find a way to score a touchdown without its best playmaker, Ohio State's offense wobbled into what seemed like a back-breaking play when Andrew Norwell was whistled for a (dubious) illegal block in the end zone. The automatic safety gave Purdue a 22-14 lead with a little over eight minutes left and put the Buckeyes on the brink of defeat. Any more Boilermaker points would make it a two-score game and pretty much put it away given how Ohio State was faring offensively.
That's Why His Cop 'Stache is Gray: In the wake of Saturday's game, Purdue head coach Danny Hope probably spent some time thinking about the chances his team let get away; missed opportunities to secure a season-defining upset. The blocked extra point was one. Later in the first half, already holding a 13-7 lead, Purdue mounted an 18-play, 85-yard drive that ate up more than ten-and-a-half minutes. But on the eighteenth play, with the ball on the Buckeye six, Terbush's pass was deflected by Ryan Shazier and intercepted by C.J. Barnett in the end zone. Late in the third quarter, with a chance to make it a 23-14 game, Paul Griggs had his 34-yard field-goal attempt batted away by Jonathan Hankins.
The biggest misses came after the safety. Purdue had two possessions after taking the 22-14 lead. But although they needed only a field goal to practically end the game, the Boilermakers failed to generate any offense and had to punt twice. In the end, while in most respects they played extraordinarily well, the Boilermakers failed to make the one play that would have broken the game open. Despite being badly outplayed, Ohio State was never more than one score behind.
Some of the blame for Purdue's failure to press the advantage must lie with the offensive play-calling. The Boilermakers seemed to go into a shell after taking their 20-14 lead. We saw very little of the quick sideline passes and throwback screens that gave Ohio State's defense problems in the first three quarters. It was almost as if Purdue was trying to run the clock out more than it was trying to score again. Even against a Buckeye team shorn of its biggest weapon, it was a dangerous strategy. When you're the underdog and you're on the road it's better to play to win than to play to not lose.
The Kenny Guiton Show: Going into Saturday's game, backup quarterback Kenny Guiton had thrown a total of twelve passes as a Buckeye with seven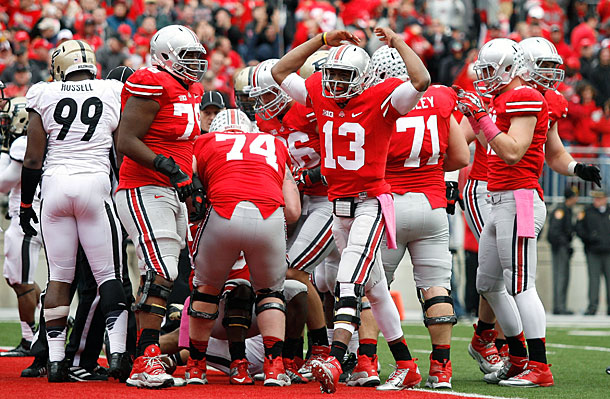 completions, one interception and one touchdown- that coming the week before against Indiana. Although he'd performed crisply in spot duty, the junior from Houston was an utterly unknown quantity when it came to leading the team in a situation in which failure was not an option.
He was in that situation on Saturday. Guiton entered the game at the end of the third quarter with the Buckeyes trailing, 20-14. His first full possession ended in the safety; his second ended when he underthrew Jake Stoneburner and was intercepted on a deflection with 2:40 to play. That turnover, the fourth of the day for Ohio State, seemed to settle matters. But when Purdue was forced into a three-and-out, Guiton had one last chance to bring his team back.
Starting at his own 39-yard line with 47 seconds remaining and no timeouts, Guiton suddenly found his rhythm. On the first play he found Devin Smith wide-open down field for a 39-yard gain to the Purdue 22. On the next play he rolled out and hit Evan Spencer, who danced out of bounds at the 14. After a pass-interference penalty placed the ball on the two, Guiton found a diving Chris Fields for the touchdown that made it 22-20 with three seconds to play.
The crowd at the Horseshoe was going crazy- but the Buckeyes still needed to cash in on the two-point conversion try. No problem- Guiton rolled right, stopped, waited and lobbed the ball to Jeff Heuerman, who had gotten behind the defense on the left side of the end zone. Heuerman gathered in the soft toss and the game was tied, 22-22. Somehow, some way, Kenny Guiton had led the Buckeyes all the way back in a game they had seemed destined to lose.
Quick Question: Why, exactly, was Kenny Guiton behind Joe Bauserman on the quarterback depth chart last season?
Overtime: After the comeback, the extra session was almost anti-climactic. It took five plays for Ohio State to reach the end zone on its possession, Carlos Hyde vaulting over the top for his second touchdown of the day and ninth of the season. It took four plays for the Buckeye defense to squash Purdue's final drive, with Terbush overthrowing Crosby Wright in the back of the end zone on his desperation fourth-down pass. Just like that, Ohio State was 8-0.
Around the Nation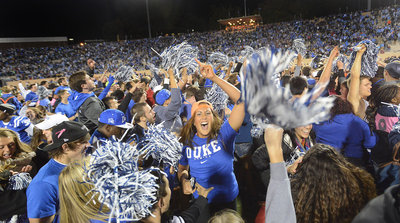 Game of the Week- Duke/North Carolina: Duke-Carolina? This is a college football column, right? Yes it is, and we're not talking Coach K or Roy Williams or the Cameron Crazies. The Blue Devils and Tar Heels played a spectacular game Saturday night, in a venue that hasn't seen all that many storied confrontations between the Tobacco Road rivals- venerable Wallace Wade Stadium in Durham. Indeed, Duke hadn't beaten Carolina at home since 1988, when Steve Spurrier was the head coach.
That streak is over in the wake of Duke's spine-tingling, occasionally nasty 33-30 victory over its blood enemy from Chapel Hill. The Blue Devils led 23-9 going into the fourth quarter only to see Carolina storm back for three touchdowns and a 30-26 lead with 3:12 left. Typical Duke, right? Wrong- senior quarterback Sean Renfree promptly led an 87-yard march that culminated in his game-winning touchdown pass to Jamison Crowder on fourth-and-goal with 13 seconds remaining.
The big win didn't just end the long home losing streak against North Carolina. At 6-2, the Blue Devils are bowl-eligible for the first time since 1994. Going bowling is an unlikely enough fate for this long-downtrodden program; what's more unlikely is that Duke is alone in first place in the Coastal Division and actually has a decent shot to play in the ACC Championship Game in Charlotte on December 1st. If that happens, the Blue Devil basketball team might find themselves truly upstaged by the football team for the first time in a long, long time.
Quack Attack Smacks the PAC: In addition to getting gobs of money from Nike and changing their uniforms every five minutes, the Oregon Ducks have a new tradition- that of ruthlessly exposing pretenders to their Pac-12 crown. Having already taken the starch out of Arizona and Washington, the Ducks went down to Tempe Thursday night and made Arizona State their latest victim, 43-21. Even that lopsided score was deceptively close- Oregon had 293 rushing yards and a 43-7 lead less than four minutes into the second quarter.
Now, it could just be that Arizona, Washington and Arizona State aren't all that good, and they probably aren't. Indeed, with Stanford already having lost twice and USC not having lived up to its preseason juggernaut status, the Pac-12 as a whole probably isn't all the September newspaper clippings made it out to be.
But that shouldn't take away from Oregon's dominance, or from the fact that the Ducks are well set up to win their fourth consecutive conference title and perhaps play in the BCS Championship Game for the second time in three seasons. Whether their defense and passing game will be good enough in a head-to-head matchup with the best of the SEC remains to be seen. But at this point it appears obvious that the Pac-12, which appeared so deep just a few weeks ago, is once again the exclusive property of the Oregon Ducks.
The MAC States it's Case: Lost in the overall college football shuffle is the Mid-American Conference, which is having perhaps its best overall season since the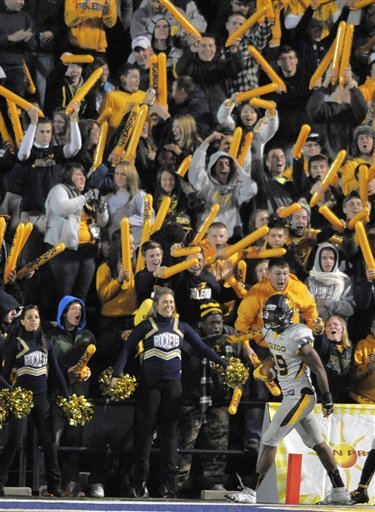 glory days of the late '90s and early 2000's when field generals like Pennington, Leftwich, Roethlisberger, Frye and Cribbs were taking the league to new heights. Four members of the conference are already bowl-eligible: Ohio (7-0), Toledo (7-1), Northern Illinois (7-1) and Kent State (6-1.) Toledo's upset of unbeaten Cincinnati on Saturday is only the latest in an impressive group of non-conference performances that also includes Ohio's opening-day conquest of Penn State.
The league is deep as well as strong. Unbeaten and 23rd-ranked Ohio has more than lived up to its preseason billing. Toledo and Northern Illinois withstood offseason attrition on the roster and the coaching staff and have kept right on rolling. Kent State is off to its best start in two generations. And Ball State and Bowling Green have also enjoyed strong showings so far. Although the bottom of the league is a dumpster fire- Buffalo, Akron, UMass and Eastern Michigan are a combined 3-26- the top looks as imposing as it has in years.
Thanks to that depth, and to other factors, the MAC should be well-represented during bowl season. With a number of strong teams barred from bowl games because of probation and with Army- which shares bowl tie-ins with the MAC- on the verge of postseason elimination at 1-6, there will be opportunities for several of the league's teams to play December and January football… including my Kent State Golden Flashes, for the first time since 1972.
The Young and the Winless: With Eastern Michigan getting into the win column for the first time on Saturday, only two winless teams remain in the FBS- the Massachusetts Minutemen, who went to 0-7 with a 24-0 loss to Bowling Green and the Southern Mississippi Golden Eagles, who also went to 0-7 with a 59-24 loss to Marshall. UMass's problems are no surprise- the Minutemen are in their first season as an FBS program. Southern Miss's problems, on the other hand, are a revelation- the Golden Eagles went 12-2 last season and hadn't finished with a losing record since 1993.
Yet all hope for a victory is not lost for these two sad-sacks. After road games at Vanderbilt and Northern Illinois, the Minutemen play their last three against Akron, Buffalo and Central Michigan- teams with a combined 4-19 record. Although they've been blown out in most of their games, Massachusetts did take powerful Ohio down to the wire on September 29th and a similar effort could bear fruit against the weak back end of the schedule. Of course, that depends on if UMass players take this whole competing thing a little more seriously.
Southern Miss has an easier road to redemption. The final five games for the Golden Eagles are against Rice (2-6), Alabama-Birmingham (1-6), SMU (3-4), Texas-El Paso (2-6) and Memphis (1-6). As bad as Southern Miss has been- and they've been wretched- there has got to be a victory in there somewhere. First-year head coach Ellis Johnson hopes so, at least- I don't imagine they cotton to 0-12 seasons down in Hattiesburg, where winning seasons and bowl berths are expected.
Canned: College football has its first coaching casualty of the season in Robb Akey, who was fired from Idaho after five-plus seasons and a 20-50 record. In 2009 Akey led the Vandals to an 8-5 record and a dramatic Humanitarian Bowl victory over Bowling Green. But they've gone 3-17 since the beginning of 2011 and are 1-7 this season after a 70-28 loss to Louisiana Tech. Succeeding Akey is offensive coordinator and former Washington State quarterback Jason Gesser, who when last seen around these parts was getting body-slammed by Darrion Scott.
Winners of the Week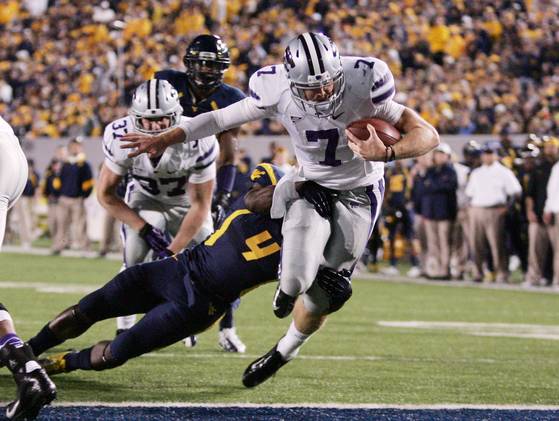 Collin Klein's Heisman Candidacy: After going 16-of-19 for 323 yards and accounting for seven touchdowns (four rushing, three passing) in K-State's 55-14 humiliation of West Virginia in Morgantown, I guess you could consider Klein's Heisman chances somewhat enhanced. If the Wildcats run the table- and their remaining five games are very winnable- it's his to lose.
Florida: Yeah, they're back alright. The Gators took South Carolina to the woodshed in the battle for SEC East dominance, beating Steve Spurrier's Cocks 44-11 in Gainesville. They did it with defense, scoring three touchdowns off of turnovers and racking up all those points despite gaining a meager 193 total yards. Florida has already played six conference games; they're 6-0 and can clinch the East with a Cocktail Party victory over Georgia this Saturday.
Michigan: Brady Hoke's Wolverines snapped their seven-game losing streak against Ohio State last November; Saturday, they snapped their four-game losing streak against Michigan State, downing the Spartans 12-10 on a 38-yard Brendan Gibbons field goal- his fourth of the game- with five seconds left. The win was the 900th in the history of the program; more importantly, it moved the surging Wolverines to 3-0 in Big Ten play.
Texas Tech: The Red Raiders have bounced back strong from last season's 5-7 disappointment and are now 6-1 after a 56-53 triple-overtime victory at TCU. Seth Doege threw seven touchdown passes in the win, including the game-winner to Alex Torres in the third overtime. Tech will have a chance to snarl the Big 12 race with a win against Kansas State this Saturday in Manhattan.
Louisiana-Monroe: The Warhawks seized sole possession of first place in the Sun Belt with a 43-42 overtime win at fellow title contender Western Kentucky. Trailing 28-7 late in the second period, Monroe came back behind the arm and legs of Kolton Browning, who threw four touchdown passes, piled up 377 combined yards and found Rashon Caesar for the winning two-pointer in overtime- the first and only time the Warhawks led in the game.
Losers of the Week
Geno Smith's Heisman Candidacy: It took the West Virginia quarterback two weeks to go from odds-on favorite to fringe-party candidate in the Heisman race.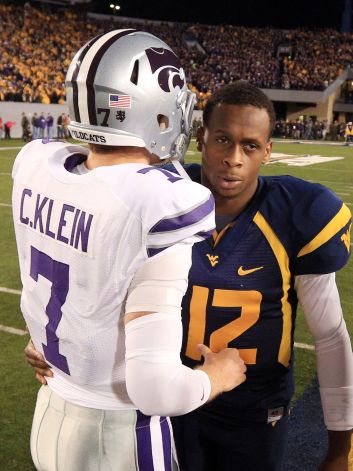 What might have been the death blow came Saturday night, when Smith threw for 143 yards and tossed his first two interceptions of the season in the 55-14 drubbing at the hands of Collin Klein and Kansas State.
Cincinnati: The Bearcat defense came to play Saturday night in the Glass Bowl, holding potent Toledo without an offensive touchdown. But the Rockets scored on an interception return and a kickoff return and, combined with five field goals, that was enough to knock Cincinnati from the ranks of the unbeaten, 29-23.
Tennessee: That typing sound you hear is Derek Dooley updating his resume. His Tennessee Volunteers are now 0-4 in the SEC after suffering yet another one-sided loss to a conference power, this time 44-13 to Alabama in Knoxville. Tennessee is 1-11 against God's Conference since the beginning of 2011, and Dooley is 0-9 against Alabama, Florida and Georgia.
Indiana: While fellow perennial bottom-feeders Duke and Kent State are sniffing the heady air of success, the Hoosiers just keep right on losing football games. Indiana couldn't hold a 30-21 fourth-quarter lead at Navy, as the revitalized Midshipmen came back with two scores in the final five minutes to win, 31-30. Indiana has lost five straight, four of those by four points or less.
Houston: Philanthropy is fine and good, but the Cougars took generosity to an extreme in their 72-42 loss at SMU on Thursday night. Houston committed nine turnovers, six of them interceptions thrown by three different quarterbacks; the Mustangs returned four of those turnovers for scores.
Next: Saturday evening at 6:00 when the Buckeyes head to Happy Valley to take on Penn State in the 2012 Probation Bowl. After a 0-2 start the Lions have straightened it out in a big way: they've won five straight and are fresh off a 38-14 manhandling of Iowa in Iowa City. It's at night, it's in Beaver Stadium, and it'll be in front of a well-lubricated, highly partisan crowd, against a team riding an emotional wave of success. Get your hot cider ready.
Oct 23, 2012 1:30 PM
Last Updated:

Oct 23, 2012