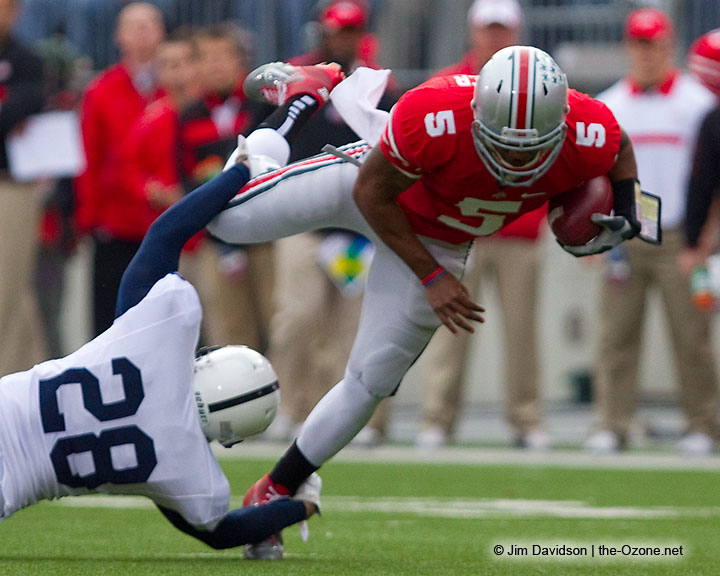 - Saturday, October 27, 2012

- Beaver Stadium - State College, PA

- Ohio State at Penn State

- 5:30 PM ET

- TV: ESPN -


The Buckeyes travel to Happy Valley Saturday for a nationally televised showdown against the Nittany Lions of Penn State. At stake is a leg up in the race for Big Ten's Leaders Division championship, the only prize either team is eligible to claim in 2012. Penn State has won five in a row after dropping their first two games of the year, while Ohio State is unbeaten in the first eight games of the Urban Meyer era in Columbus.

The 9th-ranked Buckeyes are the nation's only 8-0 team, but getting there has been anything but easy. They have squeaked out wins over Indiana and Purdue, two of the lesser lights of the conference, the last two Saturdays. Slow starts have been the rule, as OSU has been outscored in the first quarter of their games 56-51.

Needless to say, the way this Ohio State team has managed to overcome that disadvantage so often, and keep coming out on top has been something special to watch. Like most people watching, I thought the other shoe was finally dropping last week against Purdue, but the Buckeyes had yet another comeback in them.
Holding it Together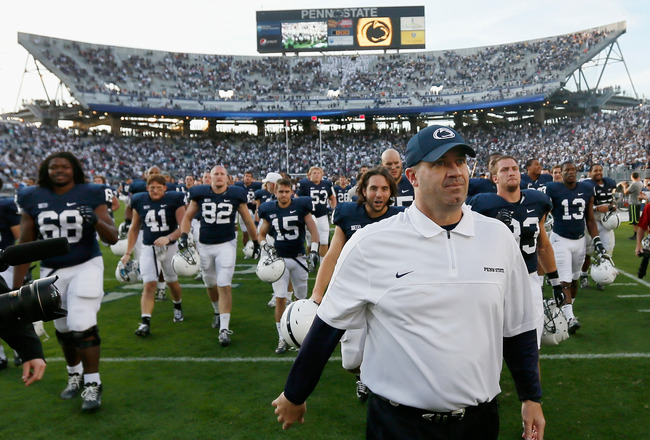 Meanwhile, first-year Penn State head coach Bill O'Brien has the Lions playing good football on both sides of the ball after a shaky start, and they'll have the home crowd behind them, plus the confidence born of a winning streak of their own. The Lions' five wins have not exactly come against the murderer's row of college football, and their path to a division title remains decidedly easier than that of the Buckeyes. They avoid both Michigan schools, although contests with Nebraska and Wisconsin await them after this weekend.

The schedule aside though, the job O'Brien has done is truly admirable, considering the numerous player defections, only having eight starters returning, all on top of the turmoil that has been swirling around the whole program for the last year, not least the passing of their iconic leader. The NCAA sanctions haven't taken effect yet, and it may be get worse before it gets better, but not if O'Brien can help it.

Ohio State leads the all-time series with Penn State 14-13, with a 12-7 edge since PSU joined the Big Ten. The teams have split the ten games in University Park 5-5. The road team has done well in recent years, with the Buckeyes posting wins at Beaver Stadium in 2007 and 2009, while the Nittany Lions beat the hosts in Columbus in 2008 and 2011. Steve Helwagen of Bucknuts.com has a terrific retrospective of the OSU-PSU series history that's well worth a look before Saturday's 5:30 pm kickoff.

State of the Bucks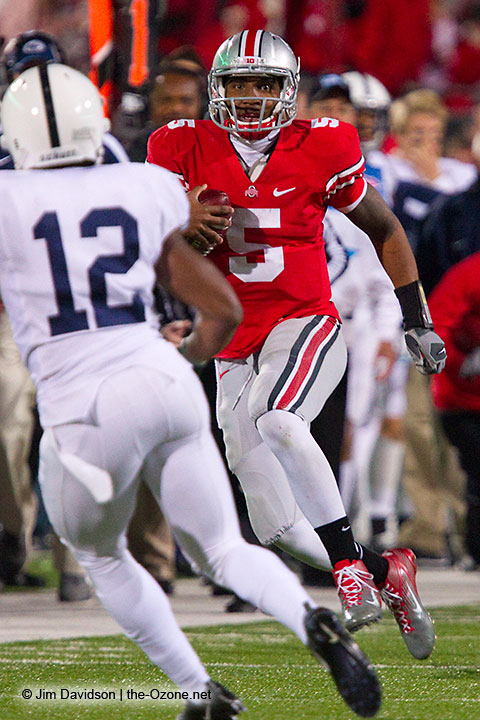 All eyes will be on Braxton Miller when Ohio State's offense takes the field Saturday. Meyer has made it clear he intends to start Miller after the sophomore signal caller was carted from the field and taken by ambulance to the hospital a week ago with what was later described as a "whiplash" type injury to the neck.

When Miller was made available to reporters this week, he shrugged it off: "I'm good," Miller said. "That was the first time something had happened like that. I was a nervous at first and I went to the hospital, but everything came out good. I'm blessed. I'm good." Other than having a very sore neck, Miller has not been limited in practices this week, and observers said he was throwing the ball very well and not suffering any noticeable problems. Just to be on the safe side, Meyer said he is preparing with two quarterbacks, and will have backup Kenny Guiton ready to go if he is needed.

The news was not so good for Jordan Hall, the running back whose knee injury has not healed as well or as fast as previously expected. Meyer indicated this week that Hall would apply for an injury redshirt and try to come back next year fully healthy.

Freshman safety Devan Bogard, who had been effective on kickoff coverage, suffered a torn ACL in the Purdue game, and is out for the season. Five other members of that unit, including freshmen Armani Reeves and Cam Williams, have also been lost for a game or more to various injuries, and Meyer announced this week that a seventh member of that coverage unit went down in practice this week, although he declined to name the player. Until Purdue's 100-yard kickoff return TD last week, the Bucks had been very effective covering kickoffs. We'll see if that one TD was a one-off or the start of a negative trend.

Stat Story

Ohio State comes into this game 2nd in the Big Ten in both scoring offense and rushing offense (behind Nebraska in both categories), and 3rd in total offense, with 438.6 yards per game. On defense, they are in the bottom half of the league in most categories, although they remain 5th in rush defense, giving up a respectable 121.6 yards per game. OSU ranks 11th in pass defense, surrendering 271.8 ypg.

The Nittany Lions will counter the potent Buckeye offense with a defense ranked 2nd in the Big Ten in both scoring defense ( also 15th nationally) and rushing defense. The Lions are more vulnerable to the pass, ranking 7th in the league (209.7 ypg). Offensively, Penn State is 2nd in the league in passing at 257.1 yards per game, and they're running the ball just enough to stay balanced, currently ranking 9th in the conference at 149.3 ypg.


Penn State - Key Personnel



O'Brien's Penn State offense has thrived on ball control and balance, featuring an emphasis on the short-to-intermediate passing attack with senior quarterback Matt McGloin at the controls. McGloin is leading the Big Ten in passing (255.4 ypg) under the tutelage of O'Brien, in a scheme that relies more on precision than on explosiveness.

Allen Robinson is the Big Ten's leading receiver, with 47 catches for 563 yards and eight touchdowns. At 6' 3", 201 lbs, Robinson's size is a greater asset than his speed, which is not game-breaking. Other receiving threats include Brandon Moseby-Felder (15 rec, 163 yds) and Alex Kenney (12 rec, 129 yds).

As you might expect from a Belichick disciple, O'Brien's offense is tight end-focused, and in Kyle Carter (29 rec, 364 yds), Matt Lehman (13 rec, 163 yds) and freshman Jesse James (5 rec, 2 TD) McGloin has three big targets that help him move the chains consistently.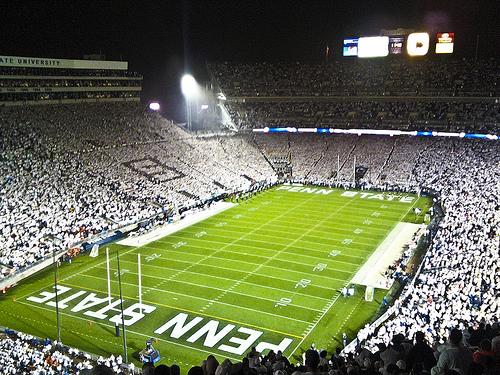 Sophomore running back Bill Belton has recently come back from an ankle injury, and had a 100-yard game against Iowa. He looks to take the rushing load off of converted fullback Zach Zwinak and current fullback Michael Zordich, two big backs that give O'Brien good short yardage options.

On defense, the Nittany Lions have been consistent tacklers and fundamentally sound overall. With senior linebacker Michael Mauti (65 tackles) now 100% healthy and playing at an all-conference level, the Lions pair him with 2011 All-Big Ten selection Gerald Hodges (54 tackles) to give them one of the best linebacking units in the country.

Defensive tackle Jordan Hill (37 tackles, 4 TFL) is another standout on a Penn State defense that starts five seniors and four juniors. The defensive secondary is solid, with senior cornerback Stephon Morris perhaps the best of that group.

One area that is not particularly strong for Penn State is special teams. Kicker Sam Ficken is 4 of 11 on the season on field goal attempts, his longest a 34-yarder. The kick return units have struggled all year, and the Lions are last in the country in net punting.


Idle Speculation

There's always one stat or another that jumps out at the fans and pundits in advance of a big game like this. This week it's hard to look past the importance of Saturday's first quarter in Happy Valley. The Nittany Lions have done very little wrong in the first 15 minutes of their 2012 contests, outscoring the opposition 66-0 in the early going. As noted above, the Buckeyes have a well-earned reputation for sleepwalking through the first quarter.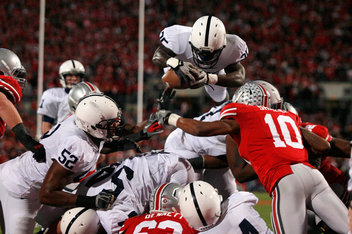 It's not as if the problem has gone unaddressed by Meyer and the OSU coaching staff. But even with the focus on getting a fast start, the Buckeyes have repeatedly come out flat. Offensive coordinator Tom Herman joked this week that OSU was 0-8 in successfully predicting how opposing defenses were going to try to counter the Buckeyes' offense.

To their credit, Herman and Meyer have adjusted well during games, and found ways to move the ball and score in the final three quarters. But against the quality opponents remaining on their schedule...and yes, that includes the Nittany Lions...they will not be able to remain undefeated if they continue falling behind early in games.

Braxton Miller is of course still something of a question mark for Saturday. We don't know how he'll respond to the first big hit or the first time his head hits the ground. The coaches say his injury won't affect the way they call plays, including calling the number of their best player to run the ball. So we'll see if reality matches up with pre-game rhetoric, and also how Braxton responds in the moment.

It certainly appears that OSU has the edge in the special teams area, and probably an overall edge in talent. The Penn State offense lacks explosiveness, and is not the type of spread scheme that has given OSU so much grief of late, but they are well-coached and have the capability of controlling the ball against a suspect OSU defense, and keeping Braxton Miller off the field. The Lions also have a good enough defense to hold off the Buckeyes if Penn State is able to grab an early lead.

Virtually all the pundits on this side of the OH-PA state line have predicted a narrow OSU win in this one (The Dispatch's Bill Rabinowitz dissents). The suspect nature of Penn State's competition in their five wins...not to mention their two losses...has something to do with that. Urban Meyer's uncanny ability (so far) to summon in his players the will to get the job done when they really, really need to get it done is another factor. But something tells me that the Penn State players will have an emotional edge on Saturday that will be very tough for the Buckeyes to overcome.

There's one other factor that may militate against an Ohio State victory. An undefeated Ohio State team has the potential to embarrass the Big Ten come November, if they are forced to send their second (or third) best Leaders Division team to Indianapolis for the championship game. Without venturing into the realm of conspiracy theory, let me just say that it seemed OSU had to beat not only Purdue, but also the men in striped shirts last week in order to come out on top. The sooner OSU loses a Big Ten game, the sooner that potential for embarrassment goes away. Don't expect Ohio State to get the close calls the rest of the way.

The Nittany Lions have something to prove Saturday in front of a national TV audience. My sense is that it can be summed up this way: "We are NOT a program in decline". It would not surprise me a bit if I wake up Sunday morning and the Buckeyes are 9-0. But this is a confident, well-coached Penn State team on a winning streak, and I suspect that their crowd and their emotional advantage will be enough to prevail Saturday and spoil Urban Meyer's imperfect perfect 2012 season. And for the first time this year, I hoping I'm wrong.

I've got it Penn State 27 - Ohio State 23

---

OSU Athletics Communications - Game Notes - (pdf)

Ohio State Roster

Penn State Roster

---

on Twitter at @dwismar

Dan's OSU Links and Resources

---


Oct 27, 2012 7:30 AM
Last Updated:

Oct 28, 2012