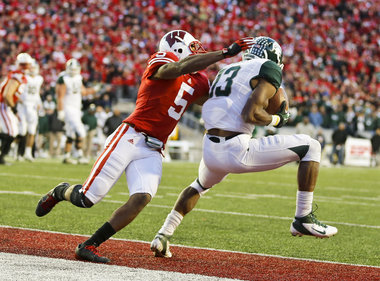 As the college football season rolls into November, it looks more and more like the Big Ten's best team will be sitting at home when the conference plays its championship game in Indianapolis on December 1. Ohio State went on the road to Penn State and turned the white-out blue with a dominant 3rd quarter on the way to a convincing victory. The Buckeyes remain the league's only unbeaten team, and the only one without a conference defeat.

The Leaders Division spot in the title game will almost certainly go to Wisconsin, as most people expected back in August. The Badgers lost in overtime to Michigan State Saturday to fall to 3-2 in league play, but the other three eligible teams in the division are a combined 1-11 in Big Ten competition.

In the Legends there is at least a meaningful race for the title, as Nebraska grabbed both a share of the lead and the tiebreaker over Michigan when they beat the Wolverines in Lincoln Saturday. At 3-1 in league play, they both have a half-game lead over 3-2 Northwestern, and a full game over 2-2 Iowa.

Here's a quick review of last weekend's games...
---

Northwestern 28 - Iowa 17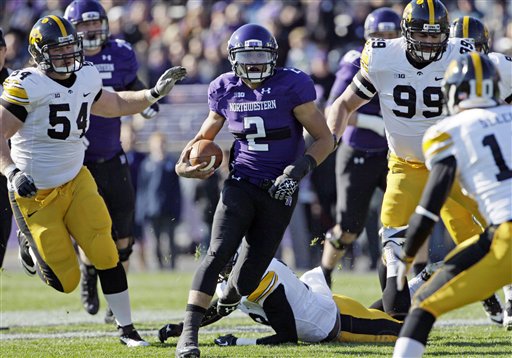 The Wildcats built a 28-3 third quarter lead behind the rushing of Kain Coulter and Venric Mark, and then held off a late Iowa charge to down the Hawkeyes in Evanston. Coulter rushed for three touchdowns and 166 yards, and tailback Venric Mark had a 72-yard run on his way to a 162-yard rushing day. Mark went over 1,000 yards for the season, the first Northwestern player to do that since Akron's Tyrell Sutton in 2006. The Wildcats felt the need to throw the ball just 10 times in the game, as the Hawkeyes had no answer for the Northwestern option attack. Tailback Damon Bullock had a 100-yard day for Iowa (4-4, 2-2) after Mark Weisman left the game with an injury. Iowa QB James Vandenberg rushed for two second half TD's, but Northwestern (7-2, 3-2) was able to avoid their third late collapse of the season, and stay in the hunt for the Legends title. It's an uphill battle for the Wildcats though, as they face both Michigan schools on the road in the next two weeks before closing with Illinois. Box Score and Stats

---

Indiana 31 - Illinois 17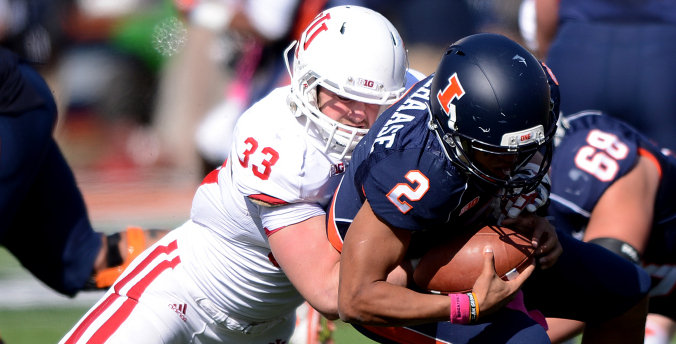 Second year Indiana coach Kevin Wilson picked up his first Big Ten victory when the Hoosiers downed the Illini Saturday in Champaign. The last conference win for Indiana came in the final game of 2010 when they edged Purdue in overtime. Something had to give in this one, as both teams came into the game winless in league play, and a combined 0-9 in their last nine starts. Indiana (3-5, 1-3) was led by freshman quarterback Nate Sudfeld, who replaced an ineffective Cameron Coffman, and threw two touchdown passes for the Hoosiers, including one to Shane Wynn in the 4th quarter to put away the Illini. Indiana fell behind 14-7 in the 2nd quarter as Illinois quarterback Nathan Scheelhaase ran for one TD and passed for another, but Hoosier running back Steven Houston answered with two TD's of his own before halftime, and Indiana never trailed after the break. Illinois (2-6, 0-4) visits Columbus this weekend with a chance to reprise  their stunning upset of the 9-0 Buckeyes of 2007. Don't bet the ranch.  Box Score and Stats

---

Minnesota 44 - Purdue 28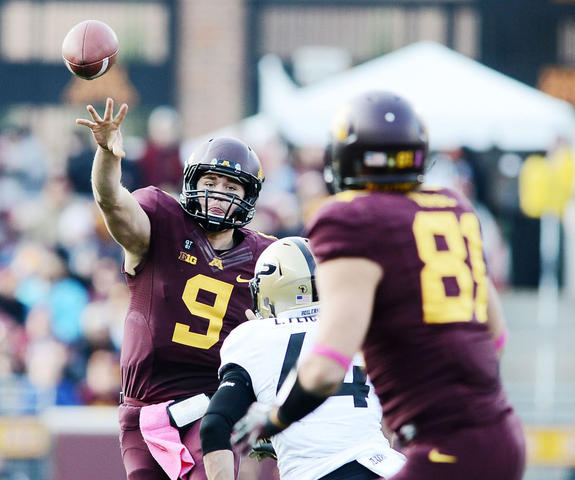 In another game matching two teams with as many combined Big Ten wins as the Browns have Super Bowl appearances, Minnesota scored 44 unanswered points after an early Purdue touchdown to cruise to victory over the Boilermakers in Minneapolis. The Gophers have found their quarterback of the future in true freshman Phillip Nelson, a local product from Mankato, who threw three touchdown passes and 246 yards on 15 of 22 passing in his second career start. Purdue (3-5, 0-4) scored three late TD's after the issue had been decided and after Robert Marve had replaced the ineffective Caleb TerBush at QB. Gopher receiver A.J. Barker caught two of Nelson's touchdown passes for scores of 38 and 63 yards, and finished with five catches for 135 yards. Nelson didn't complete a pass in the second half after hitting on 12 in a row in the first half, but it hardly mattered. Already leading 34-7, the Gophers' Michael Carter returned a TerBush interception 43 yards for a touchdown on the first Purdue possession of the second half, and  Minnesota (5-3, 1-3) just had to mop up from there. Box Score and Stats

---

Michigan State 16 - Wisconsin 13  OT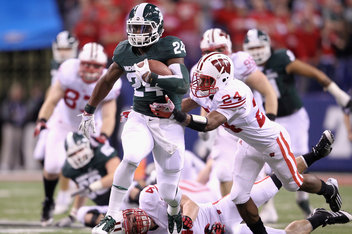 In a rematch of last year's Big Ten title game, Michigan State pulled off an overtime win over the Badgers to snap Wisconsin's 21-game home winning streak. It was the first loss for the Badgers at Camp Randall since October of 2009. Michigan State (5-4, 2-3) held the vaunted Wisconsin rushing attack to just 19 net yards (Montee Ball had 46), and Andrew Maxwell connected on a 12-yard TD pass to Bennie Fowler in overtime to end the game after Wisconsin has kicked a field goal on their OT possession. Both offenses struggled through scoreless first and third quarters, and only one touchdown was scored before the Spartans tied the game at 13 with a minute to play in regulation on a Maxwell to Le'Veon Bell TD pass. Badger QB Joel Stave was 9 of 11 for 127 yards, but suffered a broken collarbone early in the second half, and is out for the season. Week one starter Danny O'Brien relieved Stave and went 5 of 11 for 44 yards. Box Score and Stats

---

Ohio State 35 - Penn State 23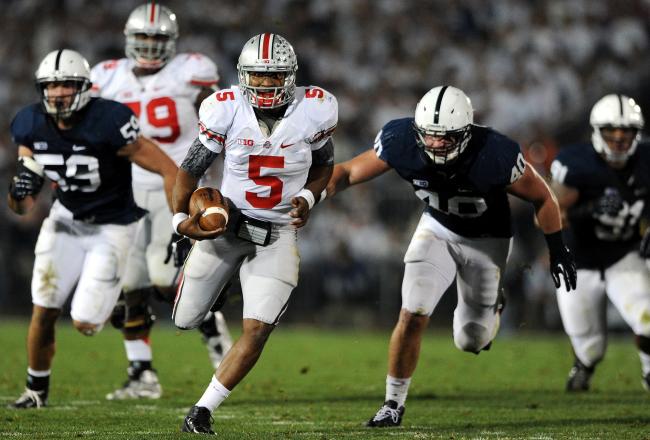 Urban Meyer finally acknowledged that Braxton Miller is a legitimate Heisman Trophy candidate after the Buckeyes QB came back from an injury to lead OSU to a big road win in State College. Ryan Shazier sparked the decisive 3rd quarter for Ohio State (9-0, 5-0) when he returned an interception 17 yards for a TD on the first Penn State possession of the second half to break a 7-7 tie. Miller rushed for 2 more touchdowns in the quarter to give the Buckeyes a commanding 28-10 lead, and then hit Jake Stoneburner on a 72-yard TD pass with six minutes remaining after the Nittany Lions had drawn within 12 points. Miller was erratic throwing the ball in the early going, a situation he attributed to being too pumped up, but there was nothing wrong with his legs, as he rushed for 134 yards on 25 carries. Carlos Hyde added 55 hard fought yards on 22 carries. Bradley Roby broke up 4 passes, and continues to lead the nation in that category with 18 on the season. TCF game story - Box Score and Stats

---

Nebraska 23 - Michigan 9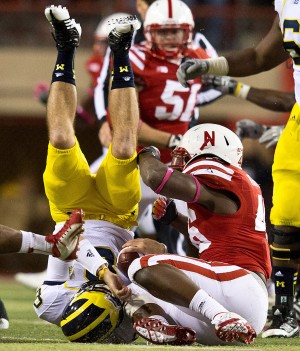 The Cornhuskers led wire-to-wire after a 32-yard TD pass from Taylor Martinez to Kenny Bell put them up 7-0 in the second quarter, and the Wolverines could mount no effective comeback after Denard Robinson was knocked out of the game before halftime. Robinson aggravated a nerve injury in his elbow after being tackled in the second quarter, and his replacement Russell Bellomy was 3 for 16 with three interceptions the rest of the way, dooming the chance for a Michigan rally. Michigan (5-3, 3-1) has now gone two full games without scoring a touchdown, and they mustered just 52 total yards in the second half. Nebraska (6-2, 3-1) got a strong rushing performance from Ameer Abdullah (24 carries, 101 yards, 1 TD) filling in for the injured Rex Burkhead, and the Husker defense played better than in in recent weeks. Nebraska travels to Michigan State and Iowa in the closing weeks, while hosting Penn State and Minnesota, but they control their own destiny atop the Legends for the time being. Box Score and Stats

---

Big Ten Statistics

Big Ten Standings - Results

---

This Week's Games - (all Saturday 11/3)

Michigan (5-3, 3-1) at Minnesota (5-3, 1-3)  -  12:00 PM ET  -  TV: Big Ten Network

Iowa (4-4, 2-2) at Indiana (3-5, 1-3)  -  3:30 PM ET  -  TV: Big Ten Network

Nebraska (6-2, 3-1) at Michigan State (5-4, 2-3)  -  3:30 PM ET  -  TV: ABC / ESPN2

Illinois (2-6, 0-4) at Ohio State (9-0, 5-0)  -  3:30 PM ET  -  TV: ESPN / WatchESPN

Penn State (5-3, 3-1) at Purdue (3-5, 0-4)  -  3:30 PM ET  -  TV: ESPNU / WatchESPN

Wisconsin and Northwestern are idle

---

Big Ten Player of the Week
(my selections, not the official B1G picks, though we occasionally agree, as is the case this week)

Kain Coulter - QB - Northwestern - (166 yards rushing, 3 TD's, 80 yards passing, 1 TD)

---

Honorable Mention:

Phillip Nelson - QB - Minnesota
Ameer Abdullah - RB - Nebraska
Braxton Miller - QB - Ohio State
Ryan Shazier - LB - Ohio State

---

Big Ten Play of the Week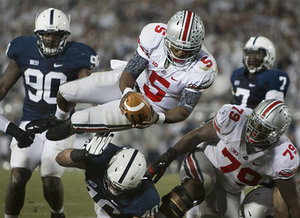 This might be Braxton's fourth appearance here in the Play of the Week segment, but how could this week's winner not be Miller's 1-yard touchdown dive against Penn State? Urban Meyer exaggerated a bit when he joked about Miller's extraordinary play after the game, "We work on that. We have a drill. Make seven people miss and dive across" Watch it here.

---

on Twitter at @dwismar

Dan's OSU Links and Resources

---


Oct 30, 2012 2:00 PM
Last Updated:

Oct 30, 2012