For much of the first half of Saturday night's game at Beaver Stadium, it appeared that the 2012 Probation Bowl between Ohio State and Penn State would be a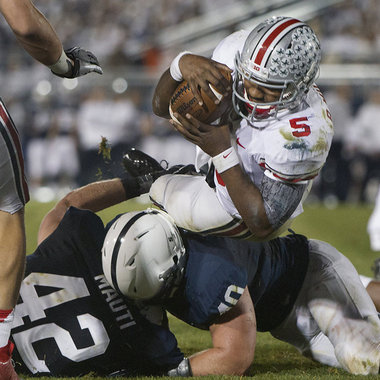 good old-fashioned, low-scoring Big Ten slobber-knocker, with the Buckeyes very likely on the losing end. Led by their outstanding linebackers, the Lions were making life miserable for Braxton Miller and the rest of the Buckeye offense. When Penn State took a 7-0 lead midway through the second period on a touchdown off a blocked punt, it appeared that would be the pivotal play of the night.
Instead another punt moments later- and the penalty flag that accompanied it- would turn the game in favor of Ohio State. Sparked by some timely assistance from the officials, the Buckeyes finally got going and, with Miller providing his usual highlight-reel performance, pulled away in the second half for a surprisingly decisive 35-23 victory, snapping Penn State's five-game winning streak.
And so for the first time since 2006 Ohio State is off to a 9-0 start. The Buckeyes went all the way to the BCS Championship Game that year, losing to Urban Meyer's Florida Gators. This year's team won't get that opportunity. But with three weeks to go the prize of an undefeated season is still very much in play for this mercurial, sometimes exasperating but ultimately perfect football team.
Slow Start (Redux): It generally takes a while for the Buckeyes to get going offensively, and Saturday night was no exception. Ohio State's first six possessions resulted in 105 total yards, six punts and no points. Braxton Miller completed just 4-of-12 to start the game, was sacked twice and didn't have a carry of more than eight yards in those first six possessions. Fortunately the Nittany Lions weren't doing much, either. They reached the Buckeye 25-yard line early in the second quarter but with a shaky kicking game were forced to go for it on fourth down and failed. The game stayed scoreless until the midway point of the second, when a big play on special teams gave Penn State the lead.
Breakthrough Block: Following Ohio State's sixth fruitless possession of the night, Ben Buchanan lined up to punt from his own 14-yard line. Penn State sophomore linebacker Mike Hull roared through untouched to block the punt and fifth-year senior linebacker Michael Yancich fell on it in the end zone to give the Lions a 7-0 lead. It was the third time this season the Buckeyes have had a punt blocked, all three times thanks to missed assignments that led to the blocker coming through completely unmolested.
Beautiful Yellow Hankies: The Buckeyes looked to be in a spot of trouble at this point. They'd just handed Penn State a free touchdown in what looked to be a low-scoring game and weren't even making a dent in the Nittany Lion defense. Ohio State's possession after the block looked much like its six before the block: three plays, two yards, the third sack of the night on Braxton Miller, and a punt.
But just when it appeared as if the Lions would have an opportunity to take complete control, a flag came down. Penn State's Brad Bars was whistled for defensive holding on the punt, an infraction that gave Ohio State an automatic first down. Sparked by Braxton Miller's first big play, a 33-yard run to the Nittany Lion six, the Buckeyes capitalized on the break and pounded in the tying touchdown on Carlos Hyde's one-yard plunge with 34 seconds left in the half.
When you look at the way the game played out before the holding penalty as opposed to after it, that flag looms huge. Defensive holding on a punt is very rarely called and, frankly, the call was more than a little bit dubious in this case. Even so, it was up to the Buckeyes to take advantage of the break and that's just what they did. From then on the game took a decidedly different course- one in favor of the men in scarlet and gray.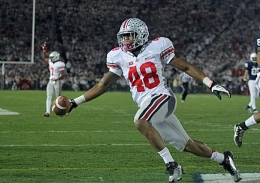 A Fitting Tribute: Prior to Saturday's game linebacker Ryan Shazier exchanged his usual number 10 for number 48 in honor of his high-school friend Gary Curtis, who passed away during the spring. Whether it was the number change or a little help from somewhere above, Shazier changed the course of the game with back-to-back big plays on Penn State's first possession of the second half. First he roared through untouched and sacked Matt McGloin, putting the Lions in a 3rd-and-13 hole from their own eight-yard line. On the next play Shazier faked a blitz, dropped back into coverage, picked off McGloin's pass and raced 17 yards for the touchdown that gave the Buckeyes the lead for good.
So Much for Home-Field Advantage: After Shazier's pick-six made it 14-7 Ohio State the Lions responded by driving to within feet of the Buckeye end zone. But on second-and-goal from the three, Penn State was flagged for a holding call that short-circuited the march. The Lions eventually settled for a field goal and a 14-10 deficit. Penn State was called for nine penalties on the night, several of them critical to the outcome. The sellout crowd of more than 107,000 (first sellout of the season at Beaver Stadium) spent as much time booing the zebras as they spent cheering on their team.
Breathtaking Braxton Does it Again: Two possessions after Penn State made it 14-10, the Buckeyes drove 57 yards in ten plays to the touchdown that broke the game open. Braxton Miller got the score on what might be the most sensational play in a season filled with them. On third-and-goal from the one the hard rush of defensive end Sean Stanley and linebacker Gerald Hodges trapped Miller in the backfield. Miller then stopped, leaped backward to avoid a diving Hodges and- aided by a blatant and uncalled hold by Reid Fragel- leaped into the end zone to make it 21-10 Buckeyes with 3:30 remaining in the third.
Wish He Could Do This More Often: After another one-yard Miller run and a McGloin-to-Matt Lehman touchdown pass made it 28-16 midway through the fourth quarter, Sweet Baby Braxton, so inconsistent with the arm, put it away with a throw any NFL quarterback would have been proud to make. On third-and-four from the Ohio State 28-yard line, Miller fired a deep strike down the middle of the field right on the hands of a well-covered Jake Stoneburner, who took it the rest of the way for the game-clinching 72-yard touchdown.
Braxton's Line: 7-of-19 for 143 yards, a touchdown and an interception; 25 carries for 134 yards and two touchdowns. Not a bad line considering the circumstances and the fact that he'd been briefly hospitalized the week before against Purdue. (Braxton Miller is a terrific player and seems like an okay kid; he also seems to be a bit of a drama queen when it comes to injuries, however.)
Defensive Progress: Two weeks ago Ohio State's defense hit rock-bottom, yielding 49 points and 481 yards of total offense against Indiana. Since then there's been marked improvement. Against the Buckeyes, Penn State accumulated only 359 total yards on 4.85 yards per play (the lowest number given up by Ohio State's defense since the opener against O.G. Miami.) The Lions went just 5-of-17 on third downs and could not hit on the huge plays that have bedeviled the Buckeye defenders all season. Ohio State's stop troops sacked Matt McGloin four times and scored the go-ahead touchdown on Shazier's interception.
In the last two weeks Ohio State's defense has held the opposition to 29 combined points. There are going to be blown assignments, missed tackles and yards given up with this group. It isn't a shutdown unit and it isn't going to be. But all that really matters is that they keep the opponent from scoring a lot of points, and against Purdue and Penn State that's what they did.
There'll Be More Where That Came From: Beaver Stadium has been very good to Ohio State in recent years. The Buckeyes have won three straight in Happy Valley by an average score of 32-16. They haven't lost to Penn State on the road since 2005.
Around the Nation
Game of the Week- Notre Dame/Oklahoma: On November 16, 1957 Notre Dame and Oklahoma played one of the most famous games in college football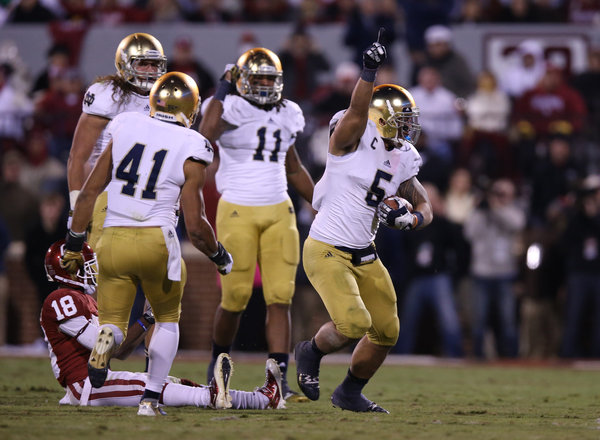 history. The Sooners came in with a record 47-game winning streak, including a 40-0 blistering of Notre Dame in South Bend the year before. But the underdog Irish held them in check, and when Dick Lynch swept right end for the game's only score late in the fourth quarter, Oklahoma's historical streak was just plain old history.
In Fighting Irish lore, Saturday's 30-13 thumping of the Sooners in Norman will go down as a neat bookend to that long-ago November day, and it might end up being more important in historical terms. Unlike the 1957 team (which finished a modest 7-3) today's Irish have an opportunity to win a national championship. They were legit BCS bowl contenders before this game; they're legit BCS Championship contenders now.
It wasn't just that Notre Dame won; it was how. The Irish flat-out whipped Oklahoma, outgaining the Sooners 215-15 on the ground and dominating the second half. After Blake Bell scored the first rushing touchdown of the season against the Irish defense to tie the game with 9:10 left, Notre Dame ripped off the last 17 points to ruthlessly put the game on ice. The Irish controlled the tempo throughout. They forced Oklahoma to play their game. In short, they were too good for the Sooners.
If you protect the football, play great defense and are sound in the kicking game you can beat absolutely anyone. Notre Dame does all of those things. If the Irish win out- and their only real remaining test is at USC on November 24th- they'll deserve to play for the National Championship. And with Manti Te'o and that defense they'll have a puncher's chance against Alabama, LSU or whoever else is on the other side of the ball. Notre Dame is for real- and it only seems for the first time since 1957.
(By the way, I'll be extremely disappointed if Manti Te'o isn't a member of the Browns in 2013. I understand the arguments for Jarvis Jones of Georgia, but a great middle linebacker in the 4-3 is like the rug in the Dude's apartment- it just ties the room together. )
The Flashes Are Golden: There was some warranted optimism surrounding the Flashes going in 2012. Head coach Darrell Hazell was bringing back 18 starters from a team that had finished 2011 with four wins in five games and a 5-7 record, pretty good by the program's normal standards. But when a 47-14 thrashing at Kentucky (still the only win for the Wildcats) dropped Kent to 1-1, it seemed like yet another edition of the same old Flashes, the team that to quote Abba Eban never misses an opportunity to miss an opportunity.
What followed after the Kentucky loss was a magic-carpet ride. Kent State has won six in a row- four of them on the road- and is alone in first place in the MAC East, a half-game ahead of Ohio and Bowling Green. Last Saturday they went into Piscataway and defeated 15th-ranked Rutgers 35-23, forcing seven turnovers and hammering one of the nation's top rushing defenses for 224 yards on the ground. Fundamentally sound and opportunistic as hell, Kent State wins by letting opponents make the mistakes- then taking advantage of them. They're tops in the nation in both turnovers forced and turnover ratio, a formula for victory.
At 7-1 Kent already has a winning season and bowl eligibility locked up. But there's plenty left to be had, like a MAC East division title and a trip to Detroit for the conference championship game. After a home game this Saturday against a rancid Akron team the Flashes go on the road to Miami and Bowling Green before finishing the season on Thanksgiving Friday at Dix Stadium in what might be a monumental showdown against Ohio.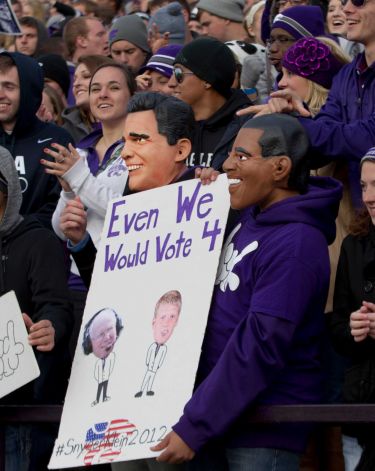 Who's Number Two? Alabama has the top spot in the polls locked in a Swiss bank vault, one LSU will try to pick this Saturday. But the second spot in the race to the Championship Game is a three-cornered duel between teams with equally compelling cases to state. BCS #2 Kansas State beat Oklahoma on the road and hung fifty-plus on Miami, West Virginia and Texas Tech. #3 Notre Dame has weathered a challenging slate without a loss and rang up its own signature win at Oklahoma last weekend. #4 Oregon has bulldozed every opponent in its path and seized total control in the Pac-12. If the season ended today all three would deserve to play for the title. But only one will.
Oregon probably rates the edge going into November. The Ducks are the only team of the three that will play in a conference championship game, giving them one more opportunity than K-State or Notre Dame to polish their resume. Three of their final four games are against ranked opponents, including road trips to USC and Oregon State. Notre Dame plays USC on the road, too- but not after they play Pitt, Boston College and Wake Forest, a soft stretch that won't impress the pollsters or the computers. K-State plays two barely ranked opponents- 24th-ranked Oklahoma State and 22nd-ranked Texas- both at home.
If I had my sentimental way Kansas State would get the spot. It would be nice to see Bill Snyder have the opportunity to coach his team in a national championship game. And going to Miami might make up for the heartbreak of 1998 when the Wildcats, needing a Big 12 title-game win to play for the BCS crown, blew a 27-12 fourth-quarter lead and lost to Texas A&M in one of the three biggest gut-punch games I've seen that didn't involve my teams (the others being Super Bowl XXV and Game Seven of the 1992 NLCS.)
But if it's about which team has the best chance of knocking off Alabama/LSU/Georgia I'd go with Notre Dame. I'll say it again- if you avoid turnovers, play great defense and are strong in the kicking game you always have a chance to win, regardless of the opponent. Remember the 2002 Buckeyes? I'm not saying the Irish would win if they got there, but they'd have a better chance than Oregon would. I still don't trust the Ducks against rough-and-tumble opponents they can't hang seventy points on.
A Tragic Injury: Perhaps no single position football feels the cruel realities of this sport more than the running back position. The high level of athleticism required to play it combined with the constant pounding that accompanies it make it uniquely susceptible to the career-shattering injury.
Marcus Lattimore knows that reality as well as anyone. After missing half of last season with a left knee injury, the South Carolina tailback suffered a gruesome dislocation of the right knee in Saturday's win over Tennessee. His season is over, and his career is in the balance. No one seems sure if he'll even play again or, if he does play, how close he can come to his pre-injury form.
The names of outstanding backs whose careers were cut short is a distinguished one: Gale Sayers, Billy Sims, William Andrews, Bo Jackson and Robert Edwards, to name a few. Edwards- who rushed for 1,115 yards as a rookie with the Patriots- suffered a similar knee dislocation to Lattimore in a beach touch football game prior to the '99 Pro Bowl. Aside from a brief stint in Miami four years later, his career was basically over after that.
Of course, all those guys at least got paid first. Lattimore hasn't. The winning lottery ticket he'd once held is in jeopardy of never being redeemed. There is talk of Lattimore donning a redshirt next year and coming back to South Carolina as a senior in 2014. I think he'd be crazy to ever play another down for the Cocks. If I were him I would already be thinking in terms of healing up in time for the 2014 Draft. Running back is still a treacherous position, but with a combination of modern medicine and willpower there's at least a chance that Marcus Lattimore will run with the ball again.
Winners of the Week
Alabama: The top-ranked Crimson Tide moved to 8-0 with yet another lopsided victory, this one a 38-7 rout of previously unbeaten Mississippi State in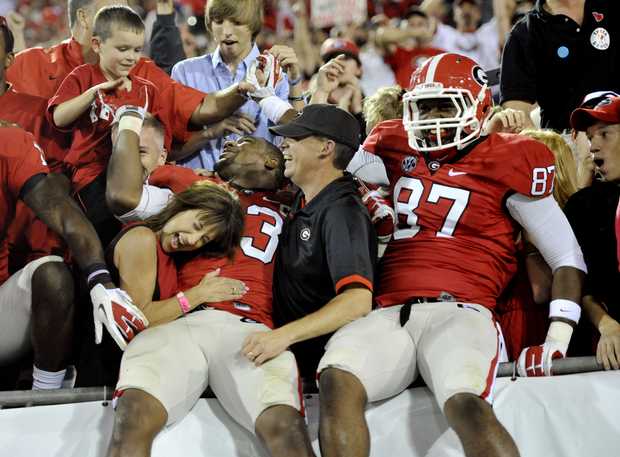 Tuscaloosa. Alabama hasn't won a game by fewer than 19 points this season. That easy state of affairs may end next Saturday when the Tide head to Baton Rouge to take on fifth-ranked LSU- a game that will probably decide at least one of the two spots in the BCS Championship.
Louisville: The Cardinals are the only Big East unbeaten left standing after overcoming a ten-point deficit to defeat Cincinnati in overtime, 34-31. It was a typical clutch performance for Charlie Strong's team, which has overcome fourth-quarter deficits in three of its last four games. Though they've struggled against lackluster opponents like Florida International, Southern Miss and South Florida the Cardinals just win, damn the style points.
Georgia: Left for dead after their one-sided loss to South Carolina in early October, the Bulldogs have roared back and are in control of the SEC East after upsetting second-ranked Florida 17-9 in Jacksonville. Led by the rampaging Jarvis Jones, Georgia's defenders forced six Gator turnovers and played inspired after being called out as "soft" by one of their own, safety Shawn Williams. With wins over Ole Miss and Auburn the Bulldogs can punch their ticket to Atlanta and the SEC Championship Game for the second consecutive year.
Nebraska: The Cornhuskers seized first place in the Big Ten Legends by knocking off Michigan, 23-9. The game was really over late in the second quarter when, with Nebraska leading 7-3, Denard Robinson was sidelined with an elbow injury. Michigan's offense wobbled into oblivion behind backup Russell Bellamy, who went 3-of-16 for 38 yards and three interceptions.
Ole Miss: Hugh Freeze turned around Arkansas State last season and he's working similar magic in Oxford this season. The Rebels, who went 2-10 last year, are now 5-3 after beating Arkansas 30-27 Saturday on Bryson Rose's field goal at the gun. It was a big win as far as bowl eligibility is concerned; three of Ole Miss's last four opponents are Georgia, LSU and Mississippi State, a demanding final stretch.
Losers of the Week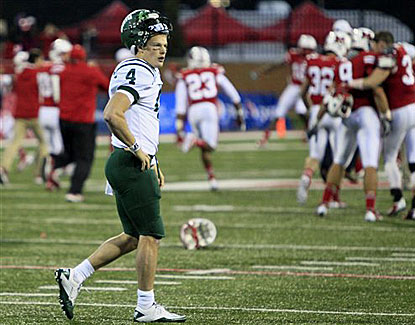 Oregon State: The Ducks dominated statistically against Washington at CenturyLink Field. Unfortunately, one of those statistics was turnovers. Four interceptions by Sean Mannion- who was pulled midway through the fourth quarter- were the difference in a 20-17 Husky upset that bounced the Beavers from the ranks of the unbeaten. OSU outgained their hosts 427-293 and played in Washington territory all night but never led and fell on a 30-yard Travis Coons field goal with 1:20 remaining.
Ohio: A risky call by veteran coach Frank Solich and poor execution by senior quarterback Tyler Tettleton proved fatal to the Bobcats' unbeaten season. Trailing 23-20 with nine seconds left, no timeouts and the ball at the O.G. Miami seven-yard line, Solich elected to run one more play before kicking the game-tying field goal. Senior quarterback Tyler Tettleton lost track of the timeout situation and allowed himself to be sacked, and the clock ran out on the Bobcats, their perfect record, their spot in the top 25 and their position at the top of the MAC East.
Arizona State: Without the services of sack-master Will Sutton, the Sun Devils couldn't stop UCLA from driving 65 yards in a minute-and-a-half and winning 45-43 on Kai'imi Fairbairn's last-second field goal. After back-to-back losses at home, Todd Graham's team must go on the road to Oregon State and USC in the next two weeks, with their survival in the Pac-12 South race on the line.
South Florida: Saturday's 37-36 loss to Syracuse in Tampa was a metaphor for the USF program- a great start followed by an implosion. After racing to a 23-3 halftime lead, the Bulls yielded 34 points and 303 yards in the second half, falling on Ryan Nassib's one-yard touchdown pass to Alec Lemon with three seconds left. It was the sixth loss in a row for South Florida, the last two featuring blown fourth-quarter leads. You have to wonder about the job security of Skip Holtz, who is now 7-13 since the beginning of 2011 and can't seem to keep the wheels from falling off when the weather gets cool.
Kansas: The Jayhawks have now dropped 17 straight to FBS opponents after letting a fourth-quarter lead slip away in a 21-17 loss to Texas. Backup Chase McCoy relieved the struggling David Ash and led the Longhorns 70 yards for the winning touchdown after Nick Prolago had booted Kansas into a 17-14 lead with 2:28 left. (Let it be known that the first KU player I've mentioned by name this season is the kicker.)
Next: Saturday at 3:30 when the Buckeyes entertain Illinois. The Illini are awful- they've lost five in a row by an average margin of 26.4 points and were beaten soundly at home by Indiana last week. The losing is getting to first-year head coach Tim Beckman, who by his own admission has lost 22 pounds over the course of the season. You never really know with this Buckeye team, but you'd think this would be a layup going into the bye week.
Oct 31, 2012 10:48 PM
Last Updated:

Nov 01, 2012