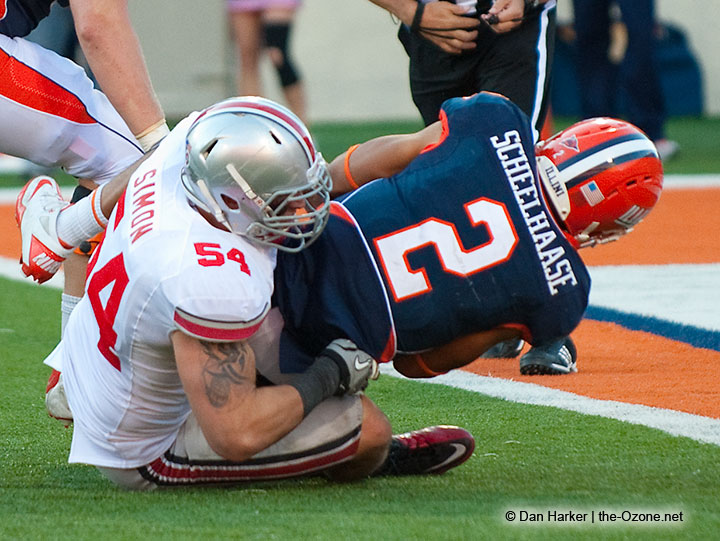 - Saturday, November 3, 2012

- Ohio Stadium - Columbus, Ohio

- Illinois at Ohio State

- 3:30 PM ET

- TV: ESPN -


The undefeated Buckeyes host Illinois Saturday, and Urban Meyer will make sure his players have heard all about 2007, the last time Ohio State carried a perfect record into the first week of November. The Fighting Illini are still looking for their first Big Ten victory of 2012...but then, they were a serious underdog five years ago as well.

The 2007 Buckeyes were 10-0 and the No. 1 team in the country. They had won a record 20 Big Ten games in a row when Ron Zook's Illini came to town with Juice Williams and Rashard Mendenhall and knocked them off their perch atop the rankings 28-21. Ohio State would go on to their second consecutive BCS title game, but the Illini spoiled their chance for a perfect regular season.

As the saying goes, Williams and Mendenhall aren't walking through that door for Saturday's game, and this Illinois team bears little resemblance to Zook's 7-3 Illini of five Novembers ago. To put it bluntly, they have been plain awful in Tim Beckman's first year at the helm in Champaign. As uneven as the Buckeyes' performance has been this season, an upset by the Illini (2-6, 0-4) would be more shocking, if less consequential, than the one they pulled off in '07.
The Buckeyes moved up to No. 6 in this week's AP poll, their highest ranking since they finished the 2010 season at No. 5. Ohio State is the nation's only 9-0 team, and will be trying to roll into their open date next Saturday with their record still unblemished. A date in Madison with the Badgers follows on Nov. 17, before they finish the season by hosting The Game on Nov. 24.

This will be the 99th time OSU and Illinois have met on the gridiron, with the Buckeyes holding a 64-30-4 advantage in the series. The Illini have won 7 of the last 11 games played in Columbus, although just one since Jim Tressel's first year in 2001. OSU has won the last four meetings, including a 30-0 win the last time they played in Columbus. In last year's 17-7 Ohio State victory in Champaign, Braxton Miller completed just one pass as the Buckeyes kept it simple for their freshman QB.


State of the Bucks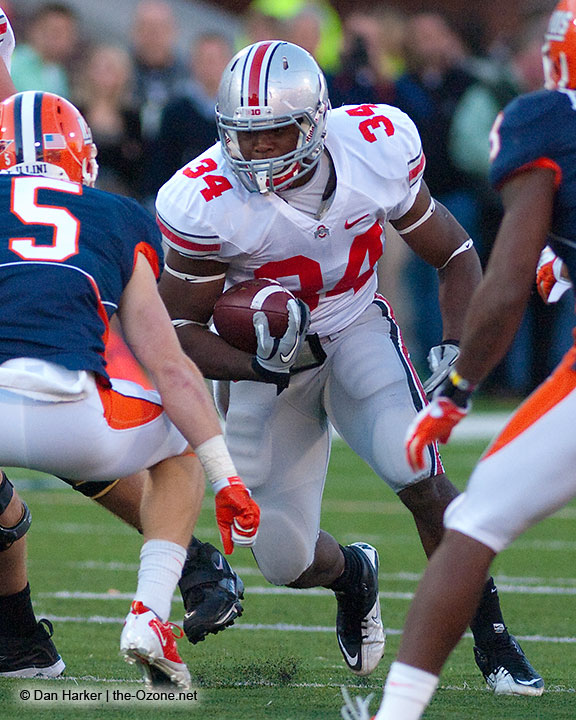 Urban Meyer is pushing his Buckeyes hard in practice this week, harder than usual for Week 10, he says. The focus is on getting to 10-0 and that means beating Illinois...no looking ahead. Meyer says the training staff tells him the team is about as healthy as they have been all season.

Linebacker Etienne Sabino is again unlikely to play, but the solid performance of Zach Boren makes it unnecessary to rush Sabino back into action. The off week will allow Sabino to target a return to the field in Madison. It looks like freshman cornerback Armani Reeves will be okay to play this week after missing several games. He had been a contributor on both kickoff and kickoff return units.

Freshman safety Devan Bogard, another special teams standout, had surgery this week on a torn ACL suffered against Purdue, and is out for the season. Linebacker Storm Klein has a herniated disc in his back and has not practiced much at all in recent days.

Meyer has the Buckeyes working a lot on passing the ball this week, saying he is still dissatisfied with that part of the offense. He noted that the improvement he had seen from his receivers had leveled off in the last couple games, and that Braxton Miller had let some of his fundamentals slip as well. He has Miller working this week on his footwork, and says he'll try to get Devin Smith more involved with the offense, noting at the same time that Smith has to play better.

The rushing attack has obviously been working, as OSU is averaging 262.8 yards per game in Big Ten play, tops in the conference. But Meyer says the team's execution is not equally good on all of the running plays in the playbook. He says the QB counter trey is working quite well right now, but his concern remains keeping Braxton Miller in one piece. "We could run it every play," Meyer said, "but how many carries do you want Braxton to have?"

The coach has noted the tremendous improvement in the play of his offensive line over the course of the season, often calling that unit his most pleasant surprise. During Thursday's radio call-in show, Meyer said that left tackle Jack Mewhort is playing as well as any offensive lineman in the Big Ten.


Stat Story

OSU ranks 2nd in the Big Ten in scoring offense (39.8 ppg) and rushing offense (247.9 ypg), and 3rd in total offense (431.8 ypg). On defense, they are giving up 111.7 rushing yards per game to rank 3rd in the conference, but in Big Ten games only, they rank first in rushing defense at 107.0 ypg. The Buckeyes are currently 8th in scoring defense, allowing 24.1 points per game, and OSU is dead last in the conference in pass defense, allowing 277.9 yards per game through the air.

Braxton Miller leads the Big Ten in rushing (121.4 ypg) and total offense (291.1 ypg). Carlos Hyde leads the conference in points per game (9.4, in seven games). Bradley Roby is tops in passes defended with 18 (16 passes broken up, and 2 interceptions).

Illinois resides at or near the bottom of the Big Ten statistics in most offensive categories, currently 12th in scoring (18.0 ppg) and total offense (317.8 ypg), and 11th in rushing offense (132.5 ypg). They are 8th in passing at 184.9 yards per game. On defense, the Illini are last in scoring defense, allowing 30.8 points per game, and are just ahead of OSU, ranking 8th in total defense, giving up 365.9 yards per game.


Illinois - Key Personnel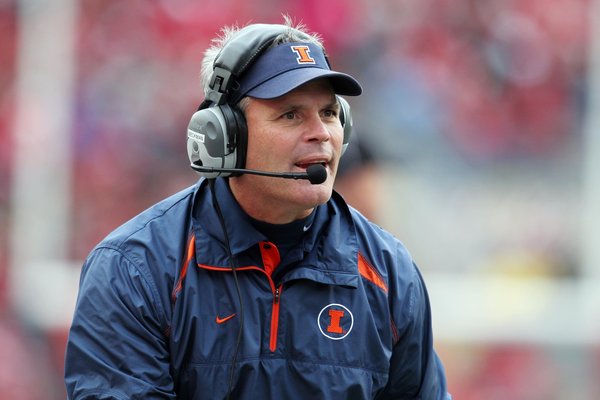 Tim Beckman landed the Illinois job after compiling a 21-16 record in three years at Toledo. He is no stranger to the Horseshoe, where he worked as an assistant to Jim Tressel for two seasons (2005-6), nor to Urban Meyer, who was his boss at Bowling Green when Beckman served as defensive coordinator during Meyer's successful run with the Falcons from 2001-2002. Last year Beckman's Rockets came agonizingly close to ending OSU's 90-year streak of never losing to a team from Ohio when they fell to the Buckeyes 27-22 in a game Ohio State really deserved to lose.

Beckman's Illini own wins over Western Michigan and Charleston Southern, but they have lost their last five games in a row, most of them the lopsided variety. They were the victims last week when Indiana's Kevin Wilson notched his first Big Ten win in 12 tries over two seasons.

Illinois has experience at the quarterback position, where Nathan Scheelhaase is a three-year starter, but it hasn't translated to production, as the Illini are averaging just 18 points a game, and a meager 9.5 per game in Big Ten play. Turnovers and sacks have killed this offense so far in 2012. Scheelhaase is completing 61.3 % of his passes, with 839 yards, 4 TD's and 5 interceptions. Backup Reilly O'Toole (74.7%, 539 yds, 6 TD, 3 INT) has seen significant action this year as Scheelhaase has missed two games with an ankle injury.



Sophomore Donovonn Young is a tailback worth watching after he recorded a 124-yard effort against Indiana a week ago. Redshirt freshman Josh Ferguson had a 100-yard game against Arizona State, and the Illini try to get both of their speedy but smallish running backs to the edge with a lot of stretch and sweep plays and bubble screens. Junior Ray Lankford is the top outside receiving threat with 29 catches for 413 yards and five touchdowns this season.

On defense the Illini have some individual talent, starting with Jonathan Brown, one of the Big Ten's best linebackers, and a Butkus Award semifinalist. Defensive end Michael Buchanan is another standout of the Illini defense. He had 7.5 sacks in 2011, and has registered 5 TFL and 2.5 sacks among his 32 tackles in 2012. Inside linebacker Mason Monheim, a freshman from Orrville, not only earned a starting spot in his first year, but has been a tackling machine, with 52 stops and a sack to his credit.


Idle Speculation

After two lackluster games against bad Big Ten teams, the Buckeyes put together their best overall effort of the 2012 season against Penn State last week, even considering their habitual first quarter sluggishness. All it took apparently, was for me to predict their first loss of the season. Now I know what to do for Wisconsin and Michigan.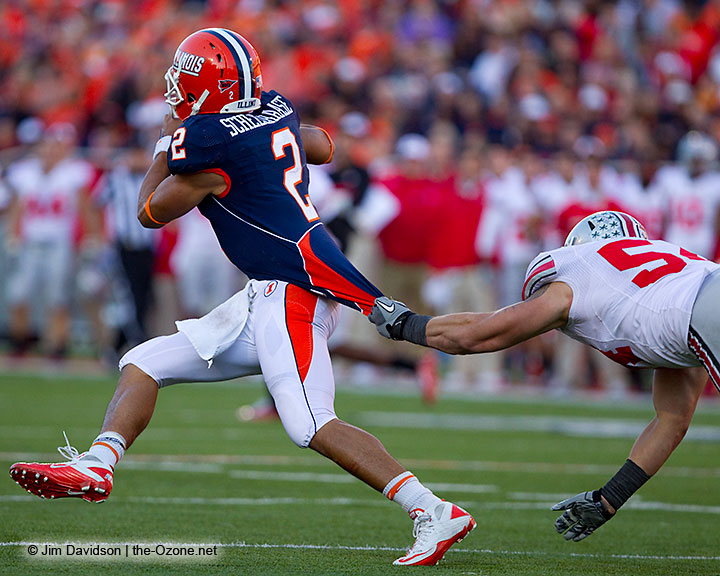 No such reverse psychology should be required this week, as the OSU defense seems to be stabilizing with Zach Boren in the middle, and the Illinois offense has been a train wreck. If it takes the Buckeyes a quarter or two to get rolling offensively, it shouldn't matter. But the next blowout win by the Buckeyes will be their first since the 56-10 opener against Miami, and even in that game, OSU trailed after the first quarter 3-0. It has been a disturbing trait of this Ohio State team to play down to the level of their competition, all while racking up nine consecutive victories. Still it's hard to foresee the Illini scoring more than 14 points without a defensive or special teams touchdown.

I suspect Meyer will want to see Braxton Miller throw the football a little more than he has to date, if only because he'll probably need to be more effective through the air if OSU is going to get past Wisconsin and Michigan later this month. The Illini have given up a lot of passing yardage, but much of that has been due to injuries in their secondary, and those starters are back healthy now and ready to play Saturday. The run defense for Illinois has been decent so far, but they have yet to face a rushing attack as good as Ohio State's.

Illinois has a good punter, but the Buckeyes should retain a special teams edge in this one. It might be closer than it ought to be, given the track record of the 2012 Buckeyes, but all signs point to a 10-0 mark for Ohio State as they head into a much-needed break for what Meyer says is a tired and banged up team.

I'll call it 31-13 Buckeyes.

---

OSU Athletics Communications Game Notes (pdf)

Ohio State Roster

Illinois Roster

---

on Twitter at @dwismar

Dan's OSU Links and Resources

---

(photo credits: Jim Davidson and Dan Harker - The-Ozone.net)
Nov 02, 2012 2:30 PM
Last Updated:

Nov 02, 2012