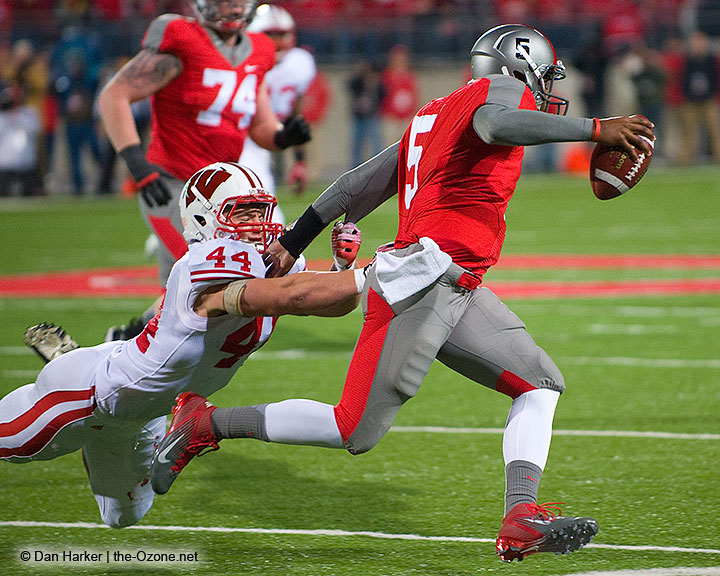 - Saturday, November 17, 2012

- Camp Randall Stadium - Madison, WI

- Ohio State at Wisconsin

- 3:30 PM ET

- TV: ABC / ESPN2 -


The Buckeyes take their 10-0 record to Madison, Wisconsin Saturday afternoon, the same place their perfect record and their No. 1 ranking vanished on a cool October evening two years ago. Subsequent events involving Jim Tressel and Terrelle Pryor, two of the principals that night, have caused that deflating defeat to be wiped forever from the record books..."vacated" is the term they use.

The penalties arising from those same events make Saturday's game less consequential than it otherwise might have been, but if Ohio State can stay unbeaten, they'll have a chance to achieve a more lasting result. The Leaders Division title is the biggest trophy the Buckeyes can win this season, and a victory over the Badgers would clinch it outright for OSU. It would also allow Ohio State to pursue a perfect season in their final game of 2012.
The Badgers ended OSU winning streaks in 2003 and 2004 as well, and given the trouble Ohio State has had with Wisconsin, Urban Meyer was asked this week if this is now a rivalry game for OSU. "There's one rivalry game," Meyer responded, "and that's next week. This is two good teams going at each other." Make no mistake though, there is plenty of bad blood between the programs, and next to that school up north, there is no team the Ohio State players would rather beat.  

In the all-time series between the schools, Ohio State leads 54-18-5, (officially, it's 54-17-5, but I can't pretend that 2010 game wasn't played...I was there.), and they are 25-10-2 in Madison. The Buckeyes have won four of the last five games, making 7th year Badger head coach Bret Bielema 1-4 against OSU in his career. Last year's game in Columbus is the one that put Braxton Miller on the map with the last-minute TD pass to Devin Smith, one of few bright spots in that bleak Buckeye campaign.


It's hard to make predictions...especially about the future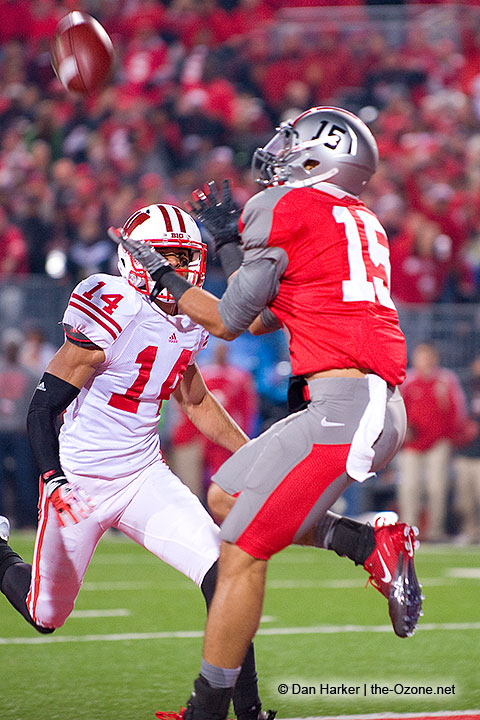 It's funny how things take unexpected turns over the course of a long football season. So much talk before the season centered on the issue of motivation for Ohio State. How would Urban Meyer get his players motivated with no conference title or bowl game to play for? Projecting this game three months ago, with Wisconsin one of the favorites in the conference, the assumption was that they would be the team with more at stake on November 17.

As it turns out, the Badgers (7-3, 4-2) have already clinched their spot in the Big Ten title game, which may take some of the sense of urgency out of their mindset, while the Buckeyes have their eyes on the 12-0 prize, and are approaching this game like the success of their whole season depends on it.


State of the Bucks

A couple of injured Buckeyes will be returning to action against Wisconsin, none more important than linebacker Etienne Sabino, who will be counted on in run support against the best rushing team OSU has faced all season. Meyer said Thursday that Sabino will start, as the Buckeyes will utilize their base 4-3 defense more than normal against the run-first Badgers.

Tailback Bri'onte Dunn is still sidelined with an MCL sprain, so the Bucks will be a little thin at running back, with Carlos Hyde and Rod Smith available, but when your most significant injury is to your third-string running back, you're in pretty good shape. Meyer was also happy to announce that freshman cornerback Armani Reeves is once again healthy and will be ready to go Saturday as a key contributor on the kickoff coverage and kickoff return units.

Most importantly, the Buckeyes as a team, and Braxton Miller in particular, are rested and refreshed after an open date last week that followed a grind of ten straight Saturdays playing football. Meyer says the team has practiced well for two weeks and that they are well aware of what's at stake for them in Madison.


Stat Story

Ohio State leads the Big Ten in scoring offense (39.9 ppg), and is second (to Nebraska) in both total offense (445.3 ypg), and in rushing offense (256.1 ypg.). The Bucks are 7th in the league in pass offense at 189.3 ypg. Defensively, OSU ranks 7th in scoring defense (23.9 ppg) and in total defense, but they rank 2nd (behind only Wisconsin) in rushing defense, giving up 107.9 ypg. The Bucks rank 11th in the league in pass defense (259.7 ypg)

The Badgers are 6th in the Big Ten in scoring offense (29.5 ppg), and 7th in total offense (385.6 ypg). They are 11th in passing offense (166.8 ypg), but 4th running the ball (218.8 ypg). On defense, Wisconsin is giving up just 17.2 points per game, to rank 2nd in the league, and as noted, they are 1st against the run, allowing 103.4 yards per game. Badger opponents are passing the ball for 206.2 yards per game, which ranks 7th in the conference.


Wisconsin - Key Personnel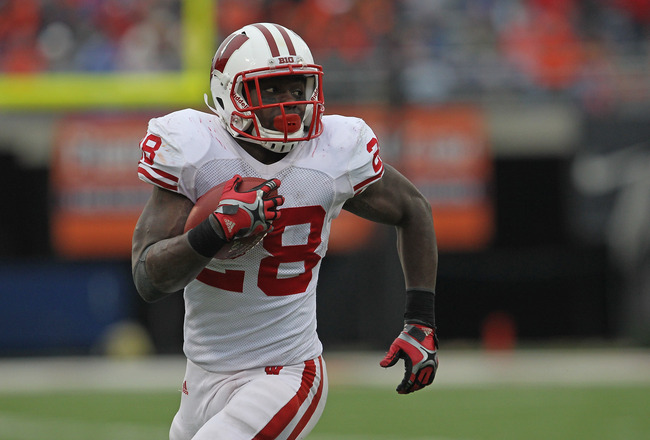 The 2012 Wisconsin season began with high expectations, coming off two straight Big Ten titles as they were, with Montee Ball a serious Heisman contender, but the Badgers stumbled out of the gate. They barely scraped by Northern Iowa in the opener, and then fell to Oregon State in Corvallis. In Week 3, they once again barely edged a lesser opponent, as it took a missed field goal in the final seconds by Utah State for the Badgers to avoid another non-conference defeat.

Three-point losses to Nebraska and Michigan State since then would have doomed Wisconsin hopes for a third straight league championship in any other year, but the ineligibility of OSU and Penn State has pretty much gift-wrapped the trip to Indy for them in 2012.

With inexperience at quarterback following the departure of Russell Wilson, the Wisconsin offense is dependent on their powerful rushing attack even more than it traditionally has been. They tuned up that attack last week, shredding Indiana for a team record 564 yards rushing.

Ball is poised to break the all-time NCAA record for career touchdowns, as he stands one TD shy of Travis Prentice's mark of 78. He has 1226 yards (5.0 avg) and 16 touchdowns so far in 2012, ranking second in the Big Ten at 122.6 yards per game. His running mate James White, who would be the starter in most any other program, has 647 yards and 8 touchdowns, with an eye-popping 7.3 yards per carry average. Freshman Melvin Gordon could be the next big thing in Madison. He has chipped in with 346 yards and two scores, with an 8.2 yd. average per rush.

Curt Phillips has become the starter at quarterback after Joel Stave broke his clavicle and Maryland transfer Danny O'Brien disappointed in the early going. Phillips is a senior who has put in his time behind Wilson and others, and he has attempted just seven passes coming into this game, going 4-7 for 41 yards last week at Indiana.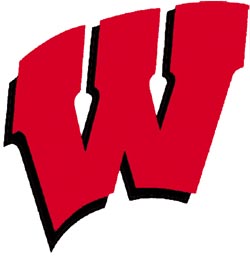 The top receiver for the Badgers is Jared Abrederis (38 rec, 689 yds, 5 TD), the junior who doesn't dazzle you with speed or athleticism, but just gets open and catches everything thrown his direction. The Badgers always make good use of the tight end, and Jacob Pedersen (18 rec, 264, 3 TD) was 2nd team All-Big Ten a year ago.

The Badgers' offensive line lost three 2011 starters to the NFL, but in tackle Rick Wagner and center Travis Frederick, they have two more future pros back this season.

The Wisconsin defense is keyed by their outstanding linebackers Chris Borland and Mike Taylor, who were both first-team All-Big Ten selections in 2011. Taylor leads the team with 95 tackles and 12 TFL, and Borland is close behind with 82 stops and 9 TFL. Word out of Madison this week is that Borland may be limited Saturday with a hamstring injury, but he is expected to play.

The defensive line features four juniors starting, with end David Gilbert (29 tackles, 7 TFL) one of the standouts in that unit. The Badger secondary has struggled a bit, giving up 15 touchdown passes against just four interceptions. Cornerback Devin Smith has two of those picks.


Idle Speculation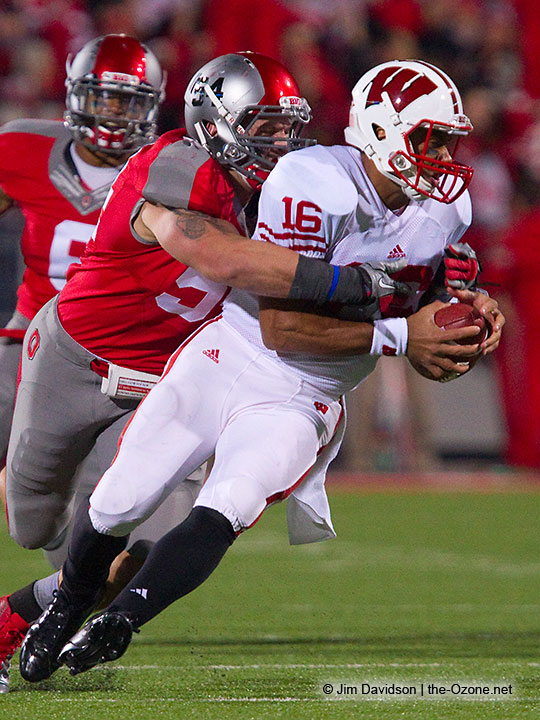 The record of Bret Bielema on his home turf in Madison is a daunting one for Buckeye fans hoping for an upset (yes, an upset...the Badgers are 2.5 point favorites). Wisconsin is 44-4 at home under Bielema, and 10-0 in home games in November.

The game matches two of the best rushing attacks in the conference against the two best rushing defenses in the league. Two years ago in Madison, the Buckeyes were embarrassed by the ease with which Wisconsin ran the ball against them, especially in the first half. John Clay and James White had 104 and 75 yards respectively in that game, and Brian Rolle admitted afterwards that OSU had been "whipped" at the line of scrimmage.

That changed last year in Columbus, when the OSU defense shut down the Badgers with just 89 rushing yards for the game. Montee Ball had 85 yards, but 40 of those came on one draw play late in the game. On his other 16 carries, he was held to 45 yards (2.8 avg). What hurt the Buckeyes a year ago was Russell Wilson throwing for 253 yards and three touchdowns. Suffice to say there is no Russell Wilson on the 2012 Badgers.

The line play should determine the outcome (as it usually does), and I suspect the Buckeyes will have the better of it on both sides of the ball. The Ohio State offensive line has been excellent in 2012, especially after Meyer and coordinator Tom Herman make their adjustments in scheme and play-calling after the first few series. Wisconsin lost a lot of offensive line talent in the offseason, and their group has not been quite what it was last year. I expect the Simon, Hankins, Williams, Goebel defensive line group to have a solid day.

Both teams will sell out to stop the run and dare the other team's quarterback to beat them throwing the ball. My feeling is that the Buckeyes' talent edge at the quarterback position will be the decisive factor in the game. OSU has played well in their first two forays into intimidating road environments, in East Lansing and Happy Valley. I have a good feeling about this rested Buckeye team going into Madison and putting an end to Bielema's November win streak.

I've got it Ohio State 24 - Wisconsin -20

---

OSU Athletics Communications - Game Notes (pdf)

Ohio State Roster

Wisconsin Roster

---

on Twitter at @dwismar

Dan's OSU Links and Resources

---

(photo credits: Jim Davidson and Dan Harker - The-Ozone.net)
---
Nov 16, 2012 12:27 PM
Last Updated:

Nov 16, 2012