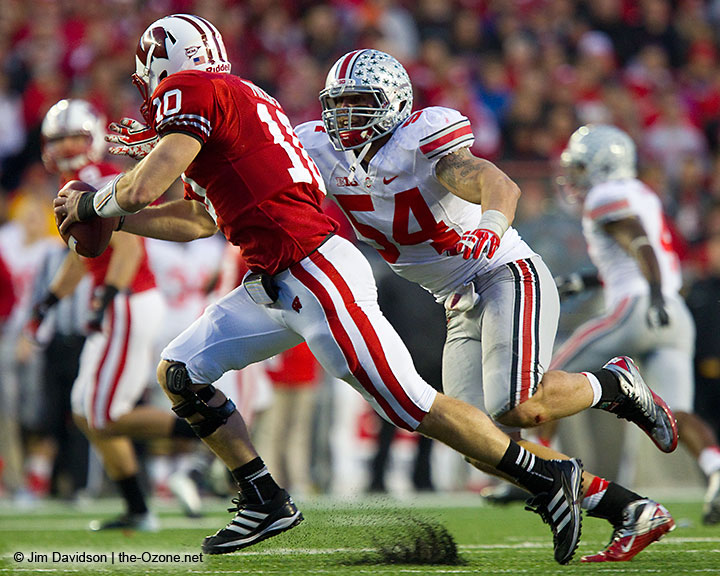 On a tough day for the nation's unbeaten teams, the Buckeyes went to Madison and figured out a way to keep that zero in the loss column. Ohio State survived their most frustrating offensive game of the year with winning performances on defense and special teams to edge Wisconsin in overtime 21-14, and move to 11-0 on the season.

The Badgers tied the game at 14-14 with eight seconds left in regulation, but Carlos Hyde ran two yards for a touchdown in overtime and OSU safety Christian Bryant knocked down a 4th down pass by Badger QB Curt Phillips to seal the win and clinch the outright Leaders Division title for Urban Meyer and the Buckeyes.

Michigan Week now begins for the Bucks, who will host the Wolverines at noon Saturday with an opportunity to complete a perfect season against their arch-rival. Wisconsin (7-4, 4-3) had already clinched the Leaders berth in the Big Ten title game, but now they'll have to go to Indy as the place-filler for the guys wearing the division championship rings. Badgers coach Bret Bielema fell to 1-5 in his career against OSU, and his streak of 10 straight home wins in November was snapped by a Buckeye squad that once again refused to lose.
Not Miller Time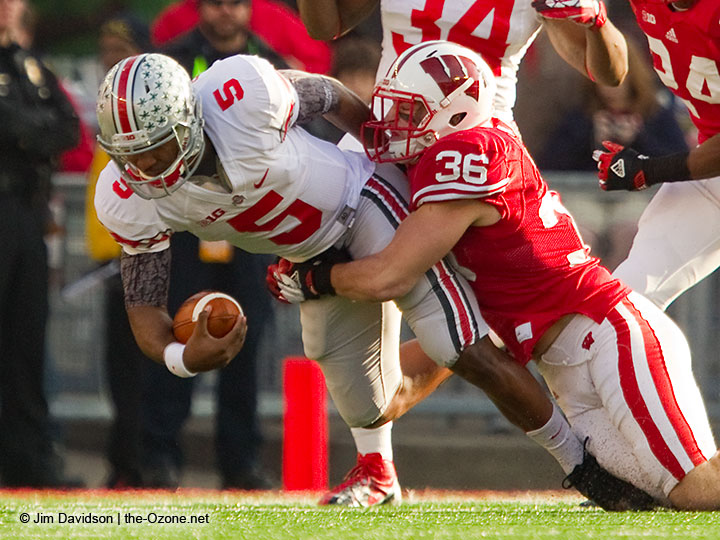 Braxton Miller and the OSU offense had a fitful day against a Badger defensive unit that keyed on the sophomore quarterback on every play, shutting down his running options and hurrying him on his pass attempts. Ohio State gained a season-low 236 yards of total offense, with a meager 36 yards coming in the second half. Miller was held to 48 net yards rushing on 23 carries, just the second time this year he has been held under 50 yards in a game. He completed 10 of 18 passes, for 97 yards, and was sacked three times.

But the gradually improving OSU defense came to the rescue, led by John Simon's team record-tying four sacks, and 12 tackles each by Ryan Shazier and Zach Boren. Included in Shazier's total were 3 tackles for loss, and the sophomore linebacker became the first Buckeye to go over 100 tackles in a season since James Laurinaitis. A group that had not lived up to their billing in the season's first half, the Silver Bullets have now given up just seven touchdowns in the last four games.

Breaking on Top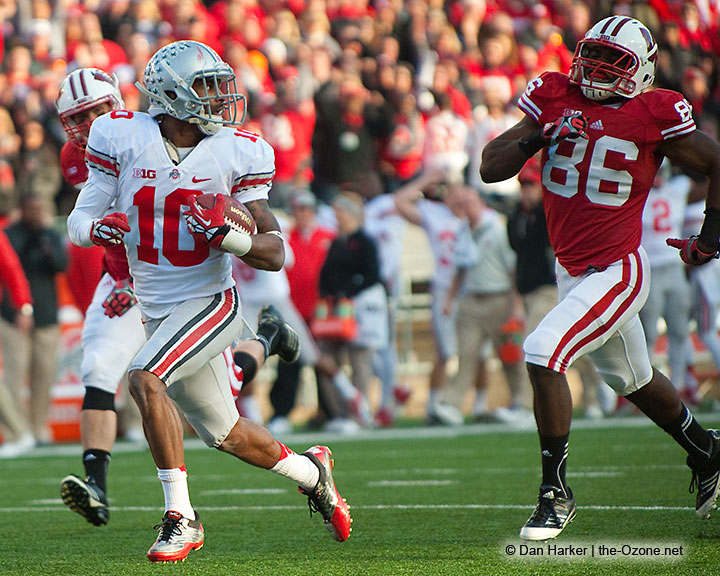 After the two teams traded punts for most of the first quarter, OSU's Corey Brown ended the stalemate by taking one of them 68 yards for a touchdown on a picture perfect return right up the middle of the field. That staked the Buckeyes to a 7-0 lead, and quieted the crowd of 80,112 in Madison. It was Brown's second punt return TD of the year.

Miller was 4 for 4 passing on the next Buckeye possession, and Carlos Hyde put OSU in front 14-0 when he finished off the 8-play drive with a 15-yard TD run early in the 2nd quarter. Miller and Meyer both said afterwards that they should have tried to get the ball to Hyde more than they did, with Miller being effectively neutralized by the Wisconsin defense. Hyde would finish the game with 87 yards on 15 carries, with two touchdowns.

The Badgers Answer

Montee Ball and the Wisconsin offense put together their best sustained drive of the day after going down two scores, with Ball carrying the ball on five of the drive's eight plays, and scoring from seven yards out to make it 14-7. That's the way the half ended, and if the game had been eight seconds shorter, that would have been the final score.

The Buckeyes' sorry offense generated just three first downs in the 3rd quarter and only one in the 4th, but they managed to hold on to the lead, helped out by a missed field goal after a 16-play Wisconsin drive ate up half the 3rd quarter. On the day, the Badgers outrushed and outpassed the Buckeyes, and led in the time of possession by nearly 15 minutes. OSU punted nine times, and never seriously threatened to score in the last two quarters. In the 4th quarter, they never ventured past their own 25-yard line on three possessions.

Cool Customer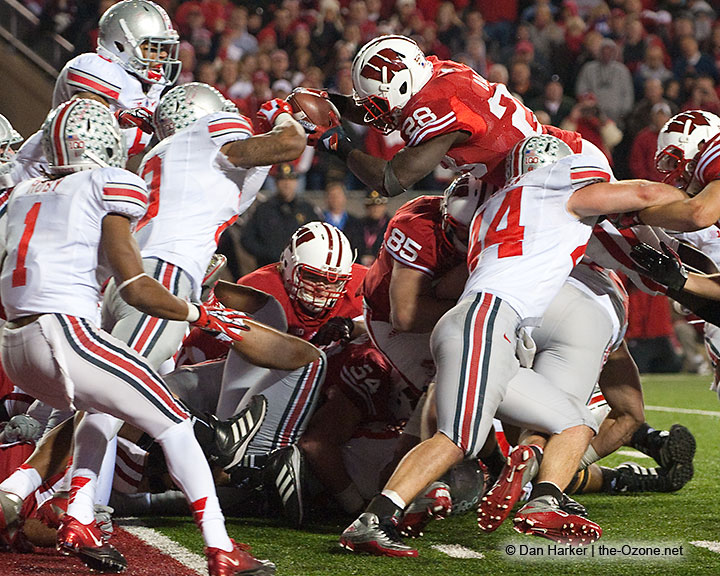 Wisconsin quarterback Curt Phillips threw the ball pretty well for a guy making his second career start. The senior backup completed 14 of 25 for 154 yards and a touchdown, and he looked poised and confident as he brought the Badgers down into the red zone twice in the game's final three minutes.

The first attempt to tie the game up was thwarted inside the 1-yard line when Montee Ball had the ball knocked out of his hands as he tried to extend it over the goal line. The fumble was just the second of his career, and came on hits by Ryan Shazier and Etienne Sabino. It looked like a game-clincher for the Buckeyes when Christian Bryant picked it out of the air with just 2:46 on the clock. But it was not to be that easy.

Three ineffective OSU plays later, Ben Buchanan was punting from his end zone, and he got off what may have been his worst punt of what was a pretty good day for him. The Badgers had the ball back for one more try at the OSU 41, with 1:33 on the clock and no timeouts left.

Phillips converted one 4th down on his way down the field and into position to tie it up, and he made a great throw to his tight end Jacob Pedersen for the 5-yard score with eight ticks left in regulation.

It should also be noted here somewhere that Montee Ball played like a man possessed in his last game at Camp Randall on Senior Day. Ball gained 191 yards on 39 carries (4.9 avg), adding the touchdown that tied the all-time NCAA record for career TD's with 78. Still the Buckeyes had the feeling that they had held him somewhat in check, in that his long run was for 25 yards, and it took him nearly 40 carries to rack up his impressive totals.

Composure in OT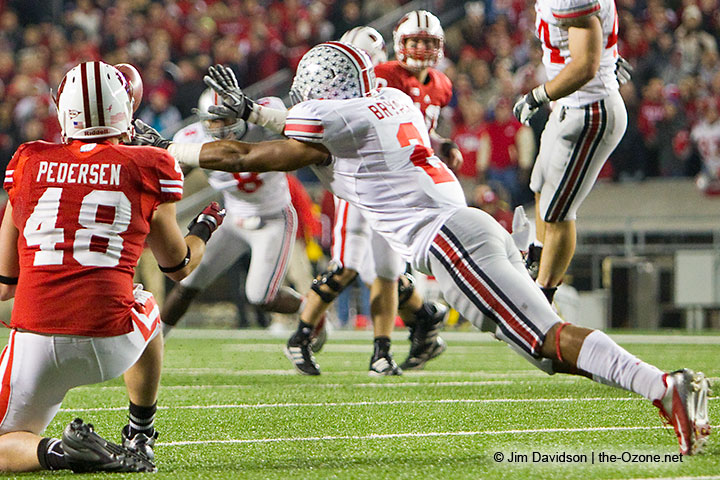 OSU lost the overtime coin flip, which may have been a blessing in disguise. The Buckeyes got the ball first in OT, and summoned a running game that had been absent for much of four quarters. Hyde ran wide for 11 yards on the first play, and then runs of 4 and 8 yards by Miller put the ball at the 2-yard line. Hyde's subsequent touchdown put the pressure back on the Badgers, and Phillips ran out of magic on his 4th-down throw.

Whatever the outcome of The Game this week, this Ohio State season will come to an abrupt end at about 3:30 Saturday afternoon, and some 40 postseason games will commence with no appearance by the Scarlet and Gray. That impending finality will add some additional "juice" to an annual battle that doesn't really require any. That, and the zero in the loss column.

---

OSU Athletics - Official Box Score and Stats

---

on Twitter at @dwismar

Dan's OSU Links and Resources

---

(photo credits: Jim Davidson and Dan Harker - TheOzone.net)

---


Nov 18, 2012 10:27 AM
Last Updated:

Nov 19, 2012