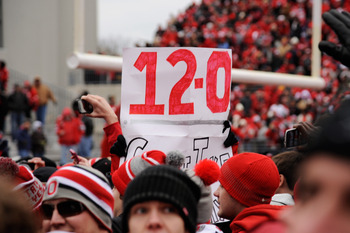 Ohio State's 26-21 victory over Michigan Saturday afternoon played out much like the entire 2012 season. The Buckeyes were uneven, sloppy and at times exasperating against a Wolverine team they badly outplayed for most of the day. But, just as they've been in every single game this season, they were ultimately successful.
It wasn't easy, though- not as easy as it could have been, at any rate. In the first half Ohio State's season-long defensive bugaboos of poor pursuit angles and lousy tackling led to big plays by the Michigan offense. In the second half, while the defense clamped down on the Wolverines, the offense went into the tank with clock-management problems and blown opportunities in opposing territory. Penalties and turnovers were issues all day for Urban Meyer's team.
Yet at the end of it all, everything worked out. The coaching staff made the right adjustments defensively. The offensive line and Carlos Hyde stepped up and controlled the trenches in crunch time. Even the enemy Wolverines chipped in with some questionable play-calling and use of personnel in the second half. At the end of the day the only thing that matters is winning- and the Ohio State Buckeyes, as imperfect as they've looked at times, are a perfect 12-0.
The Vest Comes Home: Four years and one day after their 14-9 victory over Michigan that clinched a berth in the BCS Championship Game, Ohio State's 2002 team was honored at the Horseshoe. Among the attendees was Jim Tressel, who's coaching helped win that National Championship and whose malfeasance helped put the current Buckeyes in a position where they won't have that same opportunity, despite their own perfect regular season.
Hard feelings over the latter were nowhere in evidence. Tressel and the rest of the '02 attendees (including Maurice Clarett) were greeted with a roaring ovation from the 105,899 at the Horseshoe. While the cheers swelled to a mighty crescendo, an emotional Tressel was then scooped up on the shoulders of his former players.
I've never held any illusions as to Tressel's motives in not revealing the violations Terrelle Pryor and others committed. I don't think he was "protecting his kids." I think he was protecting his chances to win another crystal football in 2010. But it's about looking out for your own. For his failure to do the right thing (and the smart thing) Jim Tressel is still a Buckeye. He's a member of the family, and you don't disown family lightly. Those who bemoaned the cheers overlook that.
(Myself, I thought it was a great scene. I liked seeing Mo Clarett back as well. I've always been kind of a bleeding-heart about Clarett; to me he always seemed more a screwed-up kid than a Lawrence Phillips-type bad apple. I can't help but root for him. The fact that he was such a great, dynamic player influences my thinking, admittedly.)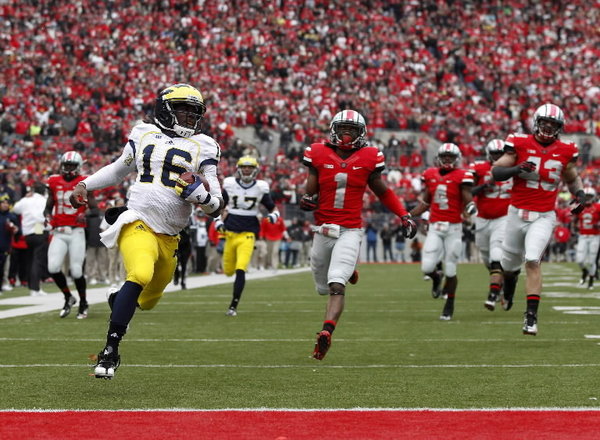 Thirty-Minute Shootout: They may have been honoring the 2002 team, but the first half of Saturday's game looked much like a live-action tribute to the wild, ragged 2006 edition. The teams combined for nearly 500 yards and 41 points in the first half, which ended with Michigan leading 21-20.
Ohio State has played better defense the last few weeks, but the unit backslid in the first half Saturday with a reoccurrence of the issues that have plagued them for most of the season. A poor angle by C.J. Barnett opened the door to Roy Roundtree's 75-yard catch and run that tied the game after Carlos Hyde's three-yard plunge had staked the Buckeyes to an early 7-0 lead. Late in the half Travis Howard and Christian Bryant forgot to wrap up and bounced off Denard Robinson, who was then home-free on a 67-yard jaunt that gave the Wolverines a 21-17 lead.
Not that Michigan's defense fared much better. Denied the running lanes, Braxton Miller relied on his arm to gain yards- and looked good doing it. Miller completed his first nine attempts, including a 52-yard bomb to Devin Smith that set up Ohio State's first touchdown. His favorite target was Philly Brown, who hauled in Miller's 14-yard toss that gave the Buckeyes a brief 17-14 lead late in the half. The pinpoint passing attack kept Ohio State in the game and bought time for the defense to get squared away- which it eventually would.
Turning Point: Denard Robinson roasted the Buckeyes for 124 first-half rushing yards on only six attempts in the first half. Included were the 67-yarder that gave the Wolverines the lead near the end of the first half and a 30-yarder on their first offensive snap of the game. So when Brady Hoke (conspicuously clad in a short-sleeved shirt) decided to go for it on fourth-and-two from his own 48 early in the third quarter, Robinson was the only logical choice to move the sticks.
But Robinson didn't move the sticks. He didn't even come close, getting swarmed for a two-yard loss. Seven plays later Drew Basil's 28-yard field goal gave the Buckeyes the lead for good at 23-21. That was only the start of a great second half for the Ohio State defense- and an inexplicable second half for Denard Robinson.
Do it for Johnny: Ohio State's defense came into Saturday's game shorn of its emotional leader. Hobbled by a right knee injury suffered against Wisconsin, John Simon was unable to suit up for his final game as a senior. It was a cruel twist of fate for Simon, who has done everything right in terms of effort and leadership.
But Simon was still an inspiration to his teammates. It showed in their words and in their deeds, particularly in a second half that might have been the best thirty minutes of football this defense played all season. The Buckeyes completely shut down Michigan in the second half, holding the Wolverines scoreless, forcing three turnovers and permitting just three first downs and 39 total yards.
Most impressive was the way Ohio State toughened up in short-yardage situations. On three separate occasions the Buckeyes stopped Michigan cold on third and less than three yards to go. Credit goes to the Buckeye defenders for their tenacity and effort; credit also goes to the much-maligned defensive coaching staff for making the proper adjustments and putting the players in a position to succeed. It's no exaggeration to say that Ohio State won this game on defense.
Disappearing Denard: Of course, the second half wasn't all about Ohio State's brilliance on defense. Michigan aided the cause with some very strange play-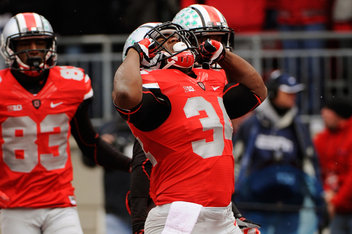 calling. Denard Robinson gashed the Buckeyes in the first half on outside runs, but those plays were nowhere to be found in the second half. Robinson ended with minus-two yards on four second-half carries, and most of not all of those carries were in the middle of the field, where the heart of the Buckeye defense awaited.
Actually, Robinson didn't even play very much at all down the stretch. For the most part the Wolverines leaned on Devin Gardner, who committed two of his team's three turnovers on a fumble and C.J. Barnett's interception to stop Michigan's last drive. The unwillingness to stick with Robinson on the ground, particularly outside the hash-marks, was baffling. It wasn't as if anyone else for Michigan was running effectively. The Wolverines finished the day with 108 rushing yards, 14 less than the number Robinson accumulated.
Offensive Offense: Seemingly in honor of the Vest's return to the Horseshoe, Urban Meyer's normally explosive red-zone offense dusted off that Tressel-era staple: the field-goal attempt. After attempting six field goals in the first eleven games the Buckeyes tried five on Saturday, converting four. For the first time all season Ohio State had trouble finishing drives with touchdowns. Despite outgaining the Wolverines 396-279 and forcing four turnovers the Buckeyes had to hang on for dear life.
Ohio State had multiple opportunities to put the game away in the second half. The Buckeyes made six different trips into Michigan territory in the final thirty minutes and came away with just two field goals. Sacks, bad snaps and a lost fumble put the kibosh on almost every attempt to create some distance on the scoreboard. Despite dominating on both sides of the ball, the Buckeyes were just one play away from losing. It was another throwback to the days of Tressel, who always seemed most comfortable when the fans were sweating bullets.
Hammering Hyde: Ohio State's offensive problems did not extend to Carlos Hyde. The 230-pound junior rumbled for 146 yards on 26 carries and barged in for his 16th touchdown to open the scoring in the first quarter. Hyde's real value came as the Buckeyes were grinding the clock down following C.J. Barnett's interception with 4:50 to play. He picked up two first downs on the drive, including a 13-yard burst on third-and-seven. Statistically it's a shame for Hyde that the Buckeyes won't play another game as he will end the season with 970 rushing yards, a long gain short of 1,000.
Braxton's Line: 14-of-18 for 189 yards and a touchdown; 20 carries for 57 yards. 42 of those rushing yards came on one carry late in the third period, a possession that ended with Miller's fumble at the Michigan 36. Once again Braxton had a tough time finding the running lanes, but his accurate passing helped keep the Buckeyes in the game in the first half and he made the right plays down the stretch. The season numbers speak for themselves: 2,039 passing yards, a 58.3 completion percentage and 15-to-6 touchdown-to-interception ratio; 1,271 rushing yards and 13 touchdowns. And just think- we get to watch this man in a Buckeye uniform for two more years.
What a Season: It's been a singular season for the Buckeyes. Ineligible for postseason play they seemed almost to dwell in the shadows of college football, visible but mostly unseen. At times it felt that the Buckeyes were in their own world which was true in a way, because probation made their fate immaterial everywhere else. To the rest of college football it didn't matter if Ohio State went 12-0 or 0-12.
This isn't the best Ohio State team we've seen over the last decade or two. But it's clear from his words and his emotions that Urban Meyer loves this team, and he should. The Buckeyes made mistakes, looked a little awkward at times, but they had great senior leadership and played their butts off every week. And every week they found a way to get it done.
It was a great season in terms of simply enjoying a Buckeye victory every single Saturday. But there was never anything at stake in terms of championships, and that ever-present fact sucked a little of the emotion out of the experience. 2012 didn't contain the taut drama of 2002, when Ohio State was fighting for a National Championship and every game meant everything. The lows weren't as low and the highs weren't as high.
It was a fun ride and it was a little nice to be able to relax and enjoy the game and not worry about what it all meant. But it was definitely singular- and hopefully it stays that way.
Around the Nation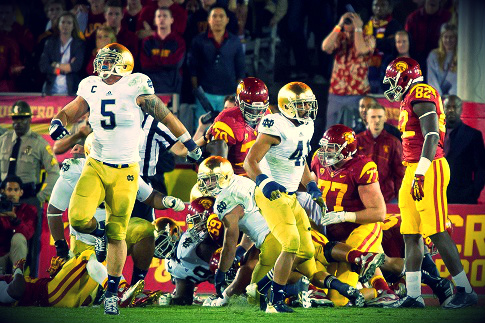 Game of the Week- Notre Dame/USC: The total resurgence of Notre Dame came to a head on a dramatic Saturday night in the Los Angeles Coliseum. The Irish finished off a perfect regular season with a 22-13 victory over the Trojans and they did it their way, with a mistake-free ball-control offense and a defense that once again proved impregnable around the goal line.
The moment of truth began when USC's Marqise Lee hauled in a 53-yard bomb to the Irish two-yard line with 5:40 left. The Trojans trailed by nine but they had two timeouts and plenty of time to score twice, pull out the game and spoil Notre Dame's BCS title chances. USC would run seven plays in the ensuing sequence, including two pass-interference penalties in the end zone. But the Trojans- plagued by dreadful play-calling and clock-management on the part of Lane Kiffin- couldn't punch it in. When a desperation fourth-down pass fell incomplete with 2:33 to play it was still 22-13, and the Irish were on their way to Miami for the BCS Championship.
They'll be solid underdogs in that game against either Alabama or Georgia. But you count out this Notre Dame team at your own peril. The way the Irish play is strongly reminiscent of the 2002 Ohio State Buckeyes, and we all remember how they fared as underdogs against Miami. If the Irish play their usual outstanding defense, avoid turnovers and finish drives with touchdowns instead of field goals (an issue for them) they've got a great chance to hoist the crystal football on January 7th.
A Bigger Hit than "Easy": On October 13th Vanderbilt lost to Florida for the 22nd consecutive time, 31-17. The Commodores were 2-4, 1-3 in the SEC, and it looked as though James Franklin's second season in Nashville would be a lackluster follow-up to a promising debut in which his team went from 2-10 to 6-7 and a Liberty Bowl bid.
Vanderbilt hasn't lost a game since. The Commodores won their sixth straight last Saturday, pulverizing Wake Forest 55-21 in Winston-Salem. Their 8-4 record is their best since 1982, and at 5-3 they're over .500 in God's Conference for the first time since that same season. Zac Stacy and Jordan Matthews are big-time athletes on the offensive side, and defensively the Commodores are a top-twenty unit in both scoring and yardage. This isn't some rag-tag unit eking out a bowl bid with a .500 record and a couple of conference wins. Vanderbilt can play.
Yes, the schedule lightened up in the second half. After facing South Carolina, Northwestern, Georgia and Florida in their first six games, the Commodores' final games came against opponents with a combined 20-50 record. But other than close wins over Auburn and Ole Miss, they did what good teams are supposed to do against bad teams- they dominated. College football was chock-full of Cinderella stories in 2012, from Notre Dame to Kent State to San Jose State. Vanderbilt is among the biggest. And if Franklin sticks around (he's rumored to be a candidate at N.C. State) it'll be interesting to see how far he can take this program. If you can win in the SEC, why go anywhere else?
Kent State & BCS Mentioned in the Same Sentence: To say the least I never expected this out of the Golden Flashes. Neither did anyone else, probably. But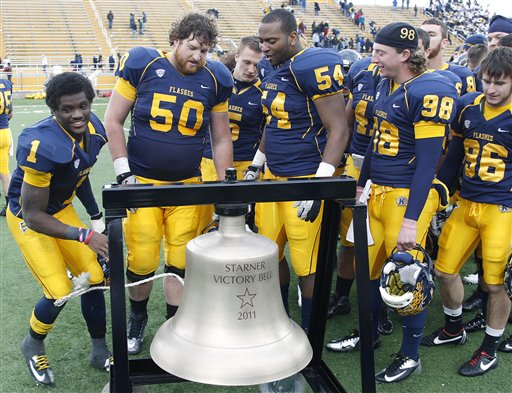 it's really come to this- if Kent State defeats Northern Illinois in the MAC Championship Game on Friday night and UCLA and Texas both lose this weekend, the Flashes will almost certainly finish in the top 16 of the BCS rankings ahead of the Big East Champion, thus giving them an automatic BCS bid, most likely to the Orange Bowl on New Year's Day.
Gulp.
Materially this would be huge for the KSU athletic department. The payout for a BCS bowl is $17 million per team compared to $750,000 each for the Little Caesar's Pizza and GoDaddy.com Bowls, the likely possible destinations should the Flashes lose on Friday. With that kind of cheddar at stake, winning and losing is almost irrelevant in terms of what a BCS bid would do for Kent State.
But as a fan, and as someone who personally will not see a dime of that $17 million, I have some qualms. My overriding preference as a fan is for Kent State to win its bowl game. If it's the Little Caesar's Pizza Bowl against Western Kentucky or Middle Tennessee State I'm good with it.
And honestly, is Kent really deserving of an Orange Bowl bid? Look, the Flashes are a great story and a legitimately good team. But they're a MAC team. And is a team that lost to Kentucky by five touchdowns really worthy of the Orange Bowl? Not to mention the likely opponent is Florida State- and having already stated that my overriding preference is for a Kent victory, I'm not sure facing the Seminoles in their backyard is the best way to make that happen.
I'm not saying they should turn it down or whatever. But part of me hopes for a Kent State victory on Friday and a win by UCLA or Texas this weekend. $17 million is $17 million. But I wouldn't cry over a MAC Championship and the thrashing of an overmatched Sun Belt opponent for the program's first-ever bowl victory.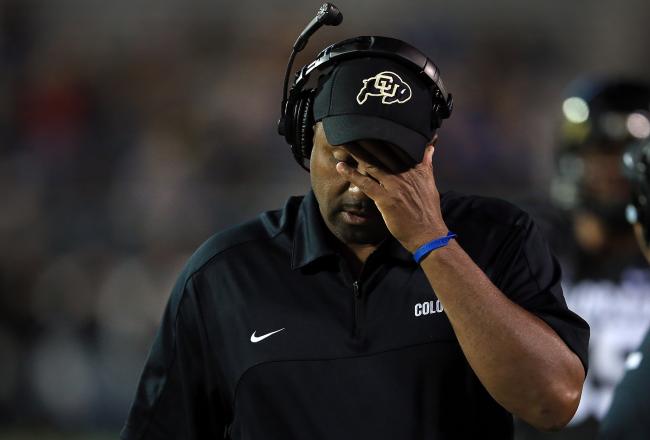 Chopping Block: It's that time of year again in college football, when pink slips are handed out like Christmas lists to a department-store Santa. Last Sunday five coaches were given their walking papers. Here are the five:
Danny Hope: The cop-stache is no more in West Lafayette. Hope was cut loose after four seasons and a 22-27 record. The Boilermakers were expected to compete for a Leaders Division title with Ohio State and Penn State on probation but were never a factor after losing their first five conference games, most of them by lopsided margins. For whatever reason though, his teams usually showed up to play the Buckeyes.
Frank Spaziani: Four years of diminishing returns resulted in the firing of the Boston College head coach. Spaziani went from 8-5 in his first season of 2009 to 7-6, 4-8 and finally 2-10, the program's worst season since 1978.
Gene Chizik: The inevitable finally happened, as Chizik's fall from grace concluded with his firing after Auburn finished a 3-9 season and winless SEC campaign with a 49-0 loss at Alabama. Take away the 14-0 season of 2010, when the Tigers won the BCS Championship, and Chizik's career record is 24-38. No, seriously, take 2010 away. Give it to Cam Newton instead.
Jon Embree: Colorado didn't waste time dropping the hammer on Embree, the former CU tight end who was whacked after just two seasons and a 4-21 record. The Buffs went 1-11 in 2012, finishing 119th in total offense and 121st in total defense, and were arguably the worst team in any BCS conference. Embree was angry and defiant after his ouster but he didn't help his own cause by fielding a team that lost to Sacramento State and was stomped by scores of 69-14, 42-14, 51-17, 50-6, 70-14, 48-0, 56-31 and 38-3.
Tom O'Brien: Six years of mediocrity and inconsistency were enough for N.C. State, which fired O'Brien despite the 'Pack finishing 7-5. O'Brien's success at Boston College didn't follow him to Raleigh; N.C. State didn't win a division title under his watch and alternated signature wins- over Clemson last year and over Florida State this year- with embarrassing losses, like the 33-6 home rout at the hands of lowly Virginia on November 3rd.
Winners of the Week
Nebraska: The Cornhuskers' 13-7 victory over struggling Iowa last Friday wasn't impressive, but combined with Michigan's loss at Ohio State it gave them the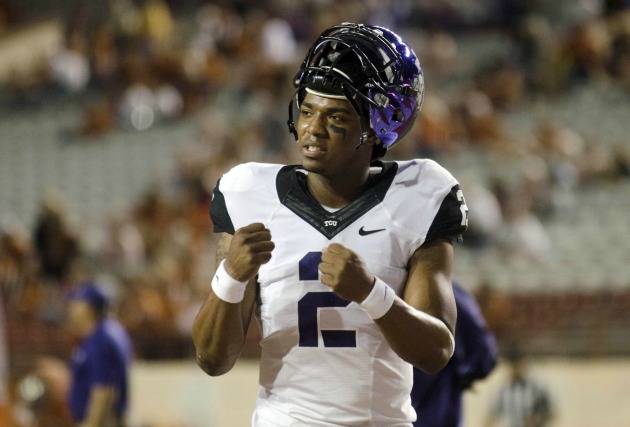 Legends title and a rematch with Wisconsin in Saturday's Big Ten Championship Game. Bo Pelini's team has won six straight after giving up 63 points in Columbus on October 6th.
Syracuse: The Orangemen finished off a nice closing kick by knocking off Temple in Philadelphia, 38-20. After starting out 2-4 Doug Marrone's team stormed to a 7-5 finish, including 5-2 in the Big East. It's good for the program's second bowl bid in three years and it's good for momentum as Syracuse heads off to the ACC for 2013.
TCU: The Horned Frogs forced five Texas turnovers and rushed for 217 yards in upsetting the Longhorns 20-13, their first win in Austin since 1967. Despite losing Casey Pachall to personal issues in mid-season, Gary Patterson's team is 7-4 and sitting at .500 in conference play- not too shabby for its first year in the Big 12.
Washington State: A tumultuous first season in Pullman for Mike Leach ended in surprisingly strong fashion when his Cougars overcame a 28-10 fourth-quarter deficit to stun Apple Cup rival Washington in overtime, 31-28. The win brings Wazzou in at 3-9 and buys Leach at least a bit of good will going into 2013. He'll need it.
Western Kentucky: A rough few weeks for the Hilltoppers- four losses in five games plus sack-master Quanterus Smith's season-ending knee injury- came to a happy conclusion with a come-from-behind 25-24 win over North Texas. Antonio Andrews ran for 230 yards and the game-winning touchdown as WKU overcame a two-touchdown fourth-quarter deficit, moved to 7-5 and perhaps put itself in line for a first-ever bowl bid.
Losers of the Week
The ACC: Four Atlantic Coast teams, including the league's current standard-bearers, were road-kill for the SEC. Vanderbilt drilled Wake Forest and Georgia crushed Georgia Tech, but the real pain was felt at Florida State and Clemson, which fell at home to Florida and South Carolina respectively. The twin setbacks damaged the conference's BCS at-large prospects and reinforced its inferiority to its fellow Dixie circuit.
Rutgers: All the Scarlet Knights had to do was take care of mediocre Pitt and the Big East Championship was theirs. Instead they fell behind by three touchdowns in the first half and barely put up a fight in a lackluster 27-6 defeat to the Panthers. Rutgers will have to defeat Louisville Thursday night in Piscataway- or the BCS berth that has been in their grasp will slip away entirely.
Louisville: The Cardinals still have a shot to win the Big East at Rutgers on Thursday, but they won't go in with much momentum after losing in triple-overtime to Connecticut at Papa John's Stadium. Worse, Teddy Bridgewater is as battered and bruised as a Mel Gibson character, having added a fractured wrist on his non-throwing arm to a sprained ankle.
Florida International: A frustrating 3-9 season for the Panthers ended in familiar fashion with a 23-17 overtime loss to Louisiana-Monroe. FIU was a hard-luck story all season, suffering five losses by eight points or less.
Southern Miss: The Golden Eagles completed their 0-12 season with a one-sided 42-24 loss at Memphis. Southern Miss hadn't gone winless since 1925 and took an o'fer after going 12-2 in 2011, the biggest negative one-year turnaround in college football history. Not surprisingly, Ellis Johnson was canned Tuesday after one disastrous year on the job.
Next: Ohio State's 2012 season is over. Kent State takes on Northern Illinois Friday night in the MAC Championship Game. As for me, I'm on the verge of becoming a father for the first time. I'll do my best to cover the various goings-on in the game during December but I can't promise anything; I've never raised a child before, but I'm assuming it takes a large chunk of a person's time. Anyway, I'm grateful for your readership, and have a fun and festive holiday season. I'll see you around the way.
Nov 29, 2012 10:00 AM
Last Updated:

Nov 29, 2012