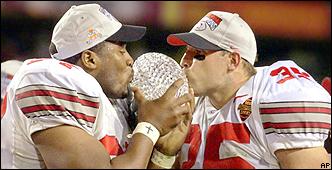 Ten years since Tempe, 1/3/2003.

I know it's hard to believe, but Thursday marks ten years since Cie Grant blitzed off the left side, grabbed Ken Dorsey by the jersey, and spun him to the ground, as the Miami quarterback's desperation pass fell harmlessly to the turf...and the Buckeye celebration began...

….ten years since the hopes of OSU fans were dashed by a 4th down incompletion in the first overtime, only to be rescued a moment later by a belated, but ultimately correct pass interference call....

...a full decade since Maurice Clarett criticized his school's administration in a pre-game press interview...only to redeem himself with an overtime touchdown and a remarkable heads-up play that turned the game's momentum 180 degrees...stripping the ball from Miami safety Sean Taylor after Taylor's end zone interception killed an OSU 1st-and-goal situation early in the 3rd quarter...

...the Mike Doss interception...the gruesome injury to Willis McGahee...the gritty performance of Craig Krenzel...the spectacular end-zone catch by Kellen Winslow Jr...the 4th and 14 completion to Michael Jenkins.....Matt Wilhelm's crunching hit on Dorsey in overtime...

It's fair to say there has been no moment as sweet for northeast Ohio sports fans since that night.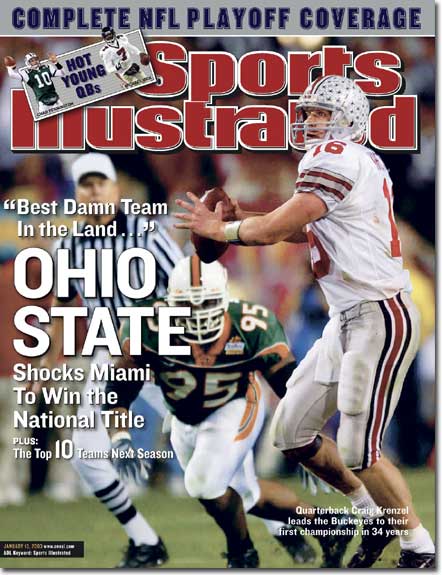 That was the night Ohio State broke their 34-year stretch without a national championship. It had been five years since Michigan's shared title in 1997, and no other Big Ten team had won a title since the 1968 Super Sophs of OSU turned the trick. And considering the way college football and the Big Ten have evolved since 2003, it's pretty clear that the best chance for a Big Ten team to win another one before 2023 resides with Urban Meyer and the Ohio State Buckeyes. If not OSU...who?
On top of all that, no one needs to be reminded that no Ohio (let alone Cleveland) professional or D-1 college team has won a major sports title of any flavor in the decade since that memorable evening in Tempe, Arizona. So I thought I'd commemorate the occasion by re-visiting my 2011 interview with Steve Helwagen of Bucknuts.com for TCF readers. Originally published here in November 2011 as Part 2 of "Tressel's Top Ten" games, that conversation with Steve about the obvious choice for #1 on Tressel's list is reprinted in full below, following a brief summary of the game. (Part 1 of the Tressel series, including games #2 through #10 can be found here)
----
#1 - OSU 31 - Miami 24 2OT - 1/3/2003 - The 13-0 Ohio State Buckeyes squared off with the 12-0 Miami Hurricanes in the BCS Championship Game in the Fiesta Bowl at the conclusion to the 2002 season. The Hurricanes had won 34 consecutive games, and were the reigning national champions from 2001. OSU was coming off a 7-5 season in 2001, and were in their second season under Jim Tressel. The Buckeyes were 11.5 point underdogs in Tempe that night, and absolutely no one outside of Ohio was giving them any chance to come out on top against the powerful 'Canes. The rest, as they say, is history.

Ohio State got off to a slow start and fell behind 7-0 after one quarter, but took advantage of two Ken Dorsey interceptions to help them to a 14-7 halftime lead. They stretched that lead to ten at 17-7 in the 3rd, but Miami clawed back to tie the game with a field goal at the end of regulation. Two heart-stopping overtimes later, and after one of college football's most controversial plays ever, Ohio State stopped the Hurricanes on a goal-line stand to win the first national championship for the program since 1968.

ESPN Box and Stats - Complete Play-by-Play -

YouTube highlights - Part 1 - YouTube highlights - Part 2
(Part 1 highlights above dispenses with the last minute of regulation, but we know what happens there...Miami kicks the tying field goal to send it to OT, which is where Part 2 picks it up.)

---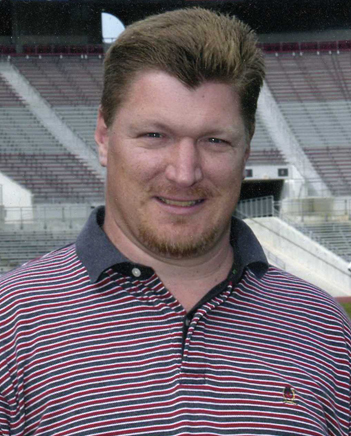 Steve Helwagen is the Managing Editor of Bucknuts.com, an award-winning journalist, and a veteran of the Ohio State media corps. He is the author of a book about the 2003 Fiesta Bowl, called "The Greatest Game Ever Played". The book itself is a treat for any OSU fan...an 80-page publication in magazine format, packed with terrific photography from the game, to go with a detailed play-by-play narrative, and all the statistics, rosters, quotations and background you could possibly want. He intended it as a "keepsake" for Ohio State fans, and that's just what it is.

Steve still has some copies of the book available, and you can purchase one online at eBay, or mail a check to the address at the end of this article. Steve and I spent almost an hour on the phone the other day talking about the Tressel years, the book project, and of course the game. I hope you enjoy the conversation as much as I did.

---

DW: Steve, for the benefit of our readers, tell us a little bit about your background. I guess you could say you're doing what you always wanted to do...sort of a dream job, I guess...covering the Buckeyes...

SH: Definitely....I grew up right outside of Columbus...watching the Buckeyes, obviously, on TV, and went to Ohio State. I started covering high school sports right out of high school, and then got up to Ohio State and started working on the school newspaper, and also got hooked up with Buckeye Sports Bulletin while I was there. Worked part time for them, and just kind of fell into it after that. I worked full time for BSB for eight years, and I've been at Bucknuts for eight years, so I've been covering Ohio State sports full-time for about 16 years now, but I've really been around it going back to '86 or '87. So, yeah, I'd say it's something I've enjoyed doing...kind of a dream job for me. I've counted up...I've covered Ohio State events in 25 states, so it's taken me all over the country. It's been lots of fun.


DW: Your book is called "The Greatest Game Ever Played", speaking of course about the championship game against Miami. Tell us a little bit about how that project came together. It came out about '06, right?

SH: It came out about three and a half years after the game was played. You know, it was such an amazing game, and it took me a couple of years to wrap my arms around the idea. I started gathering stuff for the book sort of subconsciously...starting from the week that we were there...at the game, in the weeks after the game...going to all the different events...the celebrations...the trip to the White House...and I got to thinking...hey, this would make a great keepsake for all the people around my age, who have never seen anything like this...going all the way back to 1968 when they won the national championship before.

And that was a different era...a different time. I don't want to say they were down in the 90's, but they were never able to have that breakthrough, and I think it was so close so many times with John Cooper that it was an amazing thing that Jim Tressel, in his second year, was able to get it done.

DW: A lot of close calls in the 90's...'95, '96, '98....

SH: Yeah, exactly...so I think that when he did it, it was a major breakthrough....I've never seen a game like the 2002 Ohio State -Michigan game...after the last play...an incomplete pass...the people just came from everywhere...it was just a spontaneous "we're going to the national championship!" thing. It was the biggest celebration I think I have ever seen....people hanging on the goal posts trying to tear them down. It was like nothing I'd ever seen. So it was a major, major breakthrough.

The whole road that they took to get to the BCS Championship....and then the championship game itself...it was as good a game as you'll ever see....with all the back and forth...it all adds up.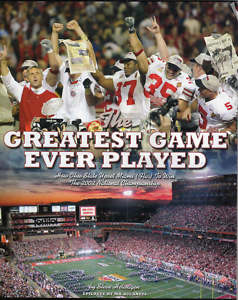 DW: One of the things you do in the book is to put the greatness of this game in some context. It's not just you and a bunch of OSU media guys saying it was the best game ever, but you cite some polls that are taken on these things, and all the national media figures rate this game as in the top two or three games of all time. In the book you put together what is sort of a consensus listing of the greatest games of all time.

SH: Definitely...I talked to Pete Fiutak, (link) who covers college football for CollegeFootballNews.com, and they do a lot of lists and surveys like that...and they had this game, at the time, maybe four or five years ago, in their top three or four games of all time, maybe even number two...I think they had Nebraska-Miami, from way back when, at No. 1...the 31-30 game...

DW: ...the Bernie Kosar game.

SH: Yeah...everybody has that one right up there. And just since this came out a few years ago, you've had the USC-Texas game in the Rose Bowl. It's a difficult thing to put your finger on which game was the best...but when you put the story around this one...an 11-point underdog...a team that hadn't won a championship in 34 years...playing a team that had won their last 34 games...was the defending national champions....I mean that's a pretty good story. And then to have it go to double overtime...all the drama of the game...to me it was just a no-brainer that this was a game that had to be high on anybody's list.

DW: You also list in the book what you figure are the top 20 or 25 greatest Ohio State games of all time. You have this game of course at No. 1, and the 2002 Michigan game at No.3, I think, but after that you have to go all the way to No. 17 before we see another game from the Tressel era. Granted, your book came out halfway through that decade of Tressel at OSU, and I imagine a game or two from the last five years would find its way onto your list, but in general, do you think the Tressel years will stand up over time in the overall history of Ohio State football?

SH: Definitely...This book was written in the middle of 2006...and I don't want to say that '03, '04, and '05 were nondescript for OSU football....but they were nondescript. The Notre Dame game in '05...the Michigan game in '05...those were good games. In '03 you had the N.C. State triple-overtime game, but there weren't a lot of games that would make a list like that in the intervening time. But since then...in '06 you had the Texas game...and of course the Michigan game. In '07, nothing really stands out, off the top of my head. Since then...the Oregon game...the Rose Bowl has to be in the top 10 or 15 probably on anyone's list.

Was it was the best decade in the history of Ohio State?...I mean they won two national championships in the 50's, but I think overall, if you tried to measure everything across the board, you could say it was the best. They were 9-1 against Michigan...they won seven Big Ten titles in ten seasons under Tressel, and of course the national title, so yeah, I'd say it's the best decade in the history of Ohio State football in my opinion. The 70's were what they were...they kind of tailed off at the end and of course Woody Hayes was fired. It was a great year in '79 for Earle Bruce. So the 70's, the 50's and this past decade were the best. The 90's were OK, but they don't match up against the other three.

DW: One question for you about the whole Tressel situation...how long do you think it will be...or do you think it will ever happen...that Jim Tressel dots the "I" at Ohio Stadium?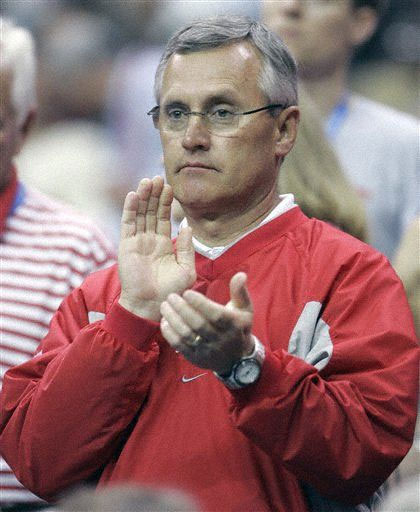 SH: That's a good question. I think it could happen...I don't know that it necessarily will happen. Now they're taking kind of an arm's length approach to Jim Tressel..everybody there is trying to distance themselves from him in most ways. It's very rare that you see them acknowledge him. They put up a big display about him at the football facility, but other than that, they really don't go out of their way to talk about how he was the coach there, and did so many great things. I think that will change over time. You look at someone like Cris Carter, who was kind of personna non grata for a time, but who sort of got back in the family...although I think it was mainly Tressel who made that happen. I think it's possible one day...I think he deserves his place on Mt. Rushmore there...with Woody Hayes and Paul Brown and whoever else...Fred Taylor probably.

DW: I wanted to talk a little bit about the season leading up to the BCS title game. The 2002 Buckeyes played in so many tight games that year. Cincinnati, the last-minute win over Purdue...Illinois, Penn State...and of course the Michigan game. These guys were no strangers to playing close ball games...

SH: No doubt about it. You hear people talk about the greatest teams ever in college football, and nobody ever mentions the 2002 Ohio State team, even though they were 14-0...I think the second team ever to go 14-0. Nowadays it happens once in a while with conference championship games included...but the problem is that this team wasn't necessarily dominant. Up and down the season, in terms of scores...statistics...they just slid by people week after week after week. They had some games where they were dominant...they had some blowouts, but those were opponents like Kent State, San Jose State, Minnesota. Remember that the year before, they were just 7-5. They found ways the year before to lose close games...you lose to Wisconsin by 3...at Penn State they were ahead by 18 and they lost by four...but they came back with essentially the same team in '02, and found a way to win the close ones.

DW: Maurice Clarett was a big part of that, I think...

SH: Yeah, he kind of put them over the top in some of those close games...they could rely on him running the ball, and getting positive yardage. That stretch...they beat Purdue by 4, Illinois by 7, Michigan by 5, ...even two weeks before that they beat Penn State at home by 6 without scoring an offensive touchdown, the Wisconsin win by 5...I mean from there on down it was just dicey week after week.

DW: Another footnote to that season was that, even going 14-0, they didn't win the outright Big Ten title, because Iowa was 8-0 in the conference that year as well. Tressel didn't accomplish that feat until '06, which was the first outright Big Ten title for Ohio State since 1984.

SH: Kind of a funny story...a buddy of mine after the Fiesta Bowl went into the bathroom there at the stadium, and all the OSU fans were whooping it up in there...and of course before the game there had been all this talk about Iowa this and Iowa that...and you remember Iowa got destroyed by USC, I think, in the Orange Bowl, and one of the OSU guys goes..."yeah, it's great...but we wouldn't have beaten Iowa"...and everybody got a big laugh out of it.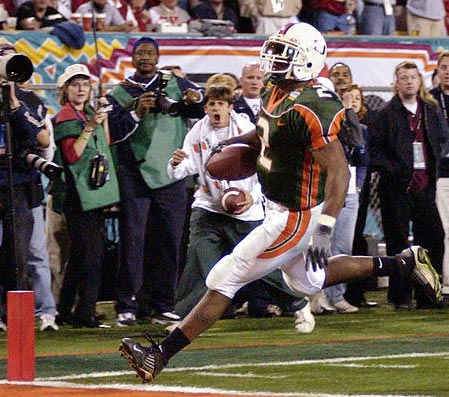 DW: I wanted to go back to talk some more about those heavily favored Hurricanes. The talent on that Miami team really was amazing...on offense you had Willis McGahee (pictured), Frank Gore, Kellen Winslow Jr., Andre Johnson, Eric Winston...people who are big time pros today. Even on the defense...guys who were not really well known then, but who later turned into NFL first round picks...like William Joseph, Jerome McDougle, Jonathan Vilma. Sean Taylor of course was on that team too...and D.J. Williams. In the book you count some 38 players from that game that eventually played in the NFL, and it was kind of surprising that there were actually more Buckeyes (20) than Hurricanes (18) that made it to the pros...at least by the time the book came out.

SH: Yeah, that's one of the best parts about holding this book till the middle of 2006, we were able to get a better gauge on some guys...I mean Hawk and Carpenter for OSU were on the team, but they were bit players in '02, although Hawk got to play a little bit in the championship game.

DW: And it really was the Miami guys who were getting all the hype. Admittedly, some of the OSU guys on that list did turn out to be marginal NFL players...Olivea, Krenzel, Wilhelm, to name a few. And speaking of the pre-game hype, the end result really made some of the national media figures look foolish after they had made some crazy predictions about how badly Miami was going to crush the Buckeyes, didn't it? Guys like Tim Brando and Jim Rome and others you quote in that article made some outlandish predictions. I was kind of nice I guess to rub their noses in that after the game.

SH: Yeah that's one of the neat things about saving some of the things that were written and said about Ohio State in the days leading up to the game. People put stuff down on paper, and out on the Internet and out over the airwaves, and it gets picked up and saved for posterity's sake...and boy oh boy, do you learn some valuable lessons about using any kind of exactitude...you just can't speak with any kind of 100% certainty about something like a football game...especially one between two teams that are undefeated. They both played a great season...and for anybody to sit there and say one of them is going to blow the other one out...well, that's just ridiculous. I think this was a lesson that a lot of people learned...that there are just no certainties in life.

First Quarter - (play-by-play)

DW: Jumping right into the game, Steve....and we'll kind of just blow right through it...First quarter...the Bucks go 3-and-out, but on the first Miami play, Will Smith breaks through and knocks Dorsey down for a sack. The coaches and players said later that that play really jacked them up. If there had been any doubt in their minds, maybe after that play there wasn't quite as much.

SH: Yeah, I think there was a lot of hype about Miami's offensive line. I think they had limited the sacks to about ten for the season, and OSU was able to get a couple of them early, including Smith's on that first play, and I just think that gave them some confidence that hey...they might be a great team, but they're not some mythical figures, and we deserve to be right here on the field with them, and so on. I think that first quarter went a long way...when Miami didn't come right out and jump on them, that gave OSU a lot of confidence.

DW: One thing that I had lost sight of nine years out...I remembered that Ohio State led at halftime, but I didn't really recall how tough they had it in that first quarter, especially offensively, with a couple 3-and-outs...and Krenzel throwing a pick...and not even getting a first down until there was less than a minute to play in the period....the quarter ending 7-0 Miami. It was the second quarter when they started to get it together. By the way, I've got to ask you...how many times did you watch this football game to get this project done?

SH: It was a case where...obviously I taped it...and I got some good DVD's and watched it on ESPN Classic, etc. The deal was, when I went through it and watched it, I probably watched each play four or five times...just to make sure I got everything...the formation, the personnel...you know, who really made the play, what happened, and to kind of explain it. And of course I listened to what Keith Jackson and Dan Fouts were saying to put it in the context of the overall. But it probably took me several months to do it.

Back to the impetus for the book...at the time we were publishing Bucknuts -The Magazine, probably in '06, and I came up with this idea that I would do a chapter devoted to the game each month. So when we were done with that, I assembled it all into the book. So it was not anything like sitting down one night and reviewing the game. It was a compilation of several months of work.

Second Quarter - (play-by-play)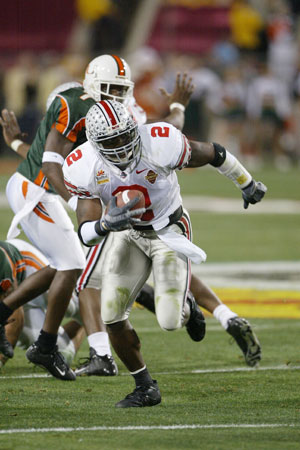 DW: So the Buckeyes finally get a first down right at the end of the first quarter, and then Dorsey helped get them going by throwing two interceptions in the second. What were you thinking when Tressel tried a fake field goal there early in the 2nd on OSU's first chance to score?

SH: Yeah, that seemed like sort of a weird call there. I mean, your kicker (Nugent) was a great high school football player at Centerville, but I don't think even he in his right mind would want to run the ball against that Miami defense...and he got clobbered pretty good. In Tressel's defense...I recall the comment he made was that he didn't think a field goal was going to be good enough, so he was kind of pressing there early to get a touchdown. It backfired on him, but as you said...thankfully Dorsey, who wasn't prone to make a lot mistakes, turns it over to them and they get a chance to make some things happen.

DW: Right. After the botched fake field goal, Dorsey throws the tipped ball interception to Mike Doss, and he runs it down to about the 17-yard line. With the slow start for OSU, and the Buckeyes down 7-0, that had to be one of the 3 or 4 biggest plays of the game right there.

SH: No doubt about it. Ohio State took over on the 17...there's nothing like a short field, but even at that, it wasn't easy. It took them seven plays to put it in the end zone, and Krenzel snuck it in there on 4th and goal from the 1. So they were taking chances. The fake field goal....they went for it on 4th and goal at the 1....just over and over they were doing everything they could to stay in this game. It took them over three minutes to score from the 17-yard line, so it was not an easy thing.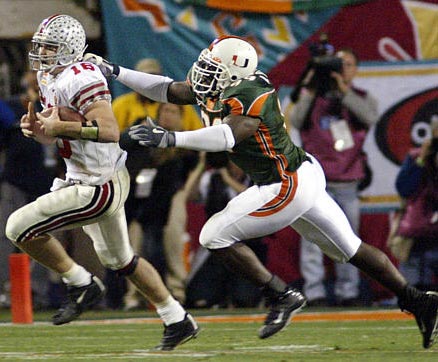 DW: I wanted to ask you about what Tressel called "the quarterback stuff"...in other words, their plan to use Craig Krenzel running the ball. If anything in the game surprised me, that was it...because it hadn't been a big part of their offense during the year...the quarterback sneaks and quarterback draws...because Krenzel wasn't the most athletic of quarterbacks either, so that was a little bit out of the blue. Do you recall it that way?

SH: Yeah...he hadn't been a big runner or anything like that. I think that they just figured that Miami would be keying so much on Clarett, and trying to keep the receivers under wraps, maybe there would be some things for the quarterback there. As I recall, maybe one of their earlier opponents...West Virginia or Syracuse had kind of exploited that against Miami, so I think they took their cue on that from what had happened in a previous game.

Third Quarter - (play-by-play)

DW: Moving into the 3rd quarter, the Bucks hold Miami to a 3-and out, and then two huge plays happen that set the tone for the quarter. First is the 57-yard completion to Chris Gamble that sets OSU up first and goal at the Miami 6-yard line. They can't capitalize though, because the second huge play...the one everyone remembers...stops that drive. Sean Taylor intercepts Krenzel in the end zone, only to be stripped of the ball by Clarett during the runback...one of the craziest plays ever. Revisit that sequence for us with what you remember about it, and its importance in the game.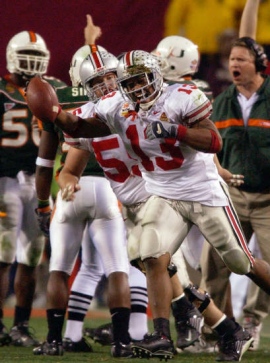 SH: Pretty amazing situation down there...they get a first and goal at the 6...and then they throw the interception, and Taylor starts heading the other way with it...and Clarett comes out of nowhere and strips the ball away from him on his way down. It was just unbelievable...when you think about the turn of events there. I mean, yeah, Ohio State was denied the score...here's Miami making a big play to get the ball, but Ohio State always just seemed to be one-upping them. Every time something would happen, the Buckeyes just seemed to have an answer, and this was another case. They got it again at the 28-yard line...and only got a field goal out of it...so they were able to get their lead up to ten points early in the third quarter. I don't think anyone thought that was going to be enough, but at least they got the three points.

DW: To me that play was sort of a microcosm of the game...Miami makes the athletic play, but the Buckeyes prove to be the more resourceful team.

SH: Clarett was an amazing football player. That's the first thing that I think people forget. After nine years and everything that's been said about him...he was just an amazing, amazing football player. He was a smart football player. I can go back to his high school days. He made plays that other people just didn't make, because he had that awareness...that sense, or whatever. He said that he had been coached that if anything like that happened, to go for the strip...and it really does make a lot of sense, because defensive guys just aren't used to handling the football all the time. And he pulled it off. Instead of going for the tackle, he went for the ball. If he whiffs on the strip, it's probably a touchdown going the other way. So he took a huge gamble and it paid off with a field goal. But there was still a quarter and a half to play.

DW: It was about that time that Kellen Winslow Jr. started to assert himself in the game, with the Buckeyes ahead 17-7. He caught three or four passes on the next Miami drive, and started to show that he wasn't going to go down without a fight.

SH: Winslow had a tremendous day against the Buckeyes. I had watched their games leading up to that, and I think it was obvious he was a tough match-up for anybody they played all season, and that was the case against Ohio State. The Buckeyes really did a great job on Andre Johnson...Gamble was giving away about 40 pounds to him, but they really held him in check. But Winslow...not so much. Dorsey found him time and again, whenever he needed to convert a key third down, they went to him. And then McGahee scored the touchdown there late in the third quarter that made it 17-14, so yeah, like we've said...this was an all-star team...just a tremendous team across the board that the Buckeyes were able to defeat.

Fourth Quarter - (play-by-play)

DW: There are so many little things about this game that I was reminded of reading your account...like the big play by Dustin Fox in the fourth quarter. McGahee has been lost to the Hurricanes after the hit on his knee by Will Allen. Miami is driving into OSU territory when Fox strips Lamar Parrish of the ball after a completion, Allen recovers it at the OSU 18 with 5:08 to play, and it looked like the Bucks might be able to put it away if they can get a couple of first downs. They get one, but when they can't get the second one, they had to punt to Parrish, who made another one of those huge plays in the football game.

SH: That was a tremendous turn of events there. Groom hit a big punt there, and Parrish fields it, and you had guys like Doss and Nickey on the coverage team...on the biggest punt coverage of the season, and Parrish was able to get around those guys. There were a couple of big blocks on the play. Everyone remembers there was a really big hit on Mike Kudla on that punt return. He got leveled. Andy Groom had to make the save, and Miami got the ball on the OSU 26-yard line, with 2:02 to go. And now you're thinking...man...three points seems almost a certainty to force overtime, and that's if Ohio State is able to keep them out of the end zone and prevent the game-winning touchdown.

DW: Tell us about that big play for OSU on second down there....the sack that might have saved the ball game for Ohio State.

SH: Probably the play of Simon Fraser's career. He was, I think, a sophomore at the time... a nice player...he had a decent career at Ohio State, but I don't know if he ever had a play bigger than that. It was 2nd and 9 and he got a sack that put them back around the 30-yard line....the clock was running ...all this other stuff was going on....and Miami only had one time out left. So it was kind of a critical thing...they were backed up after the sack with about 1:16 to go, and the clock was running...and it's 3rd and 14 from the 30...

DW: ...so now you're thinking field goal again, instead of touchdown...

SH: ...you put yourself in Miami's shoes...to get the touchdown to win the game you need 14 yards...better yet, you better position your field goal kicker to get the certain three...and they had a good kicker in Sievers...he had a huge leg...get in position and get the certain three...which they did. I think they completed a short pass to Payton, filling in after McGahee's injury, down to the 23.

Ohio State used all their timeouts to ice him. It was something like four and a half minutes between plays...from the end of the third down play till the kick, and I think people were just sitting on pins and needles...you know, the national championship was on the line with a kick, and as I said, Sievers...how clutch was that? It doesn't get any better than that....40 yards to force overtime in the national championship game...

DW: And if I recall, he barely sneaked it inside that right upright...

SH: I was underneath the the goalpost and I got a picture of the ball going through just inside the upright. That ball slips right, there isn't any overtime...but the game gets even better in overtime...

First Overtime - (play-by-play)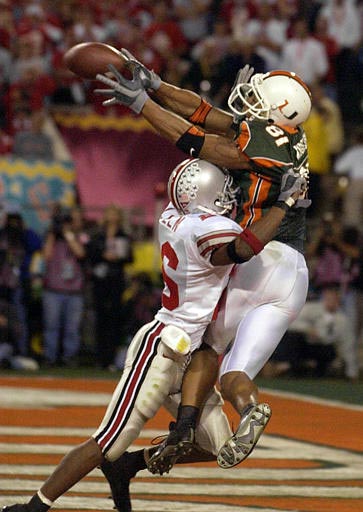 DW: Miami gets the ball first in overtime, and right away Winslow makes a spectacular catch in the end zone over Will Allen...who interferes on the play, but it's still an incredible catch right off the top of Allen's helmet...

SH: We got a great picture of that in the book. So they go up 24-17...and just the nature of college football overtime, it's kind of like baseball in extra innings, when the team that gets the ball first scores, the onus is on you to match it or you lose the game right there. Ohio State came out...it was very quick...five plays...Miami scored...made it look real easy, and now the Buckeyes are having to play catch-up in the overtime.

DW: Which leads us to "The Play"...the overtime possession in the first OT for OSU. Not only did we have the huge 4th and 14 conversion, Krenzel to Jenkins, but then of course the famous pass interference call later on. What do you remember about that sequence?

SH: Oh, wow....that first overtime, for an Ohio State fan...was excruciating. They got a sack...Miami knocked them back to about the 29-yard line. So it's 4th and 14, and Ohio State calls a timeout to discuss what they want to do....they came up with the play call and hit Jenkins on a comeback route for 17 yards down to the 12-yard line. They got it all the way down to the five, where they had a 4th and 3 on the second series.

Krenzel throws the pass, and you end up with one of the most debated calls in the history of the sport, when you think about it. He throws the ball in the right flat to Gamble, and the DB was Sharpe on the play. The replay kind of shows that he grabbed Gamble as he put the ball in the air and then Sharpe lets go of him, the ball arrives...went over his head, but we've got a picture of it...the ball going by...and Sharpe's already got him locked up. In my opinion...my feeling was that it was a penalty. I don't know the technical definition...whether you call it holding or pass interference...

DW: At that point it didn't matter...inside the 5-yard line, it was a first down either way...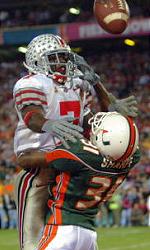 SH: No, it didn't matter. It was a first down. I think what people didn't like was the lateness of the flag...from the back official. He was probably deferring to the guy standing at the goal line...figuring, you throw it...you're the closest guy.

DW: But you've got to call something there...holding or pass interference. I always refer people back to a Dennis Dodd article that came out several months later...saying in effect...enough, people...the refs got it right. And I think the definitive piece on the subject of the officiating was something Tom Orr wrote at The Ozone a couple days later, which makes the case that if the refs had called the game better, there might not have been an overtime...since there were missed calls earlier that should have gone the Buckeyes' way, and would have ended the game in regulation...

SH: ...the Gamble catch....

DW: Yes...talk about that play.

SH: There was a key 3rd down catch by Chris Gamble in regulation where he was in bounds. If we had replay at that point, they would have gone back on replay and overturned that call.

DW: Because he clearly caught it, and it looked like he was in bounds...plus he was also held on the play.

SH: The problem is that when you get on the sidelines at these places where there is grass, the line is so worn out that the officials can't see where the line is, it's like a big white blur over there. Cause you've got the hash marks on the sideline...and you have the area where everyone has trampled and where the paint is just a big blur.

DW: If I recall, they never went back on the telecast and replayed that one.

(Edit: Actually, they did...the play is at the 1:54:00 mark of the YouTube - Part 1...Fouts: "...he came real close to making that catch, Keith"....Jackson: "Yes, he did"....During the replay:Fouts: "the hold there...that should have been called...")

SH: I'm not sure they did right away...the game was moving so fast at that point, but I do recall seeing a slowed down version of that play sometime later on from the field level from the endzone where you could see down the sidelines he got it in bounds...there was no doubt about it.

DW: And like you say, had that been today, in a BCS title game...they would have had replays from ten different camera angles.

SH: It was important because it would have been a first down for Ohio State with about two minutes left on the clock, and they would have been able to run the clock down to at least under a minute, and punted with maybe just a few seconds left instead of two minutes plus.

(Edit: Miami had only one timeout remaining at the time - DW)

DW: Instead, we got the big Parrish punt return and the tying field goal. And still today I think there are people who would say that championship is tainted for OSU because of the pass interference call....not around here, of course...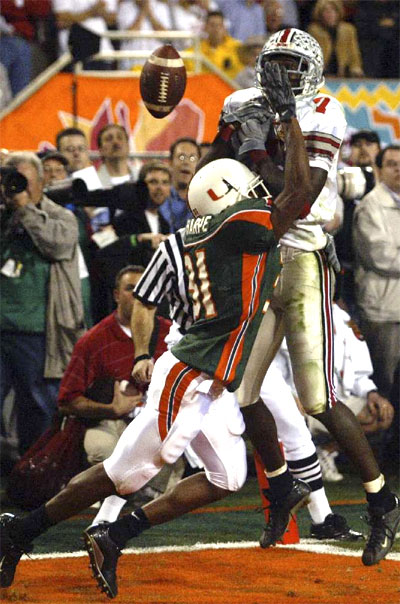 SH: No..I think that's ridiculous for anybody to assert that or to believe that. It's the human element that's involved in the game. That's just the fact of the matter...I mean there have been bad calls...but I don't think this was a bad call. I thought this was the right call. The defensive back hit the receiver before the ball got there. I'd have to take it frame by frame, but holding is where you hold the receiver and won't let him get out of his break...pass interference is where you make contact with the receiver while the ball is in flight. Somebody who's an expert on it could tell me definitively what it should have been, but he fouled the receiver. There's no two ways about it. I mean he held him, and didn't let him get his arms up to catch the football.

DW: I realize the whining is coming mostly from Miami, but still to this day we hear some of it. One other little thing I forgot about. How about the penalty on that extra point? Talk about sucking it up. You relate in the book about how the Bucks get a false start on the extra point, and Nugent tells his guys something to the effect of, "don't worry guys... I got this".

SH: They had a false start on the extra point. In overtime, they score seven, you've got to score seven...six wouldn't have been good enough. You get that blocked or miss it, the game's over. I remember probably ten years ago, Michigan beat Alabama on a missed extra point in overtime. They celebrated like they won the World Series or something, and I'm thinking geez, you just won on a missed extra point. Kind of an anti-climactic way to end a game. But anyway the Buckeyes pushed it to a second OT, and in this one they get the ball first, and Clarett gets the touchdown.

Second Overtime - (play-by-play)

DW: Yeah, that's another famous photo of Clarett going in laid out horizontal about three feet off the ground. That was kind of a quick TD by the Buckeyes in that second OT, wasn't it?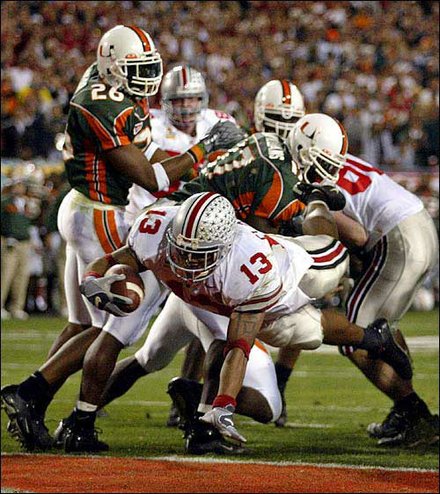 SH: It was five plays, 25 yards....what really happened...on the very first play...and this might have been the biggest play of Lydell Ross' career...a 9-yard gain on the first play of the overtime. Lydell made a great run. Anyway he set them up, and on 2nd and 4 at the 5-yard line, they gave the ball to Clarett...and Olivea and Clarke did a great job blocking it...Hamby and Hartsock as well...and they punched the ball in the endzone with Clarett...his last carry as a Buckeye. Amazing that one year, and he was done, and that was it. He went out on top with a touchdown in overtime that turned out to be the game-winning score in a national championship game.

DW: So we're down to Miami's possession in the second OT. The first big play there I thought was the hit that Matt Wilhelm put on Ken Dorsey. I remember thinking, wow...no matter what happens next, at least we got that shot in. I couldn't believe Dorsey came back in the game after that.

SH: Yeah, he went down, and then came back in...had to sit out a play. The backup quarterback had only attempted 25 passes. It was 3rd and 11 at the 26, and he threw the ball to the fullback out of the backfield. It set up 4th and 3...they were able to get Dorsey back in the game, and he throws the ball down the middle to, I believe, Winslow. Well, there's a face-mask call on the end of it, and they move the ball all the way down to the 6-yard line. And this is another play that makes this game so special...neither team went down without a fight. Here's Dorsey...injured, national champions the year before...not going to give it up easily, back into the game, it's first and goal at the 6.

Gamble then gets nailed for pass interference in the end zone, and they put the ball at the 2-yard line and you're thinking...

DW: you're getting ready for overtime No. 3.

SH: Yeah, we're going to a third overtime very shortly, because there's no way Miami's not going to score...from the 2-yard line, with all that firepower...I mean McGahee is out, but they've got everything they need to score...and yet somehow the Buckeyes held them out.

DW: They ran on first down and third down, but on second down Dorsey missed a wide open receiver.

SH: I think it might have been the accumulation of the beating he had taken...maybe that factored into it...he wasn't quite right...but I think it was Eric Winston, the other tight end, was open in the flat, and he kind of just threw it out there...and he just missed him...it should have been a touchdown. Even Dantonio is quoted in the book as saying "we got lucky on that play".

DW: By the way, do you think the pass interference call is even as controversial as it turned out to be if Dan Fouts doesn't yell out "Bad call!"? I mean Dan Fouts was something less than objective in this game...

SH: Yeah...Kellen Winslow is like his brother. It's ridiculous. It's just ridiculous. It wasn't his place. And it wasn't a bad call...that's the thing.

DW: I think he contributed to the controversy by yelling that out at the time.

SH: I remember one of the big refereeing magazines came out with a big expose on the play, and somebody who was impartial took the national supervisor of officials through the play, and he concluded that it was the right call. Now, some of that is they're going to cover themselves too, and they're going to back their own people to the hilt.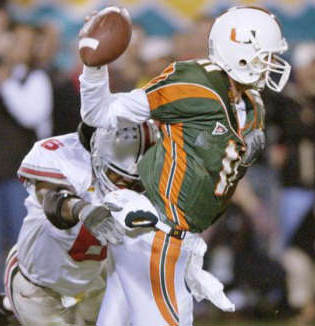 DW: So...back to the second overtime...last play of the game....Tight Hawk Tulsa, I understand, was the call. It was Cie Grant coming off the edge to grab Dorsey and end the game. Credit Dantonio for that?

SH: I think so. I think that their feeling was that weren't going to let Dorsey stand back there and allow a guy like Winslow or whoever, to finally come open. They weren't going to rush three or four and drop seven into a zone and give him some time. They didn't want that. They wanted the ball out of his hands as soon as possible. They wanted a man in his face at that point. They had battered him pretty well at that point, and they just figured, we've got to get in his face. And boy, what a mix-up Miami had...they didn't block Grant on the blitz off the edge, and here he comes unabated to the quarterback, and grabs a hold of him as he's throwing the football, and forces the quick incompletion. There wasn't even a receiver...he just threw it up in desperation.

It was a gamble, but it turned out to be a great call by Dantonio. Nine years later, his record kind of speaks for itself...with everything he's accomplished. He was a great defensive coordinator, he's been a really good head coach, and he was on top of it that day. This was a team that had been scoring what...35 to 40 points a game, and he held them to 17 points in four quarters.

DW: So...you're on the field after the game, Steve...what do you remember...give me some sense of what that felt like...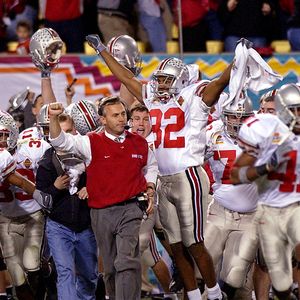 SH: It was jubilation...it was disbelief...no one could believe that Ohio State had done it. The players were just ecstatic...screaming, yelling, jumping around, hugging each other and celebrating. What was neat was that they had the regular post-game ceremony, and a lot of the guys crowded up on the stage there, and they got the trophies.... and Tressel...you know, everyone made him out to be some sort of a colorless automaton or something, but he showed a lot of spark after the game there with some of his comments...a lot of excitement, and it was just a great moment.

It was probably the best Ohio State moment I can recall. For any Ohio State fan 40 and under, it's probably the greatest moment following Ohio State football...that post-game scene there...people said they stayed up all night and watched the game again and celebrated. I think for the players, what was telling to me was, they had the ceremony, and when that was done, they all marched right over to the band and sang "Carmen Ohio", just like they normally do, and just celebrated...it was a big deal....and a lot of fun. Afterward, they went back to the hotel and partied all night, and got up the next day and came home...had a big parade...had a big celebration. That's just how you treat the champions, I guess.

DW: Steve, thanks so much for taking the time to talk with us. I know the Cleveland Fan readers appreciate it as well.

SH: No problem...I love talking about it, so...anytime.

---

To get a copy of Steve Helwagen's "The Greatest Game Ever Played" , order online at eBay here, or send a check for $20 to:

Steve Helwagen
PO Box 34
Pataskala, OH 43062

---

on Twitter at @dwismar

Dan's OSU Links and Resources

---




Jan 03, 2013 2:00 PM
Last Updated:

Jan 03, 2013