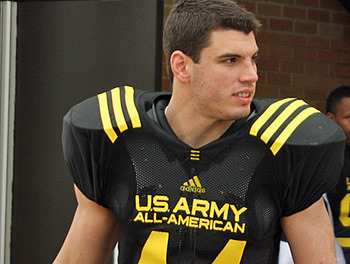 The football season never ends in Columbus, so there is quite a bit to report on, despite the fact that the Buckeyes played their last game more than six weeks ago. Your dutiful correspondent took an extended breather after the fall grind, but expects to be back to a regular Leaves column throughout the winter and spring. Today we'll briefly recap the Big Ten bowl games, and then bring you up to speed on the 2013 football recruiting class and talk about long term scheduling.
Bowl Wrap

The Big Ten went bowling without its best team, and arguably without two of its four best teams, when you figure in Penn State's absence. The conference's 2-5 bowl mark included an impressive performance by Northwestern over SEC opponent Mississippi State, and a squeaker over TCU by the Michigan State Spartans, but the top of the Big Ten card fared less well.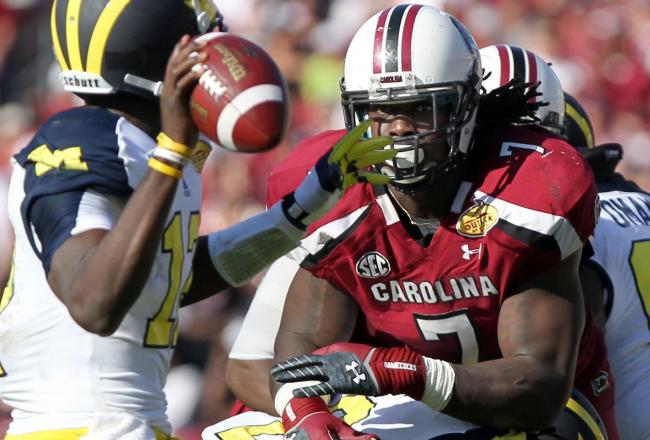 After the Wildcats' win in a noon kickoff, New Years Day went downhill for the B1G's. Michigan, Nebraska and Wisconsin were all matched up slightly over their heads, against teams ranked in the Top 10, and all three came up short, with #10 South Carolina, #7 Georgia, and #6 Stanford, respectively, knocking off the best the Big Ten had to offer. All three games were competitive and close, however, especially the Outback Bowl, where Michigan had no excuse whatsoever for caving in the final seconds against the Gamecocks.

Speaking of competitive, Purdue wasn't...getting thrashed by Oklahoma State as the Boilermakers took the field in limbo between their outgoing and incoming head coaches. Minnesota showed some game against Texas Tech, but fell 34-31, demonstrating again why teams with 2-6 conference records shouldn't be playing in bowl games.

The 12-0 Buckeyes finished at #3 in the final AP poll, behind champion Alabama and #2 Oregon (12-1), whose only loss was to #6 Stanford. By the way, don't ask how Notre Dame (#4), who got crushed by 'Bama, comes in ahead of Texas A&M ( #5), who beat the Tide in Tuscaloosa and pummelled Oklahoma in the Cotton Bowl...'cause I got nothin'. Most of the "way too early" informal polls for 2013 have the Buckeyes firmly in the Top 5.

Tweeters celebrating after the title game Monday night that the Buckeyes were once again bowl eligible were quickly reminded that Ohio State still has to win six games in 2013 to get there. Looking at the relatively soft OSU slate for next season, the more pressing question in Buckeye circles is whether or not Urban Meyer will be 25-0 at the helm of Ohio State by the first week of December.

2013 Recruiting Wrap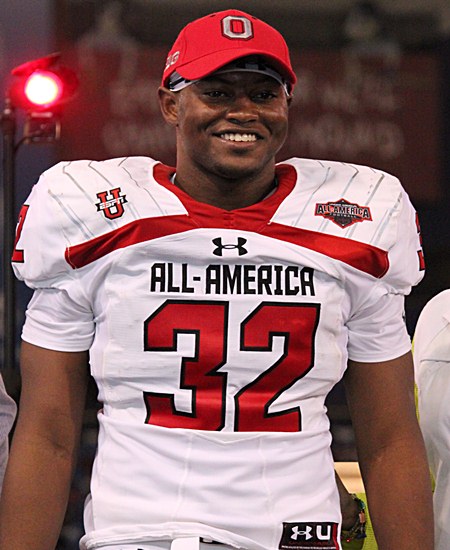 The OSU program focus these days is wrapping up the 2013 recruiting class, which currently stands at 22 commitments, and the expectation is that only two or three more names will be added to the list before signing day on February 6th. Nationally-ranked linebackers Trey Johnson and Mike Mitchell gave their pledges to be Buckeyes last weekend at their respective all-star games, becoming the first LB's to commit to OSU in this class, and filling a glaring need on the roster.

Johnson (#32 at right) is rated the nation's #4 inside linebacker by Rivals, and Scout has him at #16 in their OLB rankings. Mitchell (pictured at top) is a 5-star on Scout, and is rated the #2 inside linebacker in the country, while Rivals ranks him as the #3 outside linebacker in the nation. Those differences of opinion by the scouting services on where these two guys project in college are an indication of the versatility and speed possessed by both of them. It's too soon to tell where they'll play in Columbus, but anyone who has watched this team play for the last two seasons knows the middle linebacker spot is wide open for the taking.

And Friday evening brought word that Glenville safety/linebacker Chris Worley has given his commitment to be the 22nd member of the class of 2013. Worley (6' 3", 195) has long been penciled in as an eventual Buckeye in this group, and was presumably just waiting for the time (or the numbers) to be right to announce for OSU. The staff is very high on Worley's long term potential, most likely in the S/LB hybrid ("Star") position, or possibly as an outside linebacker as he fills out physically.

The Crunch

Now the numbers crunch starts to close in on Urban Meyer and his staff. According to the roster-watchers who verify those numbers, with 22 commits, and the known returnees from the 2012 roster, Meyer is right at, or just over his sanction-limited maximum roster number of 82 scholarship players. This means that any additions to this recruiting class would have to be counteracted by attrition from the roster of returning players as yet unidentified.

There is almost always a handful of players whose OSU careers come to an end each off-season, for a variety of reasons...some injury-related, some academics-related. Still others see their prospects for playing time forever blocked by younger and better talents, and decide to transfer, often with the blessing, if not the encouragement of the coaching staff. In any event, the 82-man limit does not have to be reached until fall (August) practices begin, and you can bet that Meyer and recruiting coordinator Mark Pantoni know exactly where they stand with each and every player on the roster with regard to his future at Ohio State.

Receiver Verlon Reed has already announced his intention to transfer, and other roster moves include Johnathan Hankins' decision to turn pro a year early, and Bradley Roby's decision not to. Starting running back Carlos Hyde briefly flirted with the idea of jumping to the NFL, but he will return for his senior year, and tailback Jordan Hall has been granted a medical redshirt year, and will be back for his sixth year in Columbus.

Breakdown

To date, the class of 2013 includes six defensive linemen, five defensive backs, three linebackers and a punter. On offense, it's one quarterback, two offensive linemen, two receivers, one running back and one tight end.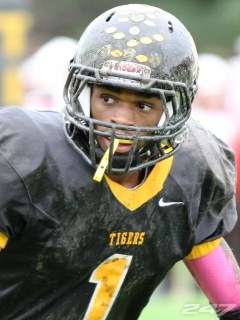 It is widely thought that Meyer will add at least one more receiver, with Cleveland Heights star Shelton Gibson (Scout #19 WR) the top target for that role. Gibson (pictured) is in town this weekend on his official visit, and if his academic situation is in order, something that has been at issue from the outset with him, a commitment would surprise no one. Meyer is also pursuing a couple of nationally-rated offensive tackles, including Tennessee commit Dan Skipper, and if he can get the quality he wants at tackle, he'd love to add one to the class.
The wild card at receiver may be Corey Smith, a 2012 recruit from Akron, who went the junior college route and is now committed to Mississippi State. The OSU coaches reportedly like Smith as much as Gibson, and he is in town this weekend and has an offer from Meyer. Taking both is a possibility, but Smith could sneak in and leave Gibson without a spot.

The top remaining target overall is undoubtedly Georgia's Vonn Bell, the nation's 2nd-ranked safety, who is visiting this weekend, and has reportedly narrowed his choices to OSU or Alabama. Bell is a special talent, with safety instincts to go with the speed and coverage skills of a top flight cornerback. If Meyer can pry him from the south and the clutches of Nick Saban and the Tide, Bell's pledge could vault this OSU class up to the #1 or #2 ranking in the country.

At the moment, Rivals (247 Sports) has OSU ranked #3, ESPN has them at #4, and Scout.com ranks them #3 in the country. Any closing spurt that includes Bell and/or Gibson is likely to push OSU up at least one notch on those charts...but then immediately after Feb 6th, the rankings always diminish in importance, and fans begin to anticipate how the individual talents are going to impact the roster and the program overall.

Heavy on D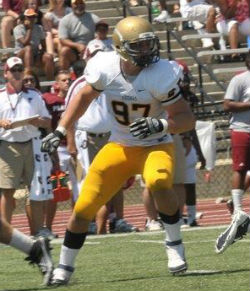 This recruiting class is special on defense. The newly-committed linebackers were mentioned above, but Meyer has once again loaded up on defensive linemen, a group headlined by 5-star talent Joey Bosa (pictured), the nation's #4 defensive end out of Ft. Lauderdale. Northeast Ohio standouts Billy Price (Austintown Fitch), Donovan Munger (Shaker Hts), and Tracy Sprinkle (Elyria) join 4-star DT Michael Hill from South Carolina and North Carolina's Tyquan Lewis to round out a formidable incoming unit up front.

Then consider that, in Cam Burrows, Eli Apple (formerly Woodard), and Gareon Conley, Meyer has landed three of the nation's top 12 cornerbacks. Ohio-bred safeties Jayme Thompson (Scout #20) and Darron Lee (Scout #29) could potentially be joined by Bell to complete a stellar class of DB's.

Speed Kills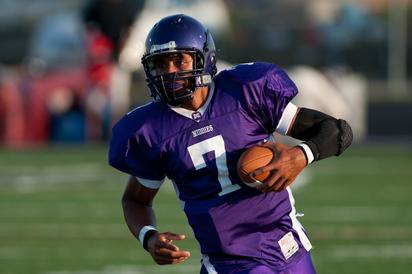 Then there's the speed Meyer has brought in on the offensive side of the ball...probably the hallmark of this class. All-everything back, Ohio's Mr. Football, Jalin Marshall (Scout #6) from Middletown leads an offensive quintet (likely joined by Gibson) that includes St Louis speedster Ezekiel Elliott (Scout #9) at running back, wide receiver Taivon Jacobs, a 4.4 sprinter from Maryland, dual-threat quarterback J.T. Barrett, (Scout #13) from Texas, and California tight end Marcus Baugh, (Scout #3) who looks like he could be the best overall athlete to play that position at OSU in many years. Meyer wanted playmakers, and all indications are that he went out and got them in this offensive group.


Evan Lisle from Centerville is the nation's 5th-ranked offensive tackle, and he showed very well at last weekend's Army All-Star game. Joining him on the offensive line is Indianapolis product Tim Gardner who impressed the coaching staff in OSU camp workouts, and both Price and Munger have skill sets that could eventually land them on the offensive line as well. Punter Johnny Townsend will be counted on to replace Ben Buchanan immediately, so Meyer is hoping the nation's #2-ranked punter can live up to his press clippings right away.

---

Scheduling Update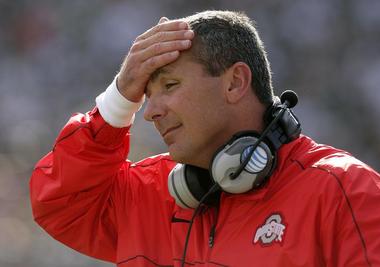 With the Buckeyes now back in the national title picture for 2013, you can expect their schedule for next year to come under criticism for being on the soft side. It's already starting...and there's no denying it. The non-conference slate for OSU in 2013 consists of Buffalo, San Diego State, at California, and Florida A&M. The Aztecs and the Bears aren't exactly pushovers, but you can hear the carping already, especially since Michigan State and Nebraska have rotated off the OSU schedule for the next two years as well, making the Big Ten grind a bit softer than it's been.

First of all, Ohio State has nothing to apologize for to anyone with regard to scheduling challenging non-conference opponents in September. In the recent past, they have had home-and-home series with Miami, USC and Texas, and in the next decade they are already set to play 2-game sets with Virginia Tech, Oklahoma, TCU, Oregon and Texas again.

With the new playoff format looming in 2014, any program aspiring to a spot in college football's Final Four now knows that the days of scheduling four September cupcakes are necessarily over. Non-conference schedules will come under increasing scrutiny when the powers that be sit down every December to pick the four semi-finalists. The point is that under Jim Tressel, and continuing under Urban Meyer, Ohio State has led by example in challenging their team with marquee early-season matchups against other national powers. The coming season is more of a one-off than a trend.

When OSU set up the series with Cal some 7-8 years ago, Jeff Tedford's Bears were showing up regularly in the top 15-20 teams in the country. They could hardly have foreseen Cal's recent reversal of fortune. Besides, the Bears gave OSU all they could handle last season in Columbus. Furthermore, Ohio State had an SEC matchup on the 2013 slate until Vanderbilt dropped word on them that they wanted out of the date less than a year before the game was to be played, forcing Gene Smith to scramble into the Florida A&M arrangement at the last minute.

So when some SEC fan gives you some flak about the Buckeyes' schedule for the coming season, ask them to look at their team's non-conference slate for the next ten years and see how it matches up with Virginia Tech (2014, 2015), Oklahoma (2016, 2017), North Carolina (2017, 2018), TCU (2018, 2019), Oregon (2020, 2021), and Texas (2022, 2023).

---

Loose Leaves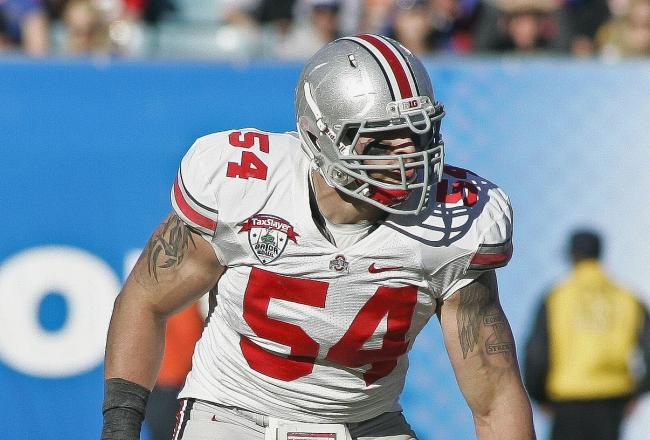 - Seven 2013 football recruits, including two walk-ons, have enrolled in school early, and will be eligible to take part in winter conditioning and spring ball. Eli Apple, Cameron Burrows, J.T. Barrett, Tyquan Lewis and Tracy Sprinkle will be joined by preferred walk-on William Houston, and transfer student Devin Hill getting a head start on their Buckeye careers. Hill and Houston are both fullbacks, and both hail from the Columbus area. Hill spent two years at Purdue, redshirting in 2011. Houston is the son of William Houston, a 3-year letterman for Ohio State in the 1990's.

- OSU cornerback recruit Eli Apple recently changed his surname from Woodard in tribute to Tim Apple, the man who has raised him as his father since Eli was two years old. Apple is from New Jersey, but as you can see here, he has been a Buckeye fan ever since he was in 7th grade.

- Ohio State will be represented in the two primary postseason all-star games, which essentially double as NFL tryout camps. Defensive lineman John Simon and offensive tackle Reid Fragel have been invited to the Senior Bowl in Mobile, Alabama on January 26. And it was announced by the university this week that defensive end Nathan Williams and cornerback Travis Howard have accepted invitations to play in the 88th East-West Shrine game, to be played January 19, in St. Petersburg, FL. Both games are set for 4 p.m. kickoffs, and both will be televised on NFL Network.

---

on Twitter at @dwismar

Dan's OSU Links and Resources

---

Photo credits:
Kim Klement - USA Today Sports (Outback Bowl)


Jan 12, 2013 12:00 PM
Last Updated:

Jan 14, 2013