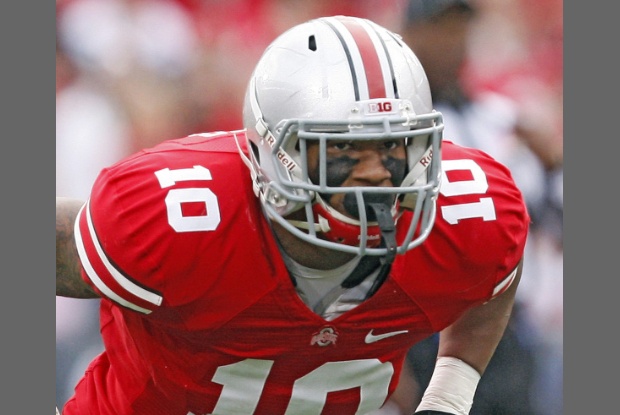 Spring football is underway in Columbus and the expectations of Ohio State football are the customary ones. As Urban Meyer begins his second season at OSU, the next game he loses will be his first, and the talk of a second consecutive unbeaten season is everywhere. Which is of course, nuts.
The 2013 schedule is manageable, if not embarrassingly soft on paper, but Buckeye fans anticipating 13-0 (counting a B1G title game win) should remind themselves just how difficult it is to pull off an unbeaten season in today's game. The Alabama Crimson Tide, supposedly the greatest assemblage of football talent and coaching prowess since the '72 Dolphins, couldn't manage it in either one of their back to back national championship years.
One out of 126 FBS programs went undefeated a year ago.
The very fact that Meyer's Buckeyes pulled it off last season makes the prospect of doing it again seem even more distant. Before seriously contemplating a second straight perfect season, think about everything that had to go right for them to do it once. Recall how they had to score on a 4th-down play with three seconds left....with their backup quarterback....against a mediocre Purdue team...at home...and then pull off a two-point conversion......to tie....and then win in overtime...just to get one-twelfth of the way to an unbeaten season.
Or how about the last-minute onside kick by Indiana that bounced just the right way for Corey Brown to corral it as several Hoosiers surrounded him...one that that might just as easily have taken a different hop and set up a game-tying field goal and another overtime with the Hoosiers. A heart-stopping one-point win over Michigan State...an overtime thriller in Madison....a game-winning bomb to Devin Smith to break a late tie and beat Cal in Columbus...all could have swung the other way on the basis of a play or two. It's hard to go 12-0.
And yet, there are informed people predicting that Meyer and Ohio State will do exactly that...again, and at least get into January without tasting defeat. Whatever happens, along the way this Buckeyes team will discover the answers to several key questions. Here are five of them.
---
Can a team replace six starters from their front seven and still expect to play defense at a championship level?
Gone are defensive line starters John Simon, Johnathan Hankins, Garrett Goebel and Nathan Williams, all of them at least two-year starters. Gone are linebackers Etienne Sabino and Zach Boren, both of whom came on as seniors to solidify an OSU defense that really struggled early in the 2012 season.
The good news is that two of the returning starters on defense will be on everyone's preseason All-American teams. Cornerback Bradley Roby and linebacker Ryan Shazier (pictured at top) are legitimate stars, with All-Big Ten credentials. The other good news is that the talent on hand in Columbus to replace the seven departing defensive starters is formidable, if inexperienced.
Early in spring ball, it looks like sophomores Noah Spence (#8 at right) at the weak side (Leo) spot, and Adolphus Washington on the strong side, should start at the ends. Both are former 5-star recruits, and both got a healthy taste of game action a year ago. Another 5-star recruit, sophomore tackle Tommy Schutt was lined up with the 1's in  spring drills, accompanied at tackle by junior Michael Bennett, a productive player when on the field, but one who has been limited by injuries in his first two years in the program. Competing for spots in the 2-deep at end are sophomore Jamal Marcus, and juniors Steve Miller and J.T. Moore. Looking to get into the rotation at tackle are junior Joel Hale and sophomore Chris Carter.
Early enrolling freshmen Tyquan Lewis and Tracy Sprinkle have both impressed early as potential pass rushing ends, and they'll be joined in August by four more freshmen defensive linemen, all bringing lots of press clippings.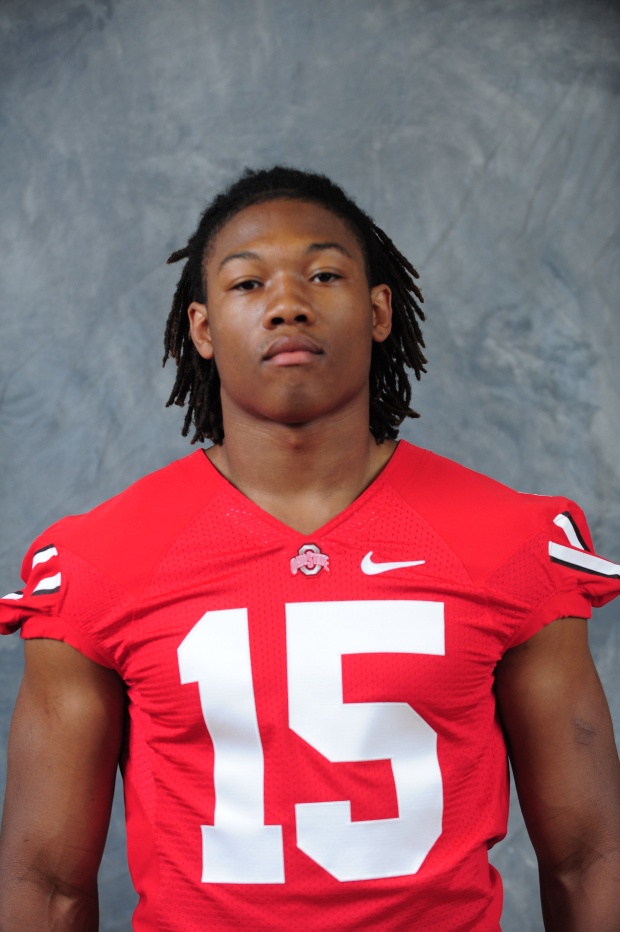 The big question for the 2013 Buckeyes, and the one you'll probably be tired of hearing about long before Labor Day, is who will be playing linebacker along with Shazier. Will it be junior Curtis Grant, the touted recruit with the all the physical tools who wasn't ready to take over in the middle  a year ago? Or will it be sophomore Josh Perry, (#15 at left)  whose combination of size (6' 4", 243 lbs) and athleticism is nothing short of scary?  Perry may have the edge at the moment, as his limited field time in 2012, and his impressive offseason have raised expectations for him.
Sophomores David Perkins, Luke Roberts and Camren Williams look like they're ready to contribute this fall too, and Meyer will welcome three more highly-rated linebackers in the fall, when Mike Mitchell, Trey Johnson and Chris Worley arrive in Columbus.
If the OSU defense plays a high percentage of plays in the 4-2-5 nickel set...and it looks as if they will...there will only be two linebackers (and five DB's) on the field at a time, and the answer to the linebacker question may be as simple as...Perry and Shazier, with a long list of talented and hungry reserves ready to spell them as needed
The success of the 2013 OSU defense then, will not be a question of talent. They have boatloads of it. But up front at least, it is very young, and all eyes will be on the coaching of Luke Fickell and Everett Withers to see how quickly they can make the talent gel into a smoothly functioning unit.
The possibility of bringing back long time coordinator Jim Heacock as an additional defensive mind to help out is a very welcome development. It's hard to see any down side to that move.
---
Can OSU survive their five road tests without stumbling?
At first glance, the OSU road schedule for 2013 doesn't look daunting, but a closer look provides plenty of cause for concern. In Week 3 they travel to Berkeley for a rematch with the Cal Bears under new coach Sonny Dykes, who worked under Mike Leach at Texas Tech, and more recently built the Louisiana Tech program into respectability. Recall that the Buckeyes barely escaped with a win last September in Columbus on a long tie-breaking TD pass to Devin Smith with just over three minutes to play. Know that Dykes will have his Bears throwing the ball all over the field.
Northwestern returns virtually their entire offense, and Pat Fitzgerald could have his most powerful Wildcat team yet lying in wait for the Buckeyes on October 5th. And anyone who has followed OSU's fortunes on their trips to Illinois (11/16) and Purdue (11/2) in recent years knows that neither of those dates will be a cakewalk. Then there's the matter of that late November appointment up north. Yes, Ohio State should be favored in all five games, but they'll be wearing the bullseye on their backs for every one of them.
---
Will Braxton Miller show enough improvement in his footwork and his throwing mechanics to force opposing defenses to respect the OSU passing game, and keep them from keying on him as a run threat?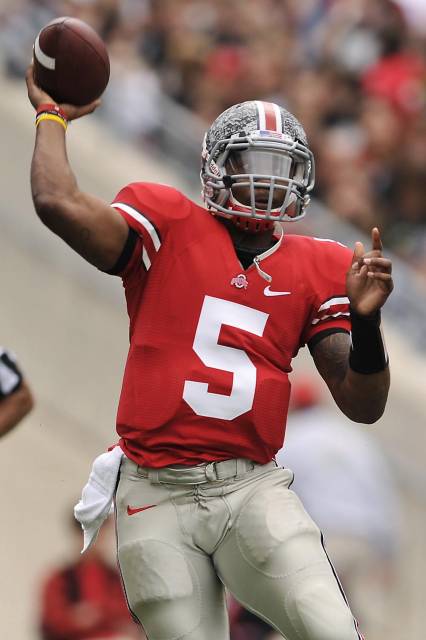 Part of this answer depends on the emergence of more playmakers at the receiver positions, and Jordan Hall's play in his new role as the "H" or hybrid back. Meyer brought in skill position speed galore with his 2013 first-year players, and a full year of experience in the Meyer-Herman offense will undoubtedly make a difference for Miller. But the junior quarterback will also have to make strides as a passer and as a field general, and he has taken the initiative in the offseason to do just that.
Braxton spent the time and money to seek the tutelage of renowned quarterback guru George Whitfield this winter. The Big Ten's Offensive Player of the Year in 2012 wants to get better, and Whitfield was reportedly very impressed with what he saw. Urban Meyer noticed the difference in Miller in just the first two days of spring ball, even before the pads went on. Via Twitter, Whitfield remarked that he respects Miller's drive, and that "the Buckeyes are in great hands".  An even better Braxton Miller could be a nightmare for OSU opponents.
---
Can Meyer find a reliable punter...and can he find a way to stop getting punts blocked?
One thing Meyer and Jim Tressel have in common is their emphasis on the importance of the punt play in college football. It's just that Meyer's 2012 Buckeyes had a harder time executing the punt than Tressel's charges typically did. With senior punter Ben Buchanan in the job, Ohio State had three punts blocked, with two of them going for touchdowns. That's more blocks in one season than Tressel's teams had in one seven year stretch during his decade at OSU.
Now Buchanan is gone, and the highly-rated punter that Meyer had recruited for 2013 got caught up in the numbers game of available scholarships at OSU, and at the last minute decided to go to Florida rather than accept preferred walk-on status in Columbus. Meyer's returning placekicker, junior Drew Basil, is also an adequate punter, although coaches usually prefer to have their kickers do one job or the other. Sophomore receiver Frank Epitropolous also punted in high school at Upper Arlington, and the assumption is that he is Plan B.
On the plus side of things, the Buckeyes did block two punts for touchdowns in 2012, and Corey Brown returned two more for scores. Meyer may not be staying awake nights worrying about either the identity of this year's punter, or his team's ability to protect him getting the kick away, but he'd probably admit they need to have a better year in 2013 than they did a year ago.
---
Can OSU go into its bowl game 13-0?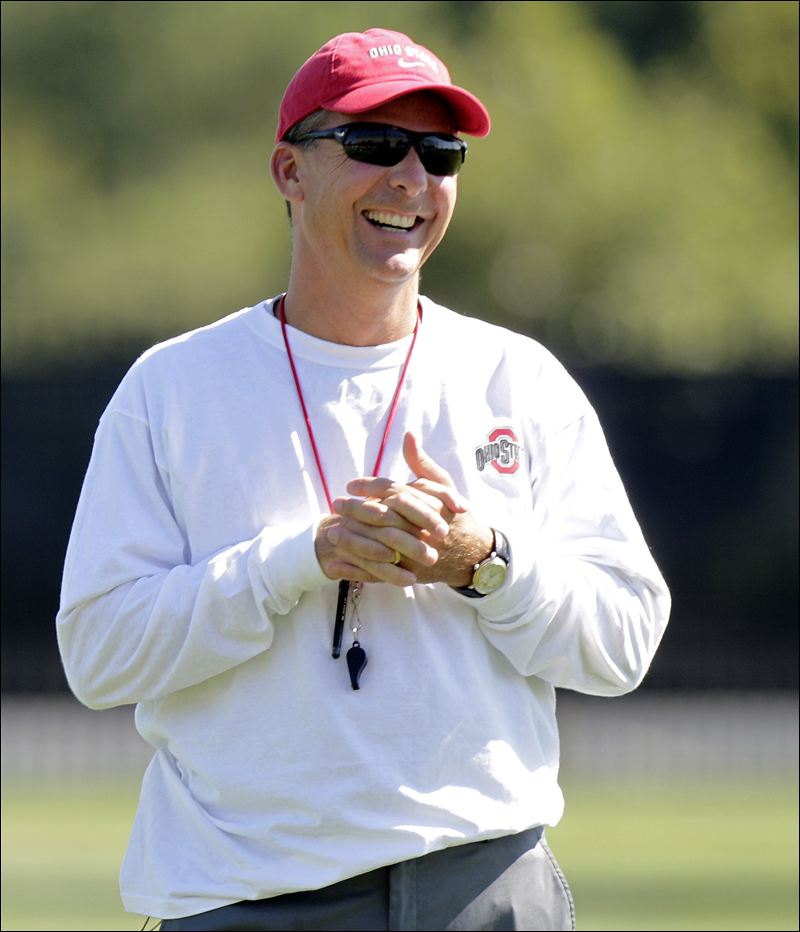 Not only is there an additional game prior to bowl season this year if they do win the first 12, but it seems to me wildly improbable that they'll get every bounce and blessing they need...again.
So I'll say no...even though it's quite likely they will be favored in every game. If it does happen, there's no way that an Urban Meyer coached team at 25-0 over two years will be denied a spot in the BCS Championship Game, no matter how many other unbeatens there are. Now, that's something I would bet on.
---
Loose Leaves
---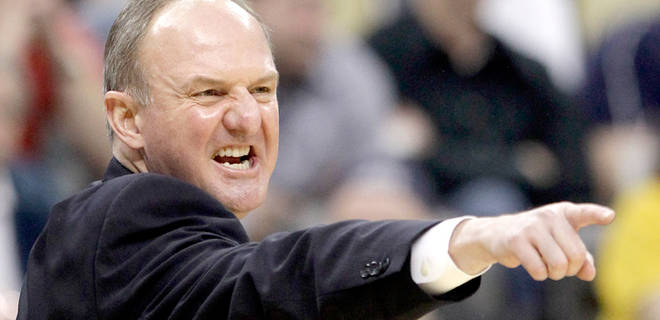 Congratulations are due the streaking OSU basketball team, fresh off a Big Ten Tournament championship, and bidding for a Sweet Sixteen berth on Sunday. The Thomas and Craft show is starting to get major contributions from Sam Thompson and LaQuinton Ross at just the right time, and they have managed their hot streak despite an absence of consistent...even adequate... play in the post.
The coaching job done this year by Thad Matta deserves a salute. He brought a team with one dominant player and a solid point guard within a whisker of a fourth straight Big Ten regular season title, and then won the league tournament. Six weeks ago I said I thought the Sweet Sixteen might be this team's ceiling. Lately, the play of Ross and Thompson, combined with the favorable tournament draw, have me rethinking that.
---
The LIFESports Spring Game, presented by Nationwide will be played at 1 p.m., on April 13 at Paul Brown Stadium in Cincinnati. The game is being played away from Columbus because Ohio Stadium is undergoing some concrete refacing work this spring, and is unavailable for use.
The game will not be televised live, but will be broadcast by Big Ten Network later that evening at 7:00 p.m. The game can be viewed live on the Internet, via the BTN2Go online video stream,  and heard on the radio (Paul Keels and Jim Lachey on the call) on the OSU flagship station 97.1 FM (The Fan), and on WDJO - 1480 (Cincinnati)
---
on Twitter at @dwismar
---
{photo credits: Jim Rinaldi - Icon SMI (Spence); Kyle Robertson - Dispatch (Shazier)}
Mar 24, 2013 12:30 PM
Last Updated:

Mar 26, 2013