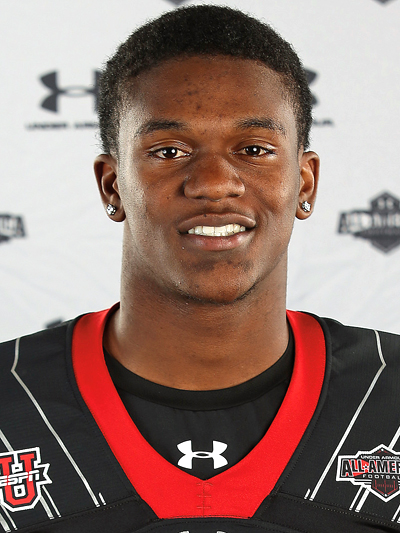 The Buckeyes are in their first week of August camp in Columbus, and the consensus is that they have already identified The Next Big Thing. Urban Meyer spent a few minutes answering questions from the media Tuesday, and one particular true freshman has clearly grabbed his attention. "He's gonna play...'cause he just goes really hard," said Meyer of running back/receiver Dontre Wilson. "And he's got something we just didn't have last year...and that's jets..."
Not every member of the incoming freshman class has the "electric speed" Meyer sees in the 18-year old Texan, but overall, speed could be the defining feature of the nation's 2nd-ranked recruiting class. Meyer singled out Wilson, but he might just as easily have talked about a dozen other guys.
The 2013 Buckeyes are a veteran team for the most part, especially on offense, so the freshman speed injection will be noticed gradually, and perhaps most markedly on special teams. But it is already apparent that at least a couple of the freshmen will be used in Meyer's offense right away, especially in the 4 and 5-receiver sets.
Here's a look at some of the speedsters on offense in the 2013 class: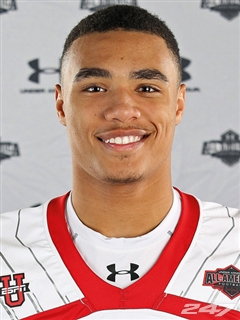 Jalin Marshall - Getting second billing due to the early gushing over Wilson, Marshall (pictured) is also turning heads in the August practices. Scout's #6 receiver prospect has been called a "scoreboard changer" since he was a high school sophomore, and is bigger and stronger than Wilson, with comparable speed and elusiveness. The transition from prep quarterback to receiver is progressing nicely, and he has been working as a kickoff returner as well. (highlights - highlights2)

Ezekiel Elliott - Rated the nation's #9 running back by Scout, Elliott has been timed at 4.4 in the 40, and at 6'0", 200 lbs, he's no little scatback. RB is perhaps the deepest position on the team, but Elliott has that extra gear that might get him on the field early. He was a Missouri state champ in the sprints and the hurdles in track. Like Marshall and Wilson, he has been taking reps as a kick returner. (H.S. junior highlights)

James Clark - Clark is a 4-star wide receiver from Florida, described as "explosive" in the scouting reports. OSU's receiver corps returns the top five players from last year, so it would take some doing for Clark to get an early opportunity. At the very least, Meyer is stockpiling speed at the position. In this senior highlight video, Clark looks as fast and elusive as anyone on this OSU roster. Really.

Dontre Wilson - This is the young man from Desoto, Texas that everyone is talking about in the first week of practices. Braxton Miller got a good early look at Scout's #10 RB during summer workouts, and was quoted as saying that Wilson looked like a starter. One look at his senior highlight video is enough to understand why. Meyer has tried to squelch the Percy Harvin comparisons, while others see another D'Anthony Thomas. As for Wilson, he tweeted the other day "nothing left to do but live up to the hype". Look for that to start happening on August 31.

Marcus Baugh - The nation's 3rd-rated tight end got off to a shaky start in Columbus when he was busted for underage drinking and using a fake ID before practice began, but his penance is now over, and he's working out with the team. OSU has two solid upperclassmen tight ends, but the 6'4", 245 lb. Baugh is as fast and athletic a TE recruit as this program has seen in a long time. He'll have his day in the Horseshoe. (highlights)

Corey Smith - The JUCO transfer, originally from Akron, is the only first-year Buckeye on the list with less than four years of eligibility, and Meyer clearly brought him in with the intention of getting him on the field early. OSU bested offers from the likes of Alabama and Georgia for the 6'1, 185 lb. receiver, who is said to play bigger than his measurables, and has the downfield speed to make him a legitimate big-play threat. (highlights)
---
On defense, the young linebackers and defensive backs usually have to earn their way into the rotation by performing on special teams, especially the two kick coverage units. Special teams coach Kerry Coombs will have an impressive group of fast freshman athletes to choose from this season. And several of them have a chance to move right into the two-deep rotation for playing time from scrimmage.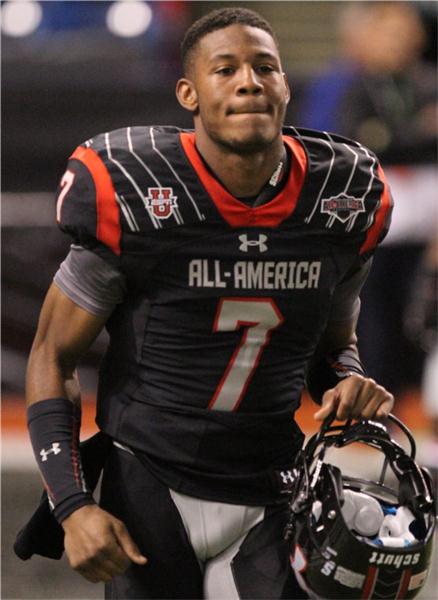 Vonn Bell - The 5-star safety from Georgia was the final crowning jewel for Meyer's class of 2013, and Bell has perhaps the best chance to contribute right away in the defensive rotation. He is working at Star and at safety, and will surely get a chance to play on the coverage teams. With a 40 time of 4.47, Bell (pictured) has the speed as well as the ball skills to play anywhere in the secondary, but his future is probably at safety, after the two senior starters move on. (2012 highlights)

Eli Apple - Meyer landed three of the nation's top dozen cornerbacks in this class, the New Jersey native Apple among them. A Buckeye fan since the 7th Grade, Apple got a jump on the competition by enrolling early and playing spring ball, showing immediately that he is capable of playing at this level...and soon. Apple runs a 4.4, and joins a cornerback unit that will need to rely on the freshmen for depth. (2012 highlights)

Mike Mitchell - The 4.39 time in the 40 would qualify the inside linebacker from Texas for this list even if he were not the nation's 2nd-rated MLB. Depth at LB is one of this team's biggest concerns going into 2013, and it would help a lot if Mitchell turns out to be a big part of the solution. Mitchell won last year's SPARQ competition, a test of overall athletic ability, in large part due to his stunning 40 time. Because there are not too many 6' 4", 230 lb. guys out there running 4.39's. (2012 season highlights)

Darron Lee - An all-state player at New Albany, Lee starred on both sides of the ball...at quarterback and at safety. Rated by Scout as the nation's #29 safety, the versatile 6' 2", 205 lb athlete is listed as a safety at OSU, but could still outgrow the position. He is working at the Star LB/S hybrid spot in August camp, and could well see playing time on coverage teams in the early going. (2012 highlights)

Gareon Conley - Another two-way star at the high school level, Conley excelled at both receiver and cornerback at Massillon, and until he arrived in Columbus and began work at corner, no one was quite sure where he would wind up. After he caught three TD passes in the North-South all-star game to win the Offensive MVP, it was fair to wonder. But Conley also has the speed and the size (6' 2") to go with excellent fluidity and ball skills...all the makings of a top notch cornerback. Conley had originally committed to Michigan, but came to his senses before it was too late. He could be one of the real sleepers in this 2013 freshman class. (2012 highlights)

Cam Burrows - The first recruit to commit to OSU in this class, the 6' 1", 195 lb corner from Trotwood Madison was considered (with Marshall) to be one of the top two overall players in Ohio in 2012. Some observers think Burrows might eventually shift to safety owing to his size and physical style of play, but it won't be because he lacks the speed to play at the corner. He enrolled early and played spring ball, and he'll compete with Apple and Conley (as well as sophomores Armani Reeves and Najee Murray) for the coveted early playing time at corner behind the starters. In the meantime, his speed and tackling ability projects well to a role on coverage teams. (2012 highlights)
---
---
The Manziel Matter
Because you haven't read enough yet about Johnny Manziel, let me wade into that for a minute. I'm sure Manziel has had a tougher go of it than some previous Heisman winners, whose every offseason move wasn't scrutinized and reported in real time on Twitter and elsewhere on the web. But that aside, a guy almost has to be trying to get in front of the cameras so much that we see his picture and hear his name every morning with our breakfast cereal.
There's a certain popular momentum building, it seems, to give Manziel a pass on his alleged NCAA violations for selling large quantities of his autograph. The NCAA is about as popular as herpes, and their rules about athletes profiting from their own names and likenesses are currently at risk in a major lawsuit. They have the sympathy of absolutely no one. But if they can prove that Manziel accepted the $7500 he is alleged to have taken, he should have no less a suspension than the four games the Buckeye Five endured, and probably more.
All of a sudden, after Miami, Oregon, and now the Manziel Affair, the trading of tattoos for jerseys, and trinkets for a few hundred in cash that got five Buckeyes into trouble a couple of years ago looks like pretty tame stuff. In a further sign of the imminent apocalypse, Dennis Dodd apologized to Terrelle Pryor and his OSU mates in his column this week, the money quote being "It seems all so insignificant now".
Indeed it does. What is significant now is the Texas A&M - Alabama rematch on September 14. We can all remember how the NCAA caved on its own rules a few years ago when disclosure of a major violation had the very real potential to keep Heisman winner Cam Newton out of the SEC Championship Game (and that other one after that). In that dilemma, they pulled off the suspended-and reinstated-in-24-hours gambit. Cecil who?
If Manziel is found to have taken cash, the NCAA will have to decide if the A&M - 'Bama game...possibly the game of the year...and the rest of the promising A&M season is worth more than the integrity of its own rules. What's strange is that most of the country seems to be pulling for them to do the wrong thing.
---

Loose Leaves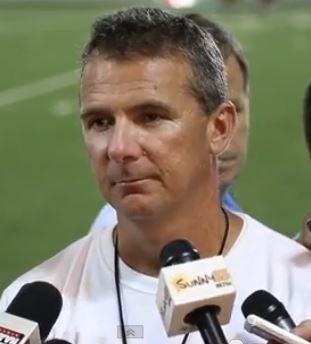 -- A couple of other random notes from the Meyer media availability...
Saying practice sessions were going to get a lot tougher...and soon, Meyer quipped "This is all candy...come back and talk to me in a week....Camp is terrible...but we're not in camp yet...this is just practice.
Asked about his concerns with the 2013 edition of the Buckeyes, Meyer immediately cited the depth at linebacker and on the offensive line, saying those two units "don't look Ohio Stateish", in terms of having three-deep talent on hand. As to how he can solve the problem, the ever candid head coach replied "with another recruiting class." Meyer has four 4-star offensive linemen already committed to next fall's class, and they intend to add at least one more. And the group of linebackers for 2014 could wind up just as strong if Raekwon McMillan commits as expected, joining St. Ignatius star Kyle Berger and SVSM's Dante Booker.

-- Check out Josh Winslow's excellent photo gallery from the first day of practice. And Jim Davidson from The-Ozone.net has his own gallery from the first week.

-- OSU defensive standouts Bradley Roby and Ryan Shazier were both selected to Sports Illustrated's preseason All-American team.
---
on Twitter at @dwismar
---
Aug 09, 2013 12:00 PM
Last Updated:

Aug 09, 2013