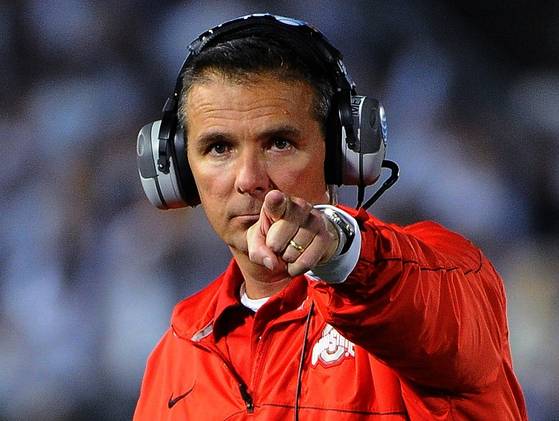 Urban Meyer hasn't lost a game yet as the head coach at Ohio State, and many observers of this team think it's not going to happen anytime soon. The Buckeyes are ranked No. 2 in the initial AP Poll of the 2013 season, and figure to be favored in every game, unless and until they stumble somewhere along the line.
I'm on record as predicting the streak will end sometime in 2013...just because it's so hard to win them all, as 125 of the 126 FBS teams discovered a year ago. But until the streak is over...the streak lives. And it's worth a quick look back at how Meyer and his Buckeyes got to this point. Since the streak is alive and ongoing, we'll call this section…

The First 12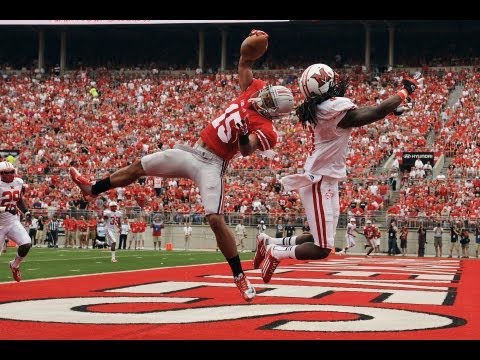 1) OSU 56 Miami 10 - 9/1/12 - The Bucks established their season long trend of starting slowly, with a scoreless first quarter, but erupted in the remaining three quarters, scoring eight touchdowns to rout the Redhawks. The defense gave up 313 yards passing, but stuffed Miami with -1 rushing yards for the afternoon. Official Box - TCF story
2) OSU 31 UCF 16 - 9/8/12 - Braxton Miller rushed for 3 TD's and passed for another, as OSU broke open a game that was tied 10-10 in the second quarter. Miller had 141 rushing yards on 27 carries, a number Meyer called "too many". The defense came up with three interceptions to stifle the Knights attack. Official Box - TCF story

3) OSU 35 California 28 - 9/15/12 - The Bears led this game 21-20 with under nine minutes to play in Columbus, but Miller threw two TD passes in the 4th quarter, the second one a 72-yard completion to Devin Smith with 3:26 to go. Cal ran up 512 yards against a struggling OSU defense, including two long TD runs by Brendan Bigelow, and the Bucks hurt themselves with several bad penalties and shaky tackling. Official Box - TCF story

4) OSU 29 UAB 15 - 9/22/12 - Perhaps the most lackluster performance of the unbeaten season, as OSU fell behind early 9-0, and was outgained in yards, first downs, and time of possession by the 36-point underdog Blazers. UAB was only down six, and had the ball inside the OSU 25-yard line midway through the 4th quarter, but they missed a field goal try, and Miller drove the Bucks for the final eight points of the game. Official Box - TCF story

5) OSU 17 Michigan State 16 - The Bucks bounced back with a solid effort in the all-important Big Ten opener in East Lansing. Miller racked up 315 yards of total offense, and the OSU defense shut down MSU's LeVeon Bell with just 45 yards on 17 carries. As he had against Cal, Devin Smith provided the game-winning big play, with a 63-yard TD reception to put OSU ahead to stay. As a team, OSU outrushed the Spartans 204-34. Official Box - TCF story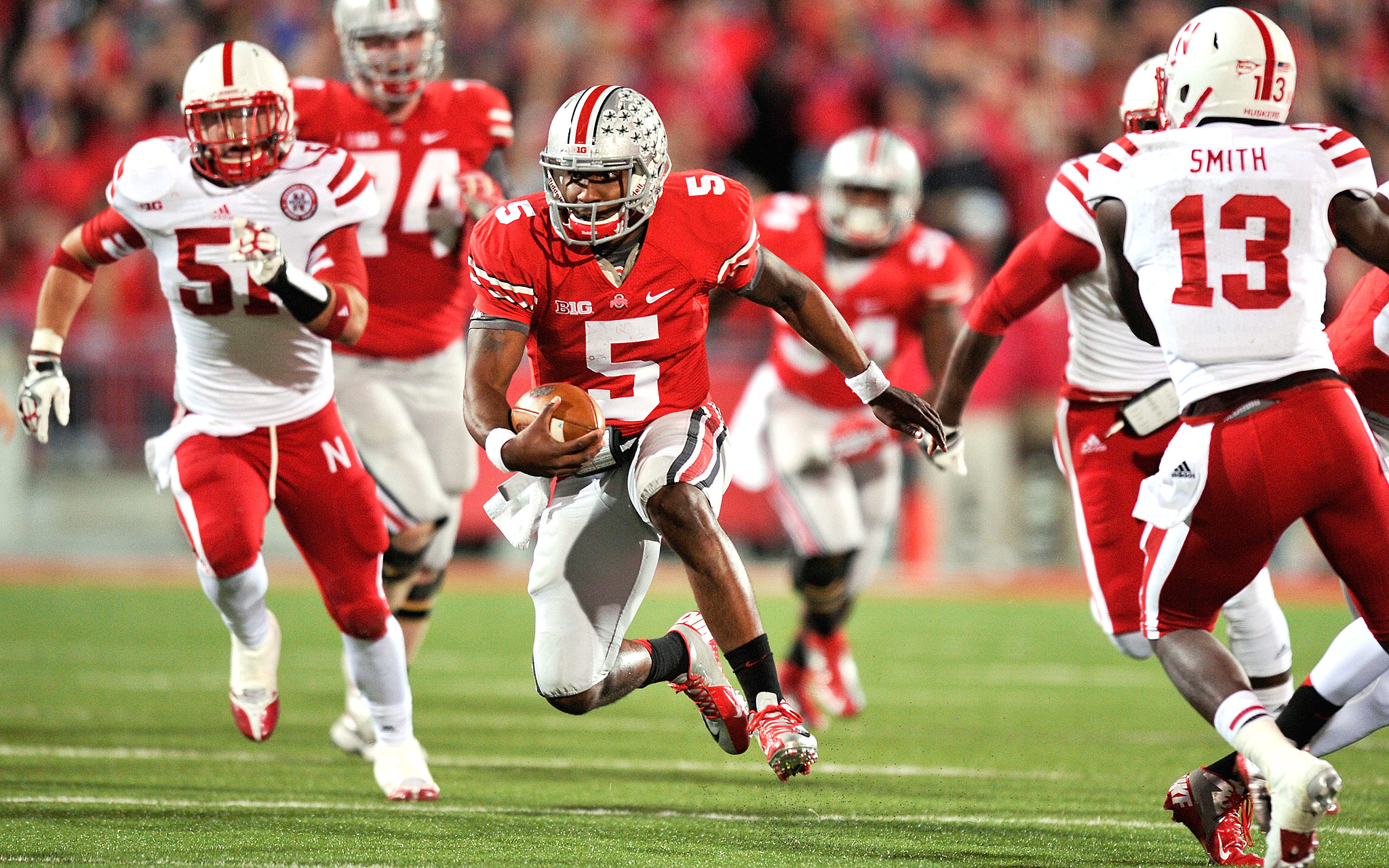 6) OSU 63 Nebraska 38 - The Buckeyes (stop me if you've heard this one) started slowly, falling behind 17-7 in the 1st quarter, but went on to smash the Cornhuskers with their largest scoring output of the season. Miller (186 yds, TD) rushed over, around, and through the Huskers, as OSU piled up 498 total yards while completing just seven passes. Ohio State scored touchdowns on six straight possessions to run out to a 56-31 lead. Official Box - TCF story

7) OSU 52 Indiana 49 - For the second straight week, OSU and their opponents scored 101 points, this time in a shootout in Bloomington. The Bucks led 24-14 at the half, and then again at a comfortable 52-34 with less than seven minutes to play. But the game Hoosiers fought back with a strong passing attack (352 yds), and scored two TD's in the final minutes. Corey Brown corralled the second onside kick with a minute to play to avert disaster. Official Box - TCF story

8) OSU 29 Purdue 22 (OT) - It looked for all the world like the streak would end unceremoniously in Columbus against the lowly Boilermakers, as Purdue led by eight and had the ball with under three minutes to play. Braxton Miller was hospital-bound in an ambulance and backup Kenny Guiton had just thrown an interception. But somehow Guiton rallied the Bucks 61 yards in the final 47 seconds for the tie, and OSU prevailed in OT. Official Box - TCF story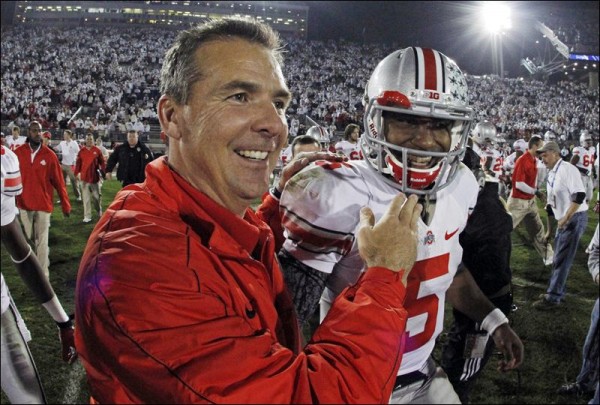 9) OSU 35 Penn State 23 - Ryan Shazier broke a 7-7 halftime tie with a 17-yard interception return for a touchdown just three plays into the 3rd quarter, and Braxton Miller put on a second half rushing exhibition, running for two TD's in the 3rd quarter as part of his 134 yards on the day. The Nittany Lions got within 12 in the 4th, but Miller iced the game with a 72-yard TD completion to Jake Stoneburner, quieting the white-out crowd in Happy Valley. Official Box - TCF story

10) OSU 52 Illinois 22 - Even the hapless Illini were able to keep it close (7-6) for a quarter, but the Buckeyes erupted for 24 unanswered points in the 2nd period behind the bruising rushing attack of Carlos Hyde and Braxton Miller, to grab a 31-6 halftime advantage, and they rolled to 10-0 with an easy win. Miller completed TD throws to Corey Brown (37 yds) and Rod Smith (51 yds) finishing 12 of 20 for 226 yards on the day. Official Box - TCF story

11) OSU 21 Wisconsin 14 (OT) - The Badgers figured out a way to stop Braxton Miller, holding the OSU star to 48 yards rushing on 23 carries, and OSU never threatened to score in the second half...until overtime. Wisconsin managed to tie the game with eight seconds to play to force OT, but Carlos Hyde scored a TD in the extra session and the Buckeye defense rose up to stop Wisky on downs. Corey Brown's punt return TD, and John Simon's four sacks highlighted the win. Official Box - TCF story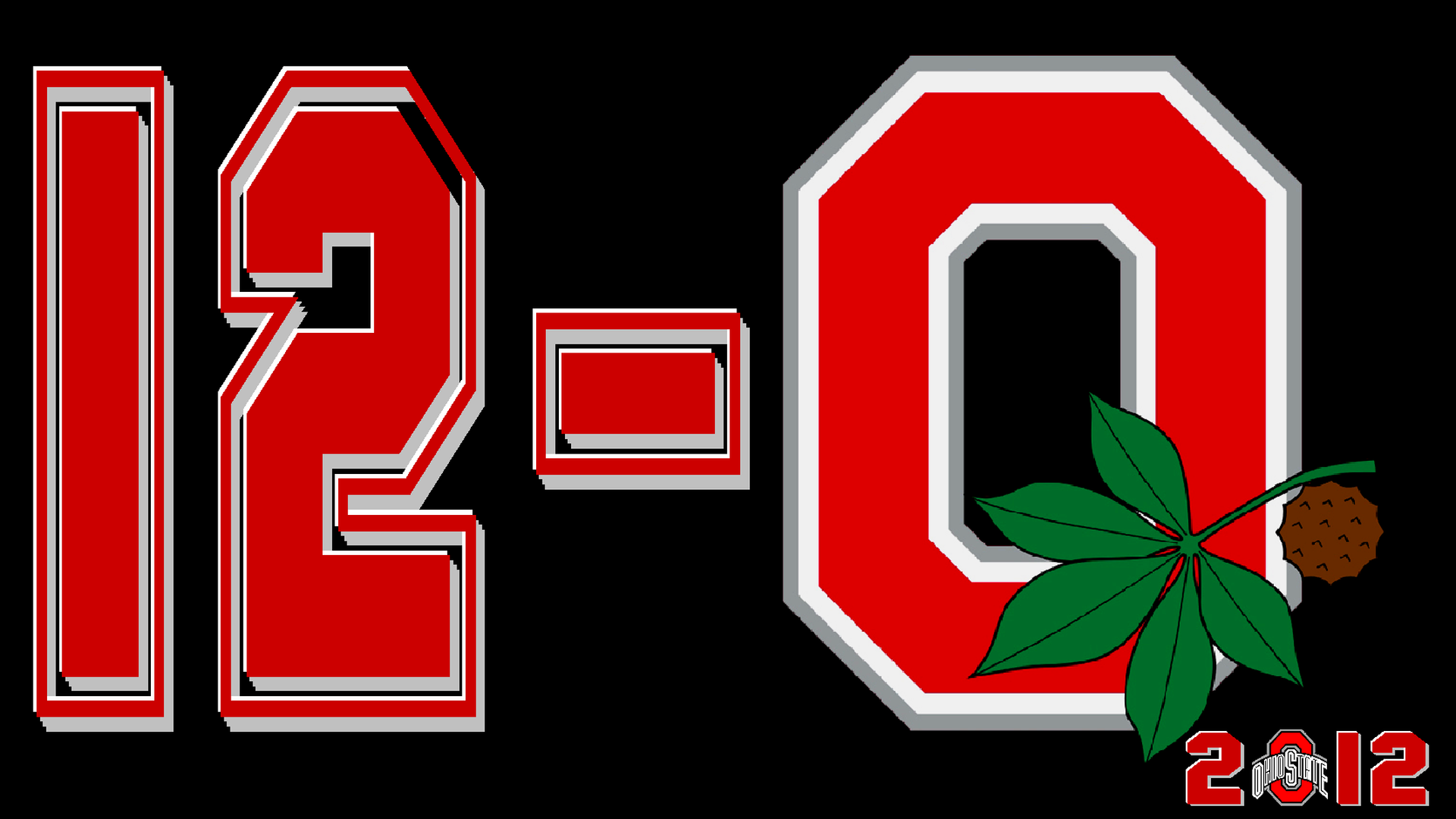 12) OSU 26 Michigan 21 - The Buckeyes trailed at halftime 21-20, after Denard Robinson ran for one long first half score, and threw for another one. But the defense came out with a vengeance after the break, and although OSU squandered some second-half scoring chances, the Ugly Hats never crossed midfield after halftime, and two Drew Basil field goals provided the margin of victory...and the crowning jewel on a perfect season. Official Box - TCF story

---

Thus ended the most unsatisfying undefeated season in Ohio State history. No less than 34 bowl games...and no Buckeyes. Small wonder we're trying to tie it up with a bow and make it part of what's yet to come. They're on a roll, you see...


The Next Four….

So Meyer's Buckeyes hit the ground running next weekend with a 12-game string on the line. The non-conference schedule has the potential to provide at least two stern tests for an OSU team with six new starters on its defensive front seven. A home date with San Diego State and a trip to Berkeley to face California won't be walkovers by any means, while matchups with Buffalo and Florida A&M...well...probably will be. Look for game previews every Friday in this space.

August 31 - Buffalo at Ohio State - Noon ET - ESPN2

September 7 - San Diego State at Ohio State - 3:30 p.m. ET - ABC

September 14 - Ohio State at California - 7:00 p.m. ET - FOX

September 21 - Florida A&M at Ohio State - TBA

---

The Big Ten Eight...Plus One

The conference schedule opens with back to back prime-time night games, starting with a visit by the 23rd-ranked Wisconsin Badgers on September 28, followed by a road game at No. 22 Northwestern on October 5. Both are national telecasts pitting the bullseye-clad Buckeyes against two of their more capable challengers.
The Bucks do manage to avoid Nebraska and Michigan State out of the Legends Division this year, but two of the road games that might look like easy wins on paper are in locales that have not been terribly hospitable to Ohio State in the recent past...Memorial Stadium in Illinois and Ross-Ade Stadium at Purdue. The last road trip is to Ann Arbor. Not easy.
The other home dates are with Iowa, Penn State and Indiana. Note also that the home slate is front-loaded on the calendar. The Buckeyes have only one home game after October 26th. That potential ninth Big Ten game is, of course, the Big Ten Championship Game, matching the (last) winners of the Legends and Leaders divisions.
We'll take a closer look at the Big Ten as the conference season approaches.

---
The many challenges and close calls of 2012 should have provided all the evidence Buckeye fans require to avoid overconfidence, even though Meyer has a stellar track record in his second season at a program…(9-3 at Bowling Green in 2002...12-0 and a BCS berth at Utah in 2004….13-1 and the national title at Florida in 2006.)
Eleven years ago, another Ohio State football coach was beginning his second season at the helm in Columbus. Following a 7-5 campaign in his first year, expectations weren't remotely close to as high as they are today, but Jim Tressel led his Buckeyes to a 14-0 mark and a stunning victory in the national title game.
Next Saturday afternoon, Ohio State's quest for a 2013 national title begins, but Urban Meyer's other goal is a 25-0 start as OSU head coach, and that journey isn't beginning. It's continuing.
---
Related OSU content:
OSU Freshmen - An Infusion of Speed
Buckeye Leaves - Preseason Prognostications
Buckeye Leaves - The New Big Ten
Buckeye Leaves - Five Spring Questions
Meyer Raises the Recruiting Bar

---
on Twitter at @dwismar
---
Aug 22, 2013 11:58 AM
Last Updated:

Aug 22, 2013