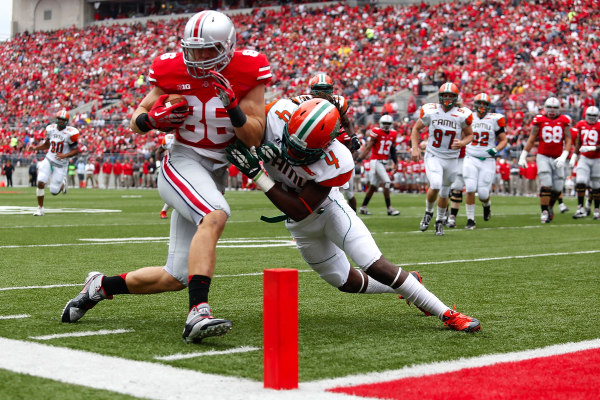 Kenny Guiton broke the OSU single game record with six touchdown passes, and the Buckeyes covered the 50-point spread against the Florida A&M Rattlers Saturday at Ohio Stadium. Then they took a break for halftime.
The final score of this total mismatch was 76-0, as Urban Meyer completed his 16th straight victory as OSU head coach with third-stringers and walk-ons on the field, and without attempting a pass in the second half. The Rattlers found themselves down 48-0 before they recorded their first 1st down of the game with six minutes to play in the second quarter. Only a 7-yard run on the game's final play allowed A&M to finish the game with more total yards (80) than the Buckeyes had points.
FAMU made it ridiculously easy for the Buckeyes to score early and often, as a combination of fumbles, bad punts, blocked punts, penalties and interceptions set OSU up for 1st quarter possessions starting at the FAMU 3, 5, 11 and 25 yard lines, all resulting in Ohio State touchdowns before the first period ended at 34-0. The only thing the Buckeyes did wrong all day was try a 2-point conversion after their second score, and fail to convert.
Braxton Sits, Guiton Shines (Again)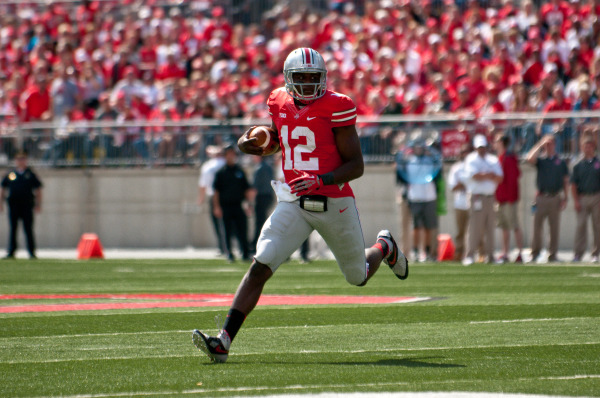 The big pre-game question of whether, or how much Braxton Miller would play at QB was answered before kickoff when the Buckeyes' starter showed up in street clothes on the sideline. After the game, Meyer elaborated on the decision. "I wanted to play him. Braxton felt like he couldn't go and we were checking, and he tried really hard, had a good week of pushing himself through it, but with good athletes those are tough injuries."
And despite Guiton's record-breaking performance and his stellar play in the three games since Miller's injury, Meyer left no doubt as to who his starting quarterback will be going forward. "He (Miller) is our starting quarterback. Our backup quarterback has earned some time….I'm going to see how we practice this week, but, you know, Braxton is our starting quarterback."
Meyer was effusive though, in his praise for Guiton. "He's an efficient player right now, he's an incredible manager, coach on the field so, you know, his time came.  He was prepared, and his coach and him did a very good job.  I think Tom Herman...it's not by accident that this thing happened, now. It's not because he had the buckeye in his pocket or his lucky tee shirt; it's because he worked hard with the position coach to get ready for his opportunity and boy, did he.
Kenny G's Day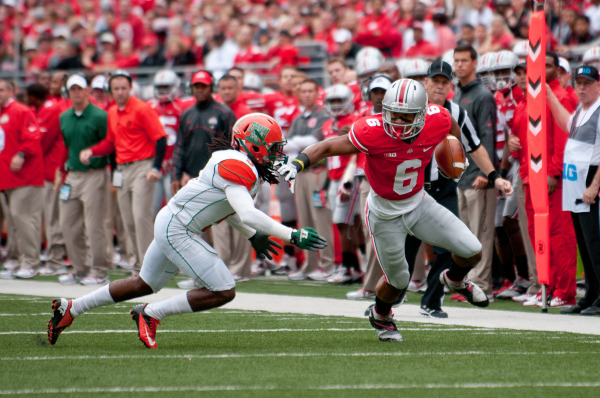 Boy, did he. Guiton (24/34, 215 yds, 6 TD) spread the wealth around, hitting five different teammates for touchdowns, with Evan Spencer (#6 at right)  grabbing two (of 8 and 15 yards), and Devin Smith, Chris Fields, tight end Jeff Heuerman (pictured at top), and Carlos Hyde (a 1-yard shovel pass) getting one apiece. Meyer said the plan was to throw the ball a lot in the early going, with an emphasis on getting Heuerman some touches. The big tight end got the first TD of the game, and finished with 4 catches for 43 yards, while his running mate Nick Vannett had two receptions for 27 yards.
With his starter on the bench, Meyer took no chances with Guiton getting hit, so they called no designed runs for the quarterback until third-stringer Cardale Jones got in the game in the second half. With the focus on the passing game, and the positive field position provided by Rattlers' mistakes, the Bucks had the unusual result of a 34-0 lead after a quarter, with a total of only six yards rushing for the period. That's when Meyer began to unleash his parade of running backs on the Rattlers.
Hyde Returns, Elliott's Coming Out Party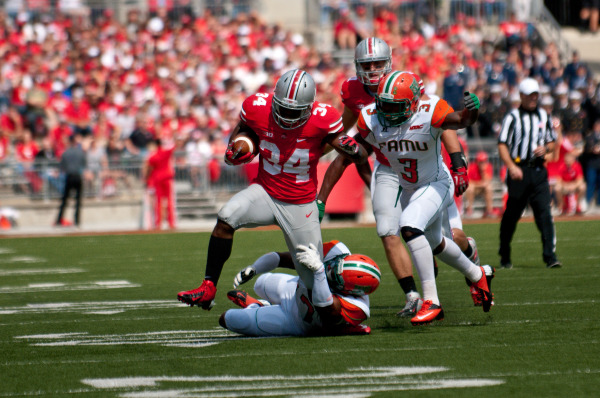 Carlos Hyde got a big cheer from the home crowd when he took the field for the first time this season with OSU facing a 4th-and-1 at the FAMU 26-yard line in the first quarter. The Rattlers defense and all the rest of the 103,595 in attendance knew Hyde would get the handoff, and he powered 3 yards for the first down anyway. Hyde finished with 5 carries for 41 yards, including a 21-yard gain that reminded fans of his power and drive, as it took a half dozen Rattler defenders to bring him down.
The rushing star of the game for OSU though, was true freshman Ezekiel Elliott, who got his first extended duty as a Buckeye and gave a glimpse of what promises to be a stellar career. Elliott got the ball 14 times and rushed for 162 yards, including touchdown runs of 13 and 16 yards. He added a scintillating 57-yard dash, and runs of 10 and 21 yards to give him 5 rushes of 10+ yards on the day, and a, 11.6 yd per carry average. The kid from St. Louis showed off his speed and elusiveness, but also demonstrated some real strength and tackle-breaking ability that came as a pleasant surprise, even considering the quality of the opposition.
Stats Tell the Story
For the second week in a row, the OSU offense generated over 600 yards, as the Bucks outgained the Rattlers 603-80. The rest of the statistical story was equally ugly in favor of the Scarlet and Gray. First downs (34-2), rushing yards (388-50), total offensive plays (80-39), average yards per play (7.15 - 2.1). You get the picture.
OSU came out of the game fairly healthy, although freshman receiver James Clark was carted off the field after suffering a leg injury on a running play early in the second half. Backup QB Cardale Jones also went to the locker room to attend to a minor injury, but he returned to action after missing a couple of series.
Meyer commented afterwards about several of the young players who had been expected to see action, but had not been in games, even in blowout situation like this one. "I think both Brionte (Dunn) and Jalin (Marshall) , Michael Thomas, Corey Smith, a junior college player, are just names off the top of my head; they're on call.  They're ready to go but they won't be used in mop up time.  We lose a couple of players like we did on the defensive line, like Michael Hill, you're ready to go.  We don't really red shirt but there are some guys that could be fine players down the road that I just didn't want to burn a year to get 'em 5 or 10 plays so that's the decision we made."
FAMU coach Earl Holmes was gracious in defeat, and didn't have any criticism of Meyer for running up the score, especially considering the fact that Meyer cleared his bench and declined to throw the ball after halftime. There are no more FAMU's on the schedule for the foreseeable future. On balance, that's a good thing. The only real benefit to a game like this is the opportunity to get some young players some reps in a game situation.
The Big Ten opener is next, with Wisconsin (3-1) coming to the Horseshoe for a nationally televised night game this Saturday. The Badgers did a great job a year ago of shutting down Meyer's offense, even though the Buckeyes prevailed in overtime in Madison. Expect it to be called the game of the year in the Big Ten. Maybe I just did that.
---
Official Box Score and Complete Stats
---
on Twitter at @dwismar
---
(all photos courtesy of ohiostatebuckeyes.com)











Sep 22, 2013 12:39 PM
Last Updated:

Sep 23, 2013