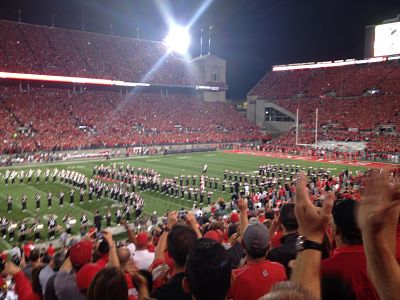 The combination of tickets for both a night game in Columbus, and then a 1 p.m. Browns game in Cleveland the next day wasn't conducive to getting an OSU-Wisconsin game story done this weekend, so I hope some random reflections on the game, and on the season to date are a decent alternative.
--- I'll start by saying I haven't had a chance to watch the entire game on TV yet, but being 14 rows up on the north end 25-yard line made it look spectacular. Electric is not a strong enough word to describe the atmosphere at the start. I'm a fan of the chrome helmets. Even a traditionalist can go for a look like that once or twice a year. As far as uniforms go, if the players love playing in them, I'm okay with them.
On top of that, the tickets were courtesy of a friend, a former player at OSU, and were in a section populated by many former Buckeyes. Now, I'm not the type to drop names Doss about the players Carpenter who were sitting around me Krenzel. Because I'm above that sort of thing. Let's just say it added to the overall buzz of the evening.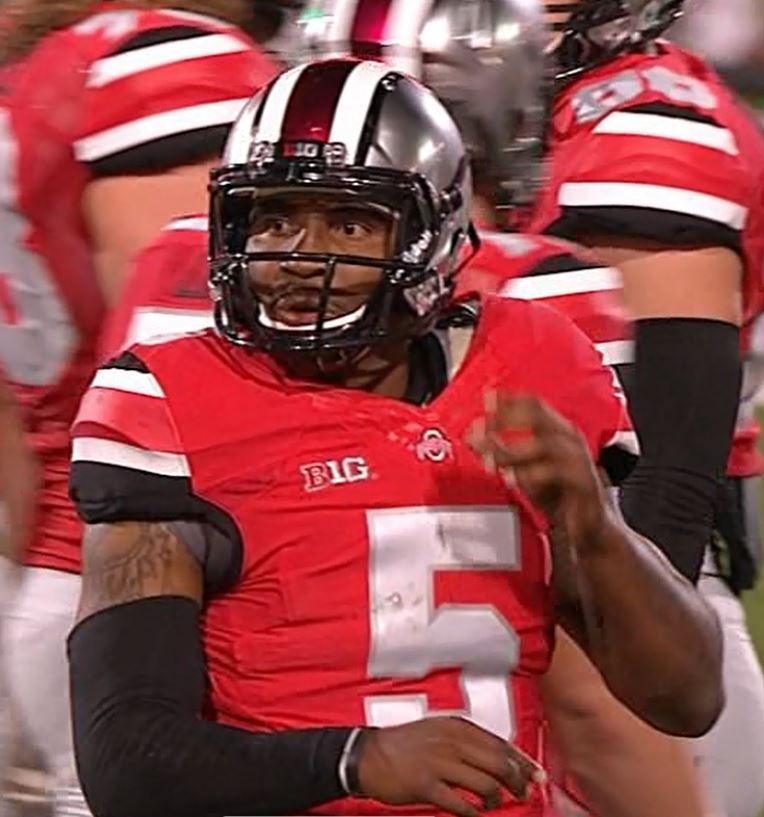 --- Braxton Miller was the story...as he had to be. Three first half touchdown passes, on ropes of 25, 26, and 40 yards, put to rest any lingering questions about who the starting quarterback should be. Miller ran with the ball (22 carries, 83 net yards) without showing any obvious after-effects, although he admitted after the game.to a lack of 100% confidence in the injured knee at first. The coaches called his number a few times in the 4th quarter, wanting to run the ball with the Buckeyes protecting a lead, and trying to loosen up the Badger front. It didn't work against the tough Wisconsin run defense, and Meyer said Monday he'd prefer to see fewer carries by his quarterback.
Miller looked tentative at times, and was sacked at least once by trying too long to make something happen, but he threw the ball with confidence and precision, for 198 yards on 17 of 25, and four touchdowns. For his efforts, Miller was named Monday as the Big Ten Offensive Player of the Week, the third straight week a Buckeye has been so honored.
--- The Buckeyes won this game by being the better team, but they were also pretty lucky...more than once. A potentially disastrous Miller sack-fumble deep in OSU territory was negated by a face-mask penalty. A punt return fumble by Corey Brown, recovered by Wisconsin, was negated by a formation call on the Badgers.
One play before Miller's 40-yard TD strike to Brown as the half ended, a Badger defensive back dropped a gift-wrapped interception. And at the end of the game, the Badgers ran the exact same onside-kick play tried by Indiana last year, with the same close call result for an OSU return team inexplicably unprepared for it. Some nights it goes like that.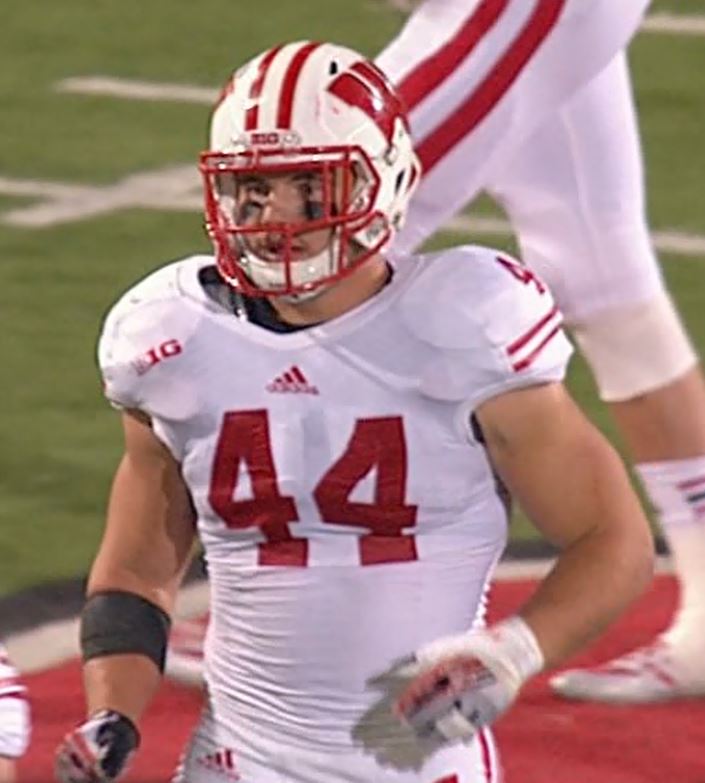 --- Beating Wisconsin at home was as close as it gets to a must-win game for Ohio State, because to get to Indianapolis for the Big Ten title game, OSU has to repeat as Leaders Division champions, and the Badgers are the primary competition for that crown. And after he went ahead 31-14 with two minutes left in the 3rd quarter, Meyer treated it as a must-win. He buttoned up the offense and stuck with a steady diet of Carlos Hyde and Braxton in the ground game from that point on. To his credit, he acknowledged at his Monday press conference that the strategy was probably a mistake.
Wisconsin, with special mention for Dayton-bred linebacker Chris Borland (16 tackles), had held the OSU running attack in check for three quarters already, and Meyer said Monday that they probably "should have taken some shots" down the field. After all, he noted, it was the taking of downfield shots that had worked so well for them on the first three OSU touchdowns of the night.
Meyer's sometimes brutal candor has been well-noted in this space, (on Monday he graded the season performance of his freshman punter Cameron Johnston, who had surrendered zero punt return yards coming into this game, "a C-", because his hang times had been unacceptably low) but that same candor extends to Meyer's criticisms of himself and his staff. Whatever the merits of Meyer's predecessor may have been, placing the responsibility on the coaches' shoulders for errors in strategy or decision-making was not one of the hallmarks of the previous decade.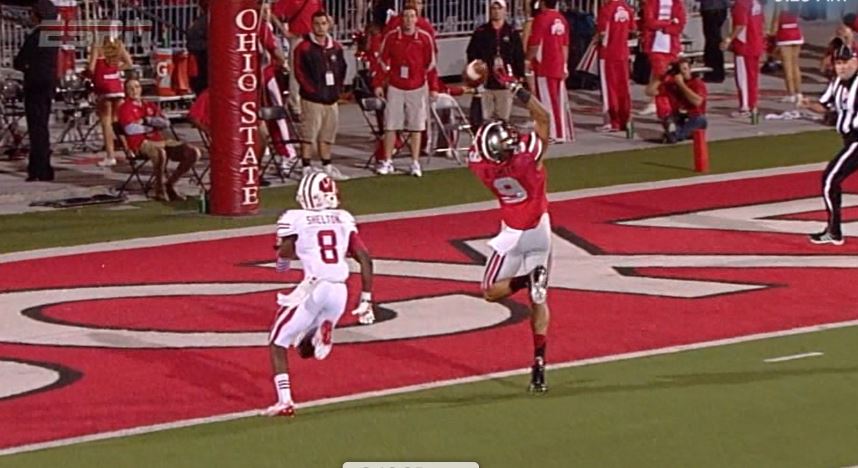 --- If OSU was helped out by some well-timed officiating, they were also hurt by some self-inflicted wounds. The game wouldn't have been as close as it was at the end had it not been for a dropped TD pass by Devin Smith in the 3rd quarter (pictured at right), or a failed 4th-and-1 run by Carlos Hyde on their next possession.at the Wisconsin 38. Hyde also stepped out of bounds a yard short of a first down on an OSU possession late in the 4th, giving the ball back to the Badgers for their final scoring drive, a field goal with two minutes to play.
--- If we're tipping the cap to the Badgers' Chris Borland, we have to do the same for receiver Jared Abbrederis, who had a career night with 207 yards on 10 catches, with a 36-yard TD. It also appeared that Abbrederis' may have cost OSU cornerback Bradley Roby a sizable chunk of change in future NFL earnings. As the only identifiable receiving threat on the Badgers' roster, Abbrederis shouldn't have been running wide open half the night, but he was, and much of it was with Roby trailing.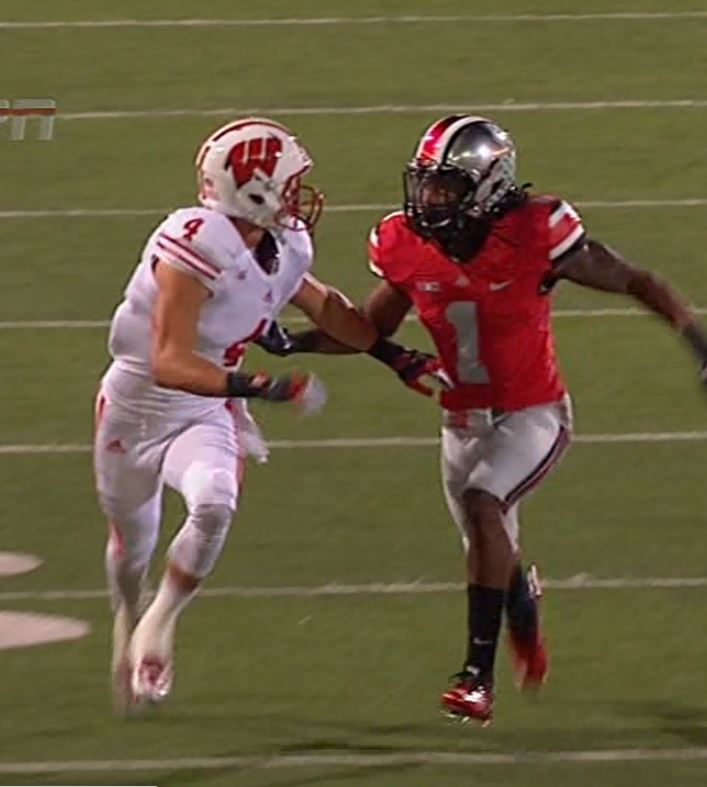 To some extent, that one-on-one matchup (and it wasn't exclusively man coverage) was a function of the defensive coaches' focus on their top priority; slowing down the vaunted Wisconsin running attack. That part of the plan succeeded even beyond expectations, as they held the Badgers to 104 yards on the ground. Still the OSU defense has proven susceptible to the passing game, against Cal (371 yards) and now to Joel Stave of the Badgers (296 yards). Presumably the season-ending ankle injury to safety Christian Bryant will make it harder to improve on those results.
You can bet though, that Meyer will demand better results. He summoned his co-defensive coordinators Everett Withers and Luke Fickell to a 7 a.m. meeting on Monday morning to hear their plan to deal with the Bryant injury and the defense in general, as the Bucks prepare to face a good passing team in Northwestern this week. Message delivered.
--- Tyvis Powell, a sophomore from Bedford and the starting Star (nickel) back, is the probable replacement for Bryant at the safety spot, but his move from Star will necessitate a shuffling of the nickel and dime packages. Meyer says touted freshman Vonn Bell will be in the mix for the 5 and 6 DB sets, and I'd expect senior Corey Brown, and sophomores Ron Tanner and Devan Bogard to get looks there as well.
--- In this the third game of his junior season, Braxton Miller became the OSU career record-holder for rushing yards by a quarterback, passing Cornelius Greene (2,068 yds) in the record book. No one expects Miller to match his 2012 season rushing total of 1,271 yards either this year or next, but another 20 games or so in this program could see him put that record completely out of sight.
OSU 31 - Wisconsin 24 - Official Box and Complete Statistics
17-0 and Beyond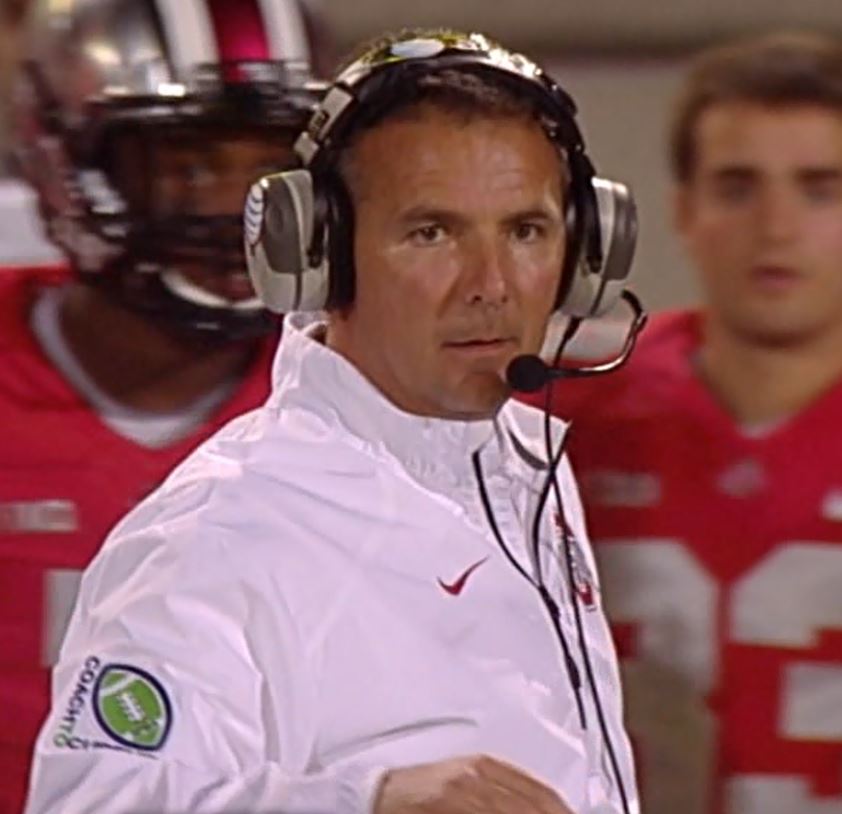 Urban Meyer isn't going to win every game he ever coaches at Ohio State. Really. But this Saturday marks the halfway point (really) of his second regular season, and the new guy is still unscathed at 17-0. The streak gets a perfunctory mention in the national media each week, as the nation's longest, but probably not what it would get if, say, the Buckeyes were rated #1 or #2 in the country.
The record is discounted somewhat by the lack of a BCS bowl matchup a year ago, to say nothing of the current sorry state of the Big Ten as a football conference. But if it's still standing at 23 straight while the team prepares for a trip up north in November, maybe the hype will be ratcheted up a little. It never seems to enter the conversation with Meyer, who speaks only of the 2013 mark of 5-0, ("which gives us a chance to go 6-0").
In the preseason, many assumed that a Big Ten champion Ohio State team with a 25-0 record in two years under Meyer would never be denied a spot in the BCS title game regardless of what anyone else did. In other words, there was a suggestion that there could be a "body of work" component to the decision, rather than just a consideration of 2013 results.
As the calendar flips to October, however, the Buckeyes have slipped from their preseason No. 2 perch down to 3rd (USA Today Coaches) or 4th (AP), and there are several teams capable of bumping even an unbeaten Buckeye squad from the title game. An unbeaten Clemson could do it, but more likely the Stanford-Oregon winner, if that team remains unbeaten. One assumes the SEC will have a spot in the game, even if its participant has two losses and a postponement due to lightning.
If they can somehow manage to stay unbeaten, it now appears that Meyer and his Buckeyes could also need some style points to get to the title game. And it's hard to get style points against Illinois, Purdue and Indiana. Winning big on National TV in Chicago this Saturday would be a good start.
---
on Twitter at @dwismar
---
Oct 01, 2013 9:08 AM
Last Updated:

Oct 02, 2013