Ohio State scored touchdowns on six of its seven first half possessions Saturday night, to blow out an overmatched Penn State team 63-14, in front of 105,889 at Ohio Stadium. The Buckeyes have taken some flack this year for not looking like Alabama, Oregon or Florida State, all despite having not lost a game since the 2011 season. But after Braxton Miller ran for two scores and passed for three more in less than three quarters of work, Ohio State may have at least worked their way back into the national title conversation.
This was the Urban Meyer offense that Ohio State fans have been waiting to see...clicking on all cylinders with a healthy Miller and a dominant offensive line. The Buckeyes ran the ball at will, with Carlos Hyde punishing Nittany Lion defenders on the rare occasions they got in his way at all. Hyde had 130 yards on 13 carries, with two touchdowns...all by halftime, and finished with 149 yards and a 9.2 per carry average.
Miller had perhaps the most complete game of his career, throwing for a career high 252 yards on 18 of 24 passing, with three touchdowns and no interceptions, and added 68 rushing yards, including touchdown runs of 39 and 6 yards. He gave way to backup Kenny Guiton with the score 49-7 in the 3rd quarter, and watched Guiton add two rushing touchdowns of his own in mop up duty.
Over Early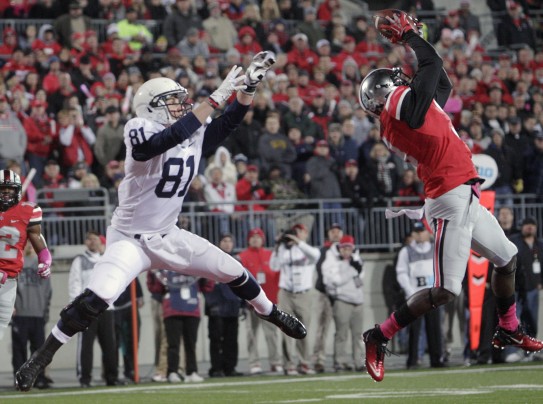 Playing in front of a prime-time national TV audience, and with several key recruits in town, the Buckeyes struck early and often, racing to a 28-0 lead before Penn State dented the scoreboard with a late second quarter touchdown. For the seventh time in eight games, OSU drove for a touchdown on their first possession, and then came up with a big stop on the first Nittany Lion drive when Corey ("Pitt") Brown intercepted Lions' QB Christian Hackenberg in the end zone.
It was all downhill from there for PSU, as the Buckeyes' pass rush made things difficult for Hackenberg with constant pressure and a second interception, and Penn State didn't register another first down until the Buckeyes had a four touchdown lead. Hackenberg (12 of 23, 112 yds, 1 TD, 2 INT) shook off a hit from OSU end Noah Spence to hit Brandon Felder for a 12-yard TD with 4:16 to play in the half, but the Bucks immediately squashed any notion of a Penn State comeback with two more TD's in the last three minutes of the half.
Miller put the dagger in them in the final 17 seconds of the half, when from the Penn State 48, he hit Philly Brown with two straight ropes, first for 23 yards, and then a 25-yard post for the touchdown with 3 seconds on the clock. It was 42-7 at halftime, and the rest was game management.
Ohio State only threw the ball twice after Miller left the game in the 3rd quarter, both of those short 3rd down throws by Guiton to extend drives. Cardale Jones finished up at quarterback along with a host of Buckeye subs.
---
For the first time this season, Meyer's Buckeyes completely dominated a Big Ten opponent. Let me count the ways in some random notes: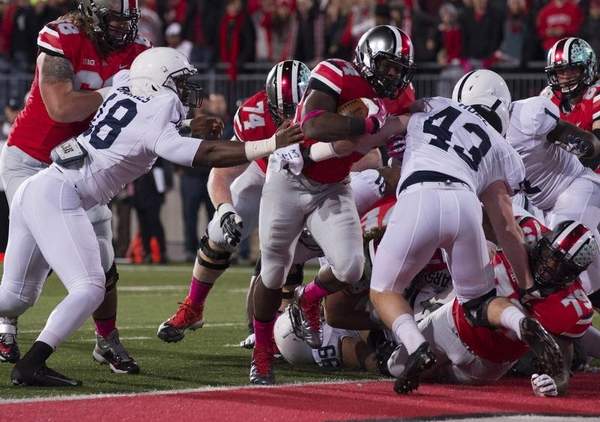 - Ohio State rushed for 408 yards on 51 attempts, an average of 8.0 yards per carry. They amassed 686 total yards, and averaged 8.9 yards per play, while holding the Lions to 4.8 yards per play. .
- Five different OSU rushers averaged 8.5 yards a carry or better, as Hyde (9.2), Jordan Hall (10.1, 81 yds on 10 att), Wilson (12.0), Ezekiel Elliott (8.5) and Cardale Jones (10.4) put up big numbers. Miller (6.2) and Kenny Guiton (7.7) weren't far behind.
- Meyer had more effusive praise for his favorite unit afterwards: "I see an offensive line that's one of the best in the country. I'm willing to say that. I've not seen a lot of teams play, but I've been around the game a long time. I'll take my offensive line anywhere. Those guys are playing very well."
- Meyer challenged the pass rush unit and the secondary this past week, and they responded with four sacks and two interceptions of Penn State quarterbacks. Pennsylvania native Noah Spence had two of those sacks, and overall played his best game as a Buckeye.
- Speaking of best efforts, the run blocking, downfield and at the line of scrimmage by the Ohio State receivers, Corey Brown, Devin Smith, Evan Spencer and Chris Fields was as good a team effort in that area as I've seen in a long time.
- Freshman Dontre Wilson touched the ball four times, and had 96 all-purpose yards. He had a rush for 12 yards, two receptions for 35 yards (and a 26 yd. touchdown), and he ran the kickoff back 49 yards after Penn State's only first half TD. He doesn't get more playing time because he's still learning how to block like the four guys above.
- Miller spread the pass receptions evenly between Smith, who had five, and Brown, Spencer and Fields who had four apiece. Most of his six incompletions were throwaways out of bounds, and he had his usual share of creative scrambling yardage.
- Interceptions by Pitt Brown and C.J. Barnett helped OSU build the early lead, but the defensive backs had a strong day tackling as well. After linebacker Ryan Shazier's team-leading 10 stops, it was safeties Tyvis Powell (7), Brown (5) and Barnett (5), and cornerbacks Doran Grant (6), Bradley Roby (5), topping the tackling stats.
- Here's Meyer on Miller: "...I have just been around a lot of good quarterbacks in the last 12 years and I saw signs of a guy that's getting to be very good understanding about our offense, and where people are, and the guy's work ethic is off the charts right now.
- It's purely coincidental that the final score matched exactly the 63-14 whipping No. 1 Penn State put on John Cooper's Buckeyes at State College in 1994. If nothing else, OSU fans get some closure for that one. The 63 points are the most allowed by Penn State since 1900, and it's only the third time since 1900 they've allowed more than 50.
- The Buckeye defense kept alive their streak of not allowing a 100-yard rusher this season. The Lions Bill Belton came close with 98 yards on 22 carries, but with a long of 11 yards. All-Big Ten receiver Allen Robinson was held in check early, but wove his way for a 65-yard touchdown run in the 4th quarter for the Lions' final points, and finished with a career-high 12 catches for 173 yards.
- Did I mention 20 in a row?
---
Box Score and Complete Statistics
---
on Twitter at @dwismar
---

photo credit: Greg Bartram - USA Today (Hyde)





Oct 25, 2013 2:55 PM
Last Updated:

Oct 28, 2013