- Saturday, November 2, 2013
- Ross-Ade Stadium - West Lafayette, IN
- Ohio State (8-0, 4-0) at Purdue (1-6, 0-3)

- 12:00 p.m. ET
- TV: BTN -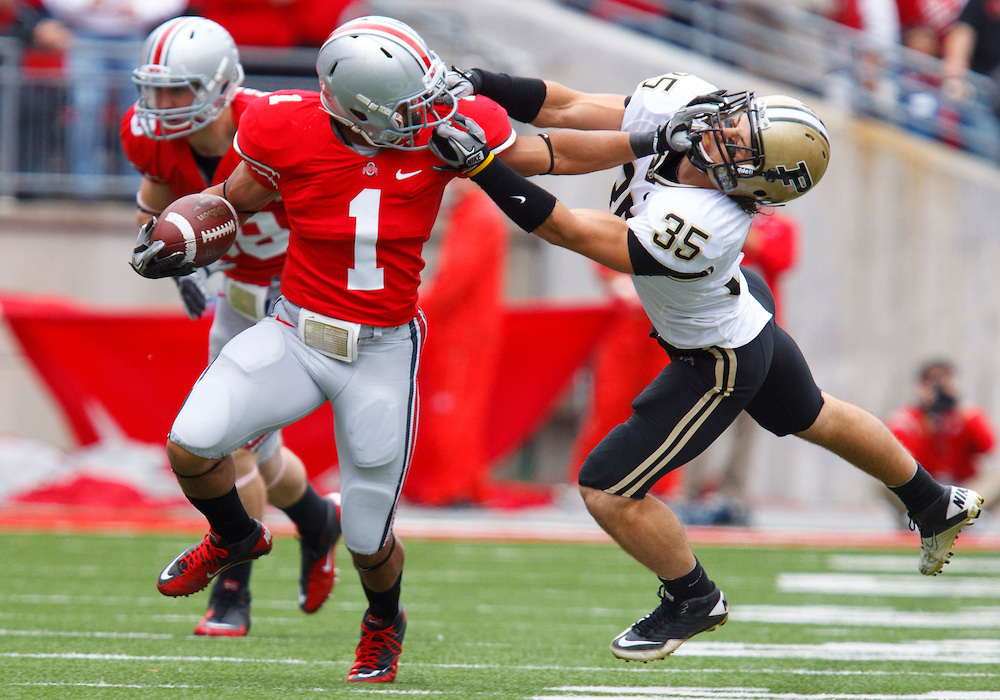 The 4th-ranked Buckeyes take their 8-0 record and their 20-game winning streak on the road to West Lafayette this weekend to play the Purdue Boilermakers, a program that has given Ohio State fits over the last decade. Somehow, Purdue manages to cause more trouble for the Buckeyes than they should, given the talent differential, but this year's game figures to be the exception to that rule.
The Buckeyes are peaking offensively after scoring nine touchdowns last week, in the process rolling up more total yardage (686 yds) against Penn State than any opponent in the history of Nittany Lions football. Meanwhile Purdue has stumbled to a 1-6 record under former OSU assistant Darrell Hazell, and has yet to win a game against an FBS team, let alone a Big Ten opponent. Even with that seeming mismatch looming for Saturday's noon kickoff, the recent history of this series has to be taken into account.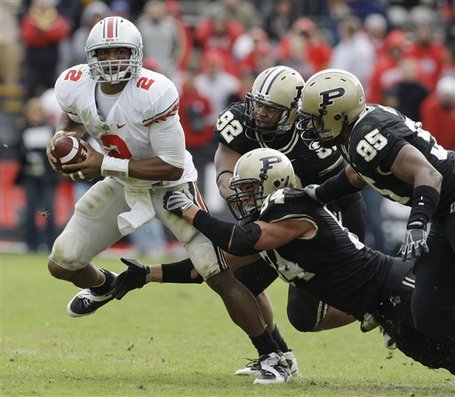 Ohio State has lost on three of their last four trips to West Lafayette, most recently in 2011 when the extra point on a last-minute game-tying touchdown would have won it for the Buckeyes. Instead the point was blocked, and the Boilermakers took the game in overtime. A mediocre Purdue team also upset Terrelle Pryor and the Bucks in 2009, when Ohio State penalties and turnovers cost them dearly in a 26-18 defeat.
Even the wins have been too close for comfort. Twice in the last dozen years, OSU has barely preserved unbeaten seasons by squeaking past Purdue. Two of the most memorable Ohio State games in that span...Kenny Guiton's heroics in the final minutes of an overtime nail-biter last season...and the famous Krenzel to Jenkins connection (at left below) on 4th-and-1 in the national championship season of 2002...stand out as examples of Purdue playing spoiler against good Ohio State teams.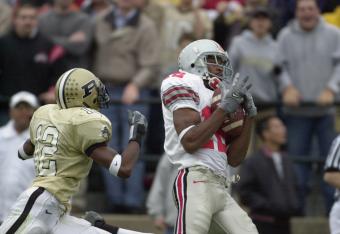 All that history is the reason Buckeyes captain, offensive tackle Jack Mewhort asked to speak to the team this week, and Urban Meyer has cautioned his charges against overlooking Saturday's opponent. The oddsmakers have installed Ohio State as 31-point favorites to extend their unbeaten streak and stay in the chase for a berth in the BCS title game.
Ohio State leads the all-time series with Purdue 39-14-2, and they are 12-8 in West Lafayette. The Boilermakers move to the Western division of the conference under the new alignment in 2014, and are not scheduled to play OSU again until 2018.

State of the Bucks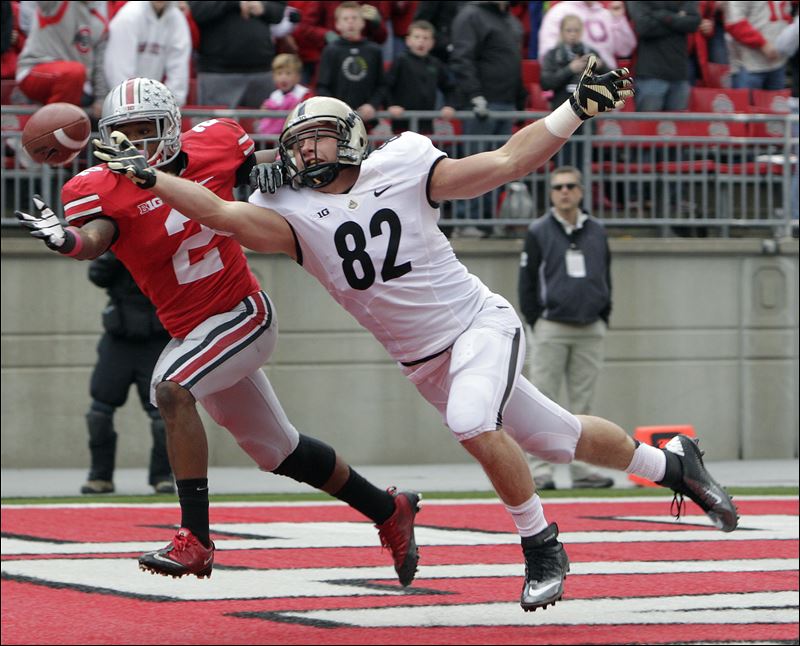 OSU came out of the Penn State game with a few bumps and bruises, but should have everyone ready to go Saturday. Meyer confirmed Wednesday in his meeting with the media that both Braxton Miller and Evan Spencer are good to go after taking shots to the lower leg against the Lions. Jordan Hall is also cleared to play Saturday.
The Buckeyes are scoring an average of 47.3 points per game, to rank 5th nationally among the 123 FBS programs. They are currently 8th in total offense at 517.3 yards per game, which includes an average of 295.6 yards on the ground, good for the 9th best ranking in the nation in rushing yardage.
The defense took a step forward in the Penn State game, putting consistent pressure on the quarterback, and playing better in the secondary. Cornerback Bradley Roby went back to playing strictly to the boundary side, with Doran Grant opposite him to the field, and the result was a more even performance from the entire DB unit.
The biggest factor in the improved defensive showing was the intensity of the pass rush. The coaches used a variety of blitz looks earlier and more often than in recent weeks, and end Noah Spence flashed the 5-star talent OSU fans have been anticipating from the sophomore. Another opposing freshman quarterback will be facing that revived defensive front this week.
Despite the spotty defense displayed at times by the Buckeyes this year, they are still ranked 15th in the nation in scoring defense (19.1 ppg) and 13th in total defense (336.1 yards per game). They have yet to allow a 100-yard game by an opposing rusher, and are the only FBS team that has not allowed a running play of more than 20 yards this season. (A 17-yard run by Wisconsin's James White is the longest)


Key Personnel: Purdue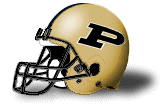 It is a mark of how bad the 2013 season has been for Purdue that in one of their better performances, they were shut out. Boilermaker fans point to the 14-0 loss to Michigan State two weeks ago as a game in which they were at least competitive. They also played Notre Dame tough in a 31-24 defeat back in September, but their other four losses have been by 31 points or more.
The 2013 statistics for this Boilermaker offense are dismal. They are ranked 120th in total offense (278.6 ypg), 119th in rushing offense (76.1 ypg), 90th in passing yardage (202.4 ypg) and 119th in scoring offense (13.1 ppg). Remember...123 FBS teams.
Freshman Danny Etling took over from opening day starter Rob Henry after not playing at all in the first four games, and he has started the last two contests, completing 47 of 99 throws for 585 yards, with three touchdowns and four interceptions. Another freshman, wide receiver DeAngelo Yancey has been the most productive of Purdue's receivers, gaining 327 yards so far, on 15 receptions with one touchdown, and a 21.8 yards per catch average.
On the ground, the leading rusher is Akeem Hunt, but he is averaging just 42 yards per game. Hunt did return a kickoff 100 yards for a TD last year in Columbus, and he possesses the speed to hurt the Buckeyes on the outside on screens or stretch plays.
On defense the Boilermakers are stronger than on the other side of the ball, but they haven't been good at stopping the run (92nd nationally) which can tend to make a team's pass defense numbers (25th-ranked) look artificially good. Senior cornerback Ricardo Allen is the team's best defensive player, and another senior, linebacker Will Lucas, leads Purdue in tackles with 35.

Idle Speculation

I'm a bit hesitant to speculate at all this week after missing last week's margin of victory by a mere six touchdowns, but that's buried in the archives now, and I won't bring it up again if you won't.
The most important question to be answered this week by Ohio State is whether the complete and resounding victory over Penn State a week ago represents a turning point for this team, or merely a high-water mark. OSU struggled on the road earlier against a Northwestern team that has not won a game since. In their only other road game, they gave up 34 points to a Cal team (1-7) that has not scored more than 22 in their five consecutive losses since that day.
The point being...it's all different on the road. In this case however, even the Ross-Ade Stadium venue, with all of its recent negative history, shouldn't be enough to slow down a Buckeye team on a roll.
The Purdue weakness against the rush will be exploited to the max by an Ohio State offense that would really rather run Carlos Hyde down an opponent's throat than do just about anything else. Braxton Miller has improved significantly in his reads and his decision-making in the last two games, and that experience should help him take advantage of a Purdue defense that will be blitzing him right from the start.
Only Ohio State turnovers or special teams lapses appear to have the potential to keep this from becoming a rout. Given the way Miller and his mates have avoided turnovers in recent weeks (none in last two games) that seems like little more than a fond hope for Purdue fans.
This should be an easy win for the Buckeyes...let's say 41-7.
---

---
on Twitter at @dwismar

---
photo credits: Rick Osentoski (Dan Herron at top)

Nov 01, 2013 1:53 PM
Last Updated:

Nov 01, 2013