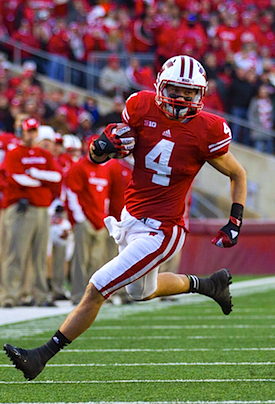 I'm always watching college football, and the Big Ten specifically, with an eye toward players I could reasonably project into a Browns uniform one day. It has always made sense to me that the home team should draft and sign more Big Ten talent. They're accustomed to playing in this weather for one thing, and fan familiarity counts for something too.
The new Browns have been decidedly averse to Ohio State players, for whatever reason seeming to ignore the rich history there, from Groza to Schafrath to DeLeone to Houston to Warfield. The current roster has just one OSU player, rookie tackle Reid Fragel, recently signed off the Bengals waiver wire, although picks from elsewhere in the conference...Joe Thomas comes to mind...haven't worked out badly.
The Browns have drafted just two OSU players (WR Brian Robiskie, 2nd round, 2009 and TE Darnell Saunders; 6th round, 2002) since Bill Belichick took an inexplicable flyer on Craig Powell on his way out of town in 1995. And there have been a few other high-profile misses by the Browns on Big Ten players. Courtney Brown of Penn State and Michigan's Braylon Edwards were a No 1 and a No. 3 overall pick respectively. That might have gone better.  Ditto Tom Cousineau.
Thomas is the only starter among Big Ten alumni on the current Browns. They signed four bench players for 2013 from the ranks of the Big Ten, including Fragel, former Minnesota QB MarQueis Gray as an H-Back-tight end experiment, reserve linebacker Eric Martin from Nebraska, and Cleveland's own Brian Hoyer from Michigan State. Hoyer of course would make two starters...were he not on crutches.
Trends in college football being what they are, this dearth of Big Ten players on the Browns roster is clearly a problem of supply as much or more than it is one of demand. That topic will be dealt with in a subsequent article titled, "Why the Big Ten Blows". For now, it is enough to notice that there's quite a bit of draft-eligible talent in the conference coming into the 2014 draft, and that the Browns have a slew of picks.
As luck would have it, some of the best the conference has to offer in 2014 is at positions of need for the Browns...with running backs, wide receivers, cornerbacks and offensive guards well-represented…(alas, no senior quarterbacks to speak of). So what follows is my list of a dozen or so Big Ten players I wouldn't mind seeing in an orange hat next year:
---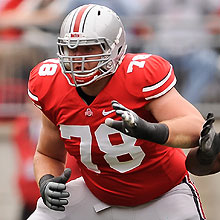 Andrew Norwell - G - Ohio State - 6' 6", 316 lbs. Norwell was first team All-Big Ten a year ago, and is a near lock to repeat. Has been a fixture at left guard since his sophomore year, and played 98.8 percent of the team's offensive snaps in 2012. OSU rushes for 310 yards a game largely behind Norwell and his mate Jack Mewhort (see below) on the left side. Huge, athletic, durable, with a work ethic. Can play some tackle too. Screams 10-year NFL starter.
---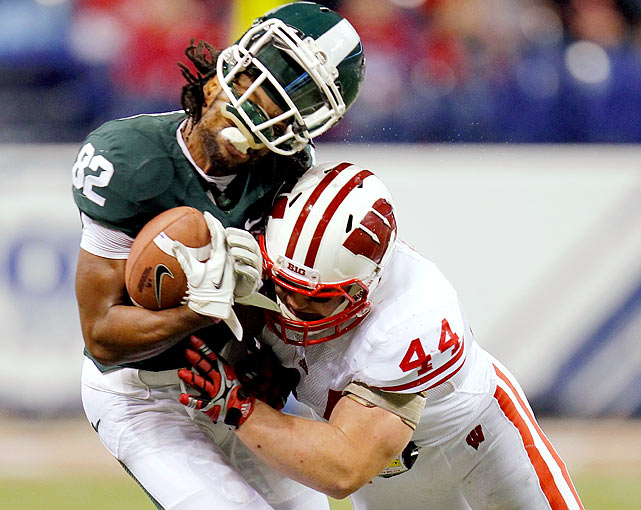 Chris Borland - LB - Wisconsin - 5' 11", 248 lbs - The young man from the Dayton area is just flat out the league's best linebacker. He racked up 143 tackles as a sophomore in 2011 and hasn't looked back. Borland is fearless and he plays with all-out effort all the time...a tackling machine who hits like a truck. He was voted All-Big Ten by the coaches a year ago, and although he has missed a game with an injury this season, Borland is still 4th in the conference with 70 tackles, plus four sacks. An instinctive hitter and a punishing tackler, he's got a full tank of that stuff you can't teach.
---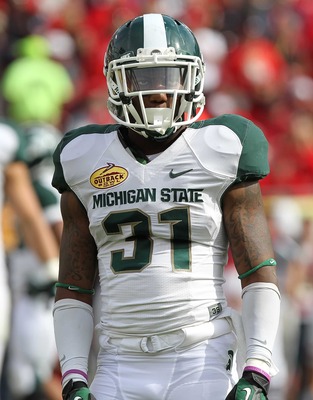 Darqueze Dennard - CB - Michigan State - 5'11", 188 lbs. - A tough, physical cornerback, and the best defensive back on what is statistically the nation's best defense, Dennard is rated as one of the top half-dozen cornerbacks in the draft, so he's not going to be around on Day 3. It would probably take one of the Browns' two 3rd's to get him, if he's around that long. Dennard's coverage skills and his consistent 2013 season give him the edge here over OSU's Bradley Roby...no slouch in his own right.
---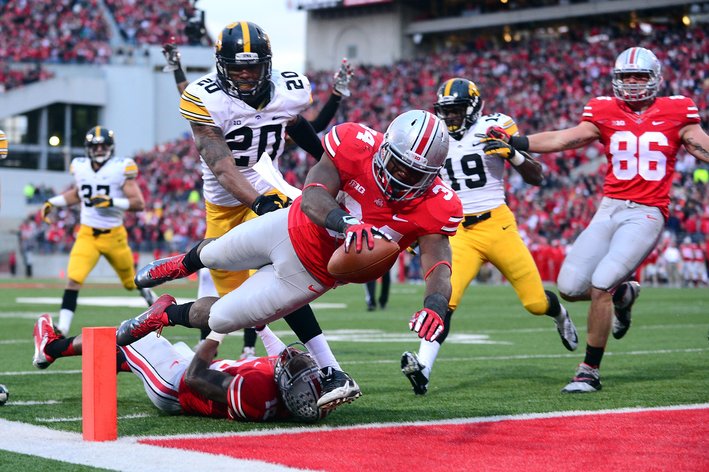 Carlos Hyde - RB - Ohio State - 6' 0", 242 lbs. - Since the Browns have nothing remotely resembling even an average NFL running back on the roster, they will surely be spending some of their accumulated stash of picks in the offensive backfield. They could do a lot worse than the power-speed combination of Carlos Hyde, the Buckeyes' battering ram of a back. Hyde has 701 yards and 7 TD's in just six games this year, including 575 in his last four contests. He is averaging a healthy 7.3 yards per carry, and catches the ball well (8 rec, 64 yds). Hyde is climbing draft boards every week now after a couple of nationally televised performances in October.
---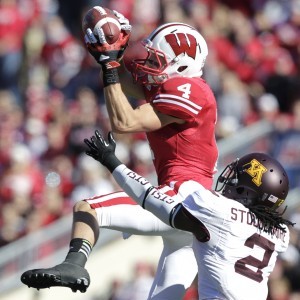 Jared Abbrederis - WR - Wisconsin - 6' 2", 190 lbs - Abbrederis has been a starter for the Badgers since his freshman year, and if nothing else, the Buckeyes will be glad to see him move on. He had 16 catches for 320 yards and three touchdowns in his last two games combined against Ohio State. He could play out wide, but more likely projects to a slot receiver in the NFL. Great route runner with tremendous hands and ball skills. All-Big Ten first team in 2012, and he already has Urban Meyer's vote to repeat. He's a small town kid who would be just as happy if he wasn't a celebrity. He might last till the middle rounds because heart isn't a "measurable".
---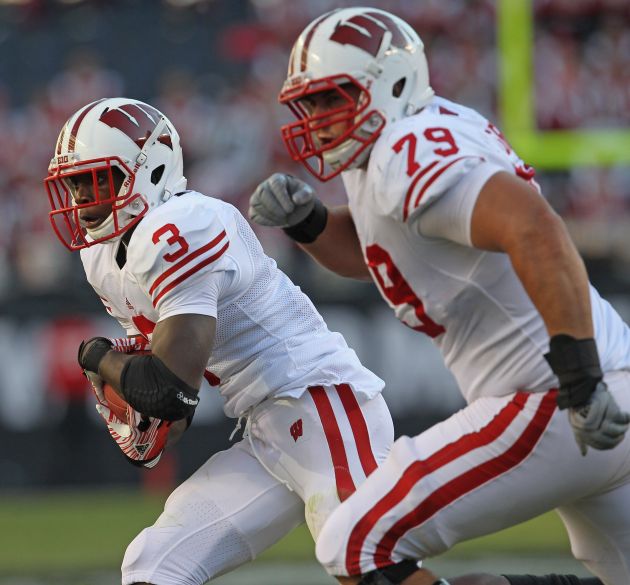 Ryan Groy - G - Wisconsin - 6' 5", 320 lbs - It's rarely a bad idea to draft offensive linemen from Wisconsin. They churn out NFL linemen like Apple does phones. Groy is the latest Badger product to shoot up NFL draft boards, currently among the top 6-10 guards for 2014, projecting as a mid-to late round selection. The size and athleticism is there, and you know he's been well-coached. MSU's Blake Treadwell and Nebraska's Spencer Long are also late round possibilities at guard. Long's knee injury ended his 2013 season early, or he would be higher on my list.
---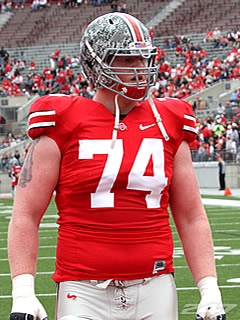 Jack Mewhort  - OT - Ohio State - 6' 6", 308 lbs. - OSU has one of the best offensive lines in the country, and senior captain Jack Mewhort is a big reason why. He started 13 games at guard as a sophomore before moving to left tackle for the 2012 season, making 2nd team All-Big Ten at year's end. He's on everybody's projected first team this year, because he has continued to improved his technique to go with the toughness and durability that has always been there. Mewhort has the versatility to play at guard or tackle at the next level, and since he'll be a solid NFL player, he might as well be doing it in Cleveland. Rated the 6th best tackle in the draft by Shawn Zobel.
---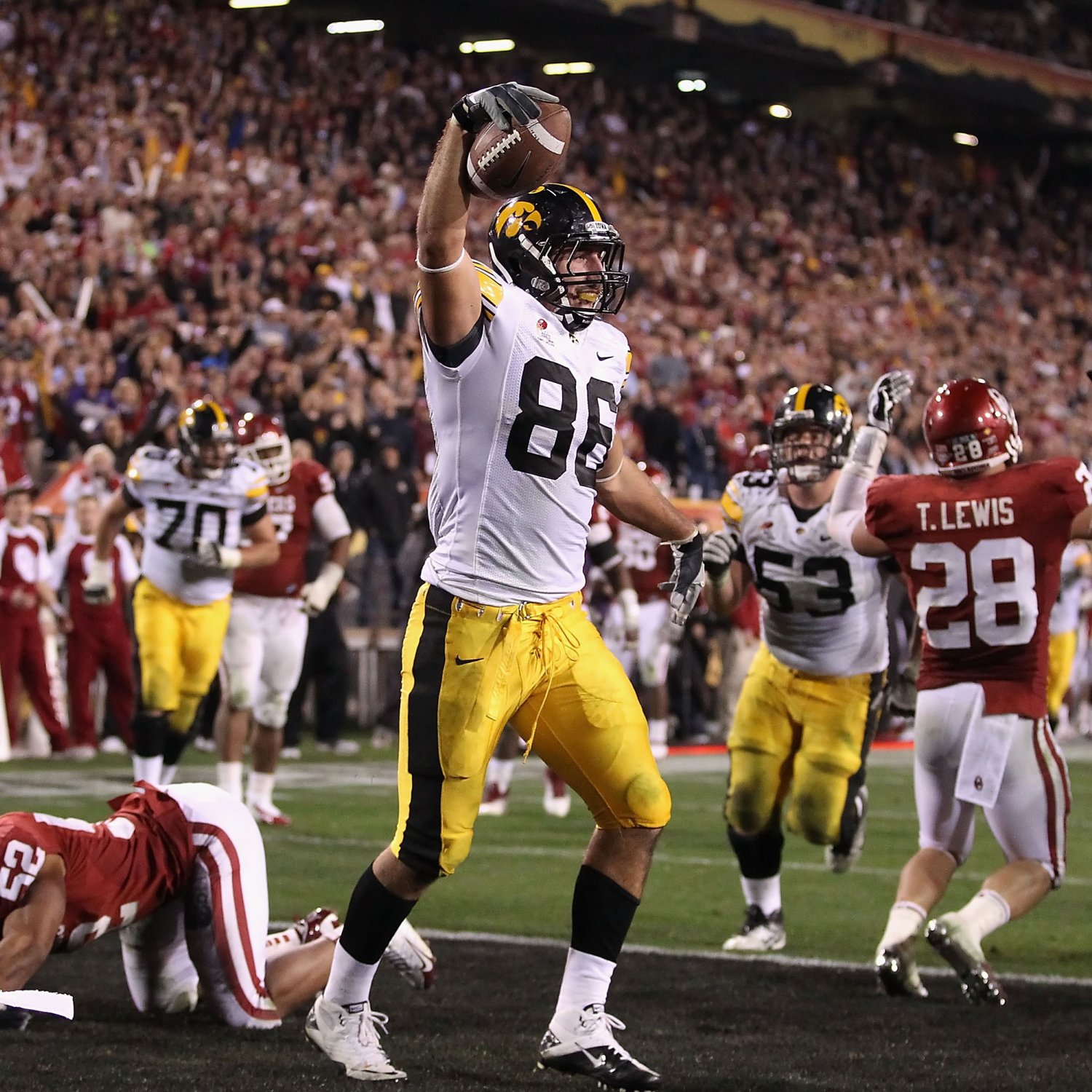 C.J. Fiedorowicz - TE - Iowa - 6' 6", 265 lbs - The big tight end was a recruiting coup for the Hawkeyes four years ago, and while he hasn't been as dominant as some expected, he still rates among the top five tight ends in the draft, and projects as a 2nd to 4th round selection. Fiedorowicz is very athletic and fluid for a big man, with good hands and decent speed. The Browns could use a solid, blocking complement to Jordan Cameron at tight end. Maybe they could steal this guy with one of their 4th rounders.
---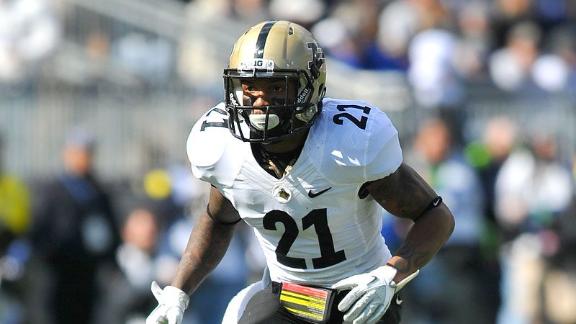 Ricardo Allen - CB - Purdue - 5' 9", 186 lbs. - Yes, the Boilermakers have given terrible a bad name in 2013, but Allen is a very talented cornerback, having made second team all-conference in 2012 in the voting by the league's coaches. He's smallish at 5' 9", but then so is Joe Haden. Allen is rated behind Dennard and Roby, but might be worth looking at on Day 3. Most of the scouting services have him ranked as one of the top 15-20 corners, and project him in rounds 4-6.
---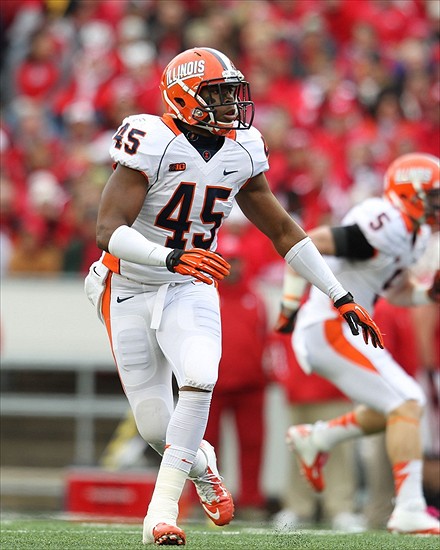 Jonathan Brown - OLB - Illinois - 6' 1", 235 lbs - Outside linebacker is not a pressing position of need for the Browns at the moment, but Jonathan Brown is one of those guys any NFL team could use. He looked like a rising star as a sophomore in 2011, with 108 tackles and 6 sacks before missing time in 2012 with a shoulder injury. Brown is back to his 2011 form this year, with 88 tackles and four sacks to date, and he's showing the size and speed combination valued at the next level. Lorain product Anthony Hitchens from Iowa is another possibility at OLB, but the guess here is that Brown is the better NFL prospect, if he can overcome some character concerns.
---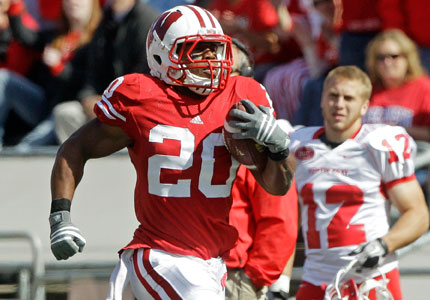 James White - RB - Wisconsin - 5' 10", 198 lbs - If Hyde could be the Browns' new Mr. Inside, then White could be Mr. Outside. Sharing time during his career with John Clay, Montee Ball, and now Melvin Gordon, White has managed to make his own mark in the long tradition of Badgers running backs. In four years, he has rushed for 3,522 yards and 43 touchdowns...not bad for part-time duty. (Now, if Gordon, a third-year sophomore, declares, you do all you can to get him) If Dion Lewis doesn't return to form for the Browns, a speed back with excellent hands (59 rec, 4 TD receiving) like White would look good in brown and orange. (I loved Northwestern's Venric Mark as a tough, fast back, but his 2013 is over due to injury, and his past problems with durability will give any NFL team pause.)
---
The list above is made up of seniors, but there is also a handful of juniors who would clearly be of interest to the local franchise should they declare for the draft.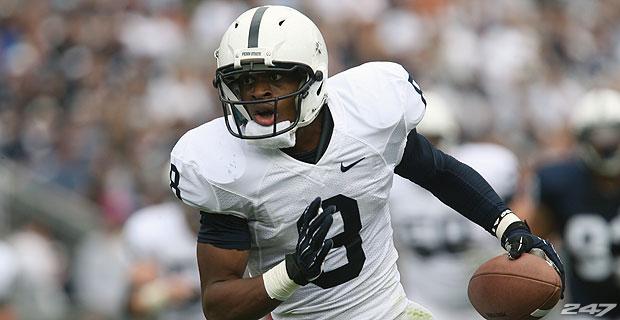 Allen Robinson - WR - Penn State - 6' 3", 210 lbs. - The Nittany Lions' star receiver is well on his way to matching his All-Big Ten totals of 2012 (77 rec. 1,018 yds, 11 TD's) this season, with 73 catches already, for 1,106 yards and 6 touchdowns. Robinson is the total package, and while he may fall behind guys named Evans, Watkins and Lee in this draft, it won't be far behind. The Browns need offensive playmakers, and Robinson would look good opposite Josh Gordon on the outside, or in the slot. Projected in rounds 2-3.
---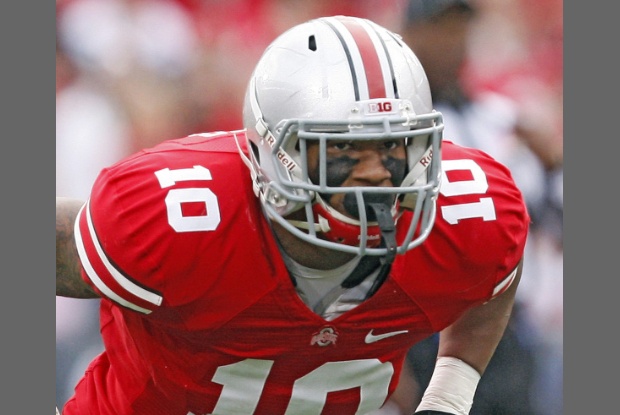 Ryan Shazier - LB - Ohio State - 6' 3", 230 lbs. - It would shock me if Shazier doesn't declare for the draft after this season, as most everyone projects him into the first two rounds. Again, his position is one at which the Browns appear to be well-stocked at present, but this combination of speed and power and tenacity doesn't come along every day. The hometown team probably won't have the luxury of taking an OLB with one of their three picks in the first two rounds, and Shazier is likely to be gone by the 3rd.
---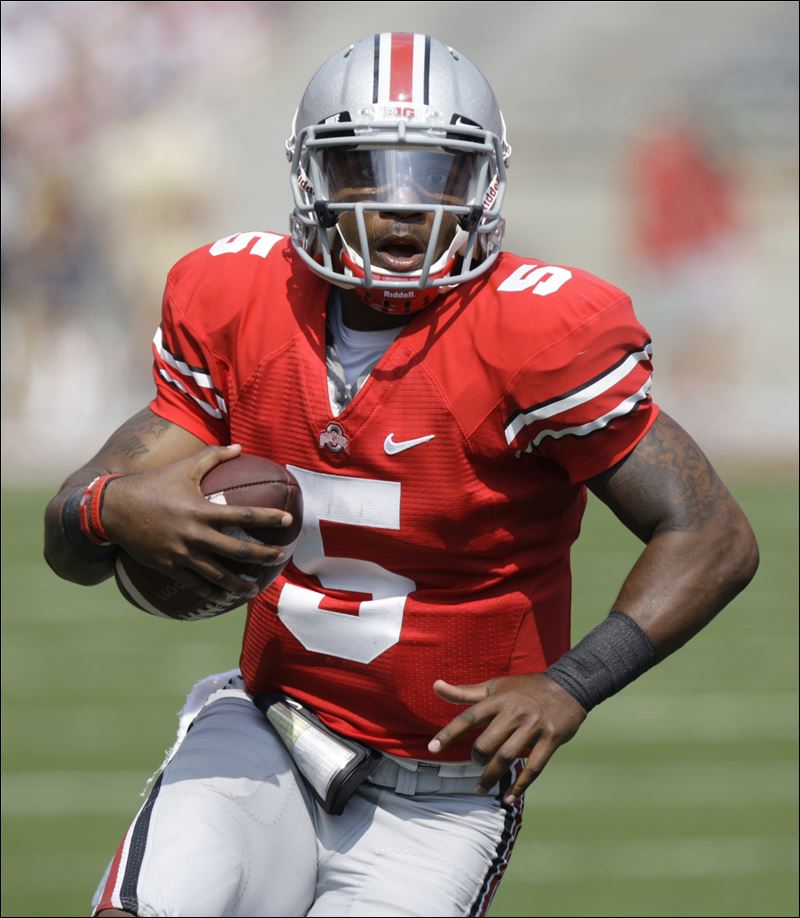 Braxton Miller - QB - Ohio State - 6' 2", 215 lbs, - Seven years ago, I was hoping the Browns would not draft Troy Smith, because I had high hopes for a prosperous NFL career for the hometown Heisman Trophy winner, and I knew how unlikely that was to come about with the quarterback graveyard that was the Cleveland Browns. Things are different today...if only slightly, and joining the Browns isn't necessarily a death sentence for a QB. There are a few things about this draft we know for sure. It's a deep draft for quarterbacks, and the Browns will draft at least one of them...somewhere.
From what I hear, Miller would like to come out after this season to the NFL, although he is being advised that it might be better to remain in Columbus for his senior year, the 2014 quarterback class being what it is. As to the doubters that Miller's game projects to NFL success, all I can do is point to the meatballs playing the position in about 25% of all NFL franchises, and reference Miller's big arm, his improved passing mechanics and his extraordinary mobility to demonstrate how he could develop into a real upgrade for several teams.
Miller's durability is one big question mark of course. He has been banged up from time to time, as any running quarterback will be. But if the Browns decide to let the first round go by without picking a QB, and Miller is sitting there in Round 2 or 3. I think they'd be well advised to look his way. No other Big Ten quarterback is draft-worthy this year...a situation that helps explain the conference's diminishing football reputation.
---
on Twitter at @dwismar
Nov 13, 2013 5:00 PM
Last Updated:

Nov 14, 2013