- Saturday, November 16, 2013
- Memorial Stadium - Champaign, Illinois
- Ohio State (9-0, 5-0) at Illinois (3-6, 0-5)
- 12:00 p.m. ET
- TV: ESPN -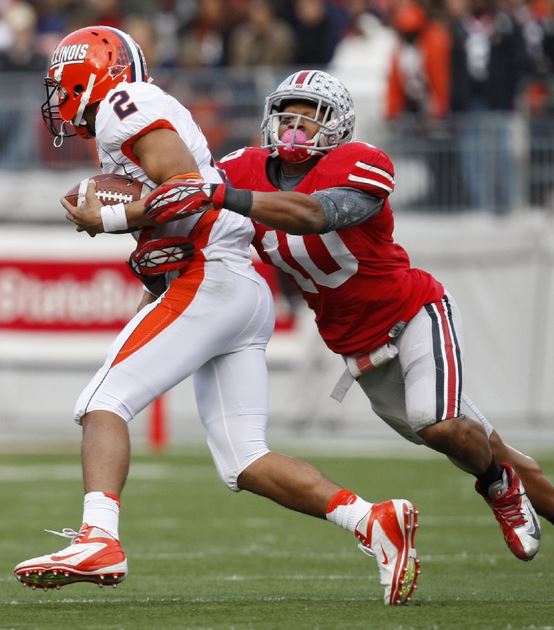 Ohio State comes off the bye week with a road trip to Champaign Saturday for a noon kickoff against the Fighting Illini. The 9-0 Buckeyes will be gunning for their 22nd straight win, which would tie the school record set over the course of three seasons from 1967-69. This streak doesn't have a national championship in the middle of it like that one did, but the 3rd-ranked Buckeyes still have hope that they can make it to the last BCS title game...with four more wins, and a little help.
Memorial Stadium has not been an especially friendly venue for Ohio State in recent times, although the Bucks have not lost there since 1979. Visits to the wind-swept plain of Illinois have produced OSU victories, but they have often been decisions that were much closer than expected. Hard fought wins over the Illini in 2010 (24-13) and 2011 (17-7) are just the most recent examples.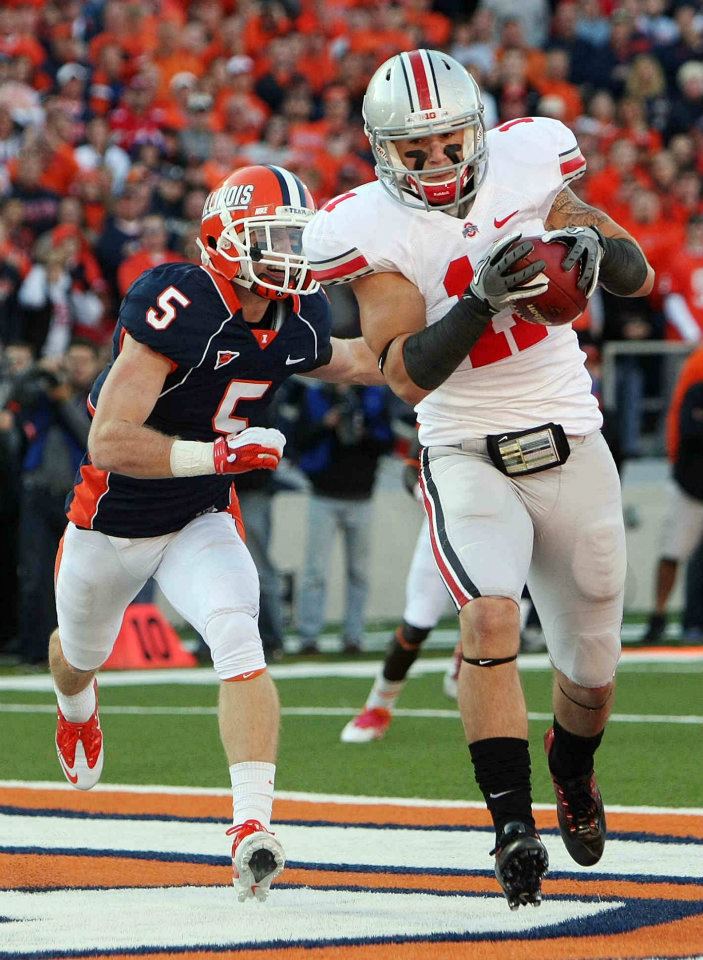 OSU fans will recall a scandal-weakened Buckeye team going into Champaign in 2011, with a freshman quarterback named Braxton Miller at the helm, to face an Illini group that was a surprising 6-0 at the time. They may also remember the Bucks escaping with a 10-point victory having completed just one forward pass on the day, that a 17-yard touchdown to Jake Stoneburner. The Illini season collapsed after that game, as they lost six straight to finish the regular season at 6-6. That will get a coach fired, and Ron Zook bit the dust before the team's bowl game win over UCLA.
That OSU win two years ago is significant this week because the Illini are on a streak of their own. They have lost 19 straight Big Ten games, beginning that day against the Buckeyes. Ohio State faded late too that year, ending 2011 with four straight losses, but they landed Urban Meyer, who hasn't lost yet. The rebuild in Champaign is more...ongoing.
And no account of this series could exclude the events of six short years ago, when the Illini came to Columbus with an experienced dual-threat quarterback, and shocked the 10-0 and No. 1-ranked Buckeyes 28-21. It didn't cost OSU its chance to play in the BCS title game...and the less said about that the better...but it cost them a perfect regular season, and ended a streak of 20 straight Big Ten wins for Jim Tressel's guys. So...no parallels at all to this Saturday's game.
OSU leads the all-time series 65-30-4, and they are 35-12 in Champaign. Last year in Columbus, Meyer hung half a hundred on them in a 52-22 rout. The Buckeyes outgained the Illini 567 yards to 170. That's the kind of game most people expect this week.
Oh, and by the way, as if there's not enough on the line already, this game will also be contested for possession of a wooden turtle.

State of the Bucks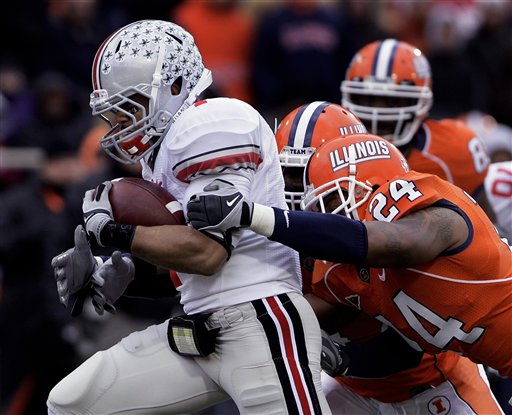 At the three-quarter pole of the regular season, trends are emerging for this OSU team. The Buckeyes have been getting it done with an extremely balanced offense, and by not beating themselves with turnovers and penalties. The defense has been gradually improving against the pass, and has yet to allow a 100-yard rusher. They are also the only team in the country that has not yet allowed a rushing play of more than 20 yards.
The Buckeyes are averaging 301 yards rushing per game, but not because they are ineffective throwing the ball. The Miller-Guiton combination at QB has thrown for 2,068 yards, with 29 touchdown passes to five interceptions, averaging 229.8 yards per game.
OSU Is also +9 in turnover margin...18 takeaways to 9 turnovers, ranking first in the Big Ten. They are averaging over 5 penalties a game for 46 yards, but in the last seven games, they've been flagged about four times a game, for just 25 penalty yards per contest. That's pretty clean football.
Ohio State has had just two offensive holding calls in the last five games, and have been called for pass interference only twice all season. (Some wise ass might joke that OSU defensive backs haven't been close enough to opposing receivers to get called for pass interference….but I wouldn't stoop that low.) The point is, an opponent has to beat them, because they aren't going to self-destruct.
Ohio State's national rankings (123 teams): 10th in total defense, 3rd in rushing defense, 47th in passing yards allowed. On offense, they are 8th in rushing yardage, 68th in passing offense, and 6th in total offense at 530.9 yards per game.
---
Key Personnel: Illinois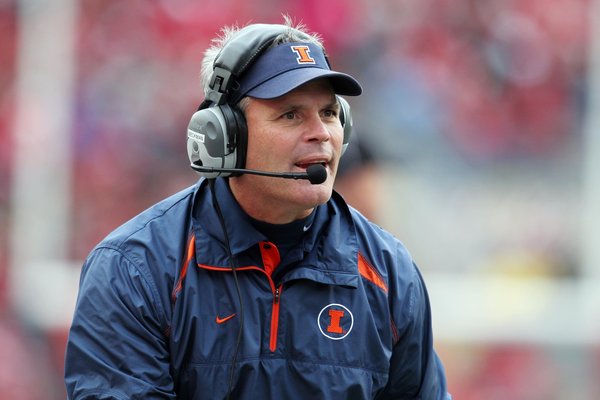 The Illini (3-6, 0-5) and second-year head coach Tim Beckman put up a solid effort in Week Two in beating Cincinnati, but after a 3-1 start, they headed into conference play, and five games later are still looking for Beckman's first Big Ten victory. Beckman is another branch on the Urban Meyer coaching tree, having worked as defensive coordinator and assistant head coach on Meyer's Bowling Green teams of 2003-2004. After stints at two different OSU's…in Columbus (2005-2006) and Stillwater (2007-2008), he went on to accomplish a turnaround at Toledo (2009-11) before being tabbed to replace Zook.
Urban Meyer joked this week that it feels like Nathan Scheelhaase has been at Illinois for about 20 years. The senior Illini quarterback is having a good year in his last go 'round in Champaign, with 2,420 passing yards, 15 TD passes and 8 interceptions. His 7,716 career passing yards put him in elite company in Illinois history. (Jack Trudeau: 1st; 8,725 yds) The Illinois offense is capable of scoring big if the 6' 3", 205 lb QB from Kansas City is on his game.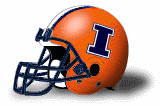 Running back Josh Ferguson is the leading rusher (92 att, 485 yds, 4 TD, 5.3 yd avg) and leading receiver (37 receptions, 483 yds, 4 TD) for the Illini. Donovonn Young returns in the speed back role, and he has chipped in with 330 rushing yards and 3 scores. Seniors Spencer Harris (34 rec) and Steve Hull (28 rec, avg 20.1 yards) are the top wide receiver targets for Scheelhaase.
The situation on defense for the Illini is sad...no way to dress it up. They rank last (12th) in the conference in run defense, and are 10th against the pass, and again, last in total defense. They have two solid linebackers in senior Jonathan Brown, who has a team leading 88 tackles and 10.5 TFL, and Orrville native Mason Monheim, currently right behind Brown with 74 stops and 4.5 TFL., but that has not translated to any effectiveness stopping opposing running games.
In the secondary, keep an eye out for V'Angelo Bentley (#2), a sophomore cornerback from Glenville who doubles as a capable kickoff returner.
Idle Speculation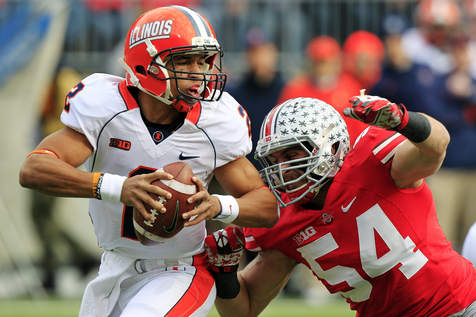 Aside from the obvious mismatch that is the league's best offense pitted against the league's worst defense, the momentum of these programs in opposite directions is evident coming into this game, wind or no wind. There is no reason to suspect that the Buckeyes will fall significantly short of their per game average of 530+ yards of offense. The only question is how troublesome Nathan Scheelhaase will be for the Ohio State defense.
Despite all the yardage, Illinois is not a very effective red-zone offense. And the 3rd down performance of these teams also points to OSU dominance. Ohio State leads the Big Ten in 3rd down offense, converting 54.2% of their attempts. The Illini come in 10th in the conference on 3rd down defense. Not a promising stat for the hosts this Saturday.
Only the weather is likely to slow down the Buckeyes when they have the ball. But this will be the first test in several weeks against a team that has an actual passing attack. It will be interesting to see how the OSU defense holds up.
Because it's Illinois, and because it may be rainy and nasty out, I'm guessing the Buckeyes will come up short of covering the 31-point spread. Illinois will score some points. I'll call it 45-17.
---
---
on Twitter at @dwismar
---
Nov 13, 2013 12:00 AM
Last Updated:

Nov 19, 2013