- Saturday, November 23, 2013
- Ohio Stadium - Columbus, Ohio
- Indiana (4-6, 2-4) at Ohio State (10-0, 6-0)
- 3:30 p.m. ET
- TV: ABC (Regional) or ESPN2 -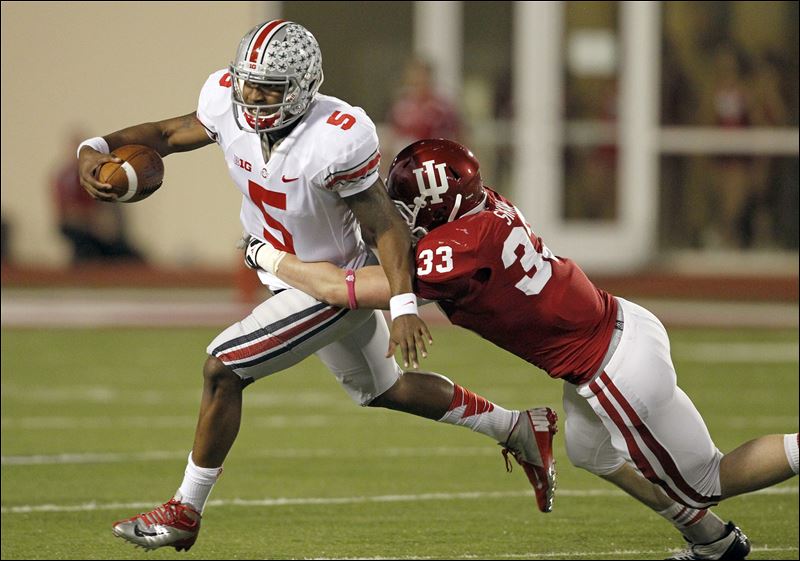 The Indiana Hoosiers will provide the opposition as the Buckeyes try to set a school record for consecutive victories with their 23rd straight on Senior Day in Columbus this Saturday. It's the final home game of the 2013 season, and 18 seniors will be honored for their contributions to Ohio State football, including 10 starters.
Ohio State squeaked by the Hoosiers last year by a 52-49 score, in a game that saw Indiana stage a furious 4th quarter comeback that ended when OSU recovered the second of two onsides kick attempts with just over a minute to play. The Hoosiers are trying to close out 2013 with two victories to become bowl eligible, but an upset win over Ohio State, in the final career home game for so many Buckeye players, seems like a pipe dream.
Not unlike Illinois a week ago, the Hoosiers have an offense that can put points on the board, especially with their passing game, but also like the Illini, their defense has proven to be as effective as a screen door in a submarine, giving up a whopping 676 total yards to Wisconsin last week in a 51-3 loss to the Badgers. Ohio State has the most prolific offense in the conference (536.9 ypg), and Indiana the worst defense (534.8 ypg allowed). Whatever happens when Indiana has the football is likely to be of secondary importance.
The all-time series between the schools has been a story of OSU dominance. Ohio State leads it 69-12-5, including a mark of 43-10-4 in Columbus. The Bucks have won the last 18 meetings, going back to a tie in 1990. OSU lost two straight to the Hoosiers in 1987 and 1988.
OSU remains 3rd-ranked in the AP poll, and 4th in the coaches (ESPN/USA Today) poll, and is clinging to a slim lead over 4th-place Baylor in the BCS rankings. It's safe to say all those rankings will be moot in terms of the BCS title game if neither Alabama or Florida State loses a game in the next three weeks. If those two teams and the Buckeyes all win out, all three teams will go to Pasadena, with OSU playing on January 1st in the Rose Bowl, rather than on the 6th in the championship game.

State of the Bucks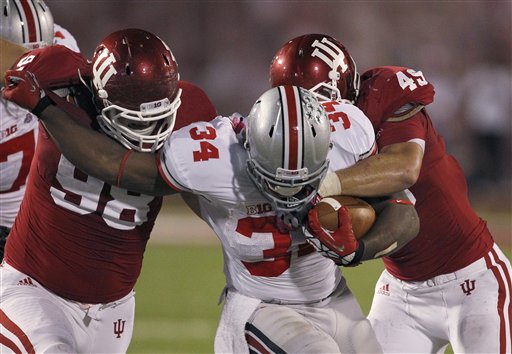 While Urban Meyer concentrated on getting his team ready for Indiana, the national media wanted to zero in on some innocuous comments Meyer made early in the week about the BCS system. He called it "a flawed system," a remark that absolutely no one disagrees with, but some TV talking heads accused him of "hypocrisy" (really?) because his teams had benefitted from the BCS system when he won two titles last decade.
Not much attention was paid to the words that followed: "...what the BCS people have done, which obviously we're all part of it, I think it was great for a while...I think it took an imperfect system and did the best you can without a playoff." This is what you get when the media is desperate for drama and discontent from the teams just outside the top two.
"This week is all about 18 seniors," said the coach, as he tried to change the subject. Cornerback Bradley Roby is included in the group to be honored Saturday. Roby has been at Ohio State for four years, and is set to graduate in June. He had announced before the season that this would be his last year in Columbus.
The Buckeyes are still a bit thin on defense, especially at linebacker, a position group that was considered thin even before players started getting hurt. Meyer said that Josh Perry would be back playing this week, but it sounded as though middle backer Curtis Grant would miss another game. Ryan Shazier has been the stalwart in that group, and he won yet another Big Ten Defensive Player of the Week award for his 16-tackle performance at Illinois. Freshman defensive end Joey Bosa, who had three sacks last week before leaving the game with a neck sprain, is expected to play against the Hoosiers.
Senior Salute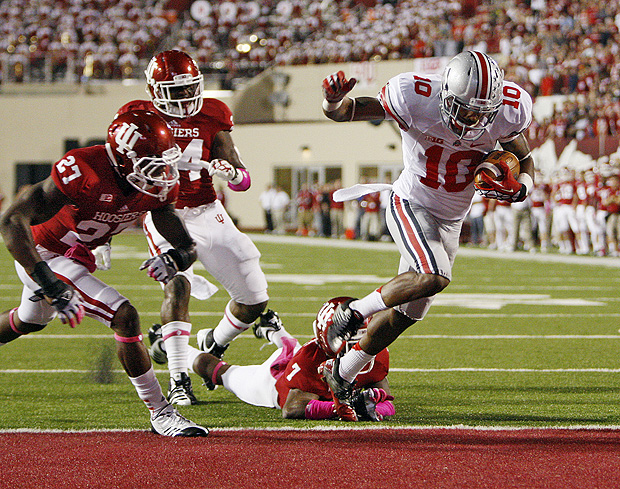 The strength of the OSU offense is the offensive line, and Meyer has missed no opportunity to praise them and remark what a sad day it will be when they're gone. Four of the five are among the seven senior starters on offense...LT Jack Mewhort, LG Andrew Norwell, C Corey Linsley, and RG Marcus Hall will be looking to go out in style Saturday. Item One will be to get fellow-senior Carlos Hyde over 1,000 yards for the season, which will make him the first running back on an Urban Meyer coached team to pass that milestone. Hyde is just 53 yards away, so it should happen before the Ohio Stadium seats get warm. The other senior starters on offense are receiver Philly Brown (#10 at right) and kicker Drew Basil.
On defense, safeties C.J. Barnett and Corey ("Pitt") Brown are both departing seniors, joining Roby in playing their final game at the Horseshoe. There is considerable speculation that Shazier will also move on to the NFL after this season, but he is still undecided, as is quarterback Braxton Miller. The latest rumor has Miller leaning toward coming back for 2014.
The other OSU seniors being feted Saturday are OG Ivon Blackman, S Christian Bryant, WR Chris Fields, CB Adam Griffin, QB Kenny Guiton, RB Jordan Hall, LS George Makridis, and DB Jamie Wood.

Indiana: Key Personnel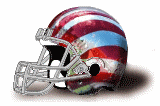 Kevin Wilson is in his 3rd year as head coach of the Hoosiers, and it's not hard to figure out that his specialty is offense. At the moment, his team is second in the Big Ten behind Ohio State in scoring, at 39.1 points per game. They are doing it largely through the air, as they are tops in the conference in passing offense at 306.9 yards per game, while ranking 6th in rushing (189.9 ypg).

As he has for two years, Wilson will use two quarterbacks. Sophomore Tre Roberson is the dual threat, running option, but fellow sophomore Nate Sudfeld (168 of 280, 60%, 2,281 yds, 19 TD, 9 INT) is the man behind center for the majority of snaps. Sudfeld has three capable wide receivers, all of whom are averaging more than 15 yards per reception. Cody Latimer (60 rec, 928 yds, 8 TD), Kofi Hughes (35 rec, 565 yds, 6 TD) and Glenville's Shane Wynn (#1 below) (31 rec, 522 yds, 7 TD) have all been productive for the Hoosiers, and tight end Ted Bolser has another 30 catches, and 5 touchdowns.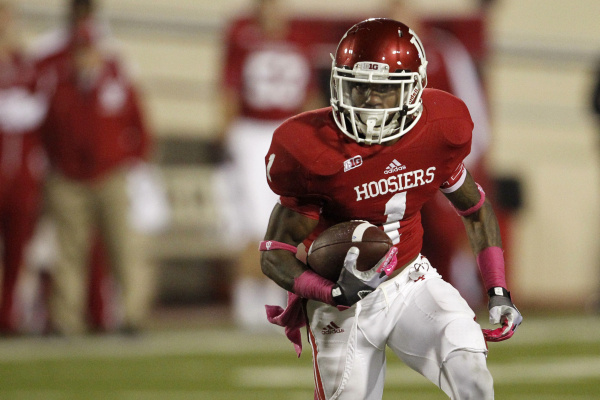 Running back Tevin Coleman has been a pleasant surprise, averaging 106 yards per game, but he missed last week's game with an ankle injury, and is questionable for Saturday. Steven Houston is the backup there. He had two rushing touchdowns against OSU last year, including a 59-yard run, and added a 25-yard TD reception late in the game.
On defense, the Hoosiers have a very young front seven, and although safeties Greg Heban and Mark Murphy are solid, their pass defense has been awful. Freshman T.J. Simmons starts at middle linebacker alongside junior David Cooper, who is tied with Heban for the team lead in tackles with 73.
Idle Speculation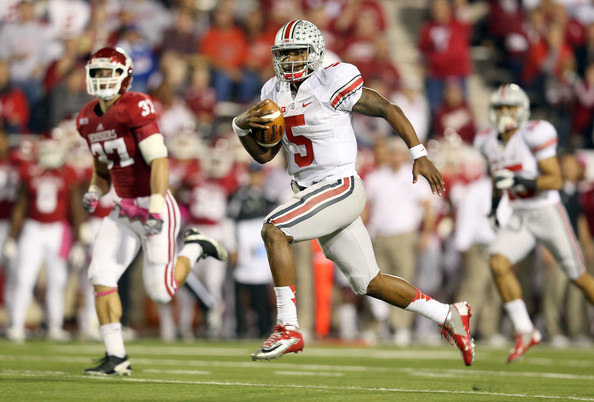 The Hoosiers didn't look like a high-powered offense last week, getting throttled 51-3 by Wisconsin, but they have shown they can move the ball and score points. No other OSU opponent in the past two seasons has come within 10 points of the 49 the Hoosiers put on the board last year in Bloomington. Against the Badgers they turned the ball over a couple of times early, and never recovered.
The OSU defense has been mixing things up lately with their blitz packages, and making an effort to pressure the quarterback in unpredictable ways. I expect they'll have better success slowing down the Hoosier passing game than they did a year ago. The new aggressiveness on defense for Luke Fickell's troops has a way of bringing out his players' superior athleticism.
In last year's game, Carlos Hyde (156 yds) and Braxton Miller (149 yards) combined to rush for 305 yards and 6.8 yards per carry. I see no reason to expect anything but similar numbers for that pair this Saturday. The forecast is for temperatures in the high 30's with 20-30 mph winds, so throwing the football may be problematic for both sides. On balance, I'd say that favors the Buckeyes. No team has had great success running the ball against OSU.
If it's a high scoring game, be aware of an amazing statistic about the Ohio State Buckeyes. They have never lost a game in which they have scored at least 35 points. As in NEVER, in the long history of football at Ohio State. It almost happened last year against Indiana. Philly Brown made a remarkable, over the shoulder grab of an onsides kick attempt deep in OSU territory, with a minute to play and several Hoosiers bearing down on him with the Bucks up by three points, 52-49. I'm guessing this year's game will not come down to the final minute.
The Bucks are 33-point favorites, but like last week, I think that's probably a few too many, considering the Hoosiers' offense and the injury situation on defense for OSU. I look for the Buckeyes to match their scoring average (47.3) while giving up some significant points to the visitors. I'll call this one 49-20 for the good guys.
---
---
on Twitter at @dwismar
---
Nov 22, 2013 2:26 PM
Last Updated:

Nov 22, 2013