- Saturday, December 7, 2013
- Lucas Oil Stadium - Indianapolis, IN
-The Big Ten Championship Game
- Ohio State (12-0) vs Michigan State (11-1)
- 8:00 p.m. ET
- TV: FOX -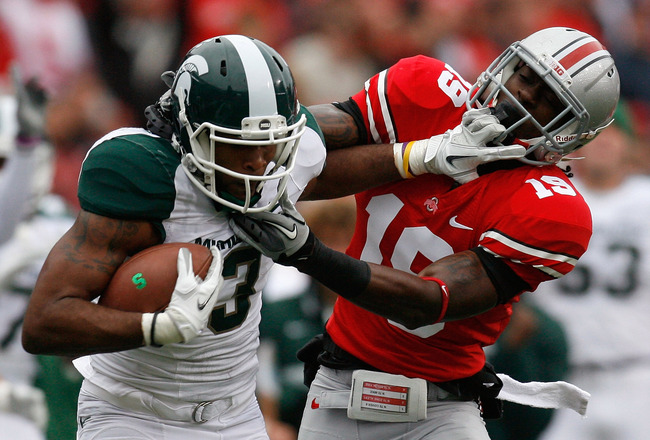 The third annual Big Ten Championship Game will match the undefeated and 2nd-ranked Ohio State Buckeyes and the 11-1 Michigan State Spartans on Saturday night in Indianapolis. Both teams are trying to earn a January trip to Pasadena, but they have different dates circled on the calendar.
Winning the conference championship trophy would almost assuredly earn Mark Dantonio's Spartans an invitation to the Rose Bowl classic on New Year's Day. Urban Meyer's Buckeyes on the other hand, are eying a chance to play on the same field five days later, when the national championship will be decided on January 6th. But first things first. As of two years ago, there is no such thing as winning "a share" of the Big Ten title, and both coaches are treating this game as far more than one more hurdle on the way to a bowl game.
The Big Ten's showcase event had the bad timing to debut in 2011, that aberration of a season for the team that had won six straight conference titles coming into that year. Ohio State was rocked by scandal, culminating in a coaching change and a 6-7 record. Last year, a 12-0 OSU team that was clearly the league's best was banned from postseason play, forcing the Big Ten to admit a five-loss team into its marquee game.
So the third annual will finally be the kind of matchup the conference bigwigs envisioned at the start. Two ranked teams fighting it out for the league title, with the outcome relevant to the national championship chase, as well as the Rose Bowl. More often than not, that scenario used to describe Ohio State-Michigan, and it was played on the last Saturday in November, but...the times they are a changin'.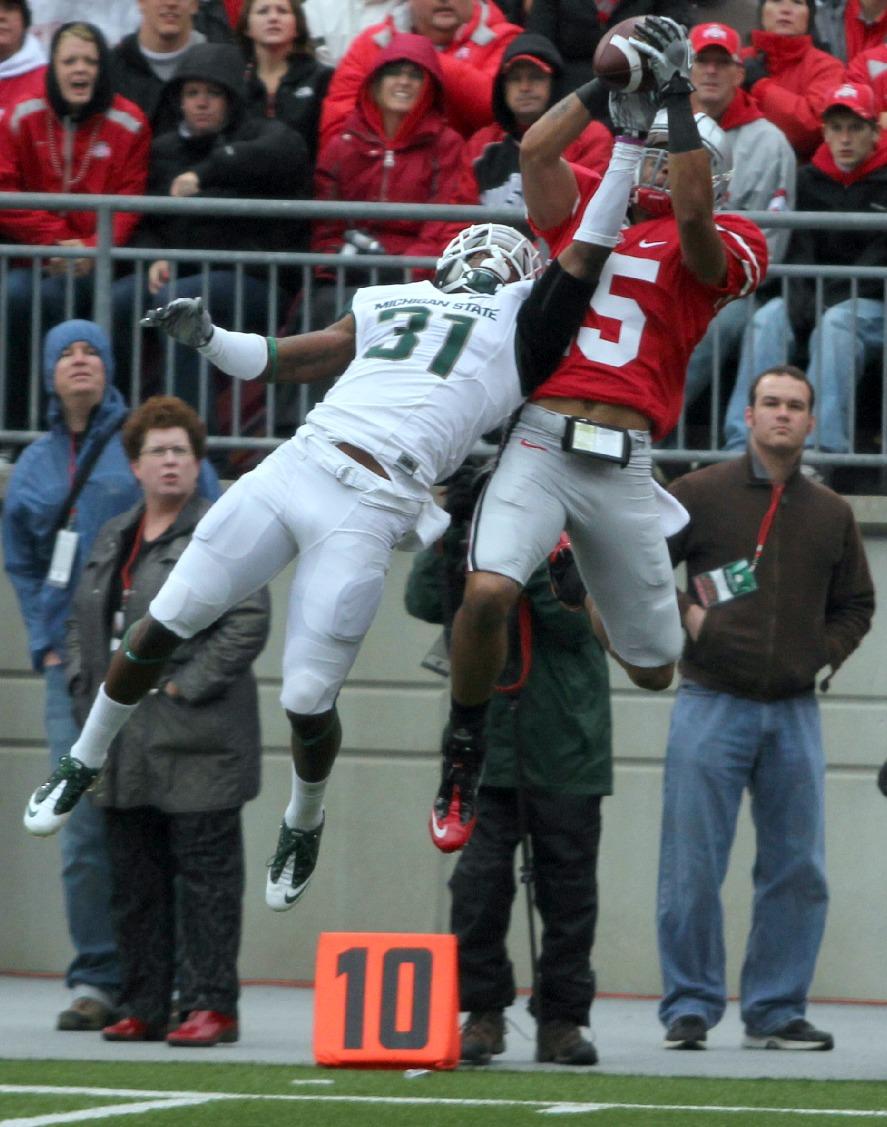 Speaking of change, we know this will be the first and last time Ohio State will play Michigan State in the ultimate Big Ten game, since realignment has the Spartans (and the Wolverines) joining the Buckeyes in the Eastern Division of the conference starting next year. This will be the Spartans' second appearance in the title game. MSU lost to Wisconsin 42-39 in the inaugural affair in 2011.
Ohio State leads the all-time series between the two schools 28-13, and the Buckeyes have won eight of the last nine meetings. This is the first time they have met on a neutral field.
Notable as always is the matter of the two-year undefeated record for Urban Meyer in Columbus, meaning that the winning streak, now at 24 straight games, is of course again "on the line." The more interesting angle (because 24-game winning streaks are so boring) is the matchup of Jim Tressel's well known successor going up against one of his protegés. Mark Dantonio was OSU's defensive coordinator in 2002, the last time any Big Ten team won the national championship, and he has taken his defense...and a good bit more of the Tresselball formula, up to East Lansing, with obvious success.
State of the Bucks - (2013 OSU Individual Statistics)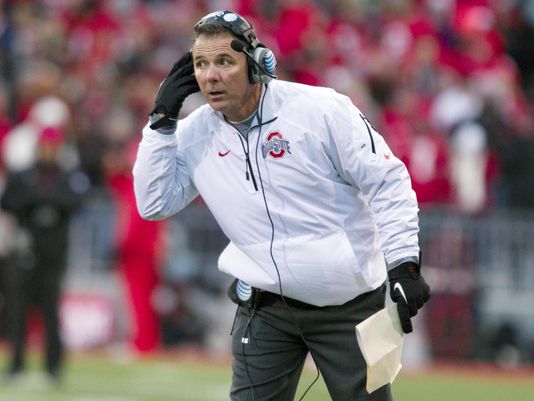 Meyer has made sure that the after-effects of the 2010 scandals amounted to no more than a one-year vacation from excellence in the Ohio State football program. He has his Buckeyes one win away from a shot at his third BCS title in the last eight years.
Any sentient Buckeye fan (I know that qualifier eliminates quite a few of them) knows that Meyer will not win every single game he coaches at Ohio State, but until he drops one, a mixture of gratitude and amazement is the common response to what is going on here. However, there is no shortage of college football experts predicting that the other shoe will drop this Saturday night. Others less expert, as in Bristol and Birmingham, are merely hoping fervently for that result.
The Buckeyes have managed to stay healthy for the most part, save the season-ending injury to starting safety Christian Bryant. As for their emotional state, it will be Meyer's main task to ratchet up his players once again, after what had to be an emotionally draining afternoon in Ann Arbor a week ago.
The matchup in this game of the league's best offense against its best defense has been hyped to death, and will of course be intriguing to watch unfold. Equally interesting though, will be to see which Ohio State defense shows up for this one...the group that was shredded last week to the tune of 603 total yards by the Wolverines...or the one that appeared to be improving, with more aggressiveness and better tackling, over the course of the season's second half.
Michigan State: Key Personnel - (2013 MSU Individual Statistics)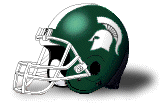 Dantonio is in his 7th year in East Lansing, and is 62-29 there, and 80-46 overall as a head coach, counting his three seasons at Cincinnati. He is 0-1 against Urban Meyer, having lost 17-16 to the Buckeyes last year, and 1-5 vs Ohio State in his career. He has guided Michigan State to their third 11-win season in the last four years. They were 7-6 in 2012, a bizarre campaign in which five of the six losses were by a total of 13 points.
The 2013 Spartans under Dantonio have the nation's top defense statistically, leading all FBS programs in yards allowed per game (237.7) and yards allowed per play (3.77) by considerable margins. They are atop the Big Ten stats in nearly every defensive category, and have allowed just 16 touchdowns all season. How they will hold up against the nation's 3rd best offense is likely to be the top storyline of the game. But they play offense too…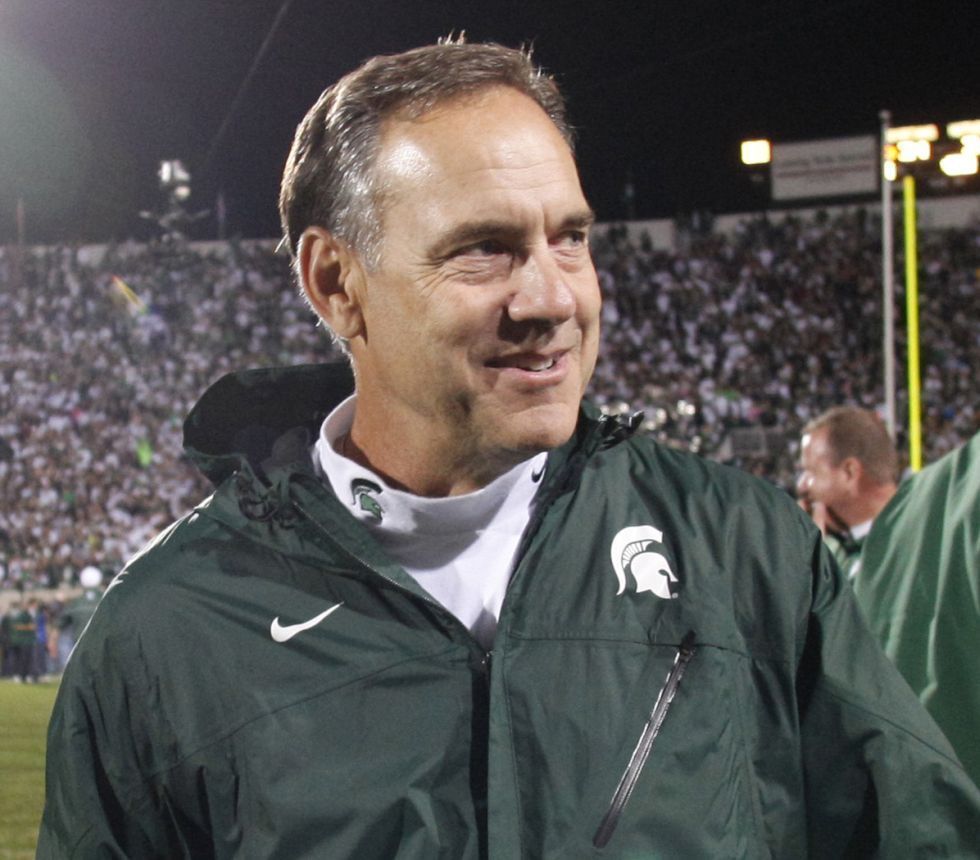 Connor Cook, the sophomore quarterback from Hinckley and Walsh Jesuit High School, was not offered by OSU the year they opted for Braxton Miller as their QB recruit, and he has blossomed at MSU after being handed the reins by Dantonio early this season. Cook (177 of 304, 58.2%, 2,119 yds, 17 TD, 4 INT) has good size and a strong arm, and is effective as a runner, although he is not a breakaway threat. The Spartans run a pro-style, tailback-oriented offense, and their tailback might just be the most overlooked player in the pre-game conversation.
All Jeremy Langford has done is pile up 1,210 rushing yards and 16 touchdowns, while averaging 4.9 yards per carry and 100 yards per game. The 6' 0", 206 lb. junior has taken up the slack from the loss of Le'Veon Bell to provide a pleasant surprise in the running game for MSU. If the Spartans are able to pull off the upset, my guess is it will be because Langford and the MSU offense have success running the ball.
Cook has big, rangy receivers to throw to, with Bennie Fowler (6' 1", 212) and Tony Lippett (6' 3", 191) the two top targets. Freshman tight end Josiah Price is just starting to emerge as a weapon for the Spartans, and will be a guy to watch this weekend.
The defensive backs get most of the ink for coordinator Pat Narduzzi's MSU defense, and rightly so. There are no weak links in the starting group of cornerbacks Darqueze Dennard and Trae Waynes, and safeties Kurtis Drummond and Isaiah Lewis.
Senior inside linebacker Max Bullough leads an outstanding linebacking unit as the signal caller on the field for Narduzzi, and he has 73 tackles and nine TFL on the season. Those numbers are topped only by outside backer Denicos Allen, who leads the team with 83 stops, including 15 TFL.
Less heralded, but just as capable is a strong defensive line unit, with ends Marcus Rush and sophomore sensation Shilique Calhoun, and tackles Tyler Hoover and Micajah Reynolds neutralizing opposing offenses at the line of scrimmage.
Idle Speculation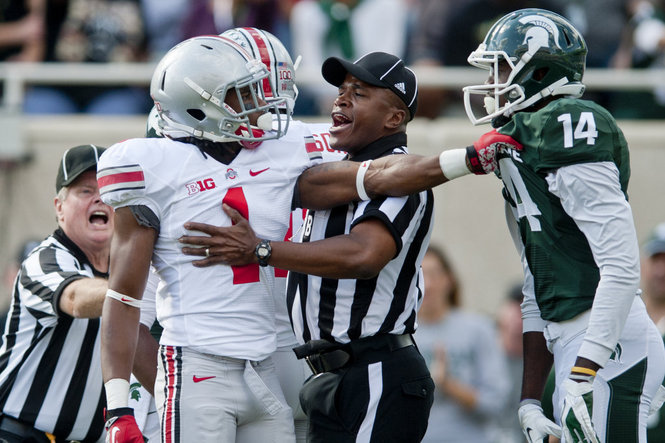 Michigan State likes to dare the opponents to challenge their cornerbacks down the field, so they can bring their safeties up and stack the box with nine defenders to stuff the rushing game. How they will react to Urban Meyer's four and five-receiver looks will be telling. I'd like to think that rather than try to go toe-to-toe with the nine-man front, and rush at them exclusively with the two-headed Hyde-Miller monster, they will loosen things up a bit first, with some short to intermediate passing successes, and a couple of shots over the top to Devin Smith mixed in with the running plays.
The Michigan State defensive backs are big and physical, and the corners will play mostly press coverage. If past performance is a reliable guide to what we'll see Saturday, they will grab, hold, arm-bar and rough up opposing receivers on most every play, with the assurance that the referees won't call them for it on every play. How the officials react to this physical style by the Spartan DB's in the game's first few series could go a long way to determining the outcome.
The Buckeyes have a shot at the national title game on the line (have you heard?), and yet it seems Dantonio's Spartans have most of the "intangibles" going their way. Much as Meyer has tried to cultivate an underdog mentality in this team, there is no doubt which side has the "nothing to lose" mindset going into this one. The Spartans have never played in a BCS game, and have not been to the Rose Bowl for 25 years! And as noted above, the Buckeyes are coming off of an emotional high, and will have to reset their intensity level early.
Another thing giving OSU fans pre-game heartburn is the fact that Dantonio has proven time and again to have the guts of a cat burglar. He always has trick plays ready for any situation, and if he has called one in recent years that hasn't worked, I can't recall it.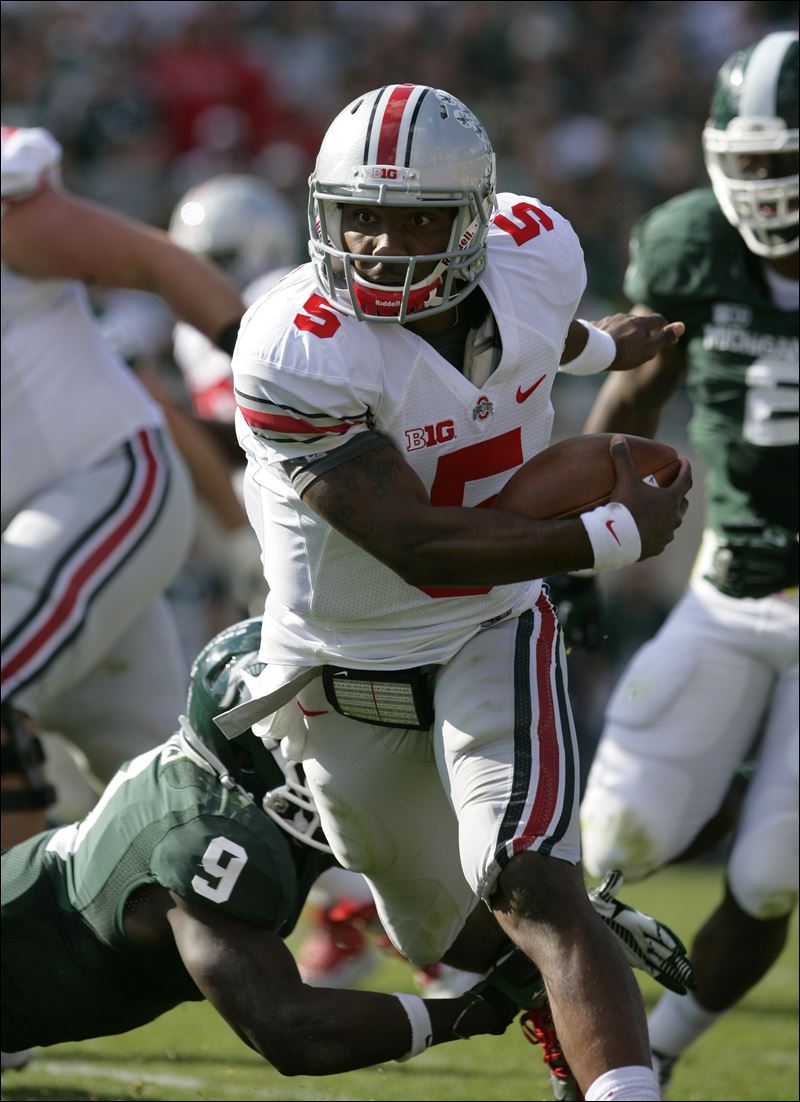 I'd say it's crucial to the Buckeyes' chances not to fall behind early like they did last week. This is not a defense you want to play comeback football against. Along those lines, staying away from turnovers, a specialty of this MSU defense, will be equally important…(a blinding insight, I understand.)
All that said, I am still waiting for a team to adequately address the rushing offense of the Buckeyes, which has been operating at an astonishing 8+ yards per carry for about a month now, as Miller has returned to his pre-injury form, and Hyde has become even more beastly as the season has progressed. I also think the indoor venue and the fast turf track favors the speed of Ohio State, and the climate control should help Miller in the passing game overall.
Last week's demolition by Michigan could be a blessing in disguise for the OSU defensive players...and coaches...if embarrassment can serve as a wake-up call. Surely a lot of attention has been paid this week to the lessons the Spartans must have taken from Michigan's offensive success a week ago. It will surprise no one if MSU comes out with misdirection plays and throwback screens that force OSU defenders to tackle well in space. At least it better not.
There are lots of compelling reasons to take a hungry, motivated, well-coached Spartan team over these Buckeyes on Saturday. But until Urban Meyer proves that he cannot win the game every Saturday, he is going to get the benefit of any doubt I harbor. Most of the OSU beat writers are forecasting a Buckeye victory along the lines of 30-20, or 31-17. My best guess is that it will be closer than that, and if the Spartans aren't able to score on a special teams play or a turnover or two, Ohio State will outscore them by just enough, and head off to face the Seminoles on January 6th.
I'll take the Buckeyes...let's say 27-21.
---
---
on Twitter at @dwismar
---
photo credit: Kirk Irwin- Getty Images (image at top)





Dec 03, 2013 12:00 AM
Last Updated:

Dec 08, 2013