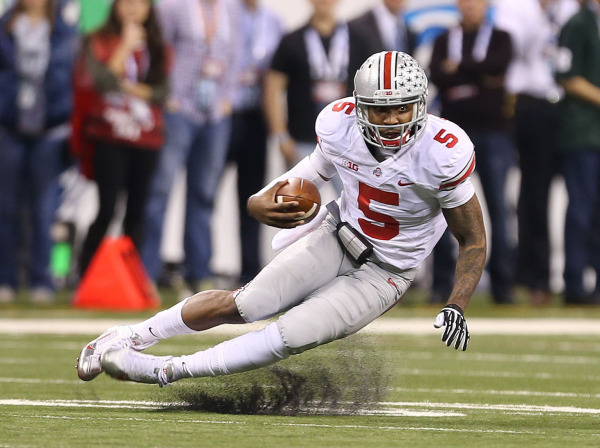 Ohio State's 24-game winning streak came to an end against the Michigan State Spartans in the Big Ten Championship Game Saturday night, and along with it went their national title aspirations and a little bit of the Urban Meyer mystique. The Buckeyes dug themselves out of an early 17-0 hole to take a 3rd quarter lead of 24-17, but in the end were done in by the inability of their defense to slow down the Spartans' passing attack. Michigan State came back in the 4th quarter with the game's final 14 points to earn a 34-24 victory and their first Rose Bowl trip since 1988.
After they fell behind 27-24 early in the 4th quarter, the Buckeyes twice failed to capitalize on great field position following a failed onside kick and a blocked punt. The most prolific offense in Ohio State history did not register a first down in the final quarter, as the Spartans' defense stepped up when it mattered. A jarring hit broke up a 3rd down catch by OSU receiver Evan Spencer to force a punt on their first possession of the quarter, and then MSU linebacker Denicos Allen stopped Braxton Miller on a 4th and 2 run at the MSU 40, with under six minutes to play.
"It was my call," said Meyer after the game. "I wanted to put the ball in the hands of our best player.  I knew they'd pressure us. Thought he might be able to come out the other end of it. That's why.  It was a chance to go try to win the game." In the winning locker room, MSU head coach Mark Dantonio said the Spartan coaches guessed right. "We knew that on fourth down they were going to put it in Braxton Miller's hands and give him a run‑pass option or sweep right or left with him. That's what they did."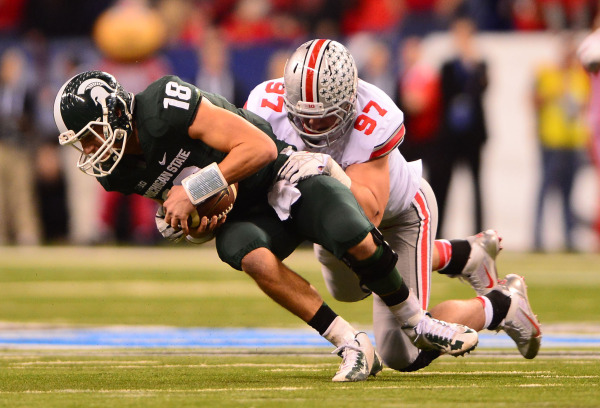 Hindsight being what it is, OSU fans were wondering why their battering ram of a running back Carlos Hyde (18 carries, 118 yds) didn't see the ball on either play when the Buckeyes had two chances to pick up the first down, facing a 3rd and 3 with the game on the line. But to focus on the late-game failure of the offense is to miss the bigger picture of this devastating OSU defeat. After all, Miller rushed for 142 yards and two touchdowns, for a 6.8 yard average, and Hyde averaged 6.6 yards on his 18 attempts.
If anyone had told you before the game that the Buckeyes would rush for 273 yards and two TD's against a defense that has been touted as the greatest thing since the '85 Bears, you would have guaranteed a convincing OSU victory. But Spartan quarterback Connor Cook took advantage of an OSU pass defense that has struggled mightily all season, passing for 304 yards and three touchdowns on 24 of 40 through the air. He was aided on their first possession (resulting in a field goal) by two brainless pass interference penalties on OSU, but for the most part the MSU passing game earned what they got.
Cook repeatedly rolled away from OSU pressure and hit receivers at the sidelines for important first downs. Even as the Buckeye defensive line was keeping the Spartan running game under control, Cook was able to move the team via the pass. Of MSU tailback Jeremy Langford's 128 yards rushing, 88 came in the game's final 17 minutes, which distorts somewhat the way the Buckeyes were able to stop the running game most of the night.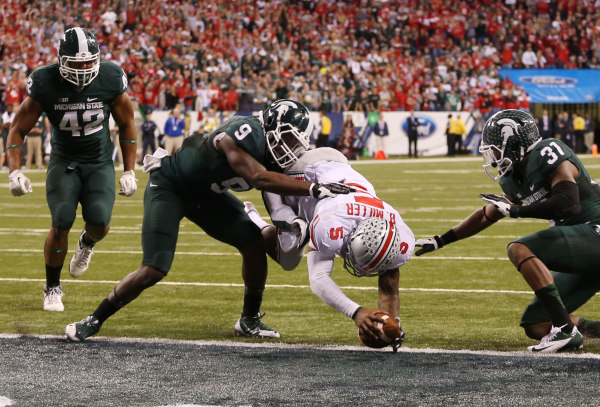 Cook beat Ohio State defensive backs on first half touchdown throws to Keith Mumphery (72 yds) and Tony Lippett (33 yds), and then found a wide open Josiah Price on a throwback play to the Spartan tight end to retake the lead in the 4th quarter. The OSU defense, co-coordinated by Luke Fickell and Everett Withers, has now given up 30 points or more five times during the 2013 season. Only when they faced a defense that prevented them from scoring at will did their consistently porous pass defense cost them a football game. In retrospect, it is remarkable that it did not happen sooner.
As the victorious Spartans prepare for a New Year's Day game in Pasadena, the Buckeyes' bowl game destination remains unknown until Sunday night. Early speculation has them headed to the Orange Bowl for a matchup with Clemson, or perhaps a Sugar Bowl date with Alabama. Meyer said his team will be ready, "I imagine there's a chance we'll get invited to a great bowl game. If we do, they're going to get a very good Buckeye football team that's going to stick together and try to win a game."
If they come out on top, the Ohio State winning streak will stand at one, and counting.
---
Box Score and Complete Statistics
---
on Twitter at @dwismar
---
photo credits: (via ohiostatebuckeyes.com)  Brian Spurlock - USA Today Sports (Miller at top and bottom); Andrew Weber - USA Today Sports (Bosa/Cook)