- Friday, January 3, 2014
- Sun Life Stadium - Miami Gardens, FL
- The Orange Bowl - Clemson vs Ohio State
- 8:30 p.m. ET
- TV: ESPN -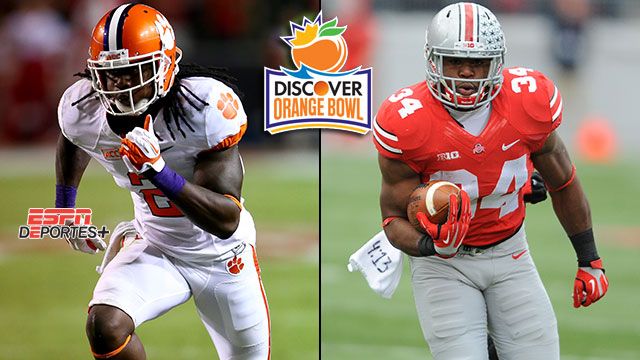 The Bowl Championship Series continues its curtain call Friday night in Miami as the 10-2 Clemson Tigers face off against the 12-1 Ohio State Buckeyes in the Orange Bowl Game. Urban Meyer and his Buckeyes were a play or two away from a Monday night date instead, but now find themselves in a pretty fair consolation prize. They landed a coveted BCS game berth, with the prime-time spotlight all to themselves Friday night...not to mention a nice trip to Florida.
Playing the second most important bowl game involving a Big Ten team was not what this Ohio State group had in mind after winning 24 straight games over two years, but it does give us our first chance to see how Meyer and his charges come back after a loss. Michigan State's Rose Bowl victory relieves somewhat the burden Ohio State so often carries into the bowl season...that of proving the respectability of the Big Ten football brand.
In this the last year of the BCS system, Ohio State will wind up with more appearances than any other school. This is the 10th BCS game for the Buckeyes, (Oklahoma is second with nine) and they carry a 6-3 mark into this Orange Bowl matchup, including a 1-2 mark in championship games. The Bucks will be trying to achieve the unprecedented BCS "Slam", having previously won BCS games in the Rose, Sugar and Fiesta Bowls.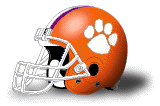 The 12th-ranked Clemson Tigers of Dabo Swinney (6th year, 50-23) should prove a stiff test for the Buckeyes, having lost just two games this season, both to teams in the top ten. They were throttled by No. 1 Florida State 51-14 after a 6-0 start to the 2013 campaign, and then fell to No. 9 South Carolina 31-17, in their final regular season game. They have played Ohio State just once before, a Tiger victory in the 1978 Gator Bowl. No doubt you've seen some file footage this week of one of that game's last plays.
In many ways, the pressure is off the Buckeyes for the first time since the Michigan game a year ago, when they could sit back and enjoy 12-0 without a bowl game invitation. One of the big questions in the lead-up to this contest is how much the Buckeyes want to be here. In fact, it may take everything Meyer can do to keep his players focused on beating the Clemson Tigers rather than on all the other issues swirling around this football team right now.
State of the Bucks - (2013 Individual Statistics)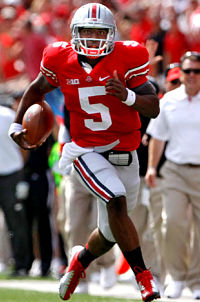 To begin with, the team is light one member of the defensive coaching staff, after co-coordinator Everett Withers accepted the head coaching position at James Madison. We also learned this week that and two key defensive starters will not be playing Friday evening. This on a defensive unit that has surrendered 75 points in its last two games.
Sophomore defensive end Noah Spence has been suspended for three games for a violation of Big Ten rules, and cornerback Bradley Roby, who suffered a bone bruise against Michigan State, is also unlikely to play, according to Meyer. Playing Clemson's record-setting senior quarterback Tajh Boyd, and the nation's top receiver Sammy Watkins, without the team's best pass rusher and its best cover corner is cause for great concern in Buckeye circles. Other distractions abound….
Ohio State takes the field Friday not knowing if it will be the final college game for junior quarterback Braxton Miller, arguably the team's best player. Miller says he will announce within a week after the game if he will return to OSU for his senior season. On the other side of the ball, the same holds true for the Buckeyes' top defender, All-American linebacker Ryan Shazier, who has not yet decided if he will enter the NFL Draft after the season.
Even before the latest subtractions from the OSU defense, the secondary was shaken up a bit following the Michigan State loss, with star (nickel) back Tyvis Powell shifting to safety, replacing Corey Brown, and true freshman Vonn Bell getting the start at the star spot.
To top things off, the team has been visited this week by a widespread stomach flu that has hit a number of administrative staff members and several players. Team officials say it's the 24-hour variety, and shouldn't be a problem by game day. And to think they worried that the allure of South Beach was going to be a distraction...
Clemson - Key Personnel - (2013 Individual Statistics)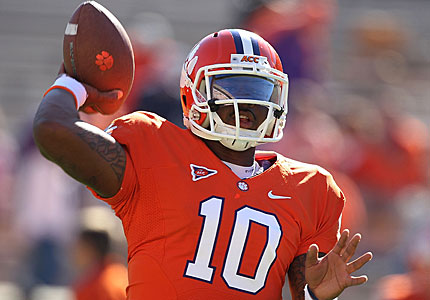 The term "shootout" has been a feature of the pre-game talk, as Ohio State's prolific offense will be matched by a Clemson unit that ranks 9th nationally in scoring (40.2 ppg) and 11th in passing yardage (329.3 ypg). Senior quarterback Tajh Boyd (252 of 373, 3,473 yds, 29 TD, 9 INT) is the catalyst for the Tigers, who have scored 50 points or more six times this year. Boyd, who will remind Buckeye fans of Troy Smith...right down to the number 10, is a threat running the ball as well, with 9 rushing TD's and 273 yards on the ground.
All-American wide receiver Sammy Watkins (#2 below) will be a top ten draft pick in May, and like Boyd, will be trying to finish his Clemson career on a high note. Watkins (85 catches, 1,237 yds, 10 TD) is complemented by Martavis Bryant (39 rec, 800 yds, 5 TD) and Adam Humphries (41 rec, 2 TD) among others, as 13 different Tiger receivers have at least one touchdown reception this year.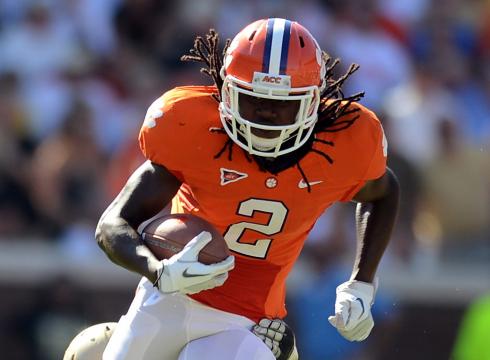 Running back Roderick McDowell is the primary weapon in the rushing attack, with 956 yards and 5 touchdowns on the ground, with a 5.4 yards per carry average. McDowell also has 25 pass receptions and two receiving TD's.
On defense, the Tigers have a big time pass rusher in defensive end Vic Beasley, who led the ACC in sacks with 12, and ranks seventh nationally in tackles for loss with 19. As a team, Clemson leads the nation in TFL with 9.4 per game. Junior tackle Grady Jarrett has chipped in with 40 tackles, including 10 TFL.
The disruptive defensive line of the Tigers has helped generate some big numbers for a trio of productive linebackers, with junior middle backer Stephone Anthony leading the way with 120 tackles, including 13.5 TFL and four sacks. Weakside backer Spencer Shuey has 110 stops on the season, with 8 TFL.
The secondary is solid, with the nation's 16th best passing efficiency defense, led by cornerbacks Bashaud Breeland and Darius Robinson, who have combined for seven interceptions. Special teams units for the Tigers are no better than average, although they do have a capable placekicker in Chandler Catanzano (13/14 FG, 56/56 PAT), and Watkins is always a threat as a kick returner.
Idle Speculation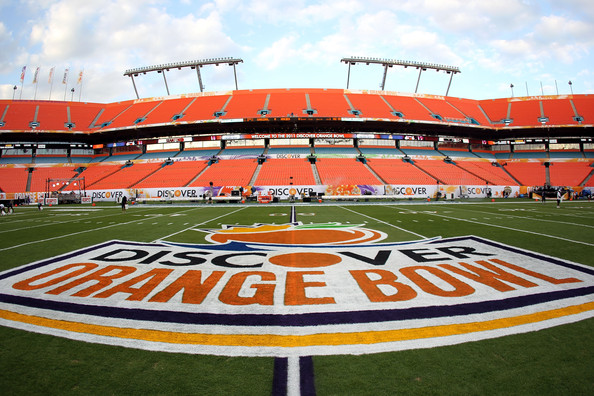 Over the course of the 2013 season, we have come to expect a productive offense for the Buckeyes, especially the rushing attack featuring the power of Carlos Hyde and the speed and elusiveness of Braxton Miller. That running game was able to roll up almost 300 yards against Michigan State, so they should be able to maintain their averages against a Clemson defense that defends the pass much better than they do the run.
The unknown quantity for Ohio State will be what kind of defense shows up to try to slow down Dabo Swinney's high-powered Clemson offense. Will the departure of Coach Withers have any effect on the defensive game-planning, now solely the responsibility of Luke Fickell? Will the shuffle of the defensive secondary have any noticeable impact on the pass defense? Will backup cornerback Armani Reeves and backup defensive ends Steve Miller and Jamal Marcus be able to step up as capable replacements for Roby and Spence?
I am less concerned about the OSU defensive line adjusting to the loss of Spence than I am about the secondary, where serious problems have existed all season, even with Roby in the lineup. Replacing the senior Brown at safety is long overdue, and the start for Vonn Bell will be the first of many for the promising freshman from Georgia...but he's still a freshman, and counting Roby's absence, the Buckeye secondary will have three starters at positions where they have not been regulars. You can almost hear Tajh Boyd licking his chops.
Clemson will be looking to atone for the 70-33 thrashing they took at the hands of West Virginia the last time they played in The Orange Bowl two years ago, but these Buckeyes also have atonement on their minds. Urban Meyer is 7-1 in bowl games, and 4-0 in BCS bowls. He is no doubt still stinging from the loss to the Spartans, and should have his players pumped up emotionally to make sure they end his first losing streak at one in a row.
I think the Buckeyes manage to win this one, mostly because I think they will be able to run the ball when they have to. If Miller and the coaches calling plays for him emphasize the short, possession passing game that worked so well for OSU in the season's first half, the Buckeye offense should prosper. It might be said of any Ohio State game that they will go as far as Braxton Miller carries them, and Friday's contest in Miami will be no different.
I'm confident that after a month of tinkering, the OSU defense will be better than it has been in its last two games...mostly because it could hardly be worse. I'm guessing Jamal Marcus has a breakout game rushing the passer, and the Buckeyes manage a close win...let's call it 38-33.
---
---
on Twitter at @dwismar
---
Dec 27, 2013 12:32 PM
Last Updated:

Jan 04, 2014