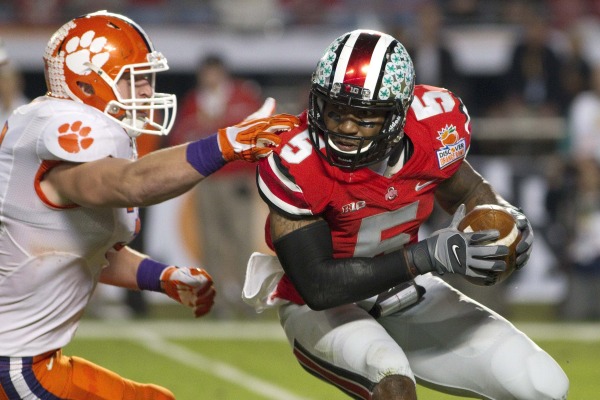 Ohio State turned the ball over four times in the last 20 minutes of the Orange Bowl on Friday night, and the Clemson Tigers held on for a 40-35 victory, as the Buckeyes lost their second straight after a 12-0 start to the 2013 season. "It's going to sting for a while, probably a long while because we didn't finish," coach Urban Meyer said. "It was right there."
By "right there," Meyer meant the opportunity to drive for the winning score from the Clemson 48-yard line with 1:27 to play following an interception by OSU safety C.J. Barnett. What followed instead was Braxton Miller's second interception of the game, as the battered and bruised Buckeye quarterback tried to get the ball to Corey Brown on a deep post, but underthrew the ball badly, and had it picked off by Tigers' linebacker Stephone Anthony.
With a fumble and two interceptions, Miller was responsible for three of the four turnovers, but it was the first one, a muffed punt by Brown with OSU up 29-20 in the 3rd quarter, that turned the tide in favor of the Tigers. Stops by the Ohio State defense were few and far between, but they managed to force a Clemson punt with under four minutes to go in the 3rd, giving them a chance to put the game away with another score. But Brown let the ball slip through his hands, and the Tigers took full advantage, scoring the game's next 14 points to grab a 34-29 lead.
Watkins, Boyd Shine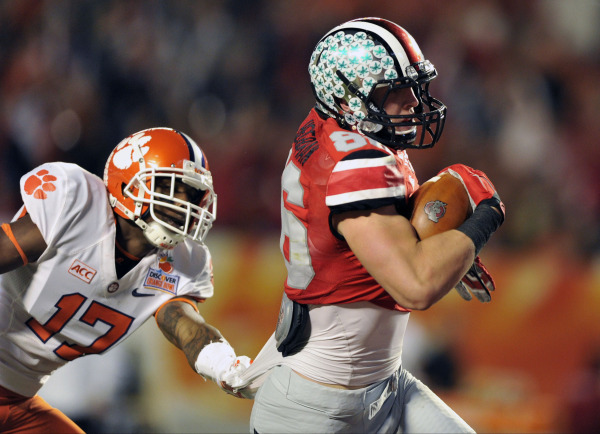 Right from the opening possession, the game became a pre-draft showcase for Tiger receiver Sammy Watkins, who set Orange Bowl records with 16 receptions, and 227 receiving yards before it was over. The Tigers punished the beleaguered OSU defense with repeated quick screens to Watkins, and the Buckeyes never did figure out how to slow that play down, complicating their dilemma with shoddy tackling and bad pursuit angles.
It hardly needs to be said that Meyer is looking to make major changes on the defensive side of the ball in the offseason, after that unit gave up points in bunches all season, and surrendered 41, 34 and 40 points in their last three games. It has been reported that Luke Fickell has reached an understanding with Meyer to return next year after he interviewed for at least one head coaching position, but it will almost certainly involve reduced responsibilities. Meyer is expected to bring in an experienced coordinator to right the ship, although Fickell will probably retain the co-coordinator title.
Senior Clemson quarterback Tajh Boyd and his talented receivers moved the ball almost at will against the OSU defense in the first half. Boyd took off up the middle on a designed run play for a 48-yard TD to open the scoring, and before halftime connected with Watkins (33 yds) and Martavis Bryant (3 yds) on touchdown throws. Boyd would finish with 378 yards on 31 of 40 passing, with five touchdowns and two interceptions. Despite Miller's resilience and courage in a losing cause, Boyd was the better quarterback on this night.
Buckeyes Battle Back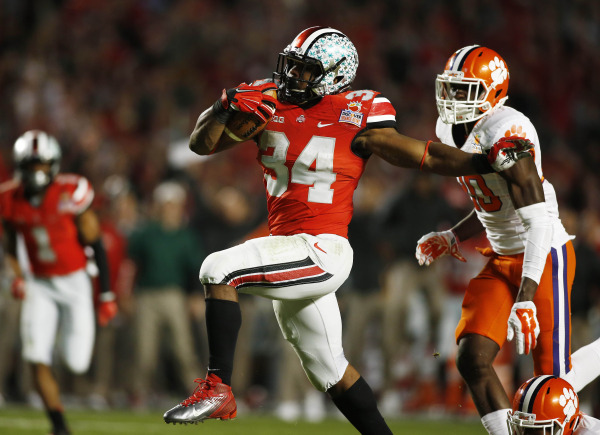 So convincing was Clemson's first half offensive showing, that it seemed surreal for Ohio State to go to the intermission with a lead, but after a sluggish start, Miller drove the Buckeyes to two 2nd quarter touchdowns. He hit a wide open Jeff Heuerman for a 57-yard touchdown pass, and then scored his second rushing TD of the night from three yards out right before the break, and the Buckeyes managed a 22-20 lead at the half.
A short TD run by Carlos Hyde (25 att,113 yds,TD) to open the 3rd quarter stretched the OSU lead to 29-20, but on the next Clemson possession, Brown's muff on the punt caused "Mo" to change uniforms. Watkins went high over OSU cornerback Doran Grant to haul in a 30-yard TD pass from Boyd, and after the kickoff, Miller threw the first of his two interceptions, allowing the Tigers to get right back in the end zone and take the lead.
It was Ohio State's turn in this back-and-forth contest, and Miller would hit Hyde with a 14-yard TD pass early in the 4th quarter to give OSU their last lead of the night. There were still six minutes left in the game when Clemson re-took the lead on a 5-yard TD toss from Boyd to tight end Stanton Seckinger, but the Buckeyes turned it over on their last two possessions, failing to get much past midfield in their attempt to score the winning touchdown.
Miller ran for a 33-yard TD to tie the game 7-7, and he finished the game with 234 yards on 16 of 24 passing, with two touchdown passes and two interceptions in addition to his two rushing TD's. He was hounded by a fierce Clemson pass rush all night, and appeared to have injured his throwing shoulder at one point, but continued to play. Miller plans to make public his decision on returning to OSU for his senior season within a few days.
---
Box Score and Complete Statistics (pdf)
---
photo credits: Joshua S. Kelly (Miller at top); Brad Barr (Heuerman); Robert Mayer (Hyde), all of USA Today Sports
---
on Twitter at @dwismar
---
Jan 04, 2014 5:53 PM
Last Updated:

Jan 06, 2014