Close might be matter in horseshoes and hand grenades, but I've found that actually hitting your target usually returns the best results. It's true in sports, and it's applies in life. Losing a close game still means you lost, and almost getting the job means you didn't get the job. Sometimes, something might present itself as what you hope it is, but a closer look can tell you the brutal truth.
On the surface, the whole world of College Football has earned itself a giant cookie for applying common sense, and evolving towards the proper solution for crowning a champion. On the other hand, I can cite only unfathomable levels of stubborn to understand why anyone would cut a good idea short before they're even halfway to righting and undeniable wrong. Make no mistake about it, the process of selecting just two teams for a title shot, in a faction as large as what we now call the Bowl Subdivision of Division I NCAA Football, is a borderline criminal act.
In the past decade and a half, we've had some interesting dialogue, some heated debates, and most of all, some inconsistency. If you'll concede that this whole system is based on the absence of common sense, it's the inconsistency that bothers me the most. For example, perfection is the best thing you can for, but the reward for such an effort varies, depending on geography, and even chronology. The ultimate prize is awarded for perfection in Tuscaloosa and Austin, but perfection equals participation awards in Idaho and in Fort Worth. At a school like Auburn, six years can change the meaning of undefeated from "Good Effort, Good Job" to "National Champions".
What is a National Champion, anyways? To data, it's only ever been a term of mythical proportions. It isn't even a term that necessarily is attached to one team exclusively; the dreaded split title isn't commonplace, but most of us aren't foreign to the idea. The only other sport that was ever popular in this country that is this murky about its champion would be the Alphabet Soup worthy collection of governing bodies in boxing, a sport that hasn't been popular since the creation of the Internet. Without a definitive process to determine a champion, various polls declared various results, which has opened the door for a sportswriter's agenda to trump merit.
That happened in the sixth season that the Bowl Championship Series (BCS) existed. In the year before its inception, Michigan and Nebraska split their claim to the title. Perhaps, that occurrence was the motivating factor behind creating a system that put the alleged top two teams on the field, but there were no absolutes in the plan, and we rarely saw and undisputed 1 and 2 on the field. Some would use the word "progress" to describe the evolution of College Football into a system that dissolved the traditional Rose Bowl matchup, and exposed Top 2 teams from the Big Ten or Pac 10 to potential matchups with SEC, Big XII, ACC, and Big East juggernauts. The plan included a Yellow Brick Road clause specifically for Notre Dame, but the off-brand schools were never guaranteed much more than a high-profile exhibition game, certainly not a title shot. Those exhibitions, also known as the other BCS Bowls, were nothing more than an unvite; which is an invitation that is extended with the underlying hope that the invitee would not attend (and hopefully send a gift).
When a regular season yielded a definite #1 and a definite #2, College Football and its bride, the BCS, created a utopia. The one game for all of the marbles included the right teams, and, at the end of the day, we recognized that the last man standing was the very best the game had to offer. It's simply easier for all us to read what's in black and white, and when that's all we see, we pretend the gray area doesn't exist.
Year One provided a gray area in the #2 slot, with an undefeated Tennessee in the top spot, the system had to determine whether UCLA, Ohio State, or Florida State had the 1-loss that was easiest to overlook. The 1999 season provided bliss because Virginia Tech and Florida State were the only undefeated teams, but that was only enabled because Nebraska slipped up at Texas early in the year. Whether the nation liked Ohio State being there or not, we saw the closest thing to a clear cut 1 & 2 in 2002. It was 2010 before the BCS National Championship featured the game's only unbeaten teams. If you're scoring at home, that's three perfect scenarios in 14 years in the system.
I really don't know what I would consider to be worse, a split title or a perfect team without any claim to a title. Maybe, we lower the bar a little bit, and compromise to accept anything else. It's our ability to turn the other cheek when we get a 2-loss champion, or have to watch a Championship with a questionable participant. The system doesn't work when the Championship mandates who the #1 team is in the Coaches Poll, but the Associated Press can revolt and select USC. The system doesn't work when Utah, Boise State, Hawaii, and TCU go undefeated, and leave us to wonder if they belonged on the field with the team we're told to call Champions.
The good news is that we all know that the system is about to die. And, I don't know if it's bad news, but what the hell took them so long? For years and years, I rooted for chaos to initiate change. For years and years, there either wasn't enough chaos, or the suits were too busy counting their money to acknowledge the possibility of chaos interrupting their wealthy lifestyles.
Do we look back at the 2011 season, and recognize factors that were new and unique enough to get the people that matter back to the drawing board? Was there something specific that exclaimed, "We cannot continue to do it this way"? Was it just the events of the past year that dropped common sense into their lap, or divine intervention?
Nick Saban's Alabama Crimson Tide were afforded the opportunity to play for the title against an LSU team that beat them in their own backyard. The other eligible suitor for the big game was an Oklahoma State team that lost at Iowa State late in the season. The truth is that Alabama lost to the only team that the consensus had determined was better than them, while Oklahoma State lost to a team that may not have been the second best team in Iowa. In a vacuum, no one would have a problem with this, but some would have had you believe that giving Alabama a mulligan (a do-over) was a crime against humanity. The unexpected Oklahoma State loss gave Alabama new life for a title shot, and this helps those who argue about preserving the regular season, but the system we are about to enter into would have forgiven that Friday night loss in Ames, Iowa. The new criteria allows for twice as many teams to get a chance at a National Championship, but just last year, the difference between #2 and #5 was almost negligible.
There are about 115 teams with a weaker case for a seat at the table than the #5 team, but that team will be nothing more than one with the distinction of being the best on the outside looking in. I know you need to draw the line somewhere if you don't want a 120 team tournament that ends in May, but #9 has less of a gripe than #5. What's scary about going with a eight team playoff is that it takes us back to the original number of teams selected for the BCS, as if participating in one of the three meaningless brand-name Bowls was anything special.
Who ends up in an 8 team playoff? And, it's probably just as noteworthy to inquire about who ends up out of an 8 team playoff? It's the same conversation that everyone is currently having about what's what in a 4 team playoff, except this a way to continue to keep the cartel in mind, even if the cartel ends up being one Big East Conference lighter. I could definitely see an undefeated team being left out, if they don't carry the right conference pedigree. Don't forget this is a game that had two undefeateds looking in from the outside in 2004, but didn't pit them against each other. It's also a game that had ten slots that could have gone to a long list of qualifying teams, but predictably plucked Virginia Tech and, worse yet, Michigan from the bottom of the list. This type of brand-name recognition is the best reminder of how power corrupts, and absolute power corrupts absolutely.
Given the margin for error that an eight team playoff invites, I'm not only cautious about the possibility of someone doing the wrong thing; I'm confident that it would happen. There is a suggestion, if not a demand, for transparency with the process, but how do you create a system that cannot be spun into whatever is convenient for the characters that count the money. At the end of the day, that's all that matters and I'm not mad about it. The selfish fan in me only wants the best product possible. The most transparency exists in a system that leaves the fewest amounts of decisions up for debate.
In my mind, a 16-team playoff is the right answer, and it's the only right answer. Everything else is a half-measure, which is to say that it's not enough to offer what I'd consider a solution. It's like putting ketchup on a steak, and telling me that you've added flavor to it, the act of doing something just to be able to say you've done something. I might consider a man who showers once a week to be cleaner than a man who never showers, but I very much doubt that I'd ever classify either individual as clean. I also doubt that I can ever consider anything less than a 16 team playoff to be "clean".
With eleven conferences in the subdivision, this number is what it takes to give everyone a piece of the pie, and more importantly, every school controls their own destiny. While the odds of winning are stacked higher against them than anyone could even calculate, technically, Northern Illinois or Florida Atlantic could actually play their way to a title. Technically, chaos doesn't screw as many things up, which potentially devastating news for the fans of chaos that I know are out there.
It's a simple template, really. The Conference Champions from the Big 6 are granted the top 6 seeds and opening round home games at campus sites. Only because I have to walk a mile in the shoes of the greedy to sell this, I'm putting the Conference Champs outside of the cartel in the 11-16 seeds, guaranteeing us no games in Muncie or Moscow. That leaves five vacant slots in the field, four wild-cards from the privileged world of automatic qualifying conferences would occupy the 7, 8, 9, and 10 seeds, and the open spot in the bottom 6 would preferably go to a wild-card from the mid-major universe.
I hear everyone who wants to say this dilutes the field too much, that there are too many weak teams on the table. I can't dispute that a top-tier MAC team currently struggles with mediocre Big Ten teams in whatever they call the Detroit Bowl game, but it is what it is. What I realize is this; that bittersweet moment after watching the MAC Championship, when you're proud to see a team win their conference and earn the right to play in some Bowl game that no one is going to watch. I'm sure that a 4-team playoff doesn't change any of that, and I doubt an 8-team selection committee is good enough to offer the tenth or eleventh conference a spot in such an exclusive field. In the end, we'd all rather watch 15 games that matter, rather than just 1.
I don't know that everyone can apply common sense, and understand that the criteria to establish who plays in that one game would be much, much better. Games aren't played on paper for a reason, so why should we assume anything on paper when football games are so much better watch than imagine and theorize? It may just be me, but I don't want any system that is susceptible to the theory that the worst of the SEC is better than the Big Ten, or that Oklahoma's history of choking should have any weight in the selection process. However, I do want to see the best teams in the mix, and if three come from the same conference, I think the limitations of anything less than a sixteen team field forces you not to include all of them.
All of this is just talk, a wish list as far out there as one that includes world peace. I can wish in one hand and shit in the other, and I know which one will fill up first every time. So, instead of staring at the TV and telling you it's not on, maybe I should go out to pasture with the rest of the sheep that will settle for this nonsense. It can't be all bad right, right? Is it better than the existing two team "tournament"? Of course, it is, but it's far from what I would consider a full measure. The new proposal, which appears to be set in stone, or some sort of surface that cannot be changed for about a decade, is going to double the field. In turn, this doubles the odds that things will fall into place perfectly.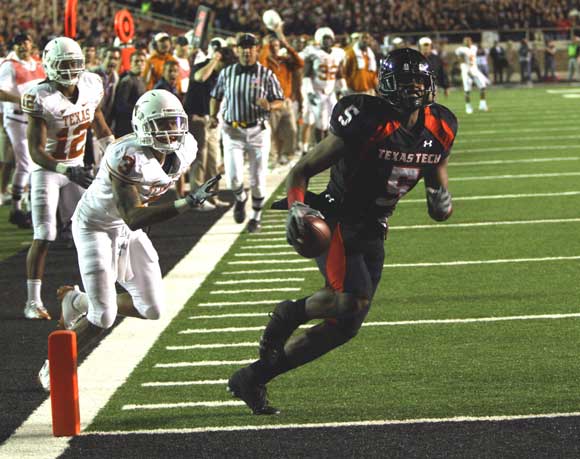 Probability dictates that we have a step in the right direction, but I'm in the camp that subscribes to do something properly or not doing it at all. If they are willing to open the books, let's not be satisfied with better chapters, when we can have the best chapters. Remember, we're building on a foundation that has worked in just three of fourteen tries, and people still eat it up. How much better would we be with a 100% success rate?
No system could eliminate chaos in every way, shape, and form, but the repercussions are a little more mild in my vision. I can understand the excitement of the "every game counts" theory that BCS apologists buy into, but that's so flawed. In 2008, the previously undefeated Texas Longhorns lose an epic game in Lubbock to Texas Tech, and the ensuing chaos sends them to Arizona to play a meaningless game against an Ohio State team that probably doesn't belong there. In the BCS world, they are stripped of a title shot because of it. In the proposed setup, they still end up in a national semi-final, so the effect of a loss is rendered meaningless. In my 16-team world, the consequence is a lower seed and a more difficult journey to the final game, but does not unjustly destroy their chance at glory.
Remember, it's all about preserving the regular season. This is a regular season where those focused on selecting less than five teams for a national playoff isn't going to pay attention to a team with no chance of finishing in the Top 4. This is a regular season that will continue to feature more games of the Florida v. The Citadel type than Oregon v. LSU because there's little motivation to risk a loss of any type in a system that mostly only rewards perfection. I keep hearing the general knock on the NCAA's basketball season and how meaningless its season is because their tournament is such a large field. Personally, I'm willing to accept a meaningless season that features a schedule that includes Duke at Ohio State (on the hardwood), rather than a non-conference schedule filled with throw-away games. The system should encourage solid matchups, not scare them into obscurity.
BCS supporters like the dialogue, and I get the feeling that those same people were willing to compromise what they had in order to maintain that dialogue at some level. There's going to be a buzz, and there's going to be controversy by not continuing down a path of doing things the wrong way, but the bad pub has to bite this whole thing in the ass eventually. We aren't preserving the regular season by keeping the party this exclusive, we're softening it. I look at the NFL, or even Major League Baseball, and I identify how exciting the end of the regular season is because of the playoffs, not in spite of them.
What other popular sport only leaves four teams standing at the end of their season? Baseball used to do that, but baseball evolved, and it's better having done it. The NFL plays 11 games over 4 weeks, and we are all glued to our flat-panels to watch every second, even if we're tuning in for the Bengals and Texans. People love win or go home, and want as much of it as possible, but don't need it in the fifth week of the season, or over Labor Day weekend in the case of Boise State.
I'm not opposed to more playoff games, in fact I like the idea of a Final Four to determine a Conference Champion. That's more far-fetched than a 16 team national field, but I'm sure I'm tuning in for a Pac-12 semifinal game in late November. Think about it, even if we're only interested in 4 super conferences, conference semi-finals mean three games per conference that really matter a lot to the big picture, and would do a lot to establish who isn't invited to the party. I admit this is crazy-talk, but I keep an open mind, and this is one of the many things I consider when making a case for what could make the game better.
Coming back down to earth, I want to regain focus; this is about finding establishing the most proper method to not only determine a National Champion, but to offer everyone a fair shake. The Cinderella story is always the best, and we don't get a genuine Cinderella in January with this game. Sure, Boise State gets to have their New Year's Day moment against Oklahoma, but after they accept their participation trophy and propose to their cheerleader girlfriends, it's time to clean out their lockers and find a nice television and comfortable couch for National Championship viewing. Maybe it's just me, but I'd rather play Florida than wonder if I could beat them, if I'm Boise State.
More isn't always better, I know that. While I don't think the current measures taken are good enough, I wouldn't be on board with anyone that suggests a bigger field than 16 teams. At that point, it starts to become a question of preserving these very playoffs, instead of the regular season. I don't see the small step that the game is taking as a metaphorical giant leap of any sort. What I fear is complacency and acceptance of this progress. How long are we going to have to lobby to move forward again? When does the little guy get their chance?
On the field, this game provides four solid quarters of great entertainment. Off the field, we're packing up the equipment, and calling it a day after fifteen minutes. Good effort, good job; we're on the right path, but we aren't even half way to our ultimate destination just yet. I'm left to wonder how long we're going to be walking.
Jun 28, 2012 5:00 PM
Last Updated:

Jun 28, 2012