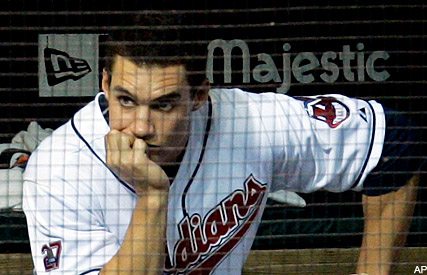 While the Indians are relatively healthy right now, the team did release some updates on the players who are on the disabled list. Unfortunately, the Indians don't appear to be getting a whole lot of help from the four guys on the DL anytime soon, as three of them have no timetable for a return and one is still, at least, a couple weeks away from contributing.
Grady Sizemore, rehabbing from back and knee surgeries, is progressing with some baseball activities, but is still working mostly on strengthening those areas of his body and no timetable for a rehab assignment has been announced.
As far as two guys who have appeared with the Tribe this year, Travis Hafner and Rafael Perez, the news is a little bit better. Hafner, on the DL since May 24, took early batting practice and did some agility drills today. Hafner is working his way back from a torn meniscus and subsequent surgery. In the case of Perez, who had a severe drop in velocity that led to his DL stint, he is working on building up his arm strength. Perez was officially placed on the DL on May 11 with a "left lat strain". No timetable for his return has been given.
And finally, Carlos Carrasco, shelved until at least September following Tommy John surgery in September 2011, will throw a bullpen session in front of the coaches and training staff when the Indians go to Yankee Stadium this weekend.