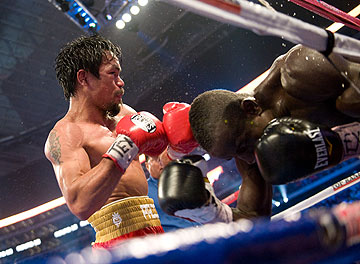 Last night in Dallas, Texas the third largest crowd in the history of boxing showed up at the new Dallas Cowboys Stadium. What they saw was supposed to be the biggest fight so far in 2010. What they got was one of the worst pay per view cards in a long time and a main event that was a horrible letdown.
Manny Pacquiao dominated Joshua Clottey for twelve rounds in what was one of the easiest victories in Manny's great career. Clottey just showed up for a paycheck and basically took 8 of the 12 rounds off. Many of the rounds Clottey was in single digits as far as punches thrown. Manny on the other hand, threw over one hundred punches in a lot of the rounds and showed the monster crowd why he is one of the popular figures in the world of sports.
Every round was the same. Pacquiao push the pressure on Clottey, landed some good shots to both the body and head while Clottey covered up and did nothing. On the few occasions where Clottey threw punches, he landed some thru the defense of Pacquiao and could have gotten into the fight. In what was easily the biggest fight of his career, Joshua Clottey decided to take the night off after dancing his way to the ring. What a letdown.